It's an incredible time to be in New Zealand without tourists. Tongariro National Park is one of those places at the top of many people's list to visit when they come here. When my cousin visited a couple years ago, he said there were over 600 people doing the crossing that day. No thanks.
A quick overview of this famous walk:
The Tongariro Alpine Crossing takes around 9 hours to complete (19.4km or 12m), which is why it's best done in the summer months with the longer daylight hours
It's a world heritage site with 2 distinctions of natural & cultural significance
It's regarded as one of the top 10 single day treks in the world
You'll see the volcanic peaks of Ngauruhoe, Tongariro and Ruapehu and some emerald & blue lakes
It's one way only, unless you have to turn back for some reason
Extreme weather, terrain and distance have resulted in this track having the highest number of search and rescues for hikers in New Zealand
You can't do this walk in the winter without a guide due to the unpredictable change in weather (unless you are experienced in alpine environments and have the right equipment)
We were not going to do the crossing since it was officially the start of winter and we had no desire to walk that far in one day. Instead, I researched shorter walks that would be doable and wouldn't wear us out too much. HAH!! It's pretty bad when you read a review that says "My 5 year old did it," and you end up cursing that review as you're huffing and puffing, resting every 10 minutes. I said, "5 year olds can do ANYTHING!" so that wasn't a good measure of how easy the walks would be.
I had booked a lovely place Sunday through Wednesday but decided we should leave on Saturday and stay somewhere else for the one night to maximize the time off. The drive over was just stunning. It only took about 3 1/2 hours, too! Once Mt. Ruapehu (an active stratovolcano) came into view, it was breathtaking. Thankfully, it was also a lovely, sunny day.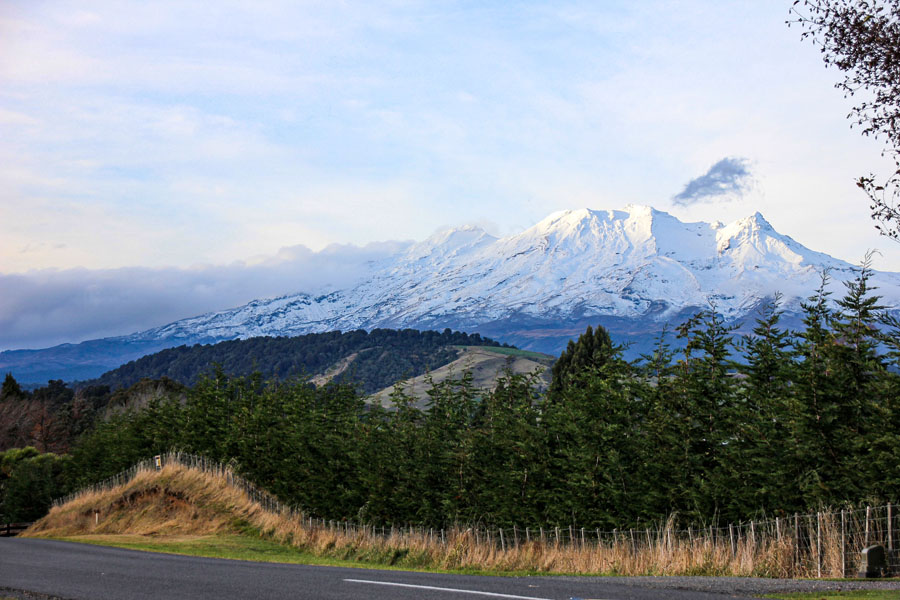 There were a couple of stops I wanted to make along the way (in addition to me making him pull over far too many times so I could take pictures). The first was Stormy Point – a place that overlooks a vast landscape with rolling hills, pine trees, sheer rock cliffs, Ngauruhoe and Ruapehu all at once. Oh, some sheep, too.
From there, we got ever closer to the town of Ohakune, where we'd be staying and one of the main gateway towns for the National Park. But wait…not just yet! There was a great view of the volcano to our right and I saw a huge entrance coming up, so I told him to turn in. The sign indicated it was a pulp mill. Surrounded on both sides by healthy looking pine trees, we made our way down the wide road.
We inched our way closer to town when I saw a small sign for a reserve down a dirt road. These call to me and I like to go down them because I figure something really good has to be at the end. Once again, a typical New Zealand postcard scene unfolded – grazing sheep, pine trees and an incredible view of the mountain. I often wonder if the sheep appreciate their home.
We crossed a railroad track and the dirt road narrowed to the width of one car. A sign mentioned kiwi's inhabited the area and as we drove over a rocky, potholed road, I peered into the dark, mossy forest with rotting tree limbs and leaf litter thinking it was a perfect place for them. I really thought we might spot one. Nope.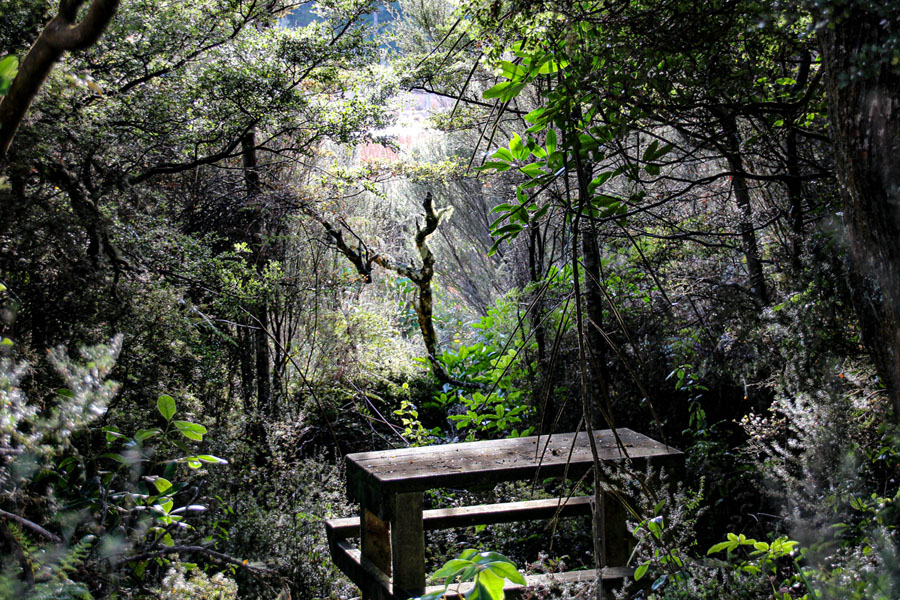 It was a short 5 minute walk to a "dry lake" and a 15 minute walk to a "real lake" but it was quite uneventful and not even photo-worthy so we left. However, this shot of a lone table tucked in the edge of the forest caught my eye and looked like a nice place for a rest, but we had no time for that. We wanted to get to our destination.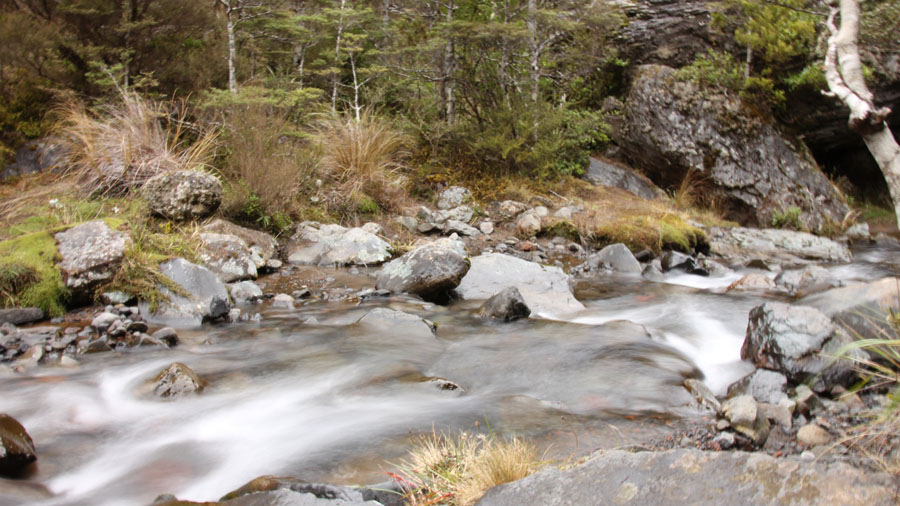 The following morning, I had chosen a 3 hour return Waitonga waterfall walk that was close to where we had spent the night. The weather was not looking good for the duration of our 4 day stay, but whatcha gonna do? It was misty and the streets were wet but it wasn't raining. There was a river right in front of where we parked and just a few cars there. The track gave you multiple choices depending on how far you wanted to go, the longest being 9 hours ONE WAY. I can't even imagine that. Off we went on the shortest one. And by the way, if the sign doesn't say "return" after the time, that means one way.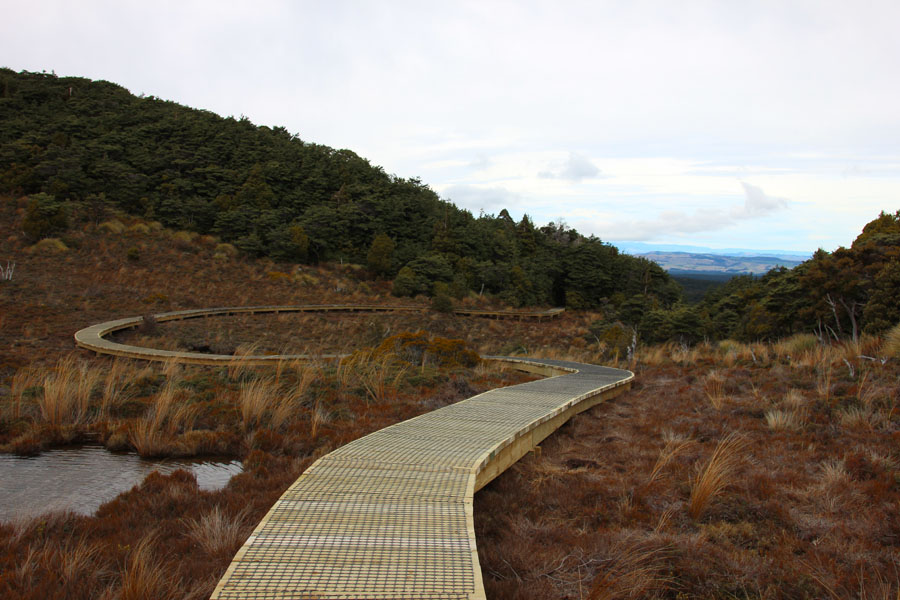 It seemed to go slightly uphill FOREVER and this old girl (it was coming up on my 51st birthday) was not feeling real fit. Thankfully, we got to a clearing and a raised boardwalk. Not knowing how to dress, exactly (you never want to be too cold), we had layers on and a jacket and were sweating by this point. However, once it opened up, a cold wind blew, chilling us and I had visions of lying in bed with the flu after this was all over.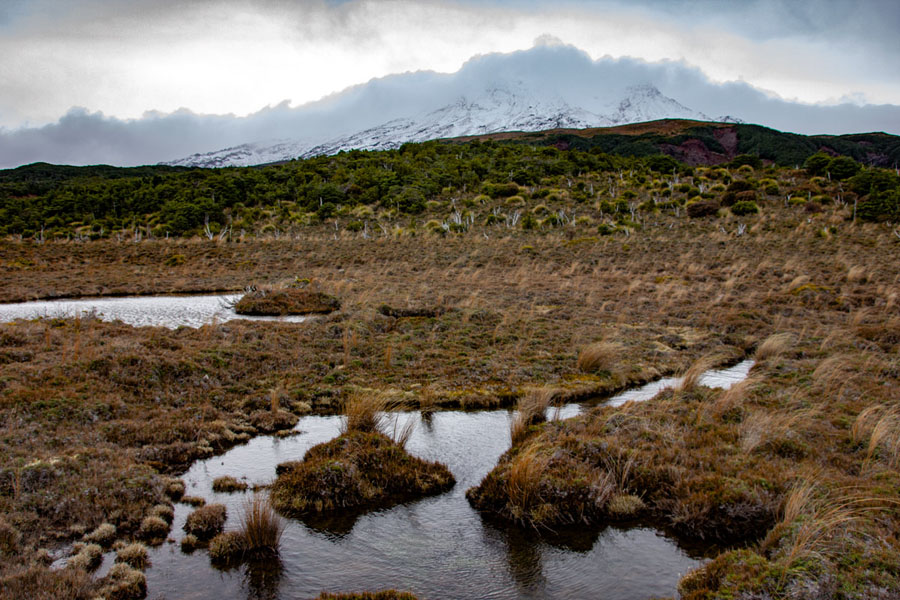 The view was amazing, though. Obviously a very unforgiving environment for the plants here as they were low to the ground and the little tussocks were visibly upset and wind swept (sort of like me!). Some small ponds appeared and I caught sight of frost on the ground around them. The snow topped mountain looked down on the vast terrain which also included some squatty pine trees. A few people were now behind us and we were probably halfway to the waterfall.
The variety of plants and trees were unlike what I see where I live, so I often got down low to take a closer look. Moss and other soft feathery plants ruled here…on the ground and in the trees.
Then there were stairs. Lots and lots of them. I will say that the track was immaculately kept so it wasn't like we were tripping over rocks or worried about twisting an ankle. We finally got to the waterfall and it was nice…but nothing spectacular. In typical fashion for us, we spent maybe 15 minutes there, mostly looking around elsewhere since it was a small viewing spot and people were starting to pile in.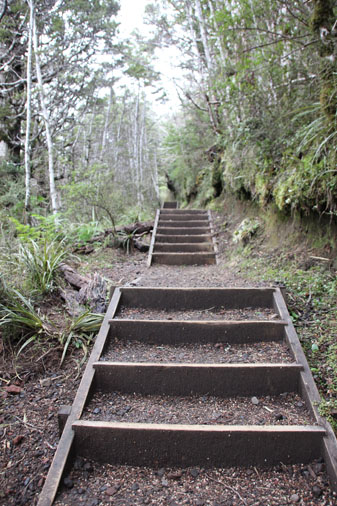 Walking back, I noticed a small area along the track that seemed to have a view below it. I peered over the ledge and sure enough, it was a nice view. This is where my mom would have had a heart attack and told me not to go there. But there, I went! I hung on to a smallish tree branch and leaned forward so I could get a better view, holding the camera in my other hand while Andy stood above, looking on. He then mentioned, "Um, there's nothing beneath you there." I'm glad the tree didn't decide to give way or you wouldn't be reading this right now.
Now, three hours return doesn't sound like much but I was pretty much over it by this point. I had no idea I was in that bad of shape. We were worn OUT when we got back to the car. Luckily, I had picked up two chocolate eclairs and a turnover from Johnny Nation's shop in town and we indulged.
Heading back toward Ohakune, I thought there was another short walk I saw, so we parked up and apparently there was some tricked out van party on their way somewhere.
I was mistaken on the walk, but there was a nice little stream with creepy trees covered in moss and banks lined with big healthy ferns.
Needing to kill time before heading to our new accommodation, we saw the famous huge carrot! Apparently, Ohakune grows most of the North Island's carrots due to the lovely, rich volcanic soil. I saw more carrots on this trip than you'd ever believe. Gigantic bags of them, truckfulls of them and now a park with them! Bugs Bunny would've had a field day here. They're so proud of it, they made this nice little park featuring a muscular potato and other happy vegetables. There was also a section of a huge totara tree with a sad story.
We headed to the new place and it was everything I expected…luxurious amenities like a hot tub right outside, a deep modern bathtub, lovely little foodie snacks, juice, coffee and teas, along with a gas fireplace and very dark skies for photographing the Milky Way (as long as the weather improved). Right outside was a nice pond and in the distance, the mighty Ruapehu.
We tucked in for the rest of the day and hit the hot tub while it gently rained on us. I had another hike planned…bwaahahahaha.
This time, we drove west toward the National Park and unfortunately, it was raining a bit. It made for some dramatic photos, though!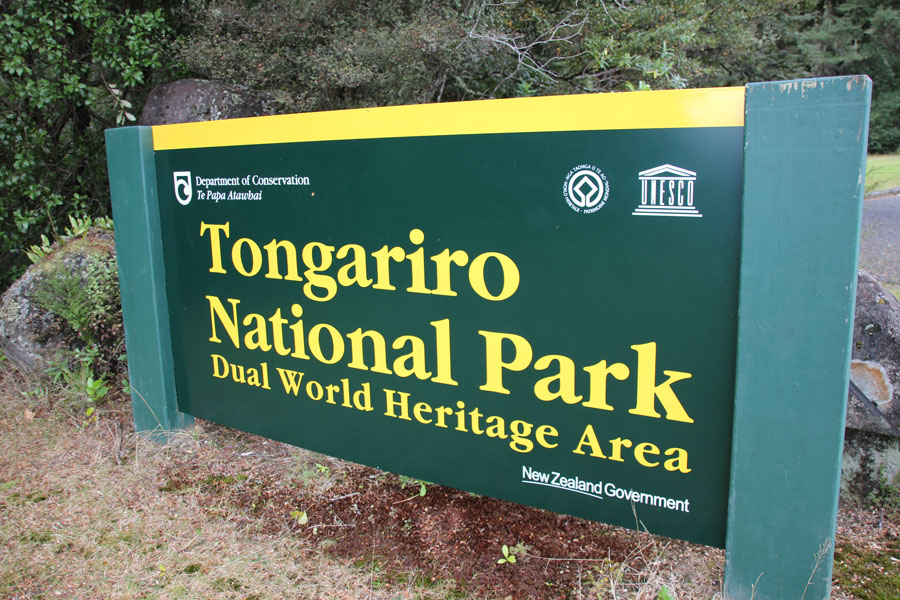 Today's walk was to see the Silica Rapids and Golden Rapids which promised brilliant colors on the rocks and riverbed due to the high aluminum, iron, minerals and acid from the volcanic ash and lava.
It was another tough walk for us. A steady uphill for a long way, dotted with some stairs and luckily, a boardwalk over the bog. Again, dramatic trees with white bark and covered in spots with moss made a striking appearance against the huge black rock cliffs.
With nature's precision of a bonsai master, the canopy of the trees couldn't have been pruned better by human hands. The intricate branches intertwined, holding small green leaves at the tips. I wondered how old they were.
The flora also impressed here. A sign explained that due to the harsh conditions, it causes stress on the plants which reflect this by turning red. The miniature world at our feet included moss, lichen and many other types of plants living closely together.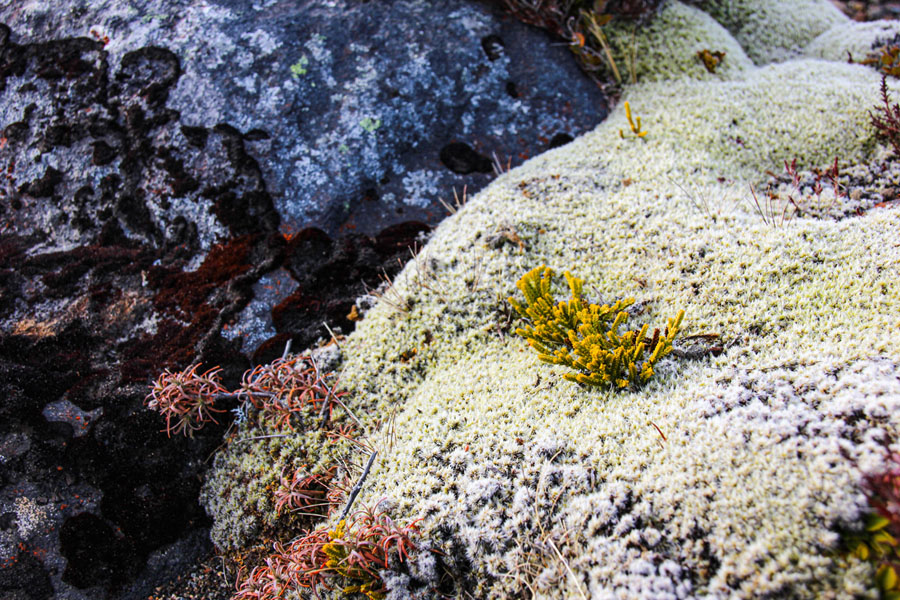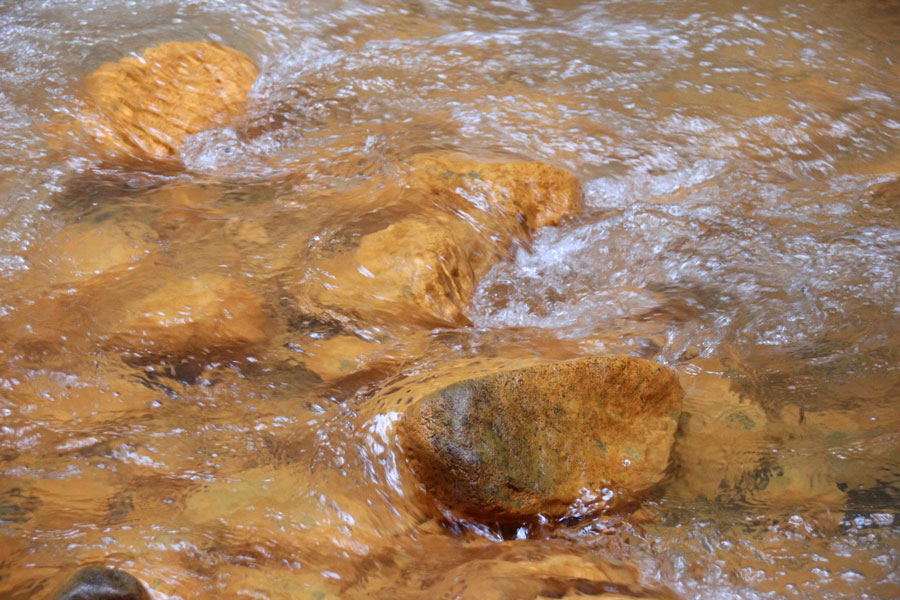 Once we reached the rapids, we turned back. You can walk another hour and a half but you don't end up where you parked and would have to walk another 3km there. The red and orange were vibrant, but came out MORE vibrant on the photos than they were in person.
We headed to a pub for lunch and there was this huge wood kiwi at the entrance. I managed to get the other side of it with the mountains in the background. It was incredible!
For my birthday, the weather gods smiled down upon us and the sky cleared just in time for us to go up on the Sky Waka gondola and hang out at 2000 metres (6500 ft.). The drive up was devoid of cars and I had to stop to take a photo of the volcano with a cloud passing in front of it. The field was littered with black rocks and scraggly looking vegetation.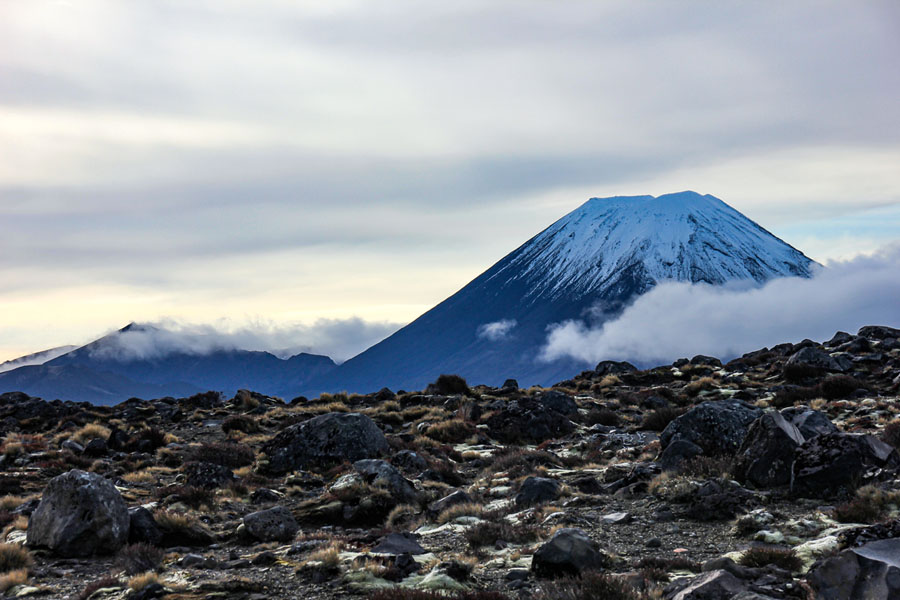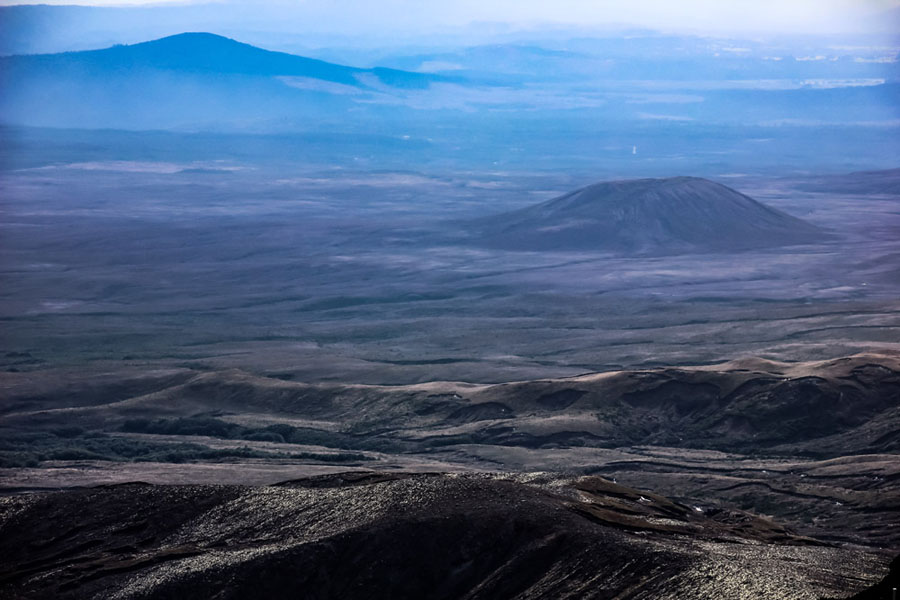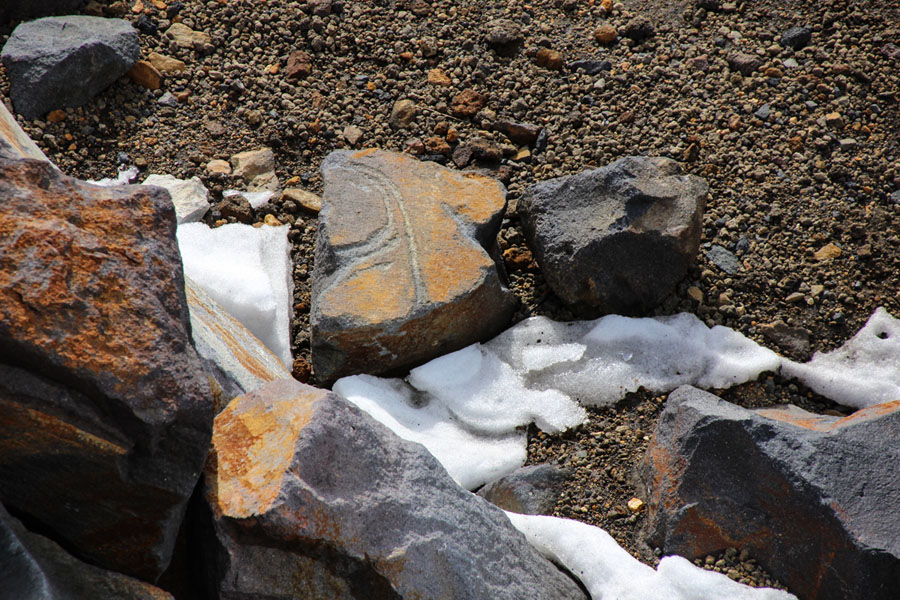 The ride up was fun, only lasting about 8 minutes. But once a gust hit the side of the gondola, swinging us back and forth, it felt a little precarious. Once on steady ground, there was a small area with snow (that was more like ice) and it was fun watching folks that may have never experienced snow before play with it and take photos.
There were warnings about being near an active volcano and that you were taking a chance just being here. Ahh, what's life without a little risk?
We had some hot drinks and lunch and then headed back down after a couple of hours to watch people on the bunny slopes, the only spot that had (man made) snow on it.
We went to the Tongariro Chateau for a drink which is the oldest hotel in the area, built around 1929. It reminded me of the place in 'The Shining' and the main area was no exception. It was kind of creepy. I'm sure there are some good ghost stories about it.
Since this was our last night there, I woke up early to take photos of the Milky Way. Bear in mind this is a new hobby so I'm an amateur without the right lens to do this properly, but it was much better than my backyard! There was virtually no light pollution (just from the hotel itself mostly) and I could clearly see the stars and Milky Way. What a treat! It was one of the reasons I had chosen this location and thankfully, the weather cooperated.
It was such a privilege to be able to experience the park with so few people and I'm glad we went. We walked over 19km (12 miles) in 3 days. It's easy to start taking New Zealand for granted while living here. It's times like these which make me take pause and realize that it's a very special country with breathtaking natural wonders. I should try to see as much as possible before the tourists return!