I'd been missing the Sunny Coast since my last shortened stint there in 2020, just as COVID was taking hold. Not only did I have to leave earlier than expected, but it rained pretty much the entire time, too. Figuring it couldn't possibly happen again, I checked the weather for the dates I had planned. It was iffy with a cold front on the way.
I had been there around the exact same time of the month 3 years ago and I recall being extremely hot…pretty typical for Australia, right? Well not THIS time! I was really happy I had worn my two layers coming from New Zealand because that's what I ended up wearing a lot of the time there. There had been two days of frosts inland. Bizarre!
I really wanted to see the platypus in Maleny again. I didn't have enough time there and it's been on my mind ever since. As well as the cute, but busy little town along with all of the fruit bats in the park. It was calling me…so I gave in and booked three nights in the Hinterland so we could experience it and everything around it to the fullest.
The rest of the time would be spent in a rooftop apartment in Marcoola, overlooking the ocean. While most people would think of total relaxation, that was not to be had most of the time. There were people to see, places to go, animals to be spotted! No time for relaxing.
Maleny – Hinterland in the Sunshine Coast
After an easy car rental took place in Brisbane through Five Star Car Rentals, we drove the hour and a half inland and north up to Maleny. What struck me were the amount of trees! Big, beautiful trees everywhere. Peaceful, rolling green hillsides dotted with large, sturdy Queenslander homes, whose verandas are usually adorned with bright, tropical flowers. It just felt relaxing watch it all go by.
We were on the way to a little boutique place called Maleny Hills Motel, run by a French man and his Kiwi wife. Promises of freshly baked pastries and breakfast on the weekends was all I needed to hear. They also offered a nice weekday discount.
It was the perfect little place with everything we needed, close to the town. Lots of thoughtful touches like fresh roses in the room. The grounds were immaculate and green. Having owned a French restaurant for decades, these folks were pros at customer service. I purchased a lot of goodies on the day they became available. A croissant with butter and jam with a coffee (hey, was that a Kookaburra he made a design of??), a baguette for sandwiches, a cherry muffin and a raspberry brulee. Wow…they were out of this world!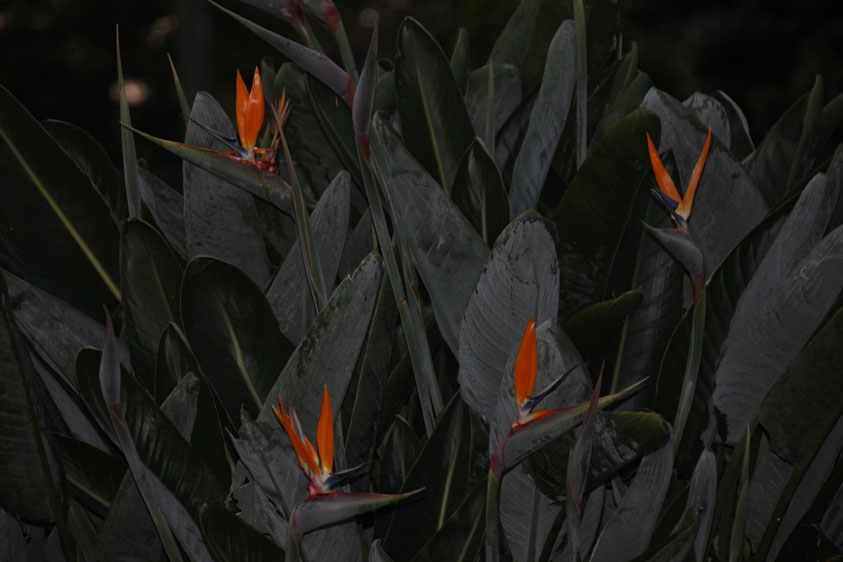 There were so many nice shops in town. This gallery had the most beautiful python sculpture (around $800) and was the closest I got to seeing a snake.
The Platypus – Viewing Platform
First thing on the list was going to see the platypus at the viewing platform. Not as long of a walk outside of the main town as I had remembered! They even upgraded the sign from the hand painted one. The platypus is BIG TIME now!
Sure enough, it was there! We went everyday over the next few days and saw it every time…morning, afternoon and evening. SO HAPPY!! You can even see the inside of its mouth and teeth in one of the photos.
The little sweetie's body isn't much larger than a coke can (which was in the water one day). He or she has a big beaver-like tail and is about as busy as one. Hard to photograph and even video, I was lucky to have gotten what I did. They scour around for vegetation and briefly surface for air.
You may recall that platypus are one of those weird egg laying mammals with venomous spurs on their hind feet (males only). Someone told me this was breeding season, but typically you find them alone. Here's a compilation video I did (if it shows up blurry, click the cog wheel for settings and choose 720p under Quality):
Unfortunately, there were no fruit bats to be found. I asked just about everyone I could in town. I followed up on some leads but saw nothing. I figured it may have either been too cold or there wasn't much food to be had in the area.
Mapleton – National Park & Kondalilla
Mapleton is just north of Maleny and has some nice parks, one of which I visited before where I saw the monitor lizard. I recall (not so fondly) of that sweltering day and far too many stairs down to the waterfall which I swore I'd never do again.
However…the other trail wasn't very long and the day was much cooler. Plus, we hadn't seen a single reptile yet so down the steps we went. With only one other person there, it was a great view of the valley below. But still no reptiles to be seen.
We stopped at another park nearby and I finally took a picture of these BBQ's. They confuse people from North America and just don't seem usable at all! I studied this one a bit longer than usual but still wouldn't feel the need to use one. So weird!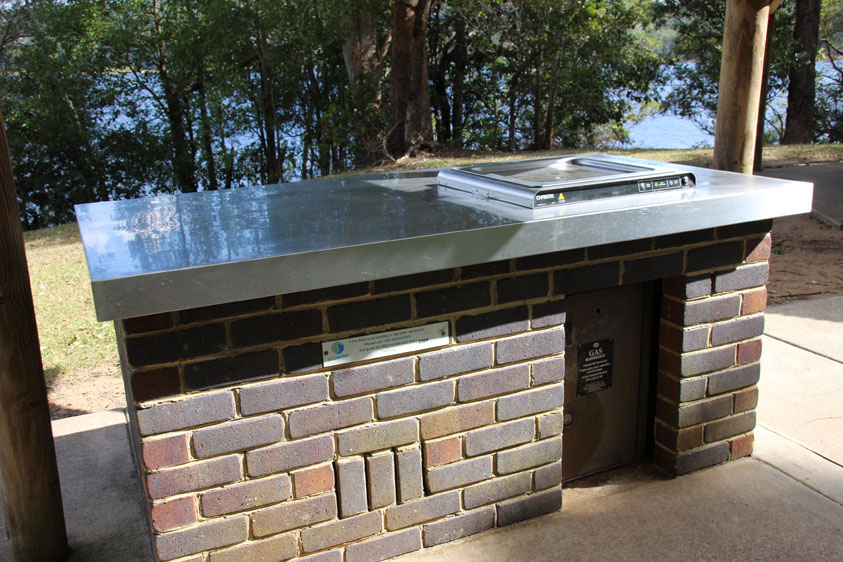 Kookaburras are masters of stealing meat right off your fork as you're about to put it in your mouth. God forbid you sit there with it in your hand while talking to someone. They've got sharp eyesight and you probably won't even see them coming. Cute little buggers!!
The town of Mapleton itself is quaint, with all kinds of shops, cafes and tasty treats along the tree lined street. I recall it was hard to find a place to park last time, so I never stopped there. I definitely wanted to this time, though. We grabbed a not so great lunch at a cheapish cafe that seemed popular and then I got some shopping in (the chocolate shop was lovely!).
Mapleton Lily Pond
This spot was a real treat. It was threatening to rain so we stopped into the little shopping center to grab a coffee (and dang it, another bakery item or two) and then stumbled upon this nice park with a huge lily pond and TONS of birds. It had the most wildlife we'd seen thus far.
There was no shortage of big white Ibis, pukeko's and (possibly) weka's, ducks, parrots and more! There was a tree with some strange looking seed pods and I wondered if they might be those elephant sausages I saw at a zoo here. They were still small, but like nothing I'd seen before.
Baroon Pocket Dam
We popped over to the dam which was (damn) quiet. There was a small walk and we spotted this ginormous spider! The web was at least 5 feet wide.
I loved these big palms with their long leaves dripping over the sides.
One reason I came here was because someone said in an online review there were fruit bats. Nope. Not today, at least! But I can see the appeal. There was a hotel nearby as well which seemed quite busy. You could eat at the restaurant, too.
Mary Cairncross Rainforest Reserve
Ahhh, my favorite place. We went early in the morning and it was a bit chilly but the lack of people made it worthwhile. Always go early! By the time we left, it was far too busy.
The neat sounding Eastern Whipbird was still there as were the Padymelons. I incorrectly referred to them as wallabies in my other post. They are related, but supposedly a bit smaller. They were quiet as they searched the ground for leaves to munch on. One was sitting in the sun, warming up.
Here's the call taken at a different park in Eumundi. It's not a very large bird, either.
The Glasshouse Mountains are a prominent feature in the Hinterland and Mary Cairncross has a perfect view of them.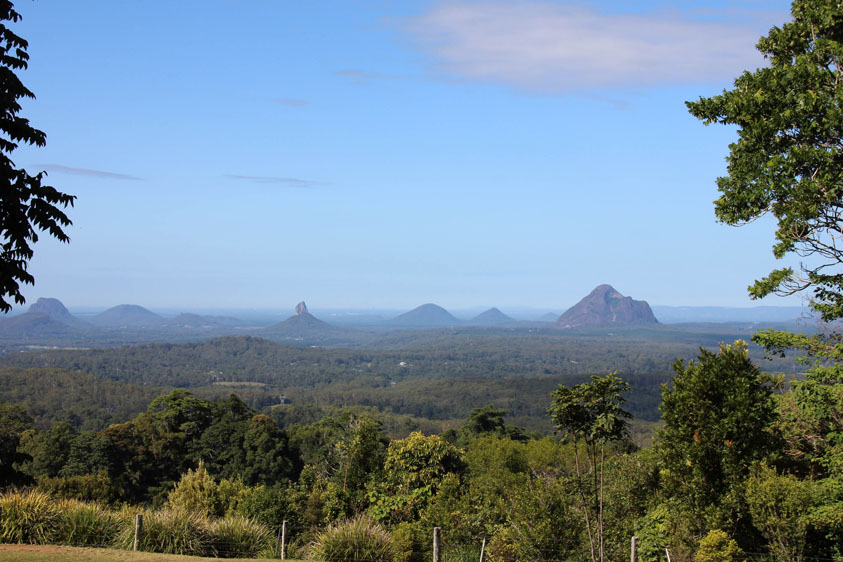 Gardners Falls
The last place on the list to visit was nearby Gardners Falls. I wasn't expecting much but wow…it was nice! Lots of rock pools leading to a deeper section of pretty water. There was music coming from over the falls and we noticed some people up in the forest along with a swing rope.
On the way out, I was looking at a shag on a branch and turned to look up next to me, only to see this cute Kookaburra on the tree! I stood there long enough to watch it swoop down and grab a worm off the ground. Then amazingly, got some photos of it going back up to perch.
I noticed in a couple of different parks how these trees give each other space in the canopy. I read about this not long ago. It may have been to let light down below or just so they didn't crowd each other. It was cool!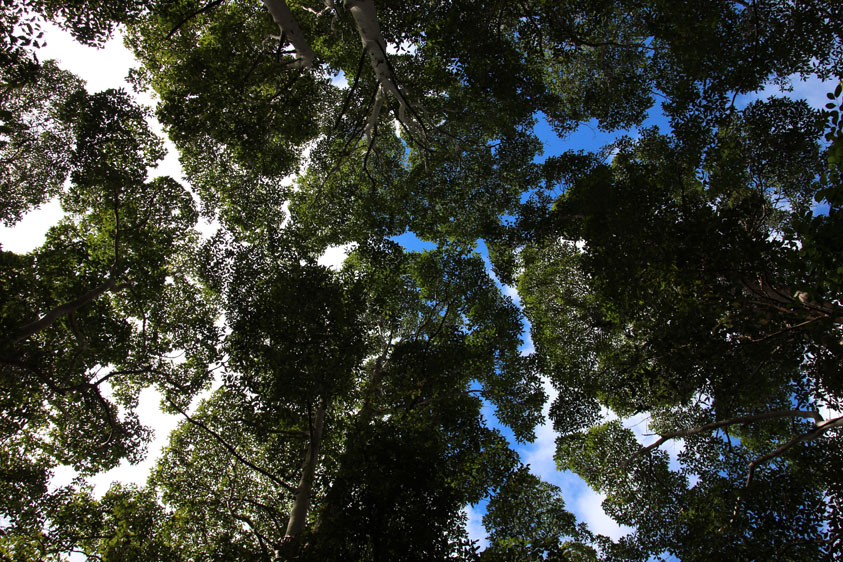 Sunshine Coast
After three solid days in the Hinterland, it was off to the coast and the luxe apartment which was in the Atlantis Marcoola Resort. While this isn't my usual M.O. when travelling, it sure was nice to be spoiled for once! There are a lot of places to choose from along the Sunny coast but I liked this for its proximity to everything yet it wasn't too busy. The apartment was the most expensive since it was on the top floor, but we essentially had two balconies to choose from and a hot tub, bbq and chairs. I really enjoyed it. Let's face it, the pay 5 stay 7 helped me decide! We had the pool all to ourselves the two or three times we went.
Oh! I did see some small bats flying over the rooftop one night. Someone mentioned when the moths are out, so are the bats. It had rained that day and got a bit warmer. The moths were definitely around. I couldn't photograph any bats though. Oddly, I could smell them while we were inside the apartment before I ever realized they were flying around outside.
One of the best things (two, actually) were the amount of tropical birds in the bush each morning and evening and the sunrise and sunsets!
The rainbows were spectacular, too. I could really get used to this.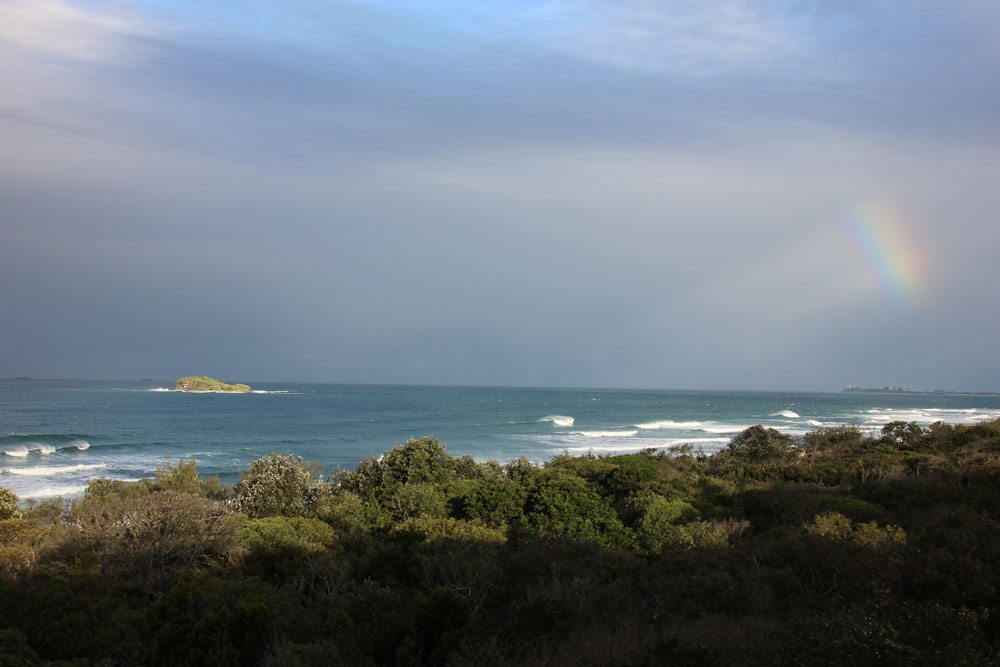 The beach was as clean and empty as I remember it. Water was too cold to enter, though. There were lots of cute footprints in the sand.
Another good reason to visit Oz is to get some fresh prawns! The cheapest way is to just buy them at the store and make them yourself, so that's what I did! The first batch were tiger prawns. The second were banana prawns, using the same ingredients from the previous dish I had left over which consisted of chorizo, onion, green beans, tomato and fresh pineapple in a garlic butter/wine sauce.
We also met up with Marie for dinner on our last night! She was my first contact in Australia when I came over 9 years ago. I loved her airbnb house so much, I stayed longer than planned. She moved a few years ago and I house sat for her the last time I was there. It was great to catch up again! We lost money on the pokies though.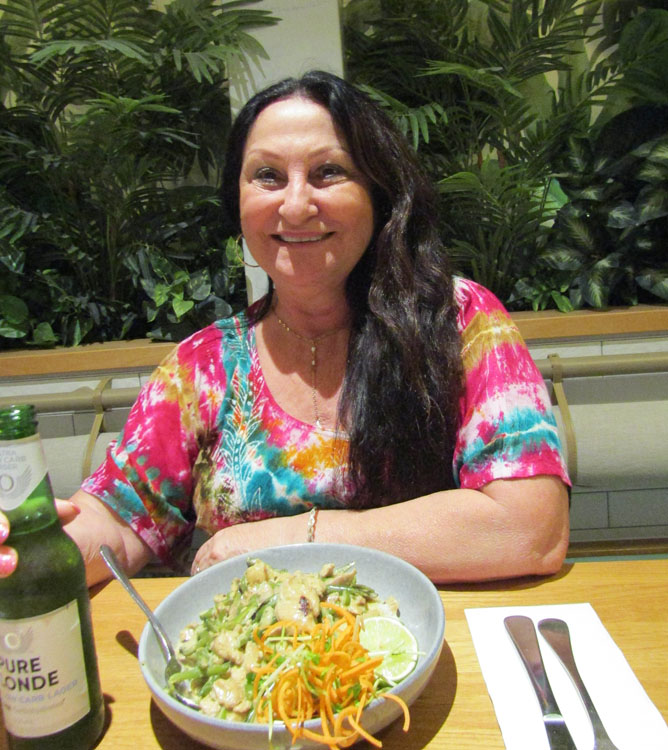 Noosa National Park
Another spot I had to see again was Noosa National Park. There had been koalas there so I figured at LAST we could see some wildlife. I also recall it being very busy even on a weekday. The forecast was heavy rain until about 9am. I made it a point to get there early and keep my fingers crossed.
Naturally, the tiny parking lot for this large park was completely full and yet another walk I dreaded was from a parking lot well over a mile away. We parked there and waited a few minutes and miraculously, the rain stopped!
I enquired at the information desk about where the last koala sighting had been and she said with a long face, there hadn't been one since October! I held out hope I'd see one near Tea Tree Bay, but alas, there were none.
As the rain lightened up and the clouds started to part, the hardcore surfers were out waiting for the perfect wave. I always think it's funny watching people coming into the park with their board and their brisk walk and serious look on their faces as if the waves were just going to stop. I'll also say it was refreshing to see all of the <ahem> older folks surfing, too. We saw many retirement age men and women going or coming from a surf.
I liked this newish sign which wasn't there before stating the surfer's guide to not being an ass.
I did spot another Kookaburra sitting quietly on a branch, watching everything that was going on.
The thing I love about this whole area is that being outside and taking advantage of walking, biking or playing on the ocean is what a lot of people do. Staying healthy is a way of life that's easy to do here.
Mooloolaba
There's a lot going on in the Mooloolaba area, with the river winding through neighborhoods out to the sea. We visited a few places…one being a little park where once again, I hoped to see some lizards at the very least. Oddly enough, it was pretty normal for a while and then we came across an entire section that had been burned!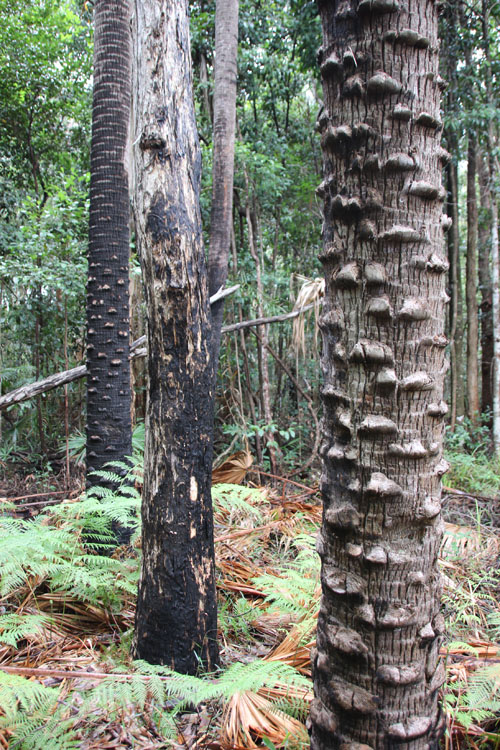 I had to find out what happened here, so I looked it up and it turns out it was an intentional burnoff by the fire department in order to prepare for the Fall fire season. Not only does it help the native plants and trees which rely on fire to reproduce, it also creates a break in case a larger fire flares up.
There was an odd tree there that had some squiggly lines in the bark. It was due to moth larvae! This particular gum tree is usually found in the Sydney area and NSW.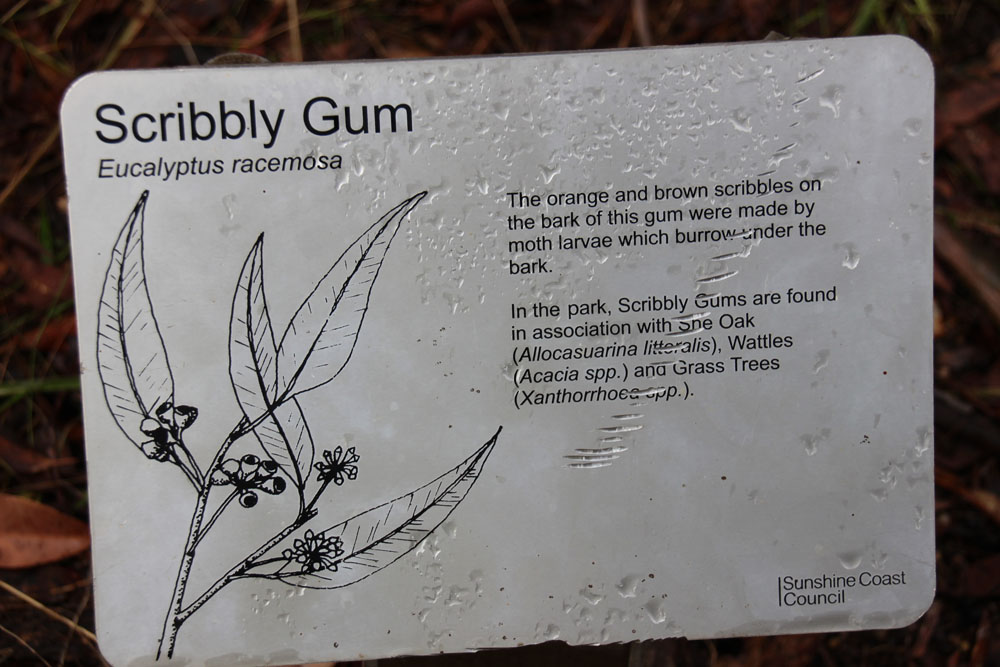 A little park by the beach had some ibis and bush turkeys.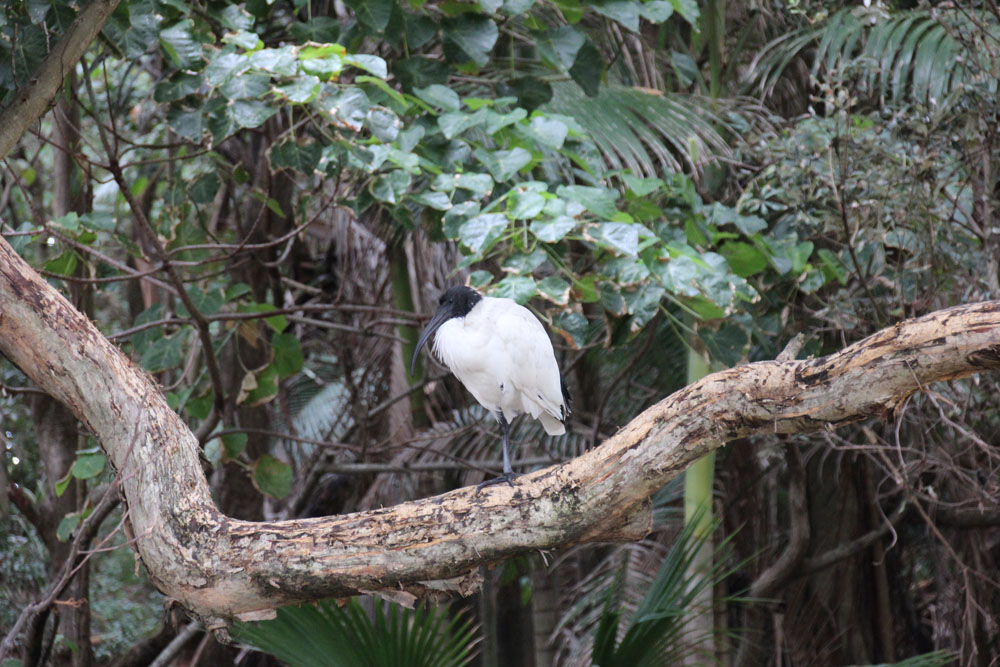 Sea Life Mooloolaba
I had to get some kind of critters in since I'd been denied of seeing them so far. Sea Life Aquarium was near the beach and shopping so we hit that up. It was smaller than I thought it'd be but had a nice selection of fish, coral, jellyfish and of course sharks and rays. The tunnel was the best where sharks float over your head and all the Aussies are saying, "Shaaaaahhhhks!"
Shopping, lunch and pictures of the beach were next. We decided on a top floor restaurant which had some lunch specials (they lure you in with a free beer or wine which totally worked). I like throwing wait staff off by ordering a huge rib plate which they will ALWAYS hand to my boyfriend first…hahahah!
There were tons of great shops to see and when our feet were about to give out, we sat on the beach for a while.
Eumundi Markets
I couldn't wait to go to the Eumundi Markets which is about 30 minutes from the coast. A large market in a small town, it's on two days of the week. Anything and everything you'd want is there. I didn't get there last time so this was my chance! I splurged on a couple of expensive things that were totally worth it.
Eumundi Conservation Park
The FINAL place on the list was another large reserve in the area where I thought we could see more (any!?!) animals. We hadn't even spotted a kangaroo yet and we were on day 10 by now. A google review of this particular entrance claimed to have seen a poisonous snake, so I was happy about that!
I was surprised to even see a sign there and about a minute into the walk, I spotted some kangas in a neighboring field! They were very far away (thanks, zoomy camera) and the only ones we saw on the whole trip.
A woman was riding a horse past us so I took the opportunity to ask about koalas, lace monitors, snakes, etc. She said they had seen koalas but pointed toward where the homes were and yes, there were lizards but were probably hibernating. She also blamed people for bringing their dogs off-leash over the lack of wildlife.
I had been taking photos of tree trunks/bark for a vision I had for wall art. I didn't notice until I saw the pictures but these trees seemed to have little scratch marks on them! Could it be from koalas or lizards?
Before we knew it, it was time to fly back home. I'd say that 11 days was sufficient to cover the sights within the Sunshine Coast. We clocked over 40 miles of walking while there. Hopefully it offset all of the indulgent eating.
Although it wasn't as warm as I would have liked, it was still a fabulous trip to a gorgeous area that I'd love to live in someday. I'll either have to win the lottery or house prices will have to crash to the ground to find an entry into homeownership. Maybe it's just a pipe dream. It's nice to know it'll always be there for another visit though!