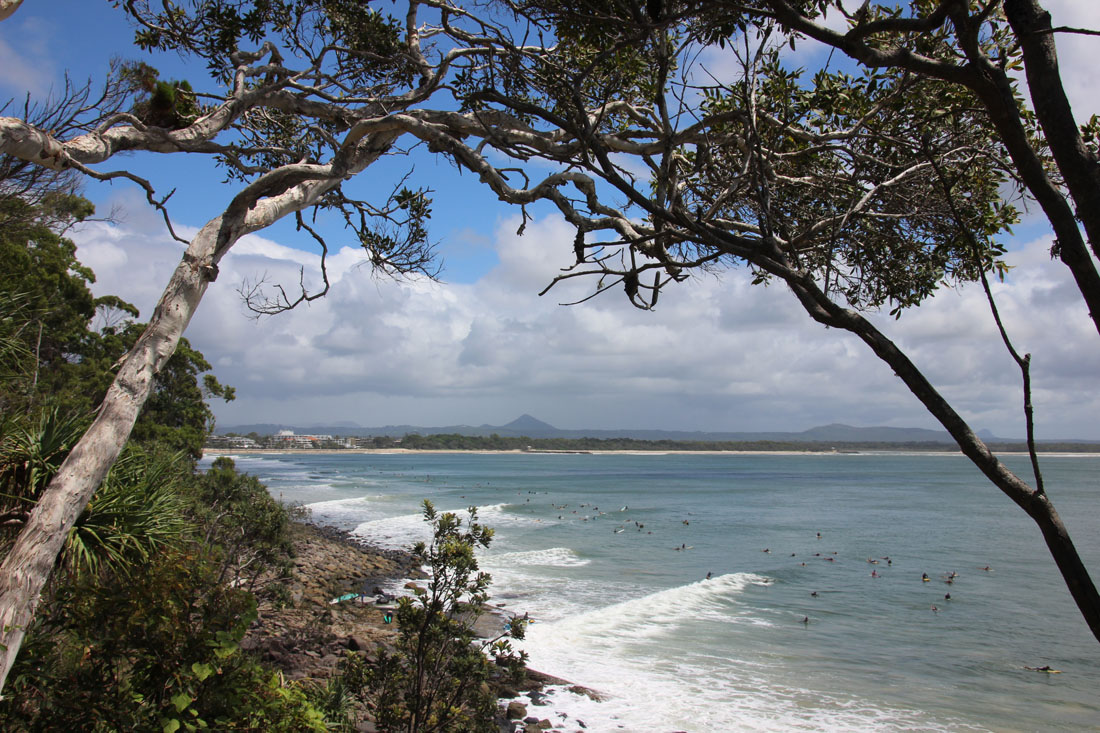 Ahhh, Sunny Coast…one of my favourite memories of Australia. It was the first place I went when I got over there six years ago. I liked it so much, I extended my AirBnB stay. Deserted beaches, low-key neighbourhood and sun, sun, sun! I went to the beach every single day and zoned out to Sia's new album, which imprinted on my mind forever.
When my friend who hosted me back then asked for a house sitter for three weeks, I jumped on it, not wanting to pass up an opportunity to re-visit again. It was a knee jerk reaction and I quickly found a round trip ticket and confirmed I'd be coming. I'd arrive on March 4, before the Corona virus thing started really taking off. I wasn't aware that my host was going on a cruise to Northern Italy until after I arrived. Let the fun begin! Here's the forecast for the week: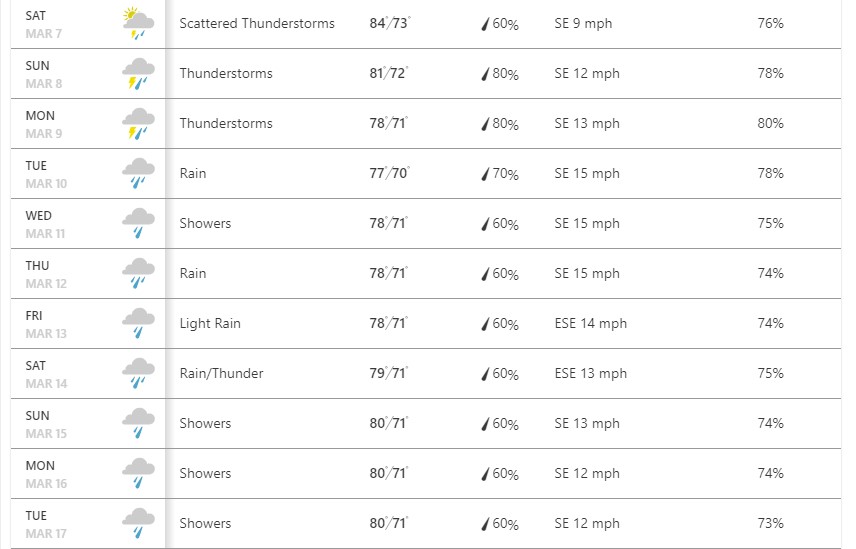 I couldn't believe it. Last time I was there it never rained, so this wasn't looking good. It did give me time to plan out where I wanted to go since she was leaving me the car. There were a couple of days in a row where it wouldn't be as rainy, so I decided to hit 4 parks in one day that were all near each other.
I saw some pretty pale headed rosellas in her tree the first day.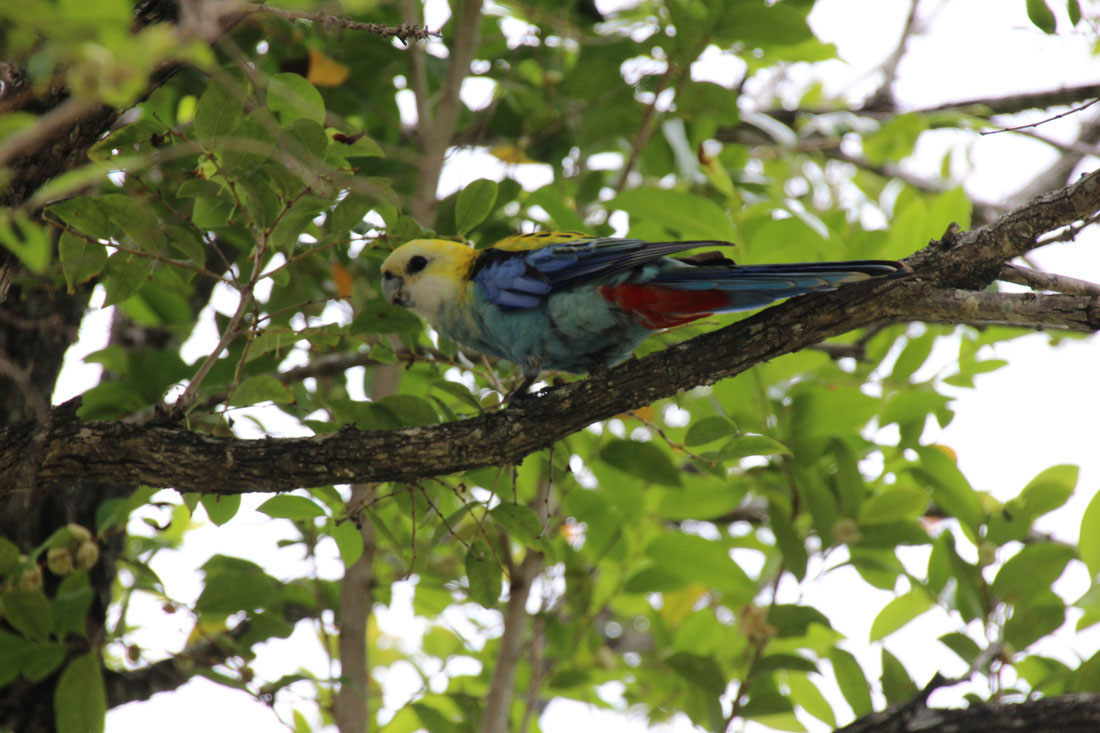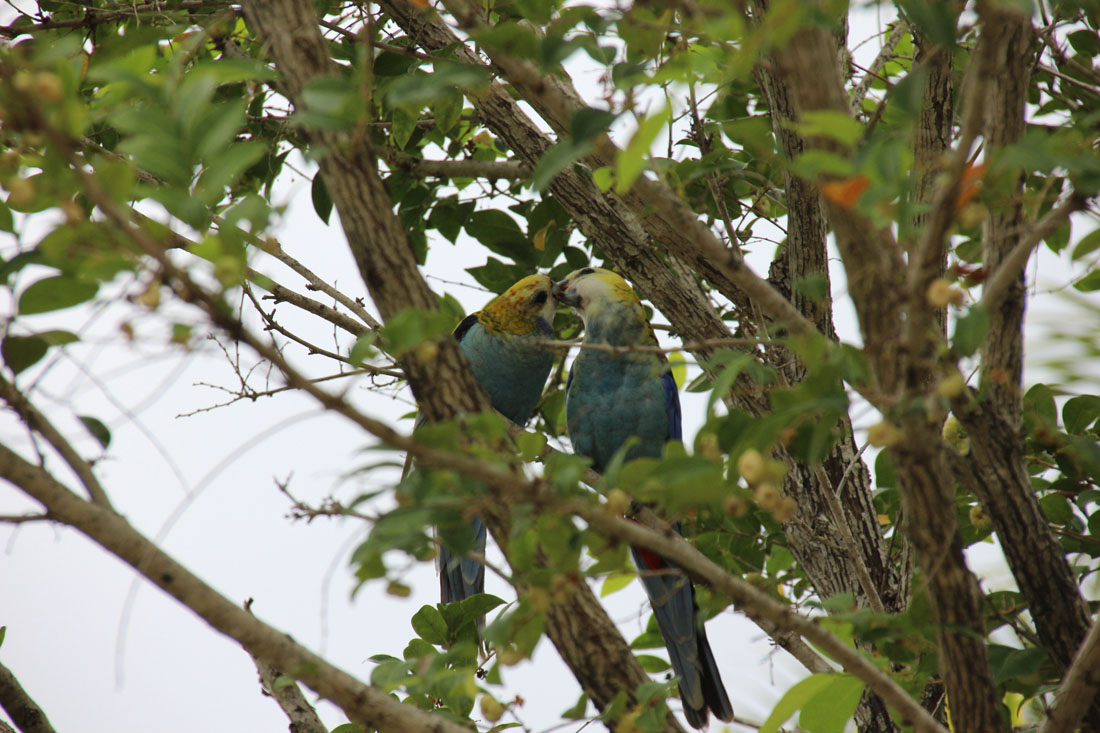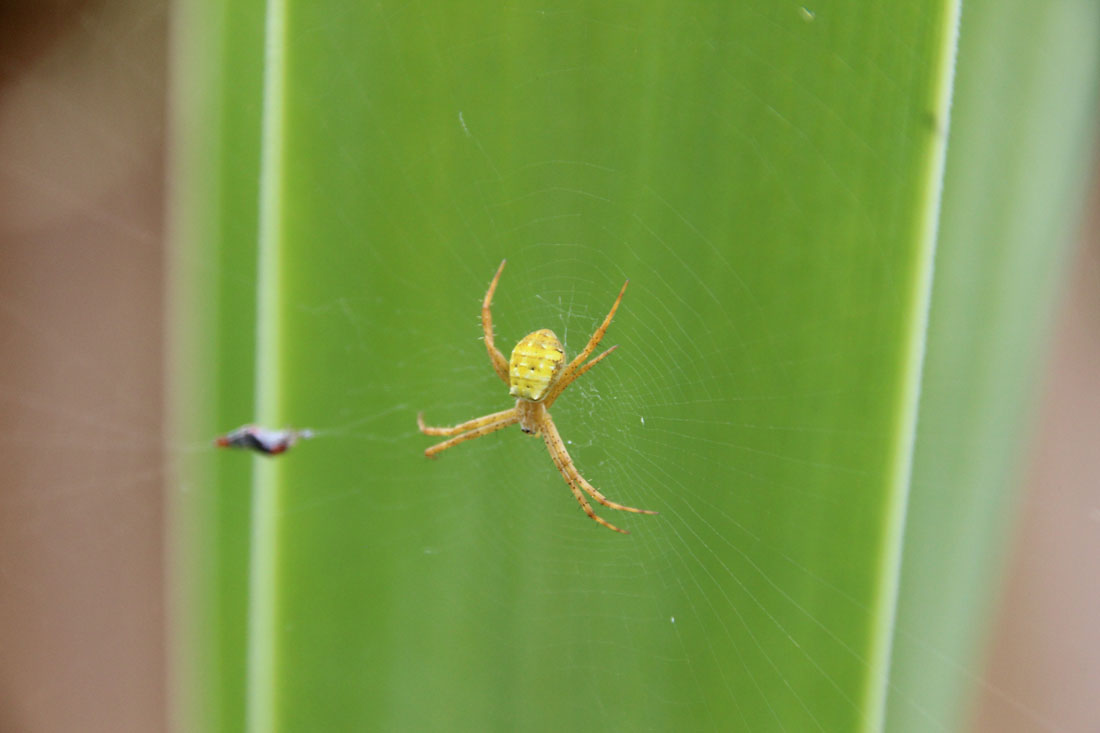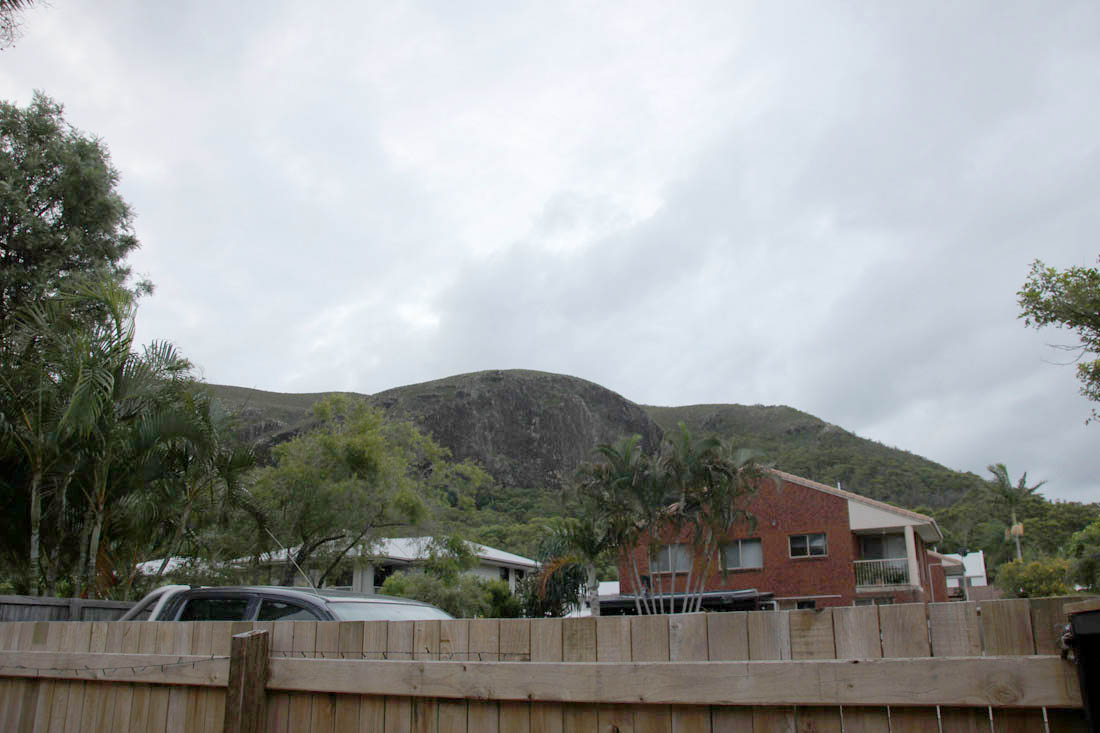 She lives right across from Mount Coolum which is a 25 million year old volcanic dome that people love to run up and down for some intense exercise. Me? Not so much. I went over there looking for some wildlife pictures and got absolutely none. Here's one part of the trail…near the bottom.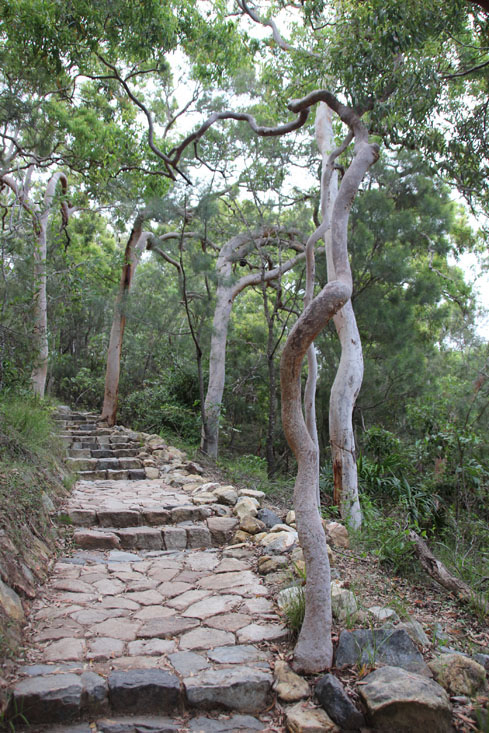 A boardwalk along the beach has the best view of it.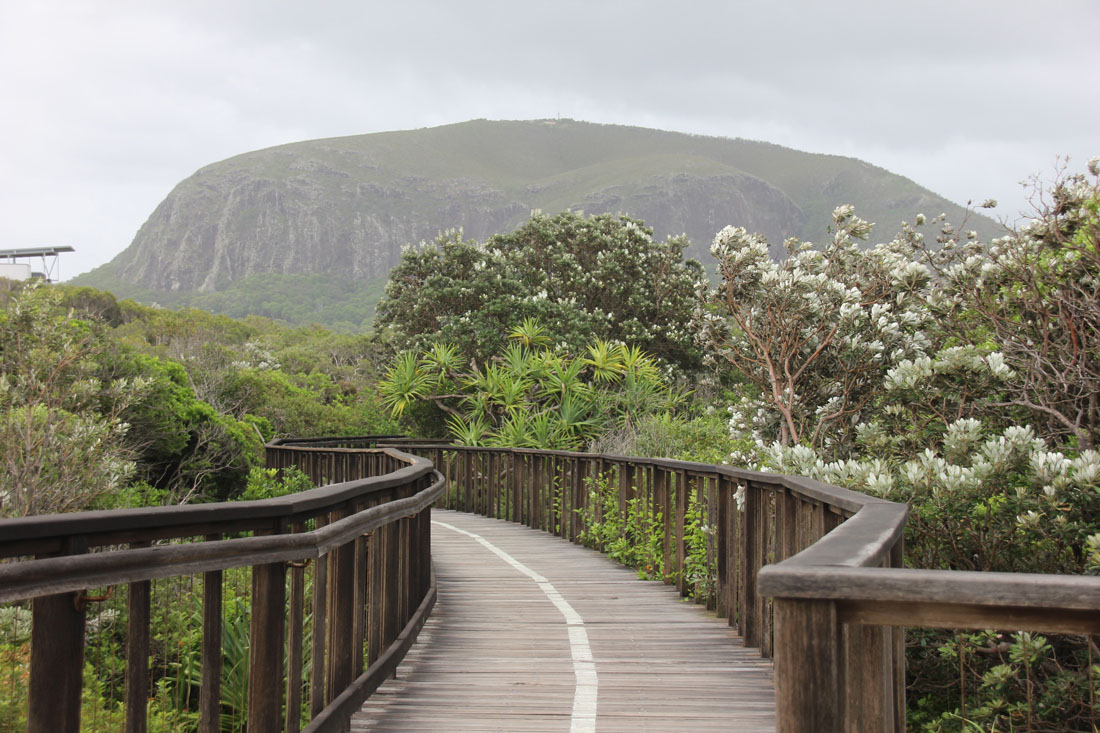 Noosa Heads, which is north of Coolum looked like a fun place to visit. There's a national park located there and you can take a coastal walk to spot some wild koalas. Count me in! I was told a good place to park that not many people knew about but I didn't heed that advice. Instead, I arrived to find the main parking lot packed as well as the side roads. The walk was looooooong from where I had to park, but it was good exercise.
I took a short walk through the forest where it was surprisingly quiet and then wanted to find the koalas. That was a 15 minute walk from the information center to Tea Tree Bay.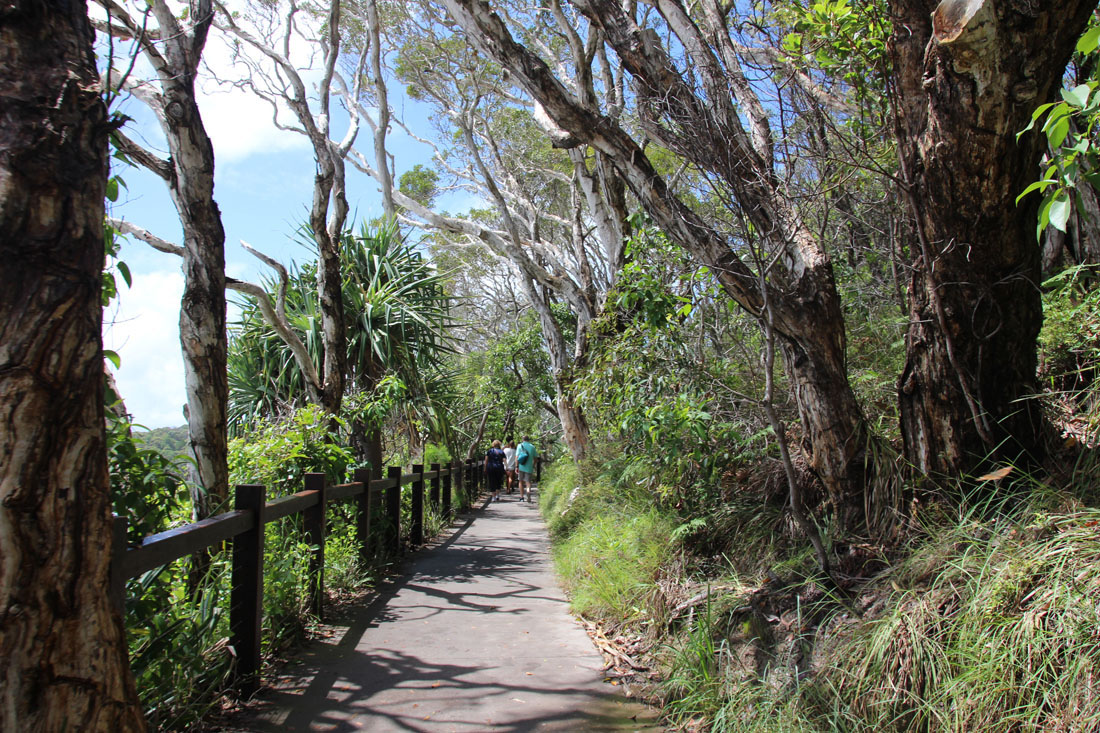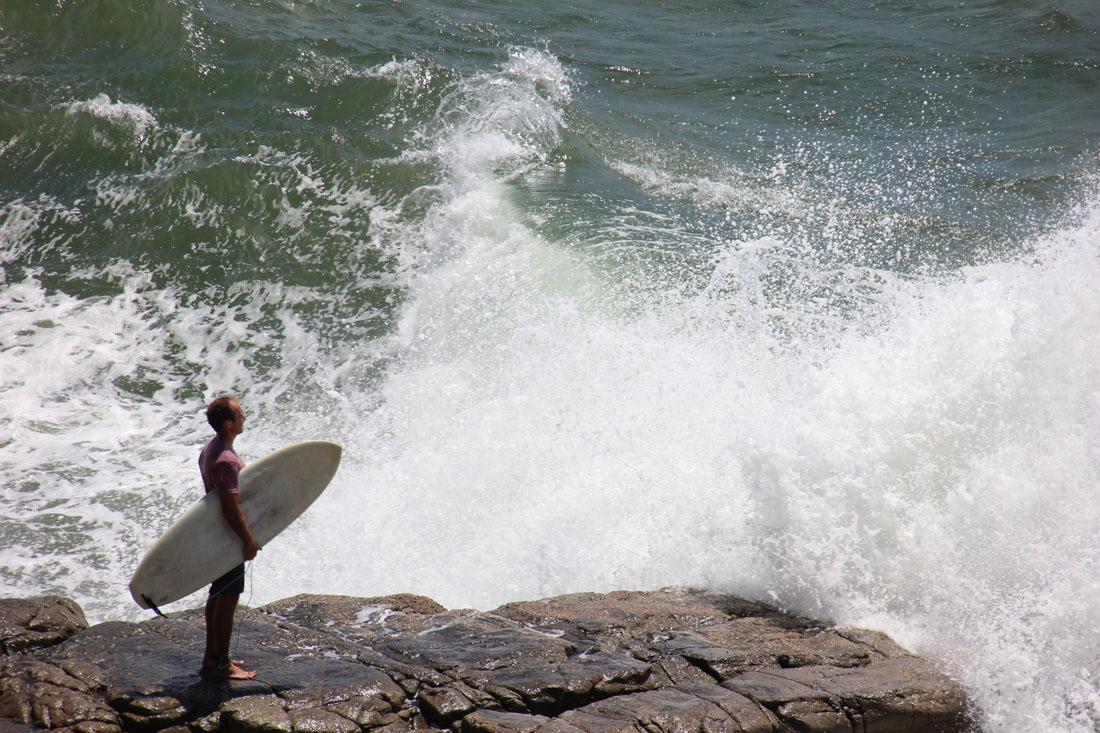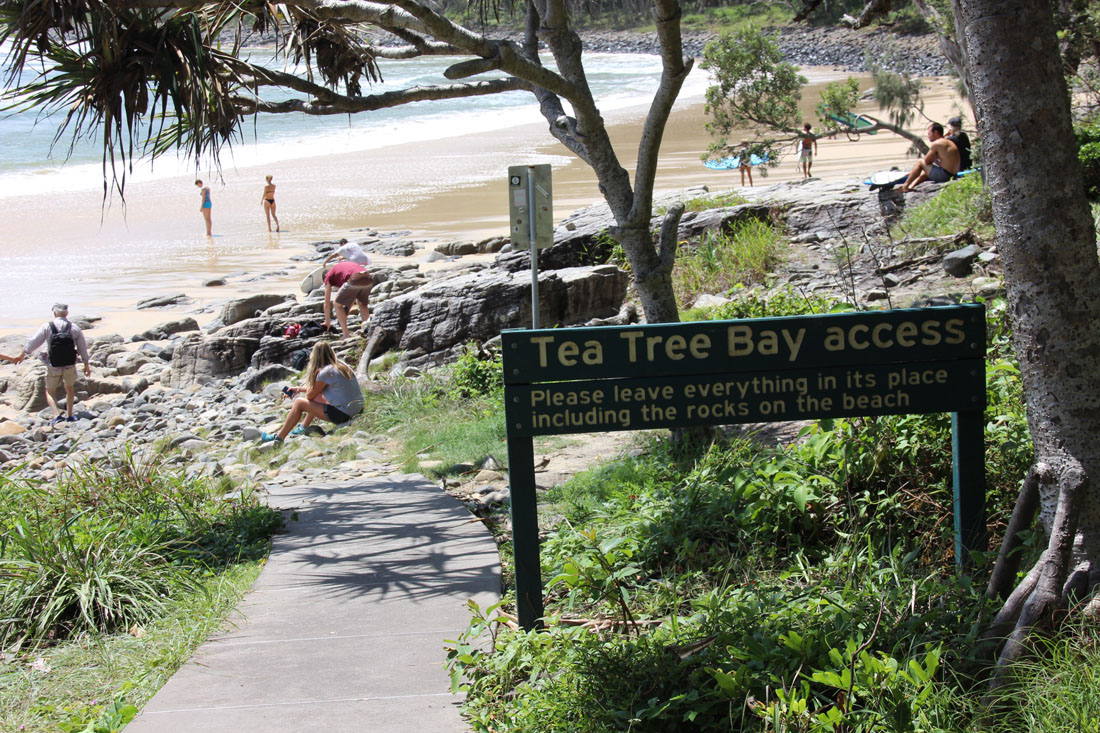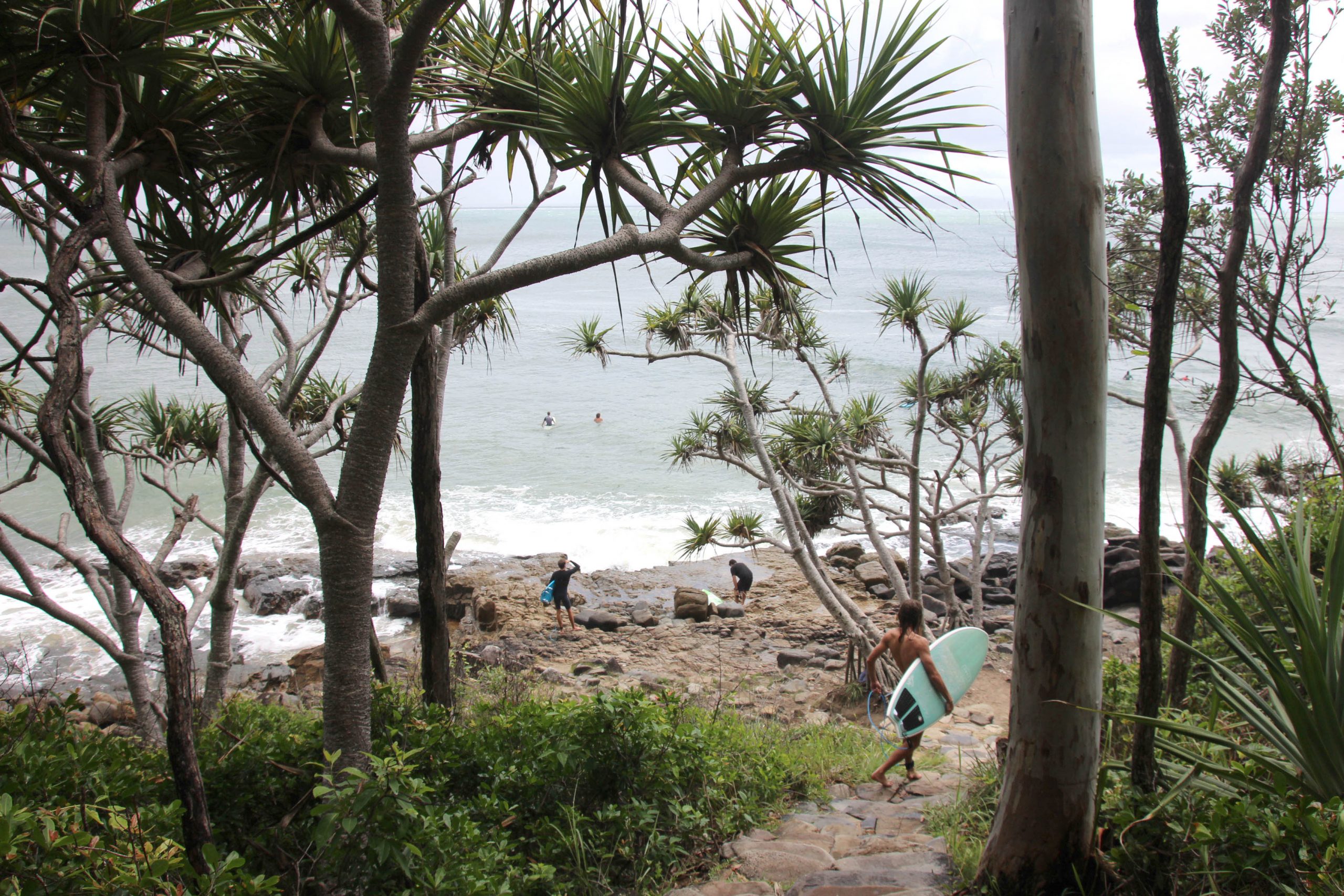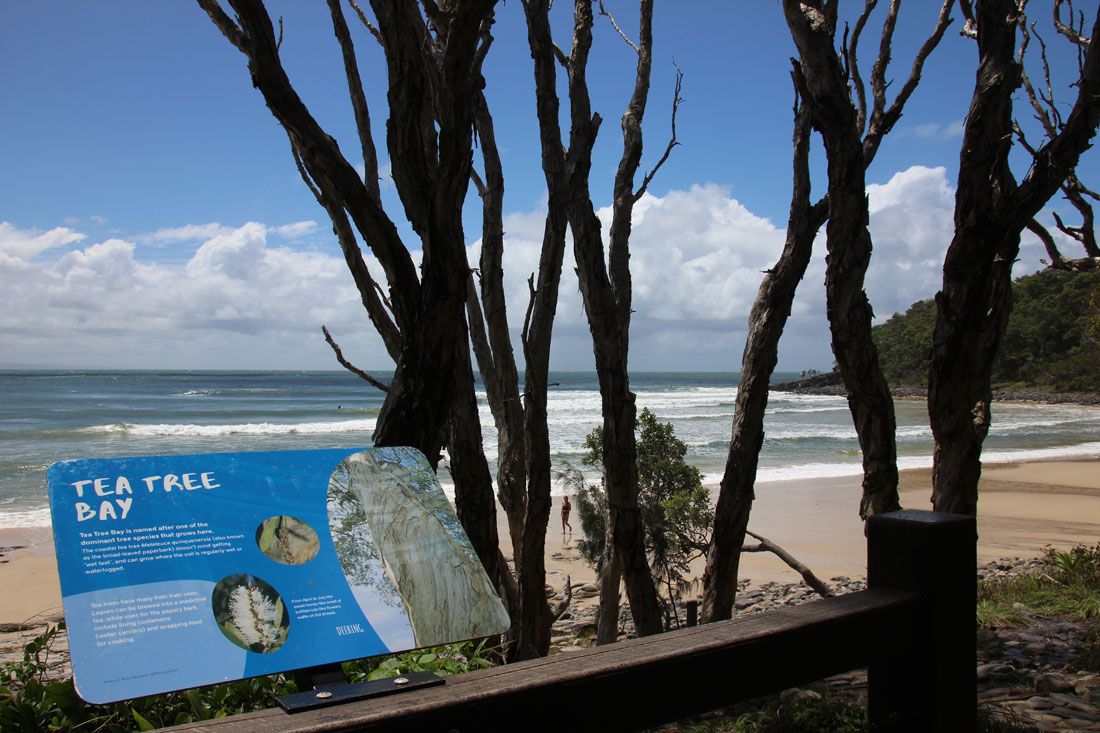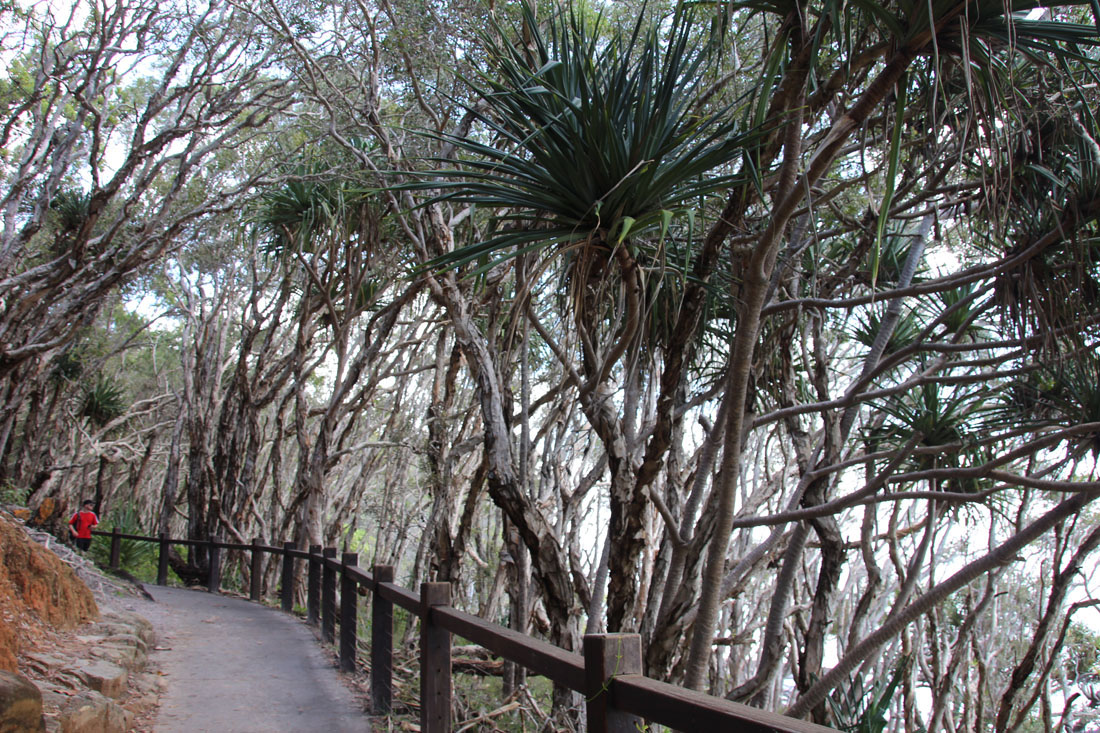 I started to wonder exactly what all of these surfers did for work. I was there on a weekday and it was packed! I came across some people pointing up at a tree so that had to be the koalas. There was one, high up trying to get comfortable, scratching and munching on leaves.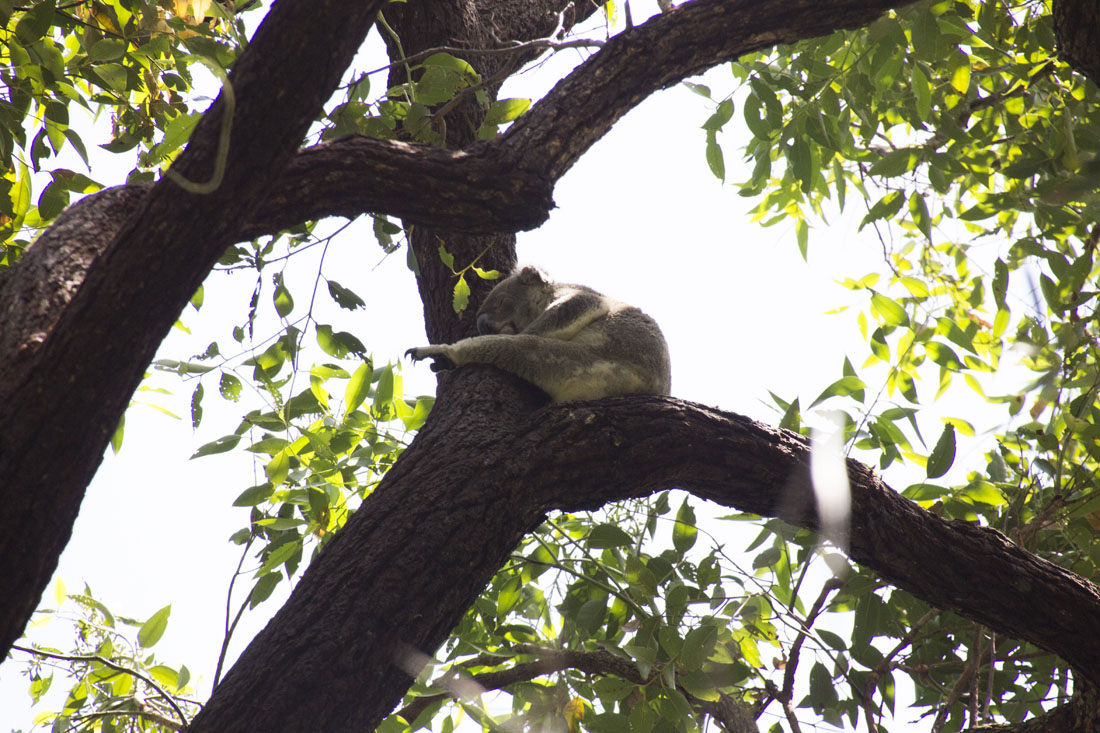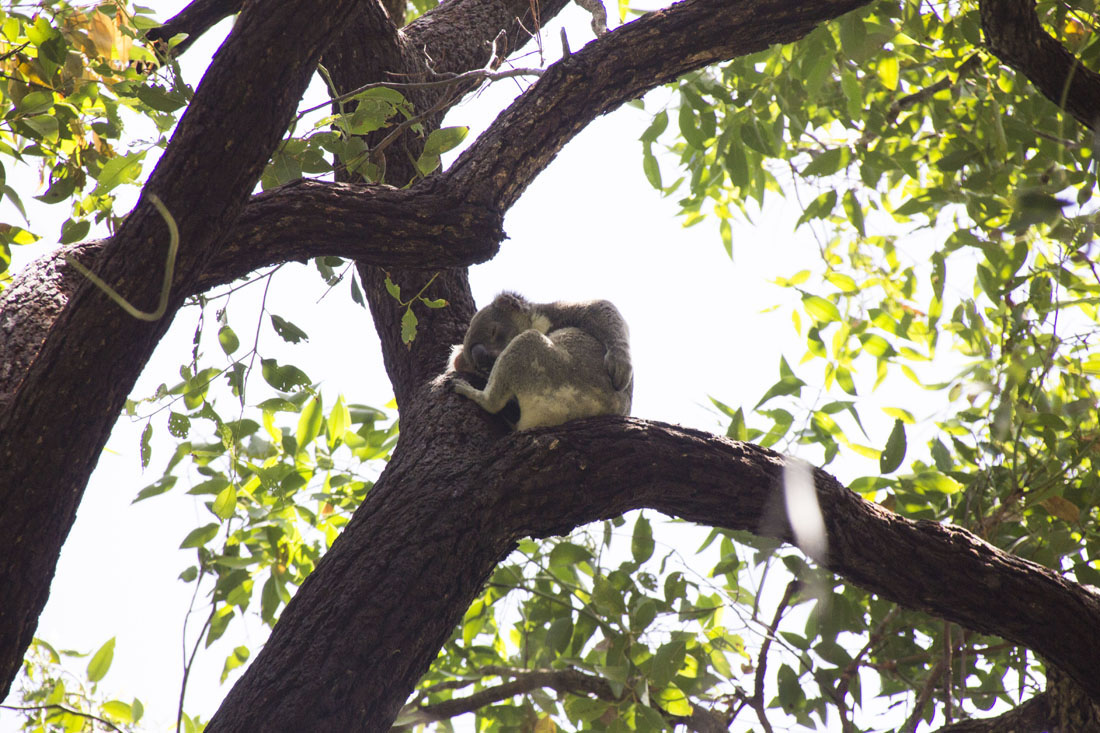 It took about 3 hours to do everything there and as I was sweating and dehydrated, a gelato shop caught my eye. Ahhh, why not!? Double fudge cone for lunch and ohhhhh it was goooood.
First on my list of places to go the following day was Obi Obi Creek, where it said you could possibly see platypus if you got there early enough. Having never seen one in the wild, I was totally down for this. It was an hour drive and I planned to get there at 7am. After reading multiple posts on where to find them, I parked at the library and found my way along the creek. It was pretty wooded and couldn't see too well but followed my ears to where there were a lot of noisy birds, figuring I'd get some pictures of them.
To my surprise, they were flying foxes! I'd been tricked by their call before in Cairns which sounds like a bunch of parrots. It smelled like a big ol skunk which even permeated the car the entire day although the windows were closed and not even that close by! I stayed longer than I should have but enjoyed it…knowing my time was running out for the platypus.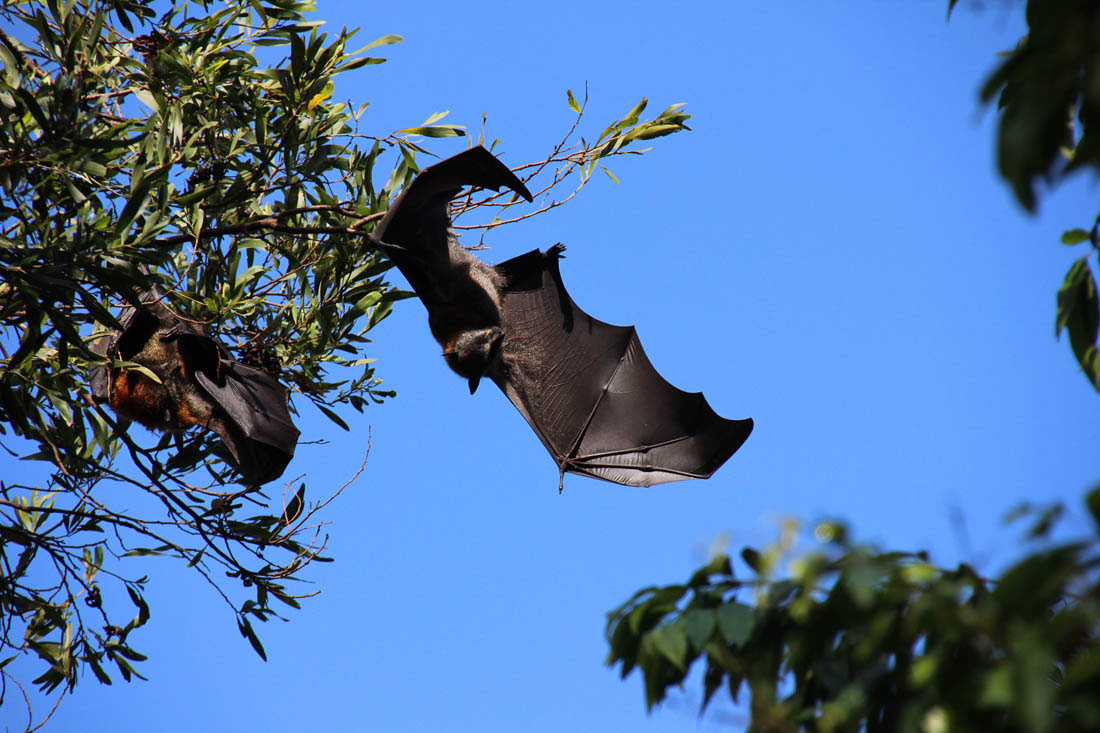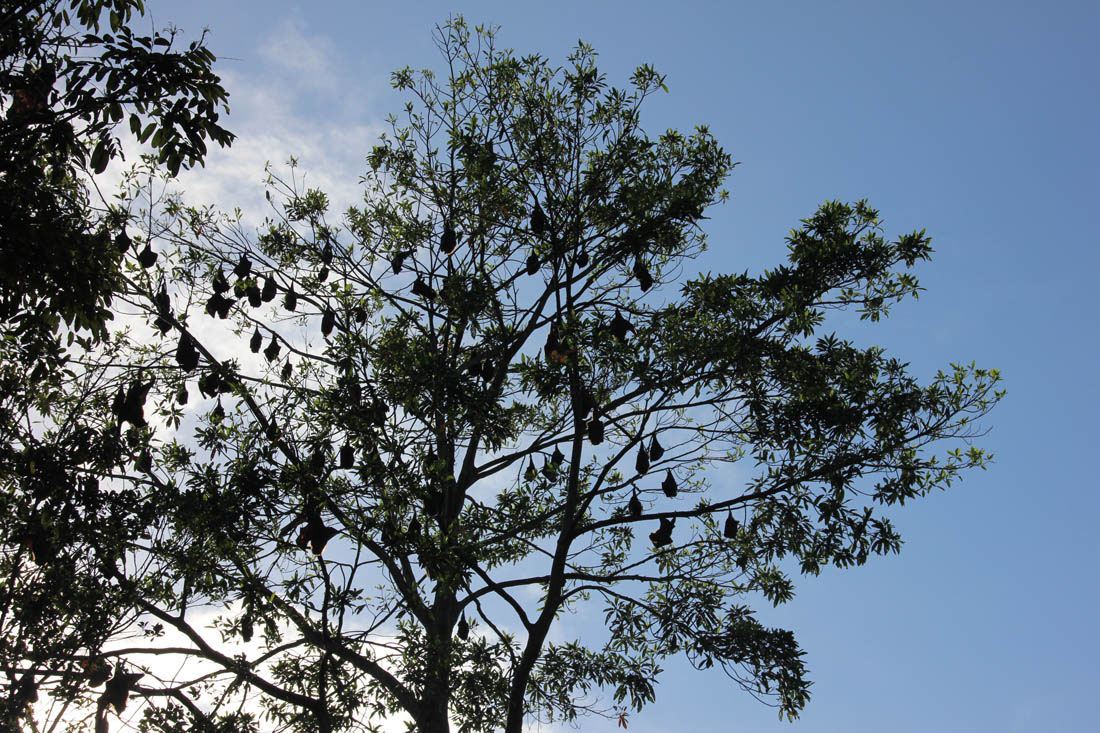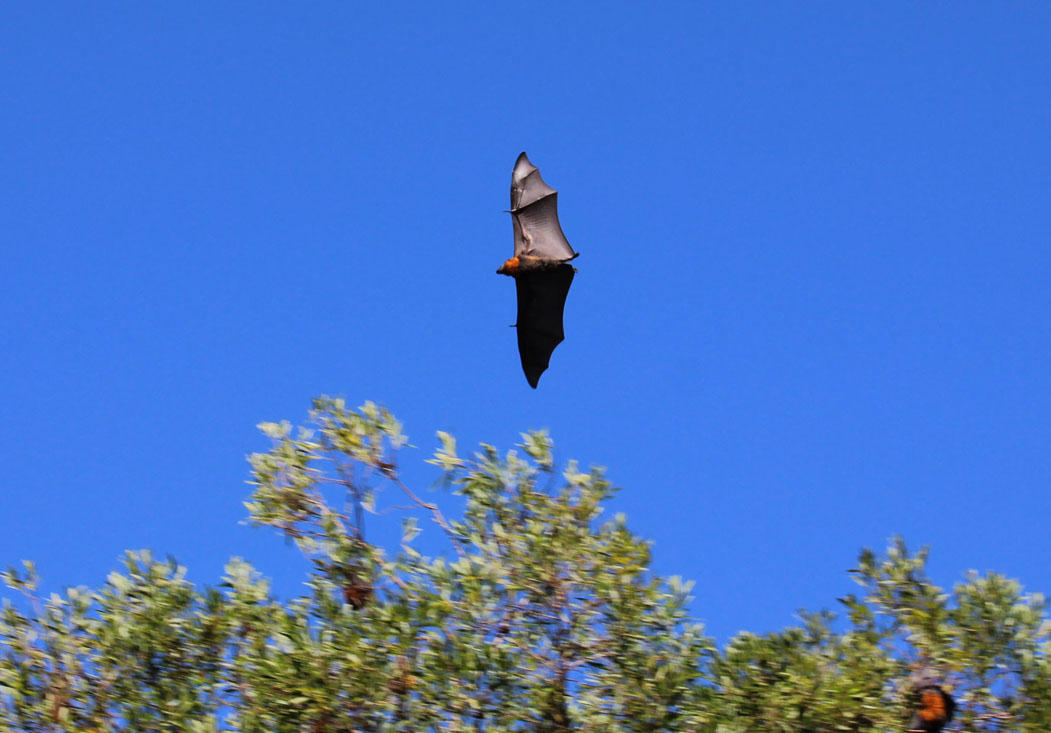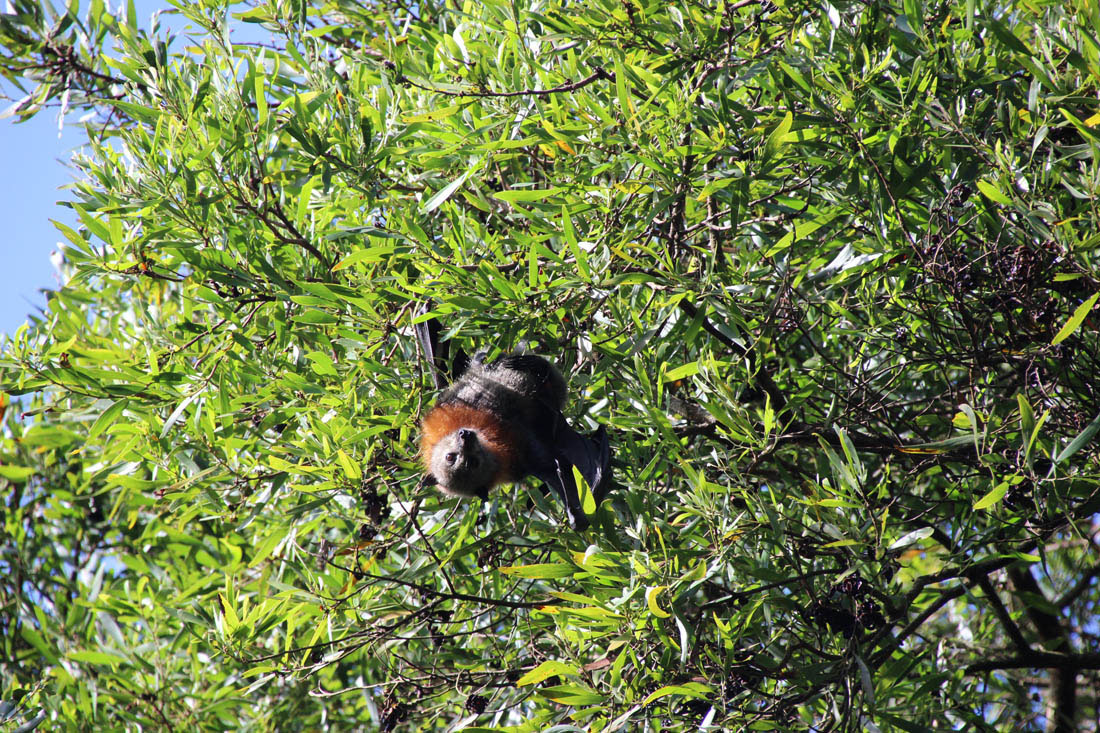 I walked around the corner to another part of the creek and didn't see any platypus. I asked a girl walking her dog about it and she said to go back into town by the coffee shop where she sees them near the bridge. Well, I ended up walking there but kept going along another trail which took FOREVER in the now hot sun…uphill all the way. I passed a huge field with this cool tree and stopped long enough to take the shot.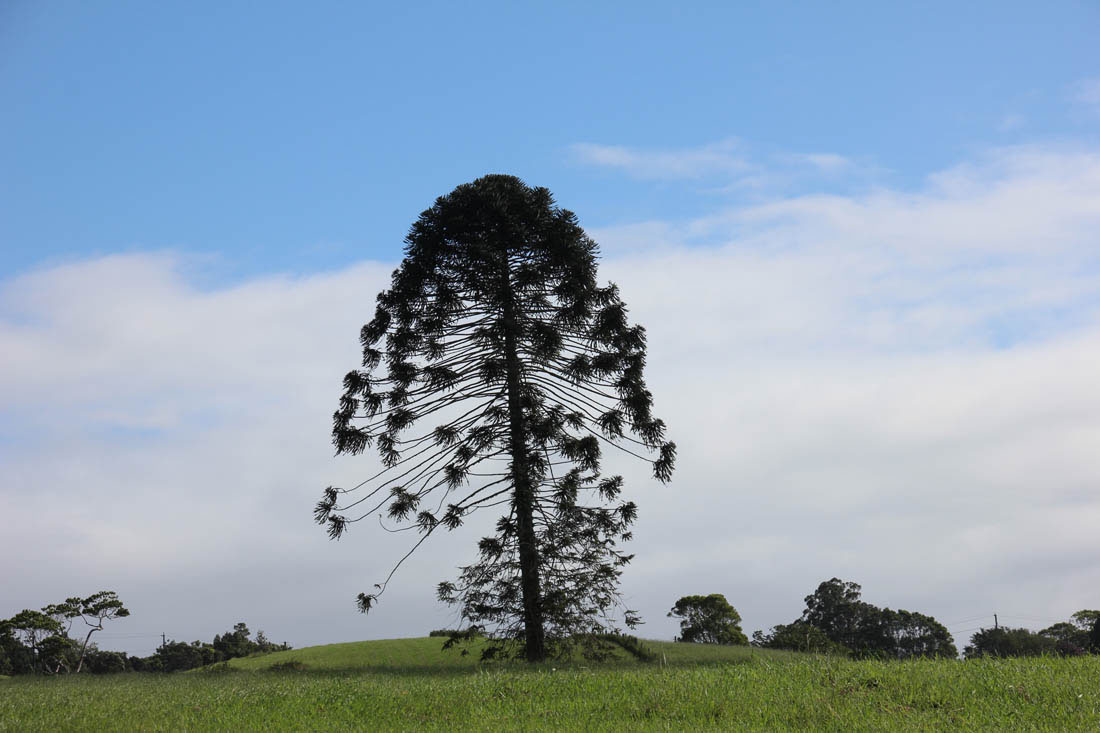 Thinking I was going in the wrong direction and time running out, I came across another person who said, "Yep, just keep going, you'll see the platform."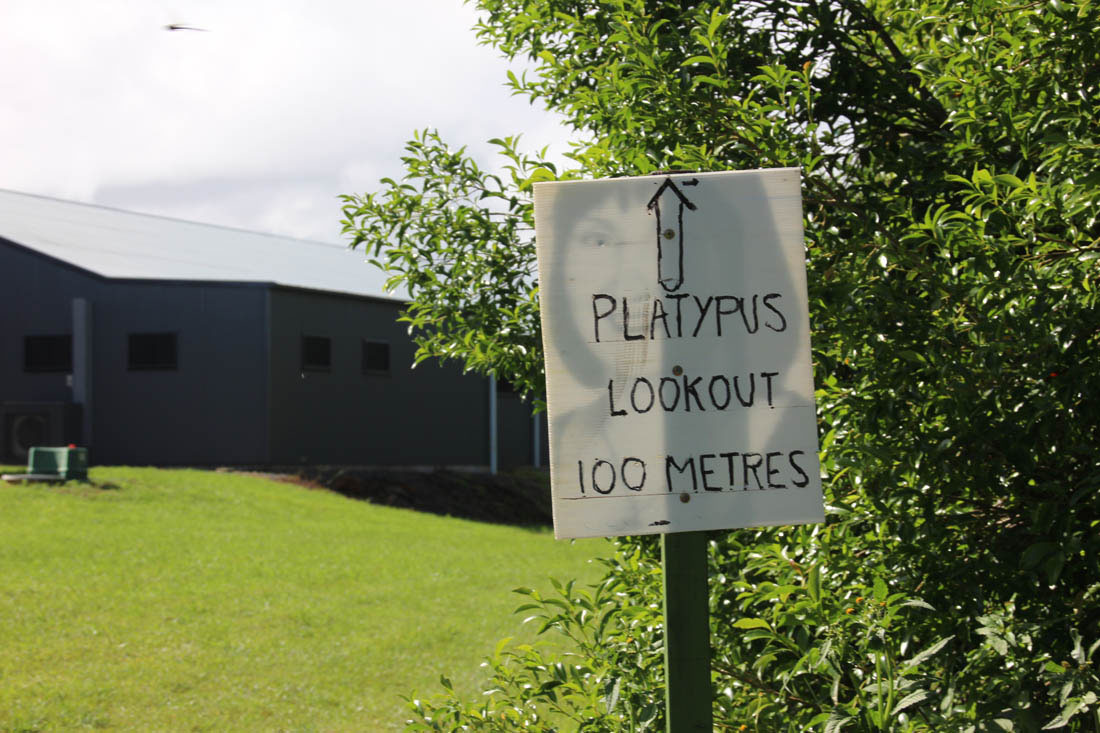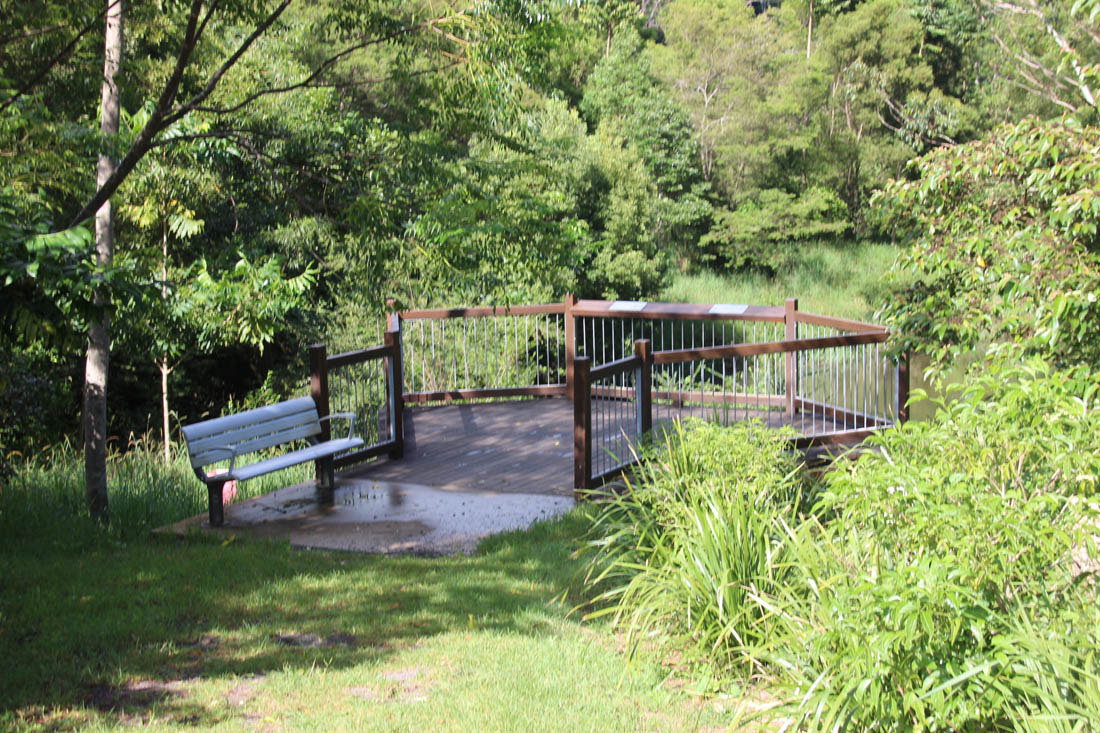 And as luck would have it, I saw some disturbance in the water and got out my phone to do a video, not trusting my camera. Sure enough, it was a platypus! A very small platypus. And a very short video as it would disappear under the water more often than it stayed on top. Then it went around the bend and I had to leave.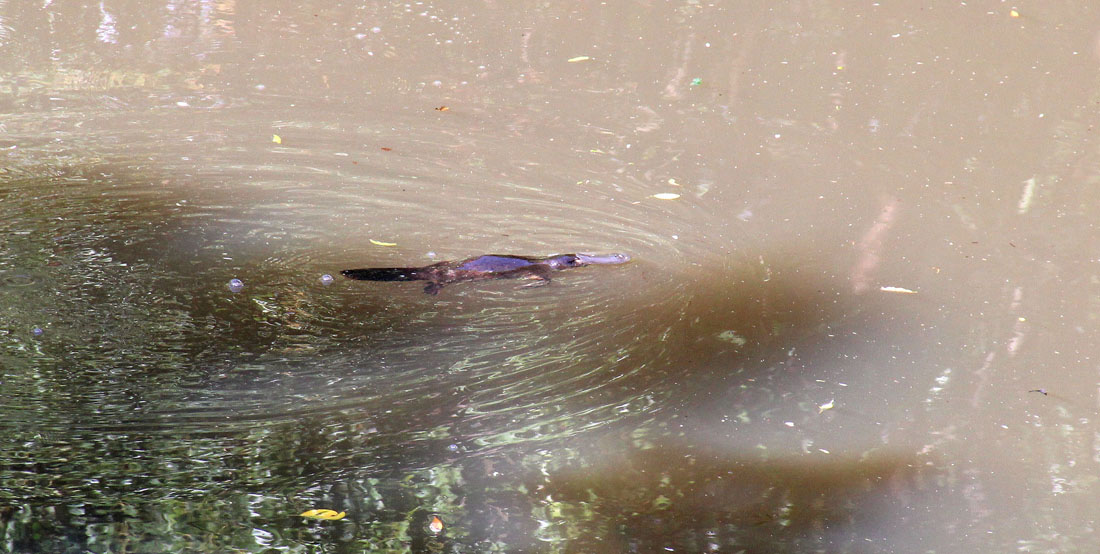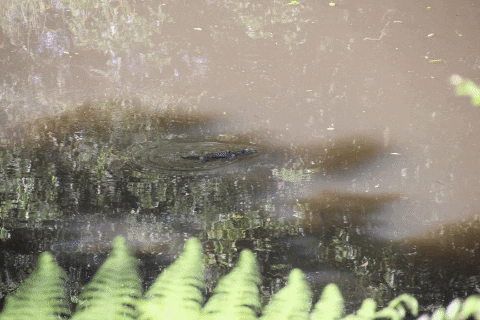 I cruised the country roads along to Mary Cairncross Reserve which was a big, beautiful rainforest and sure enough, when I arrived, it started raining. I took the opportunity to have my first cup of coffee for the day and wait it out. There was a lovely view of the Glasshouse Mountains from their visitor center.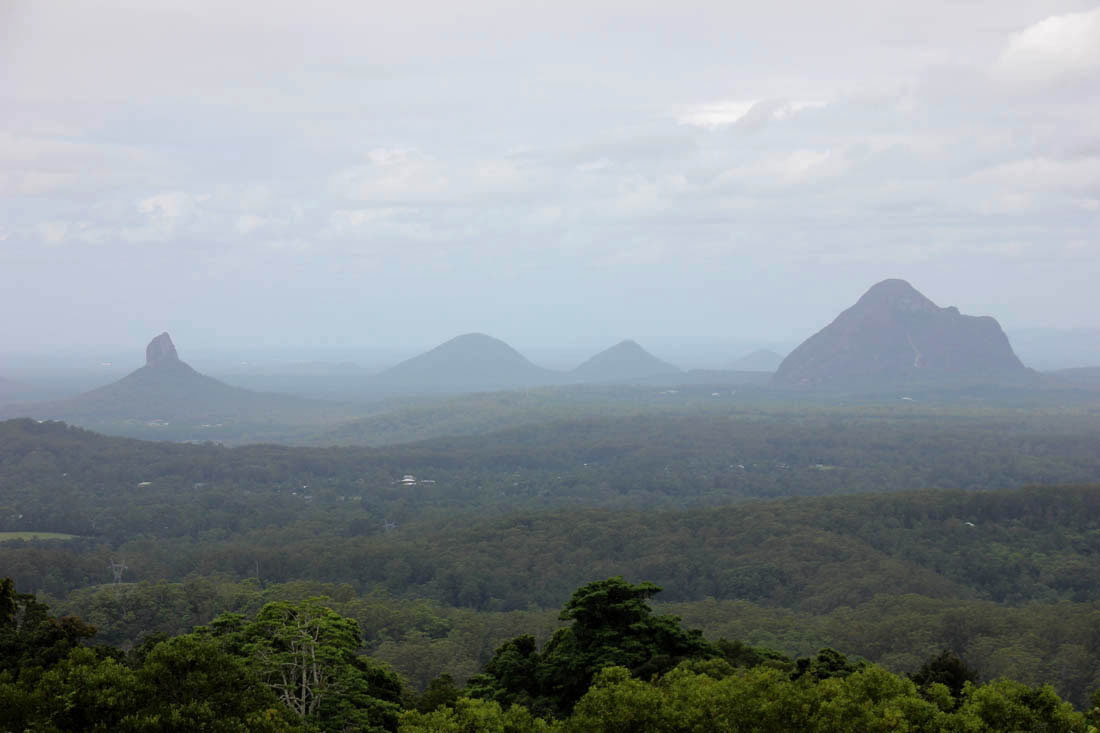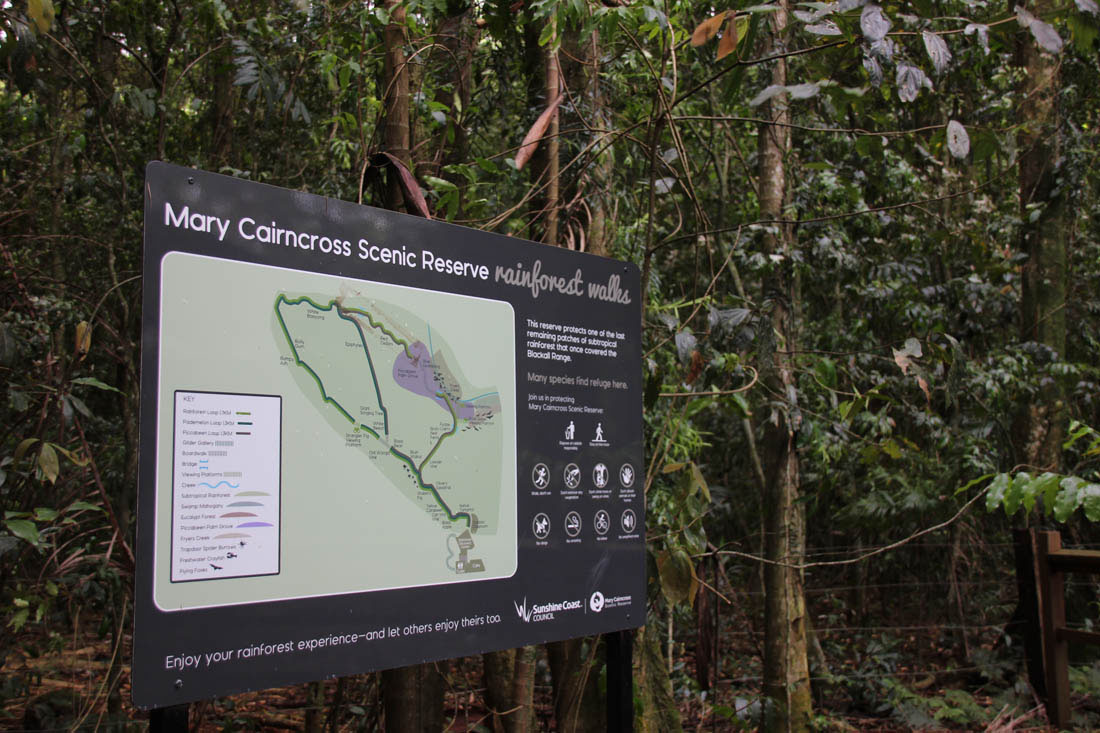 I took the short trail since I still had two other places to go and it did rain a bit but cleared up eventually. Lots of great palms and trees and some birds were seen. When I had asked about snakes there, she showed me a big skin shed of one near the entrance to the center. That was as close as I got to seeing one, though.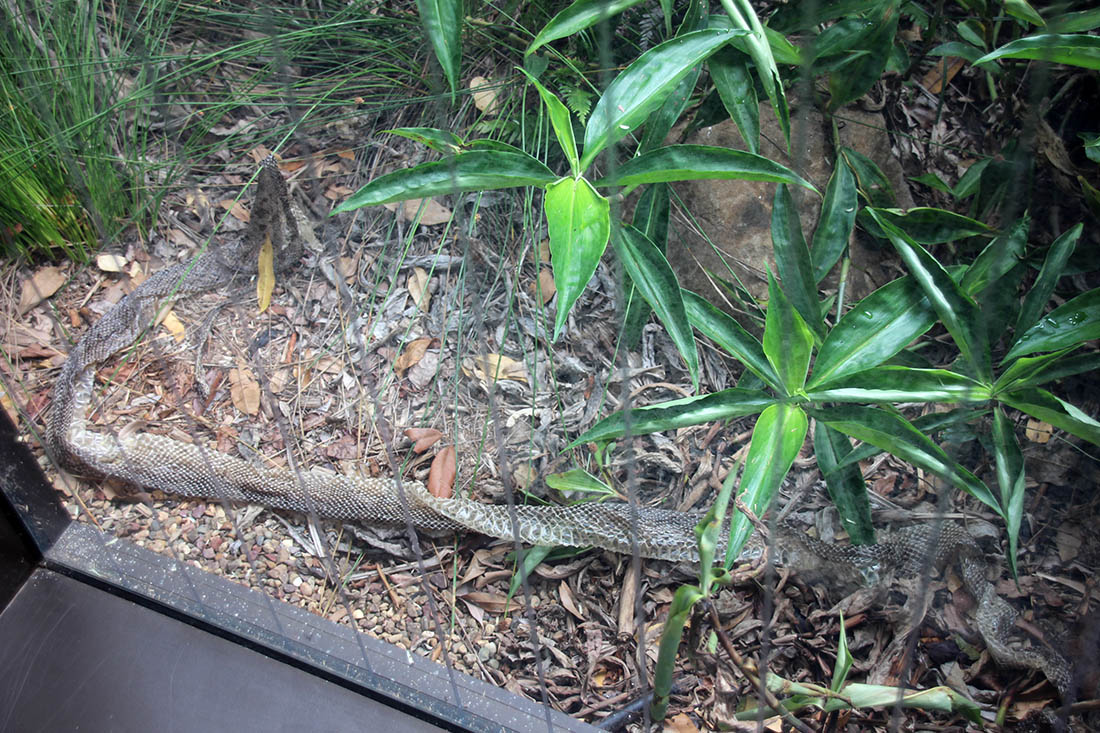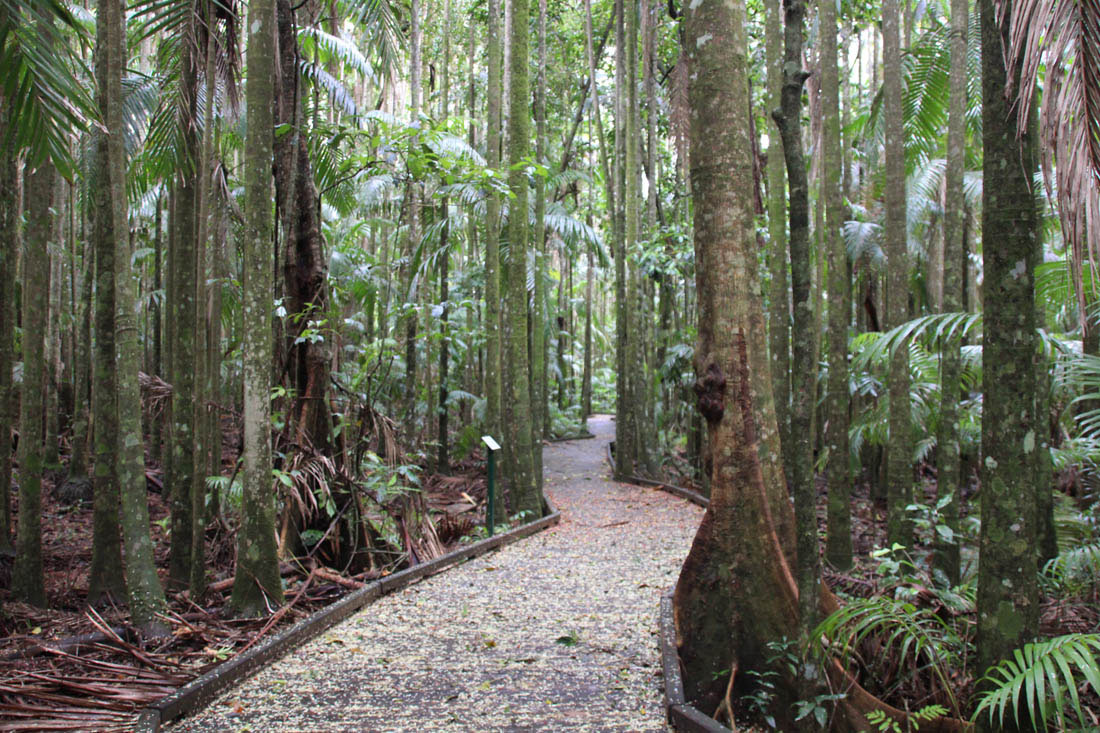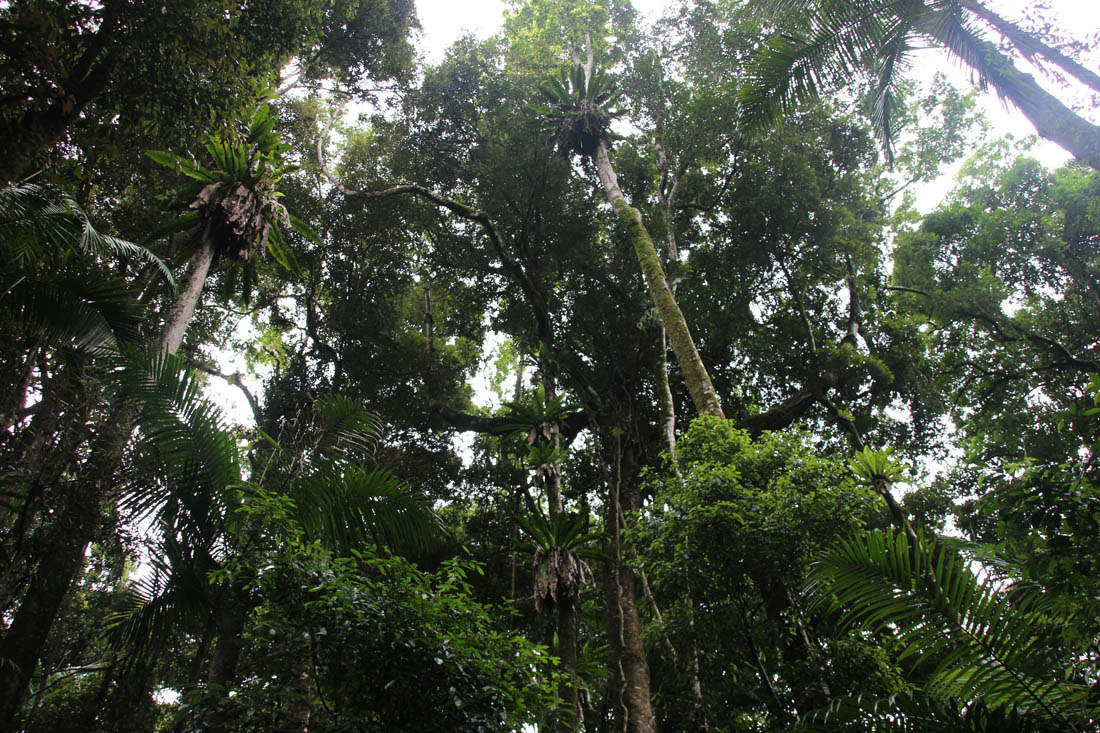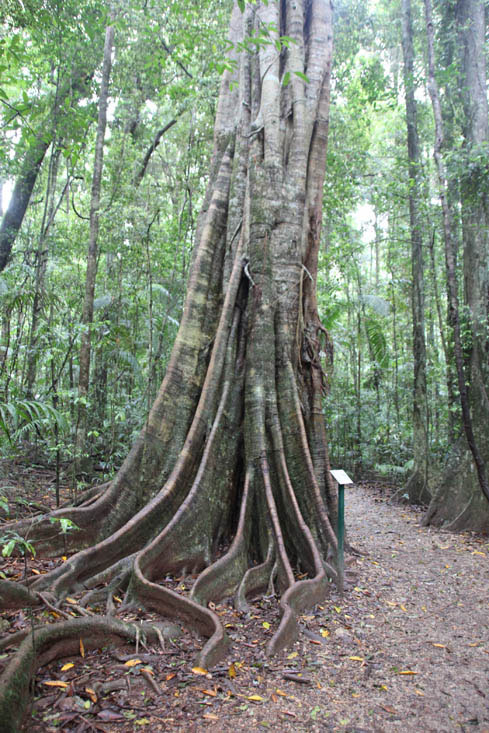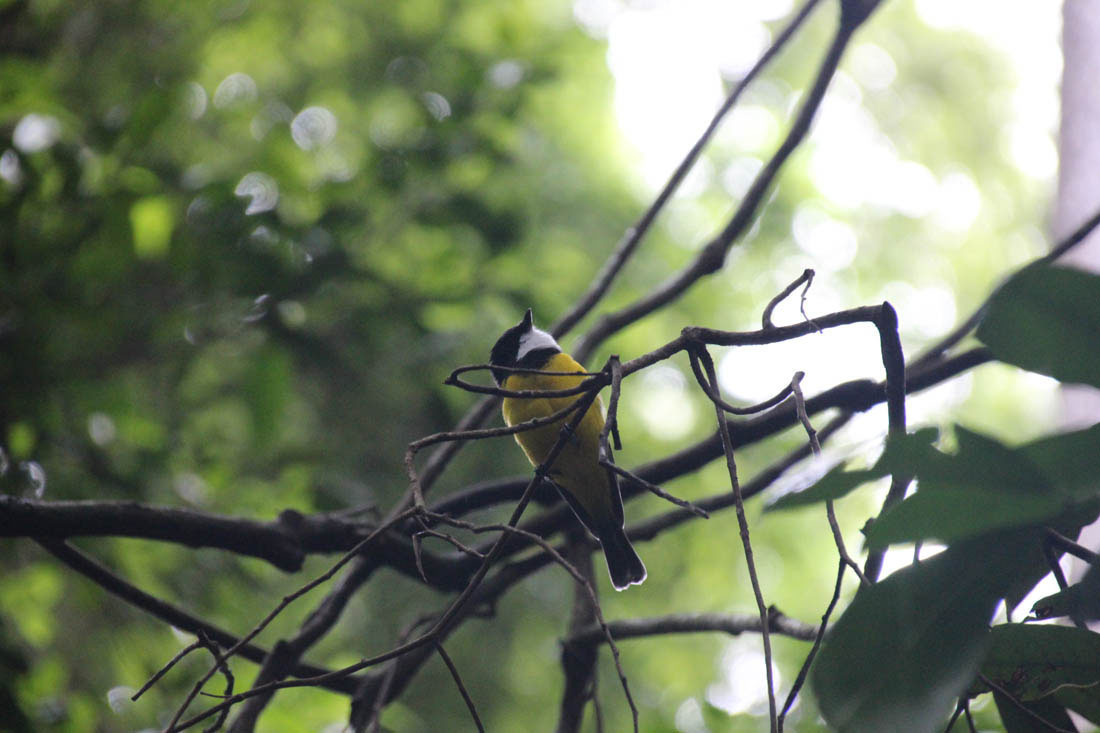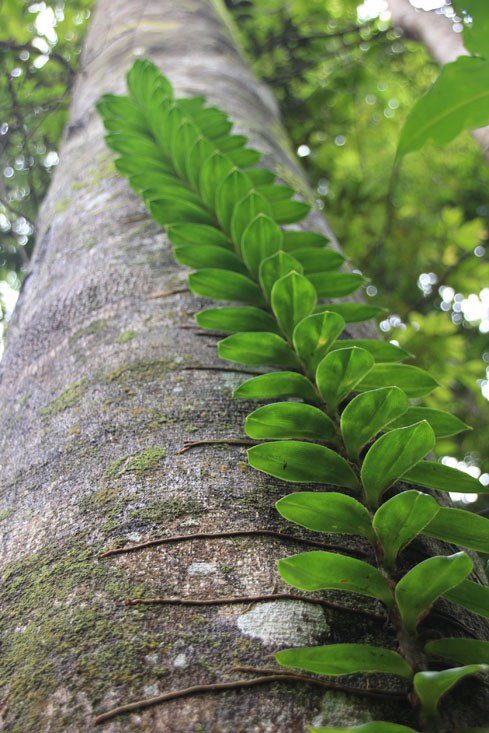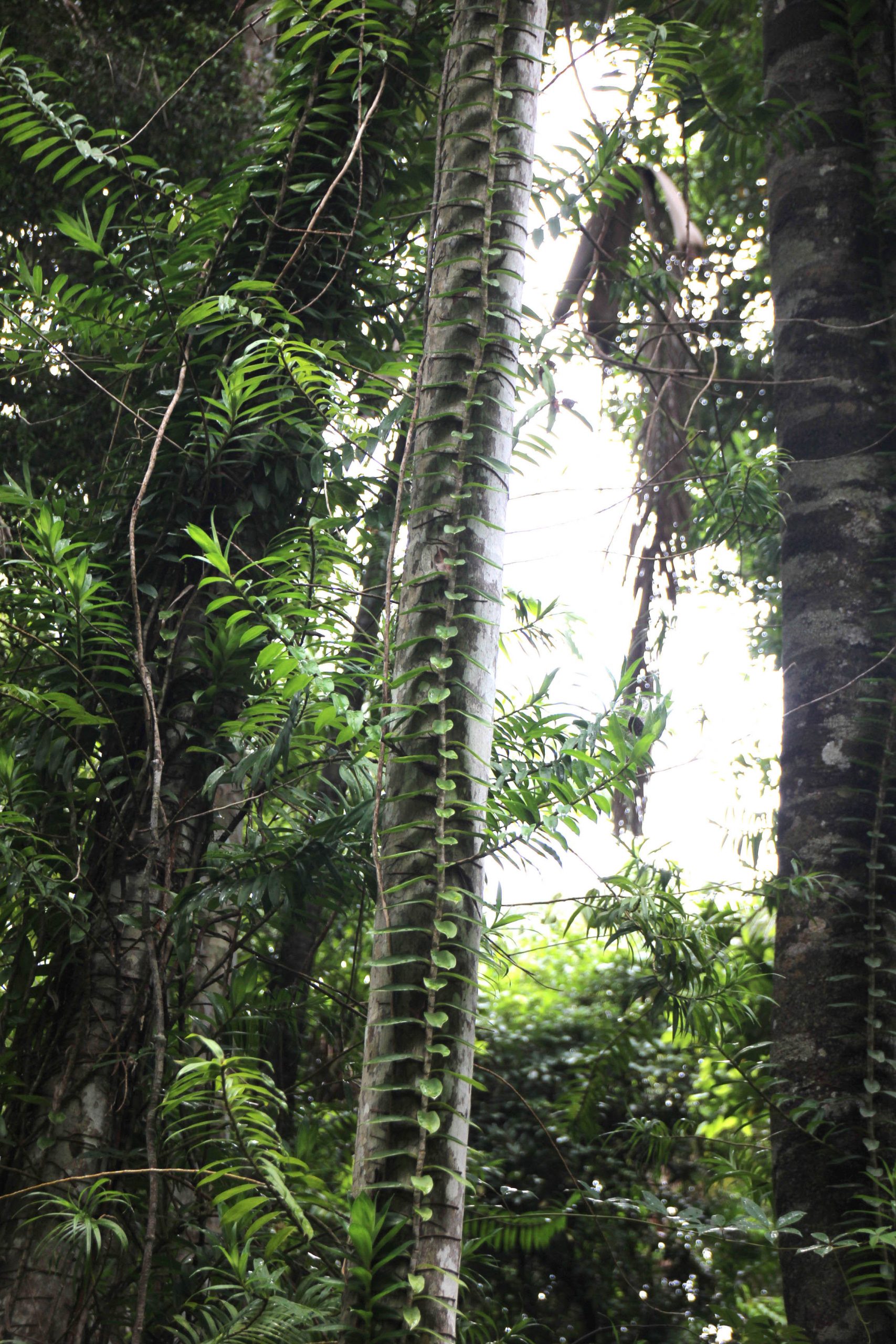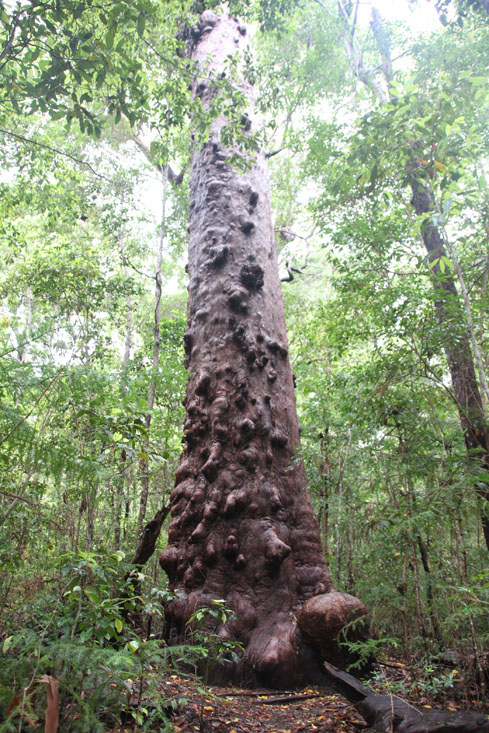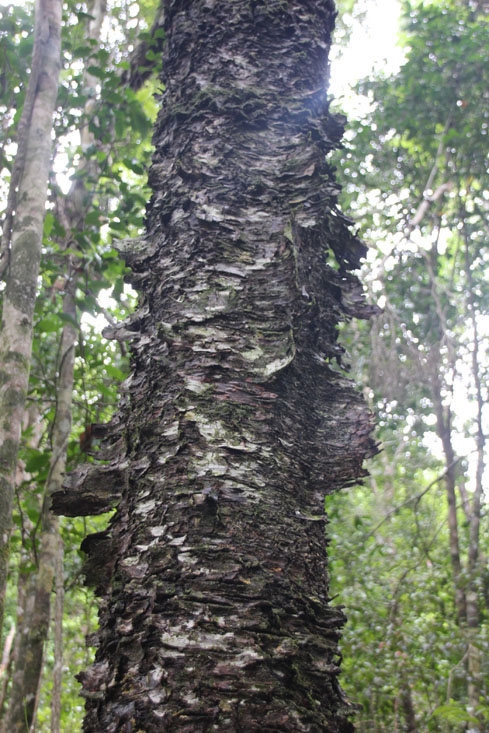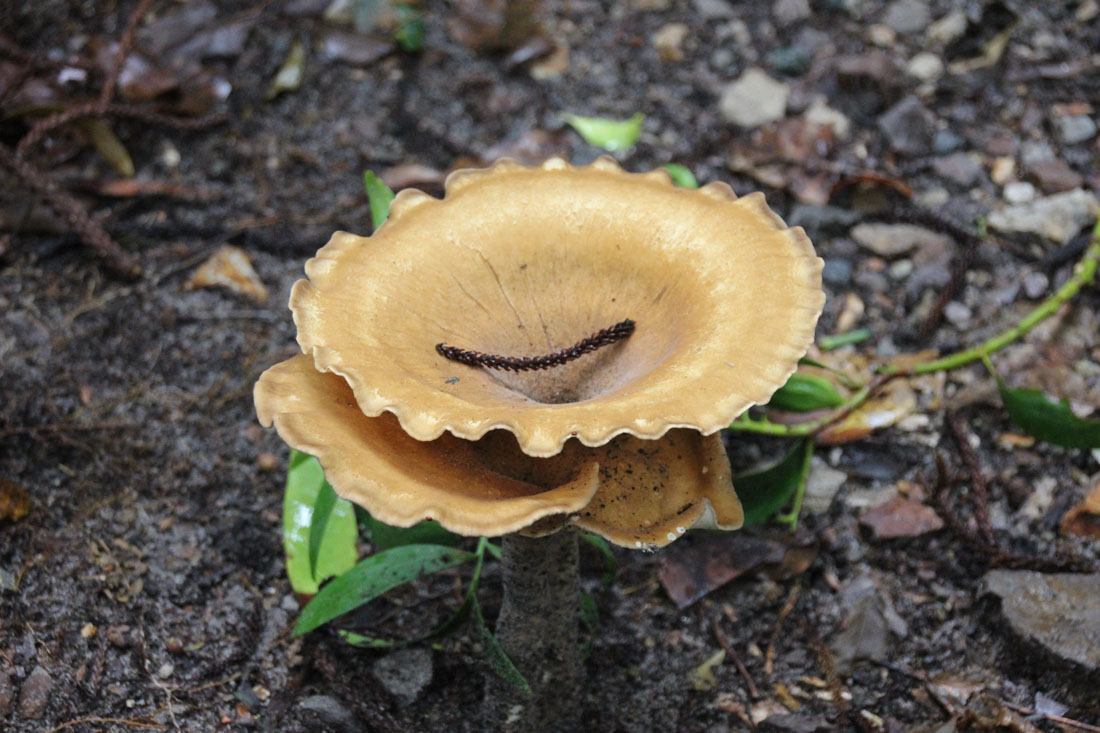 Then, a surprise! Wild wallabies quietly munching on leaves…a whole family of them!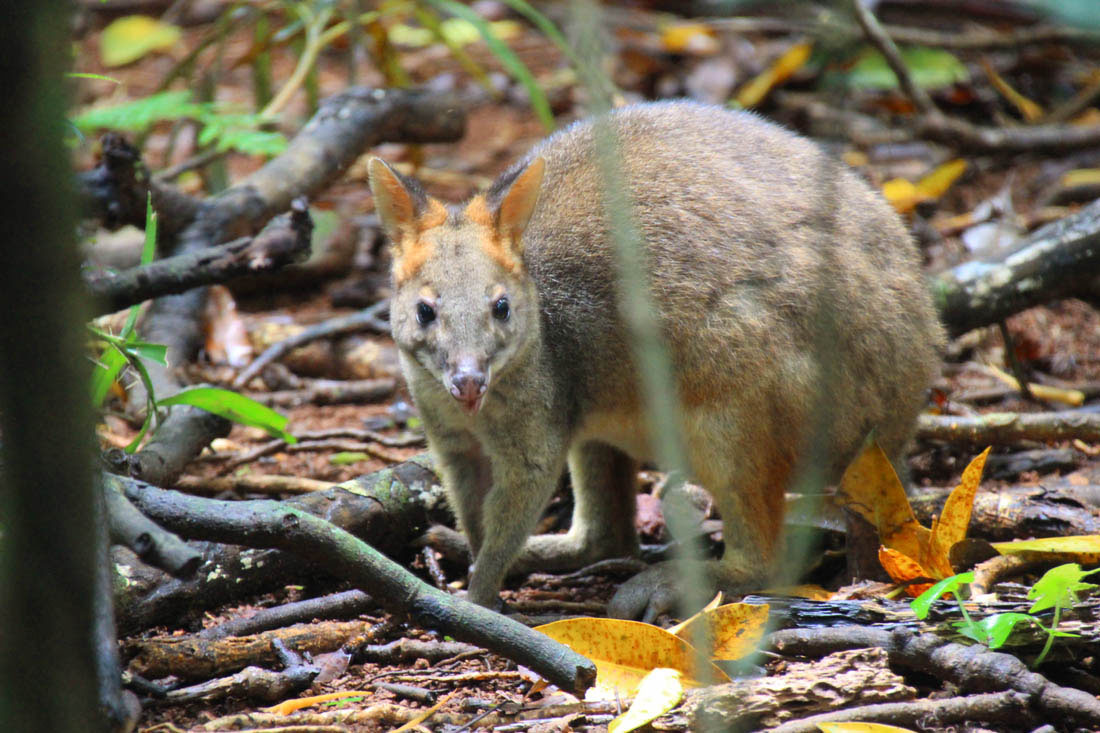 Then someone with sharp eyes saw this skink on a log almost near the end of the trail. I'm sure if I hadn't been in a rush, I could've seen more animals than I did. I'm really spoiled by Costa Rica, obviously.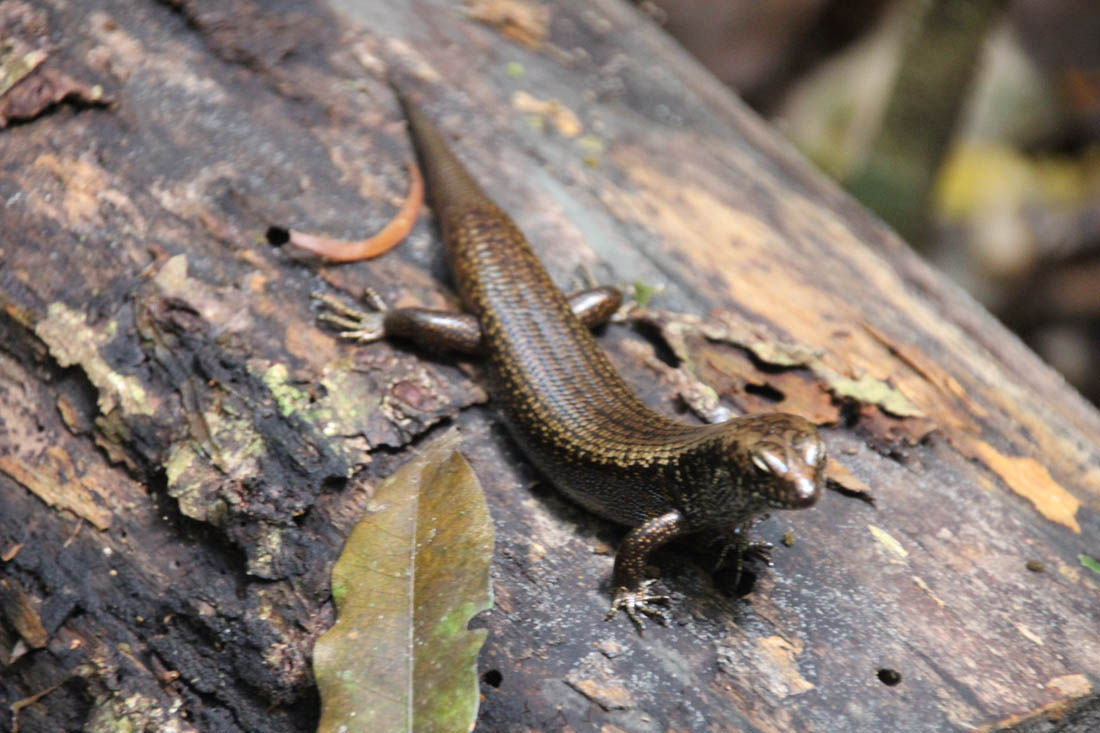 This huge vine was being supported by a thick strap (the yellow thing), but according to the plaque, it's rare to get this large and can also be found in different colours as well.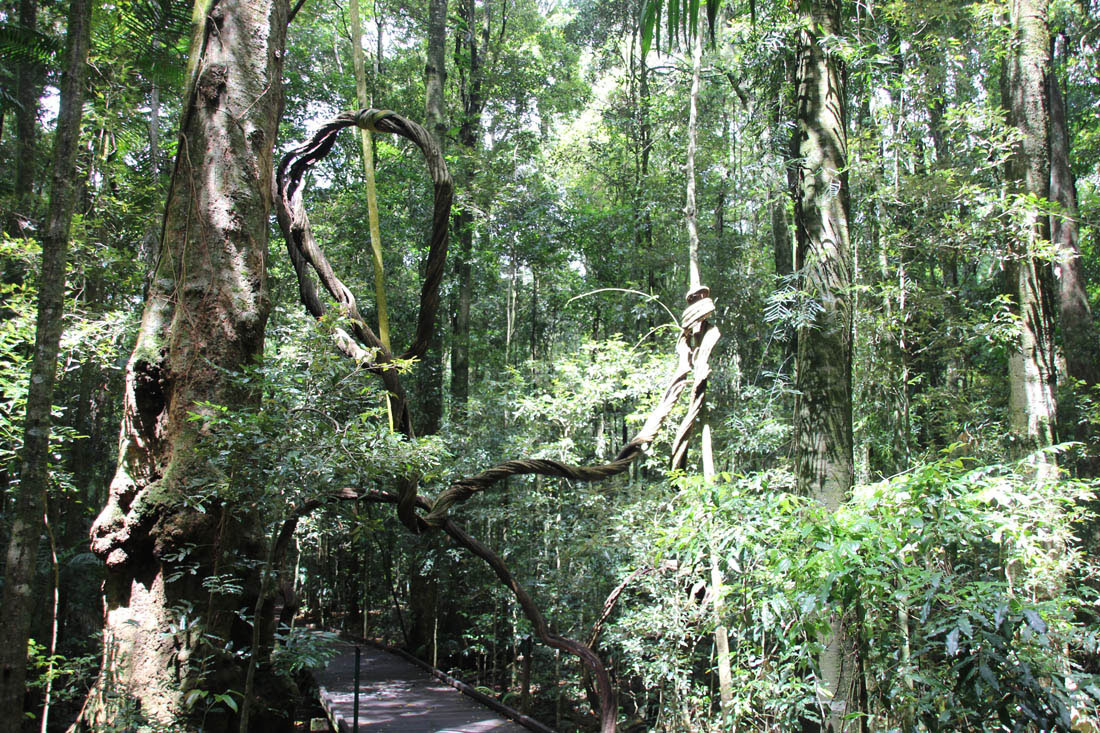 With that, I was on my way to Kondalilla falls where there was a short walk to some rock pools and waterfalls. The view of the massive forest was incredibly soothing and swallowed up people on the platform across from us.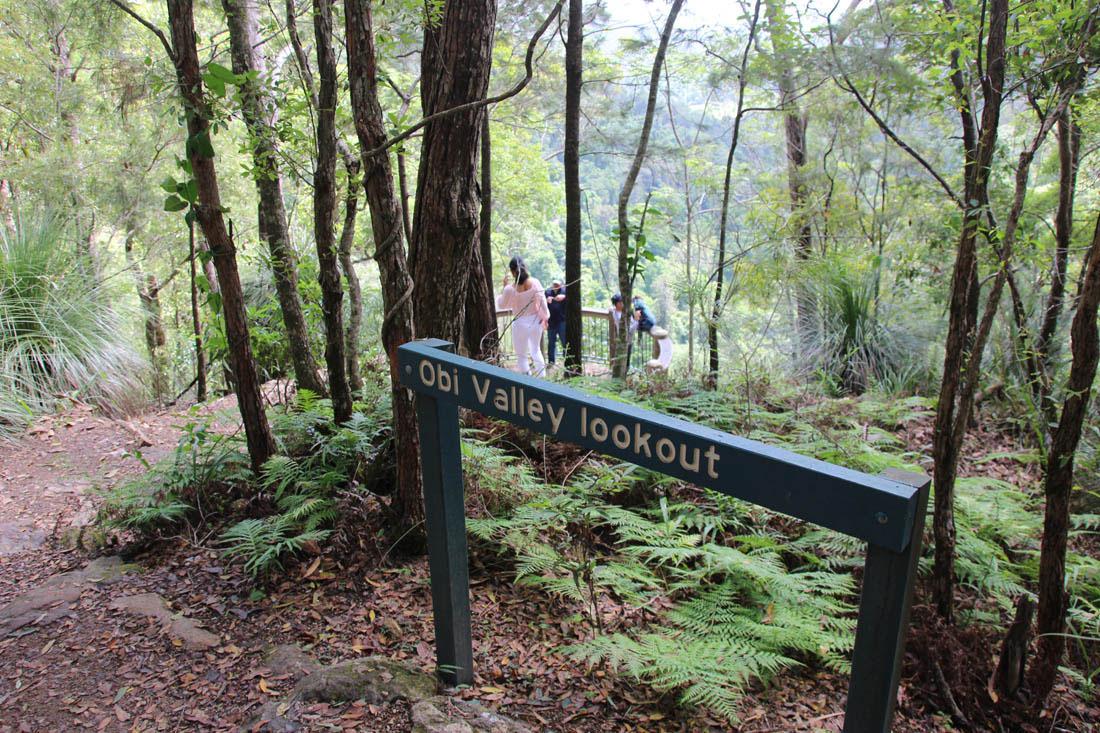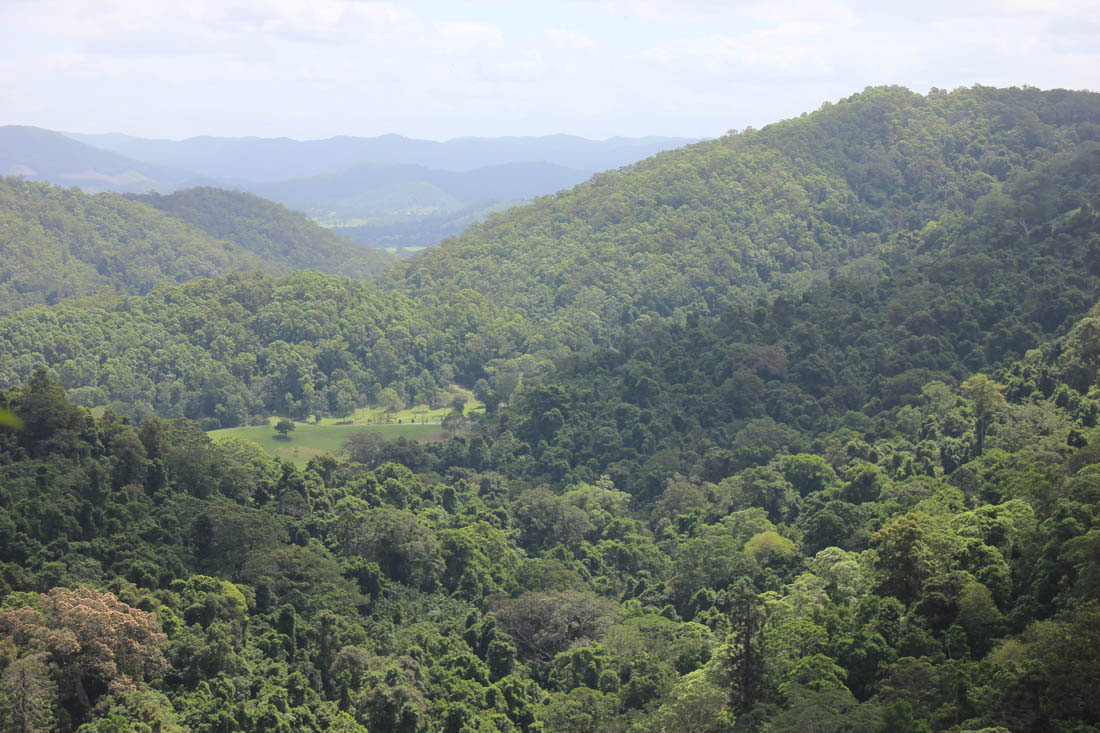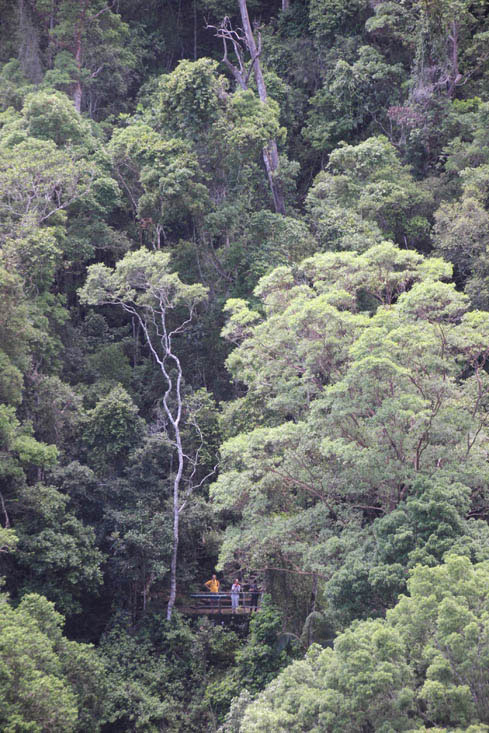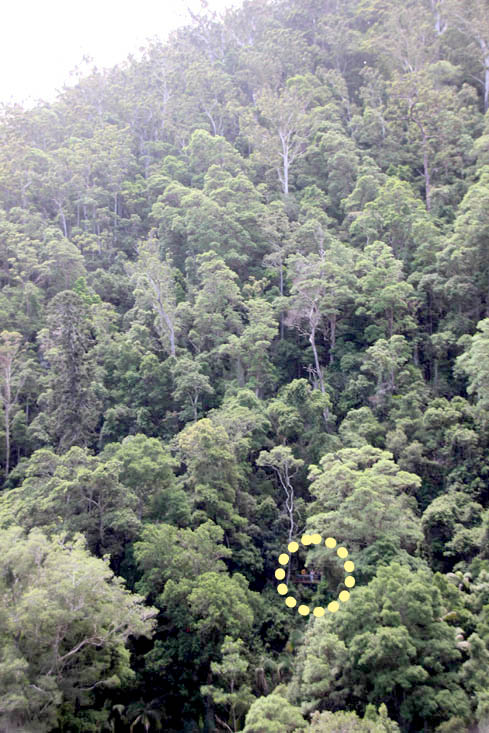 While the walk was nice, I came to a bunch of stairs leading down to the falls and I practically gave up and turned back as there was a lot farther to go. That's when I saw a smallish lace monitor walking down the steps! That kept me going to hopefully see more.
There was a larger one near the pools checking out people's bags and just generally wandering around. I missed the shot of it drinking water off of the rocks, but made up for it later. It looks small next to those people but it was all of 4.5-5 feet long.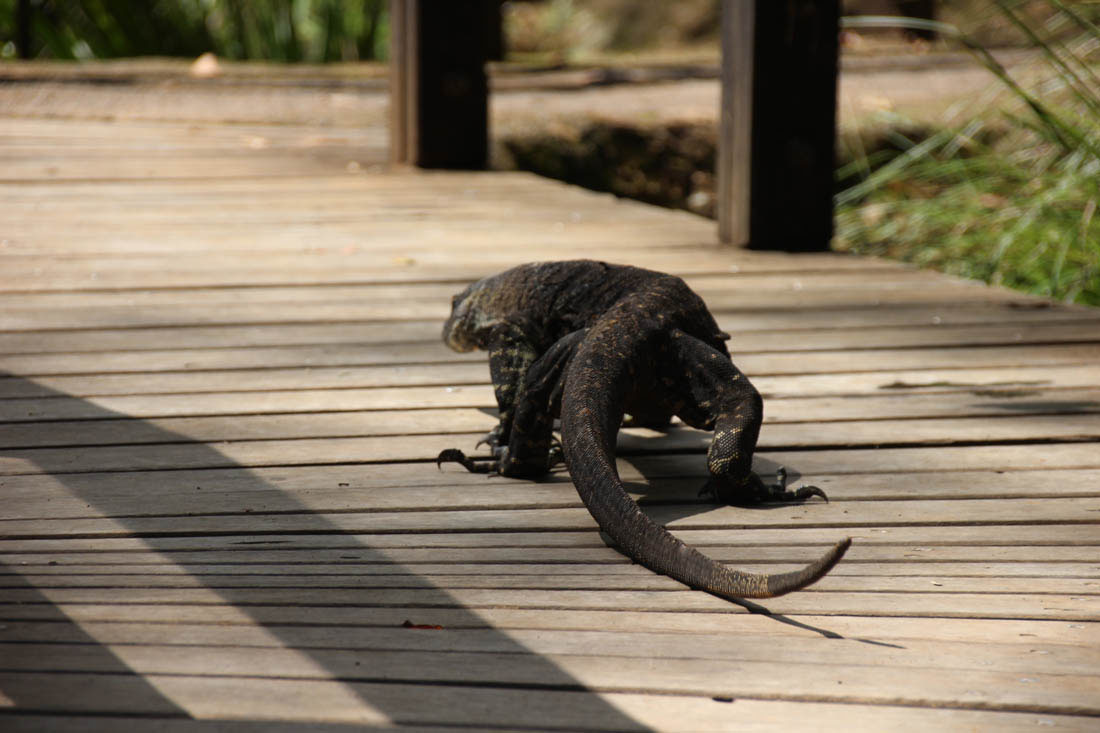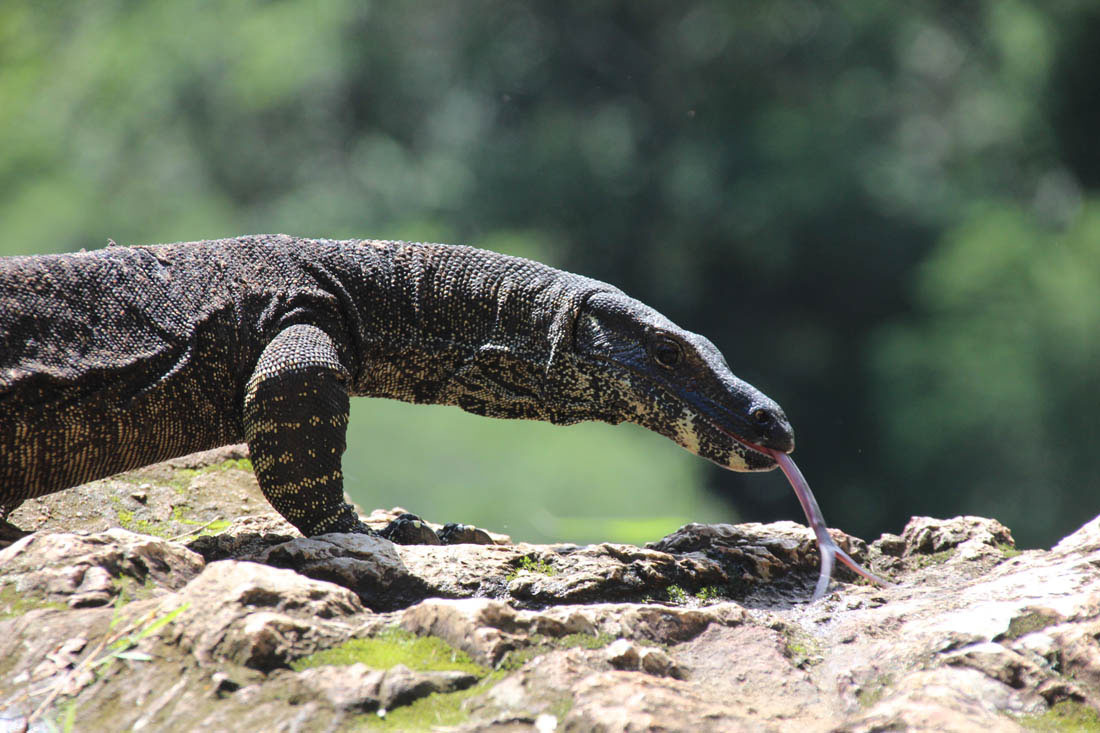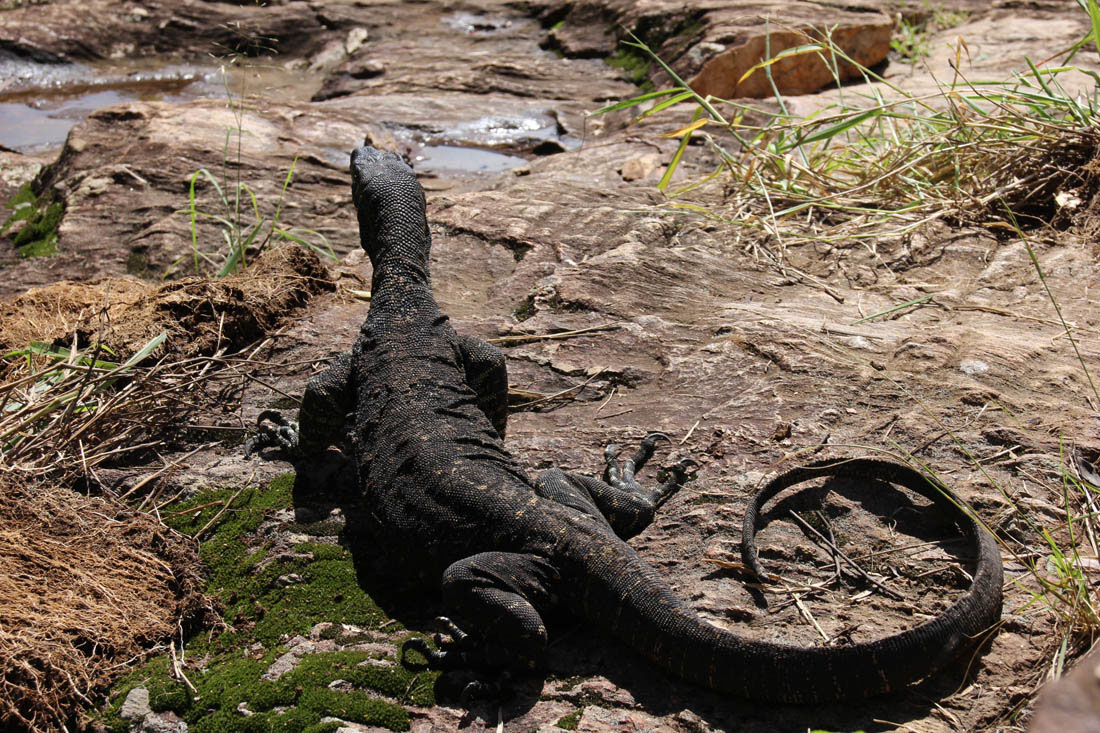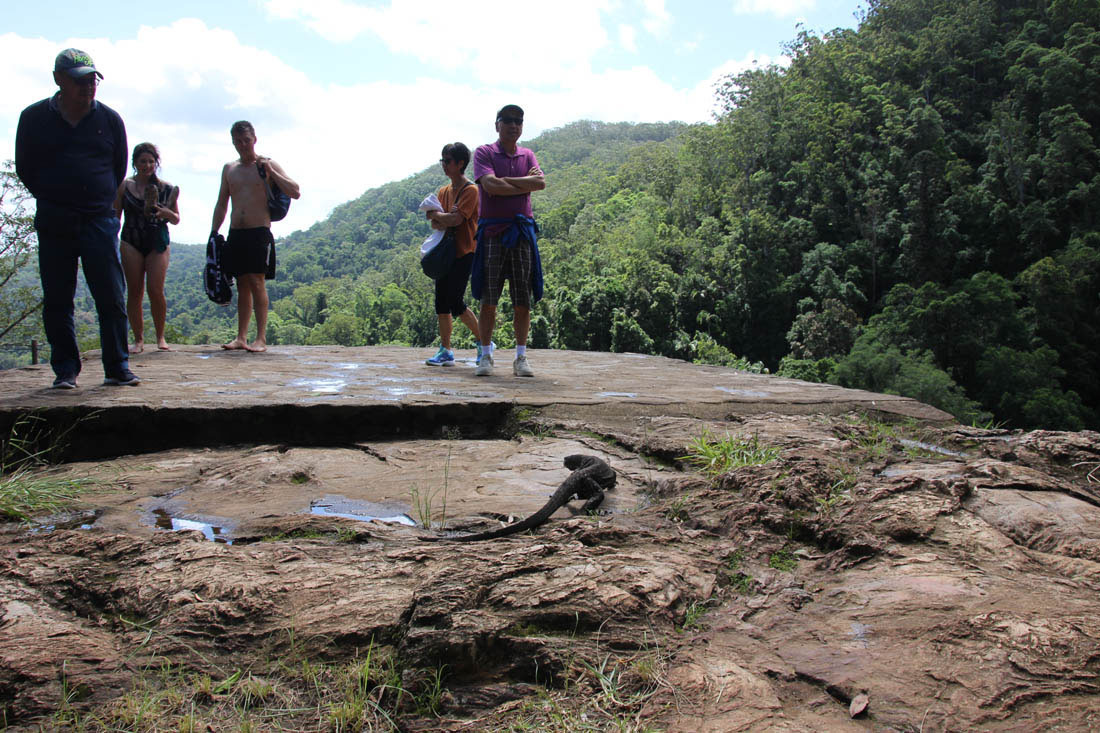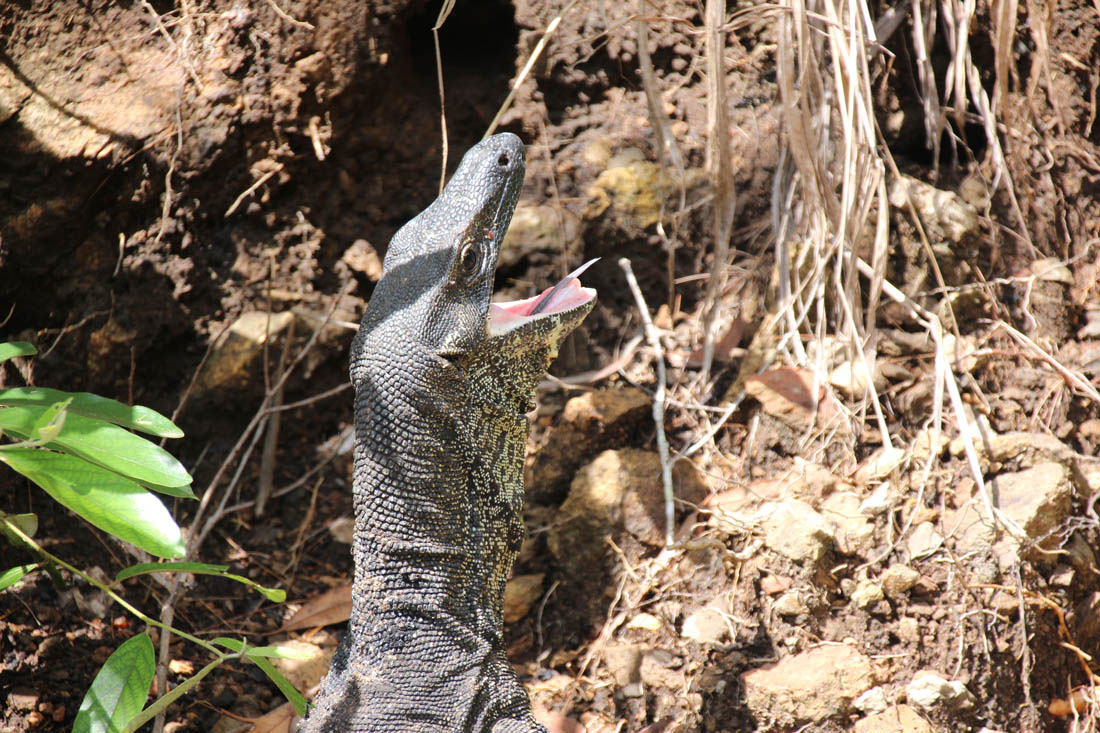 All of these lizards I've come across over there have been very tolerant of people. I've never seen one that was aggressive. This is as close as I've come to seeing a Komodo dragon…they look very similar, just on a smaller scale.
Man, was it hot down there. Thinking I was going to die while walking back up, I still had one more place to go. Wildlife HQ, which is home to animals from all over the world. The one thing I love about Australian zoos is that they have free roaming kangaroos that you can interact with.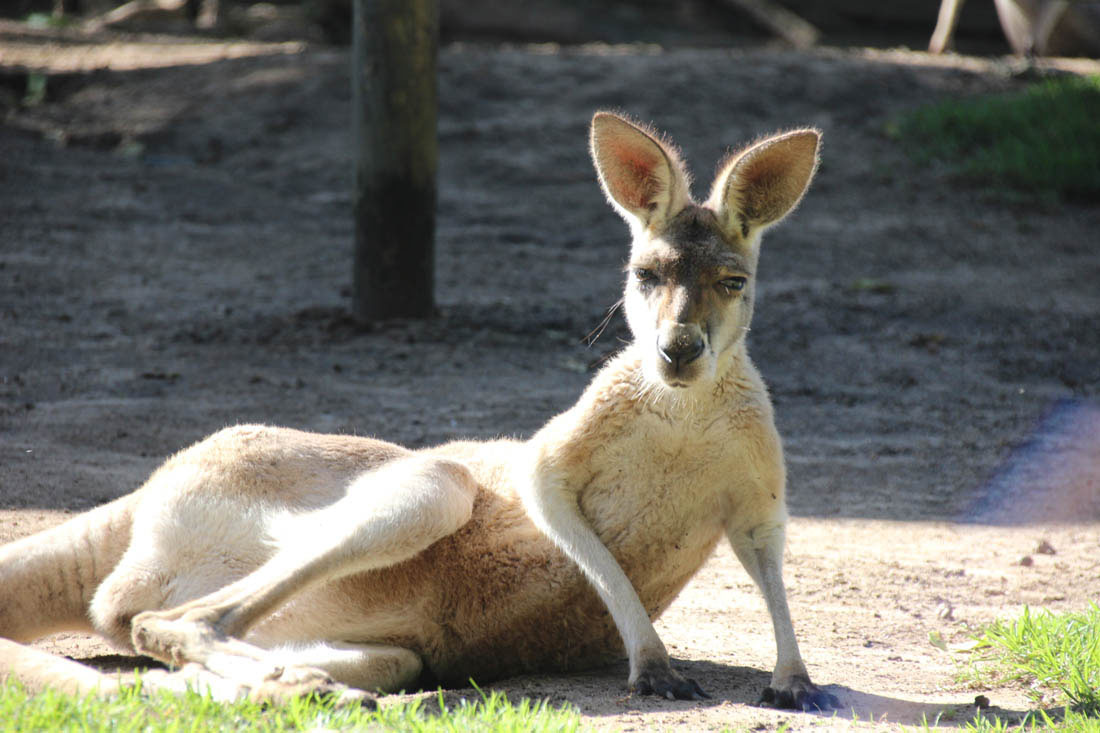 There were koalas hanging out in their enclosures, looking sleepy.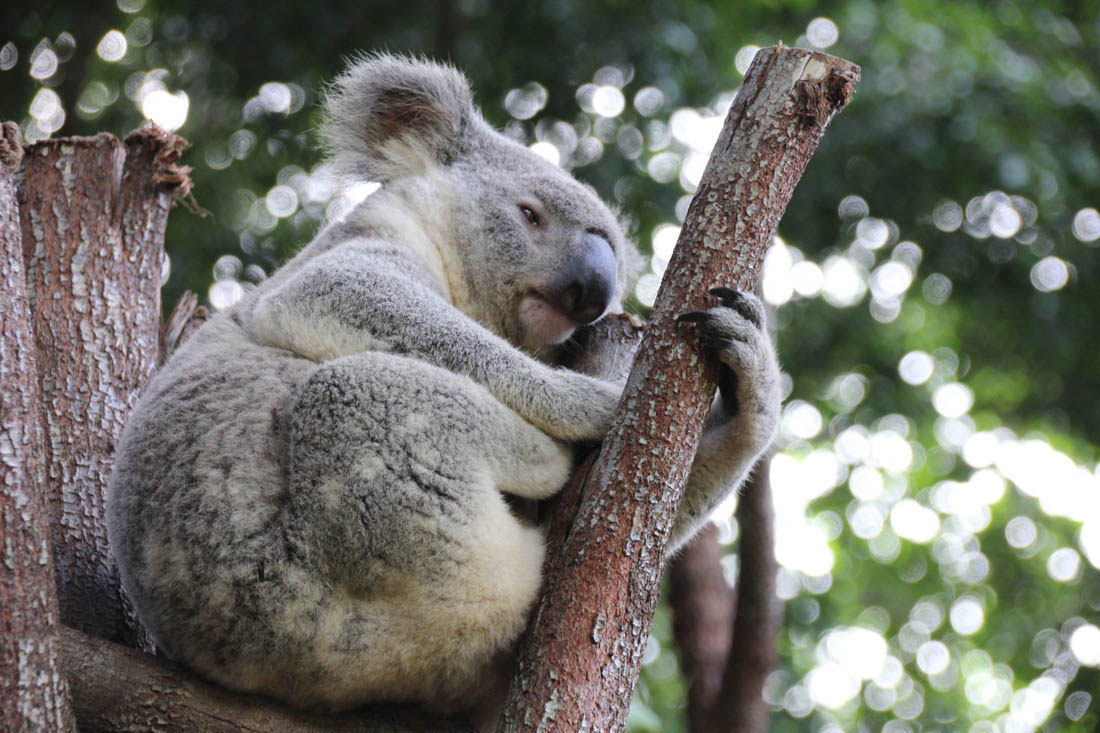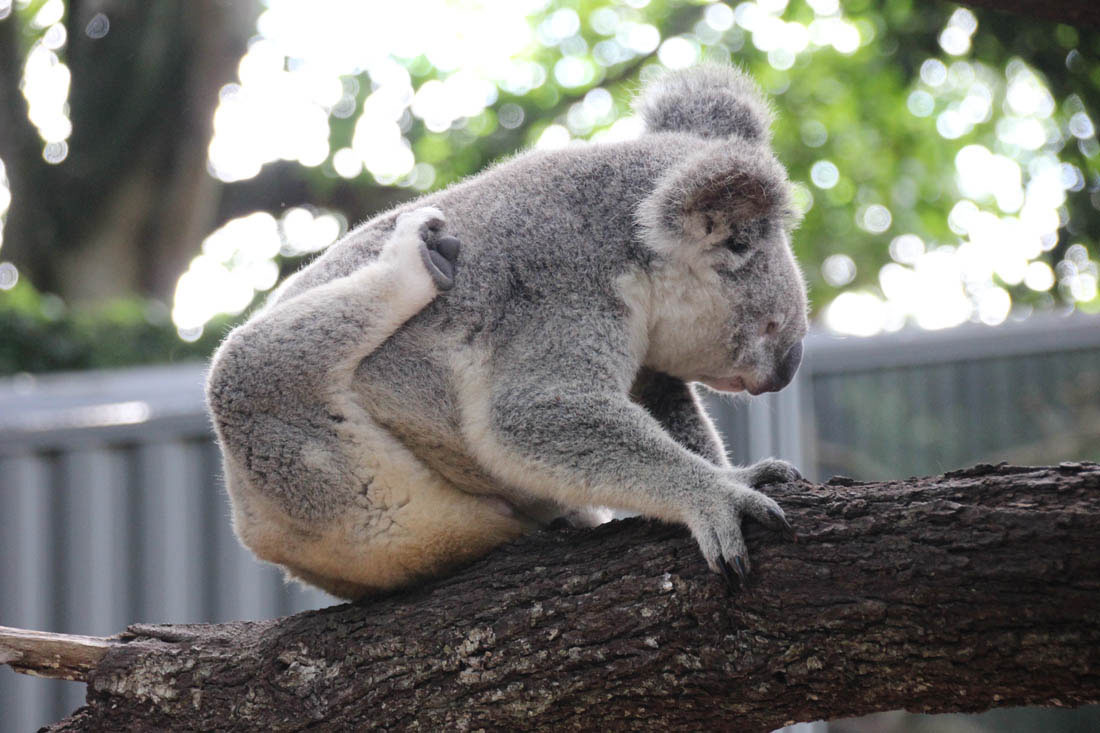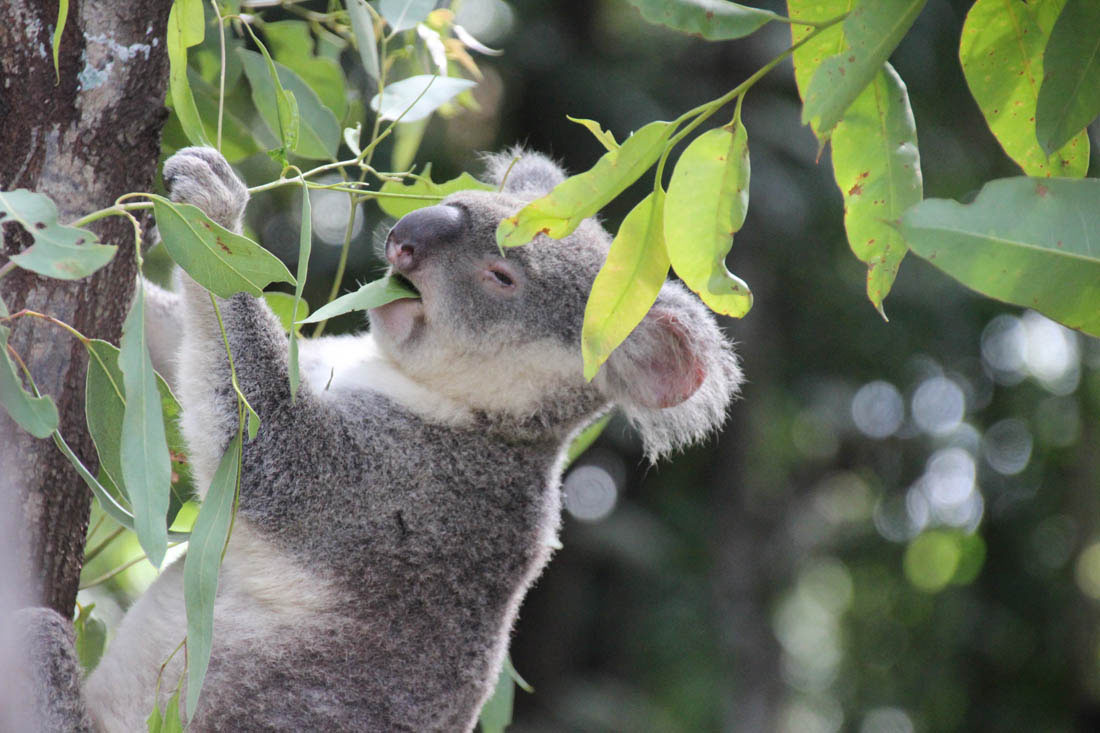 There were odd animals like red pandas and binturongs.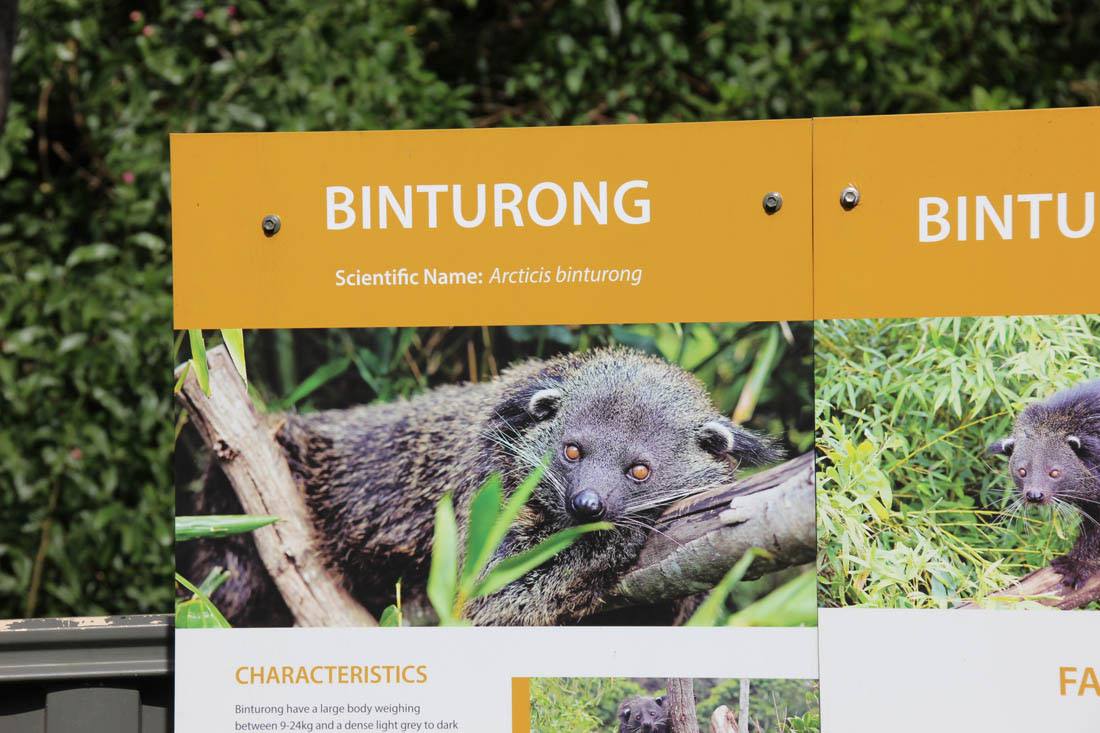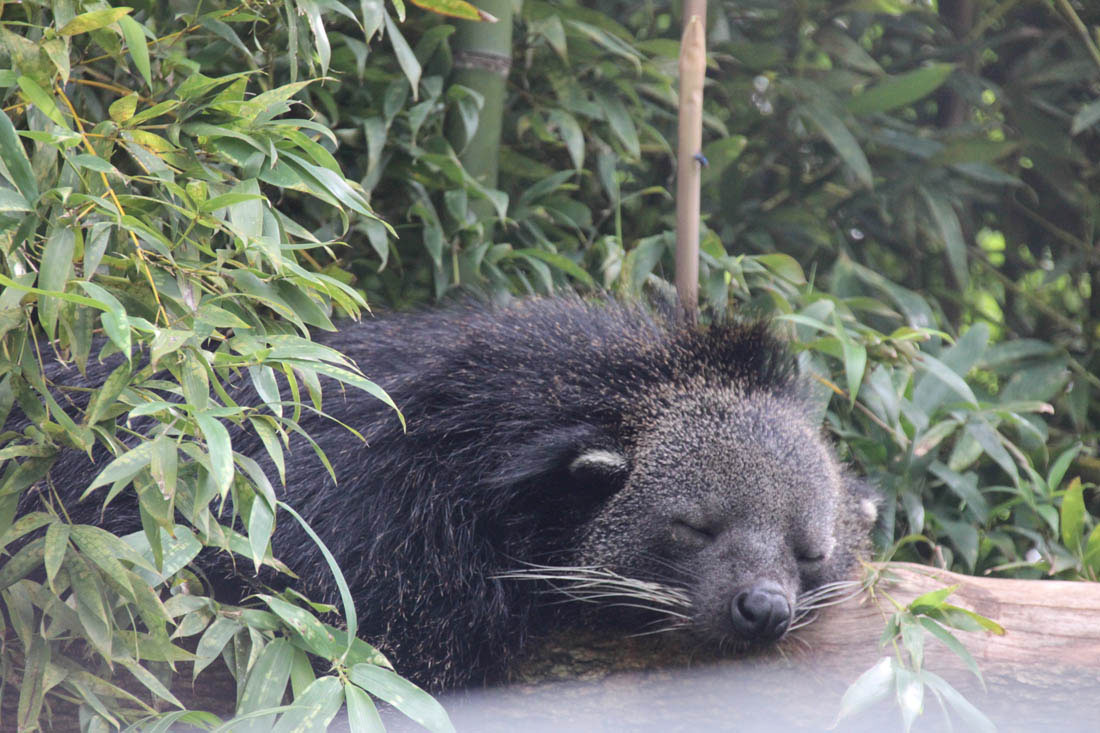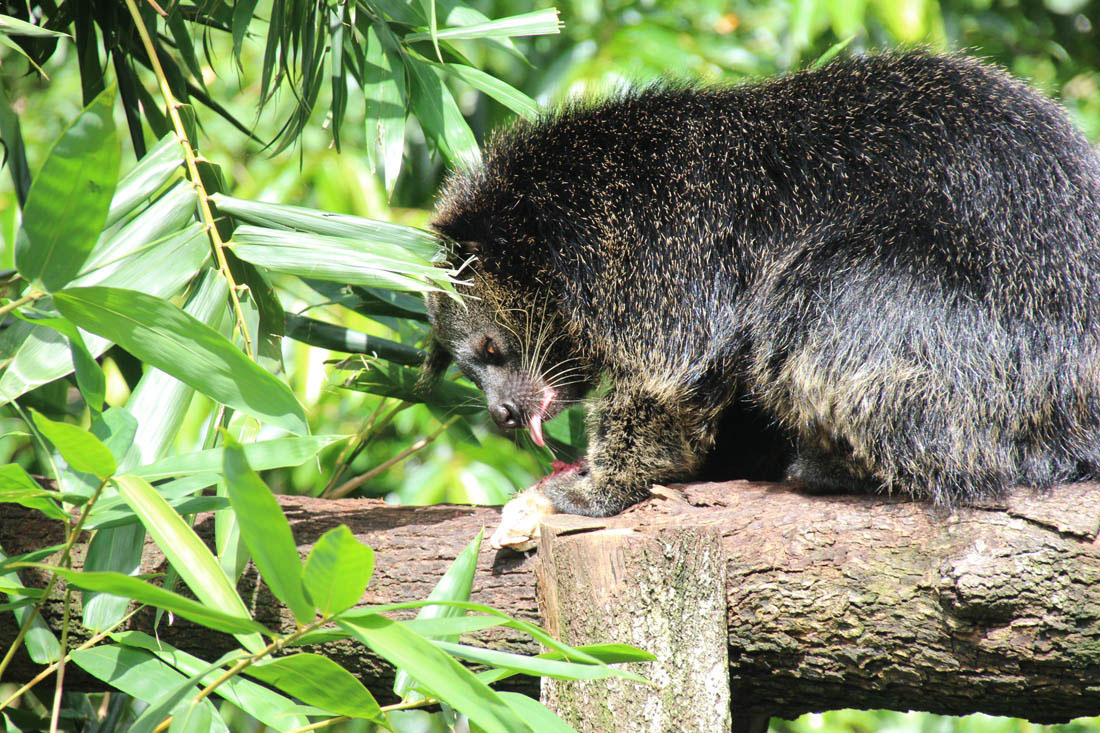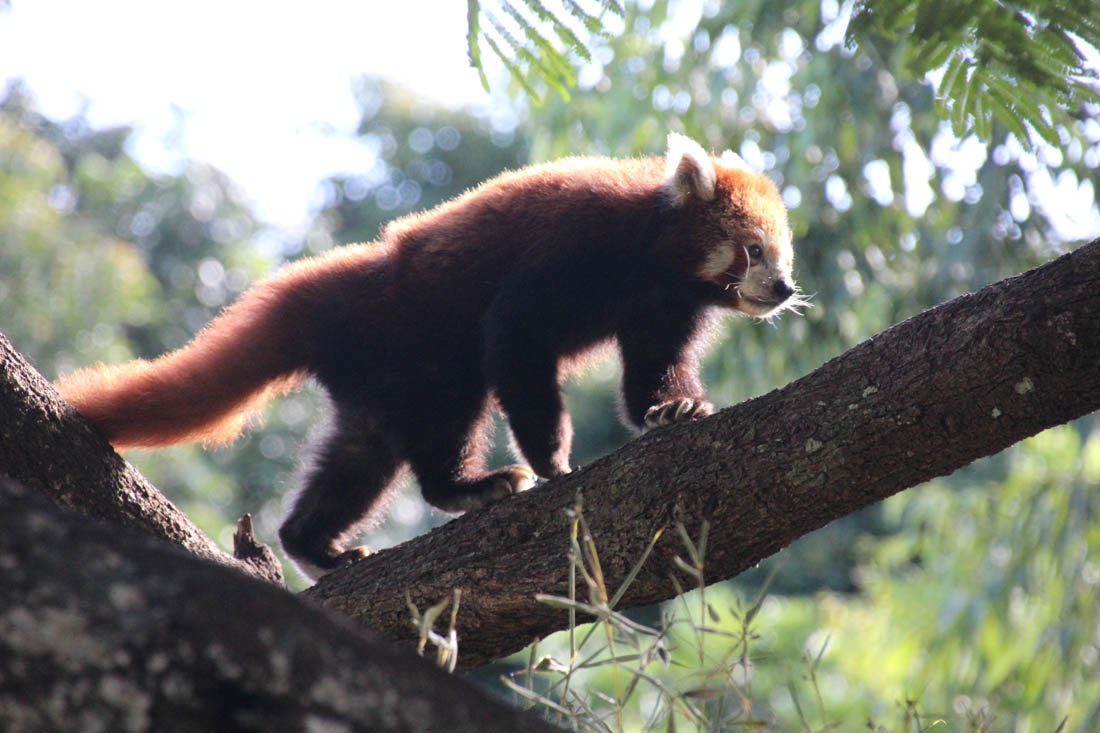 Within the roo and wallaby enclosure were some neat looking geese and a big emu. The big ugly feet are from the Cassowary which, thankfully, was inside an enclosure. Those things are known to eviscerate people.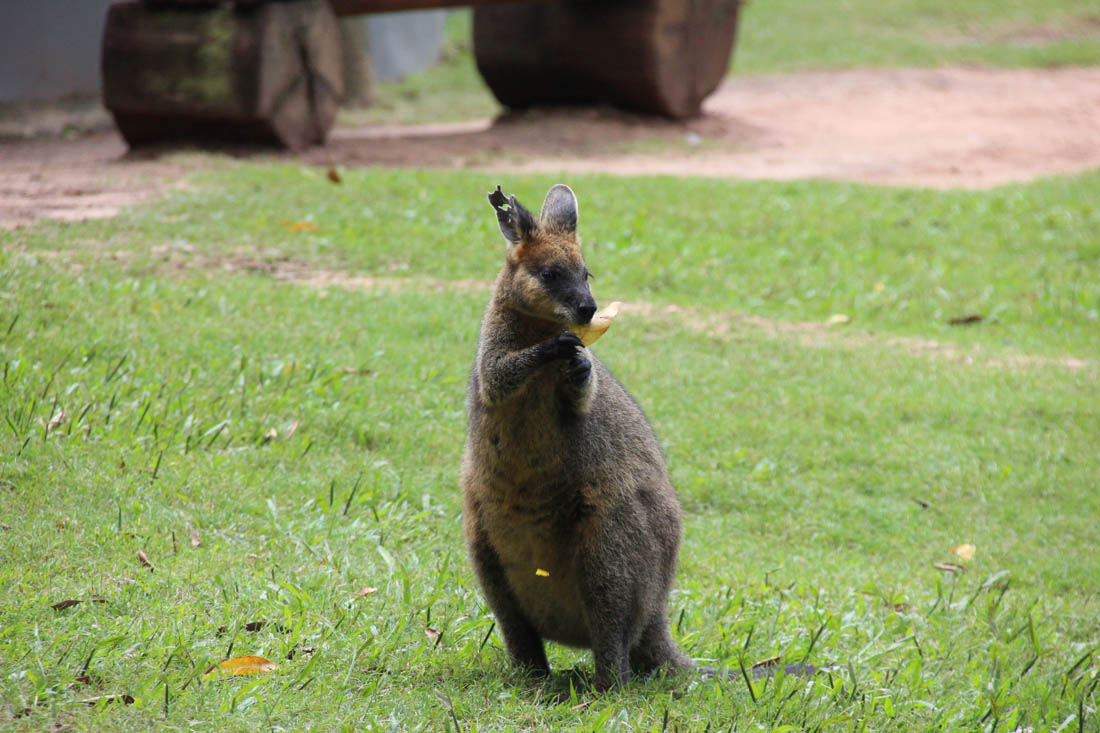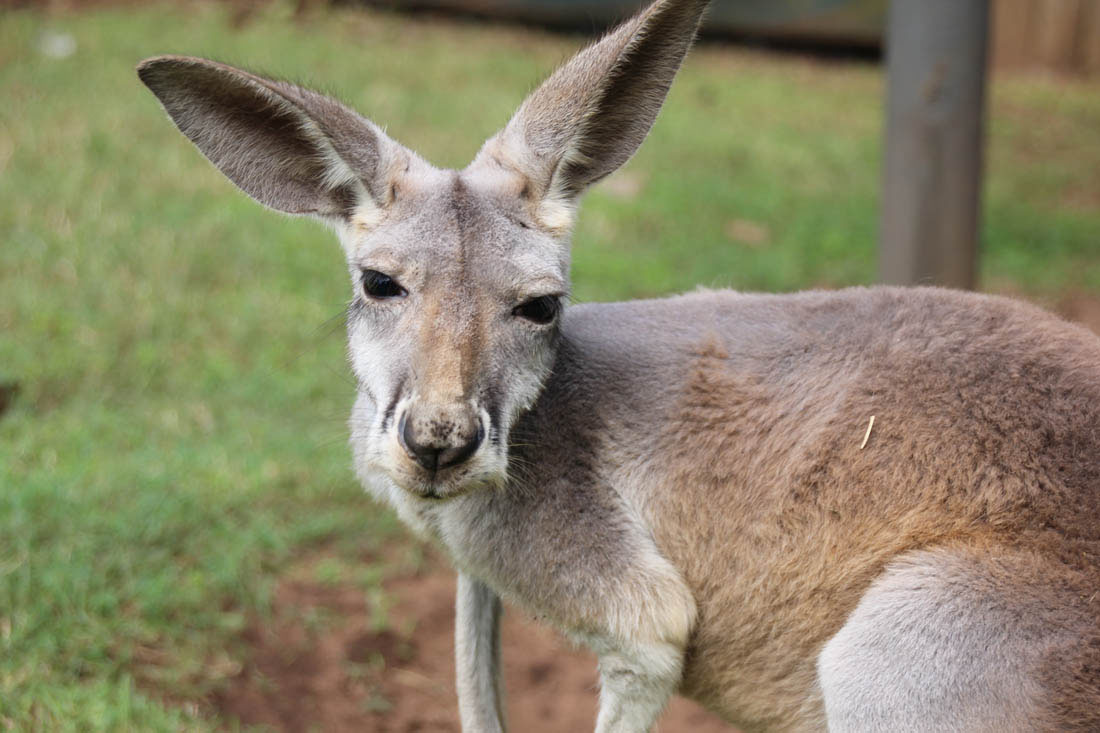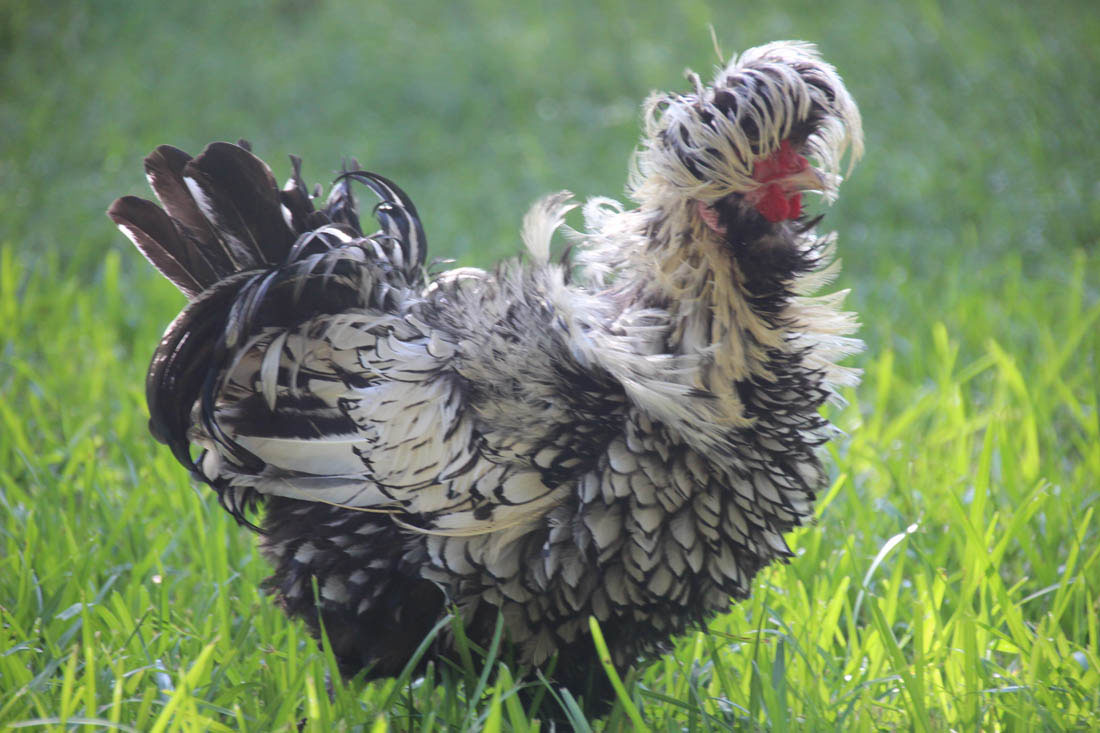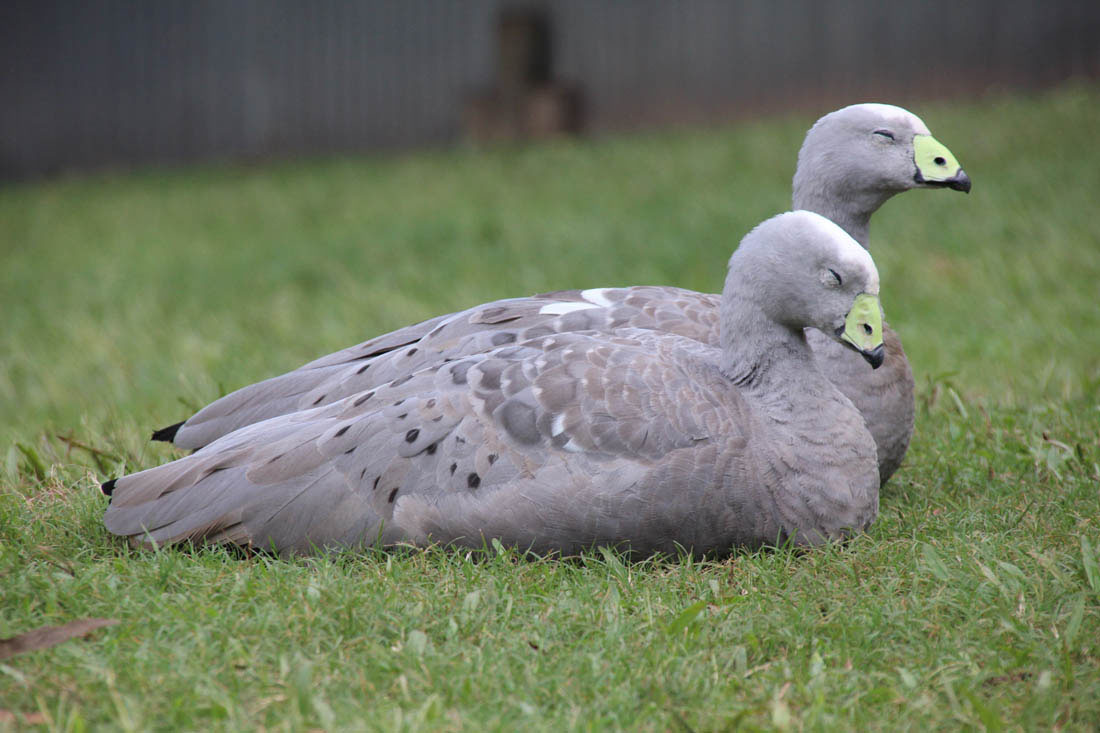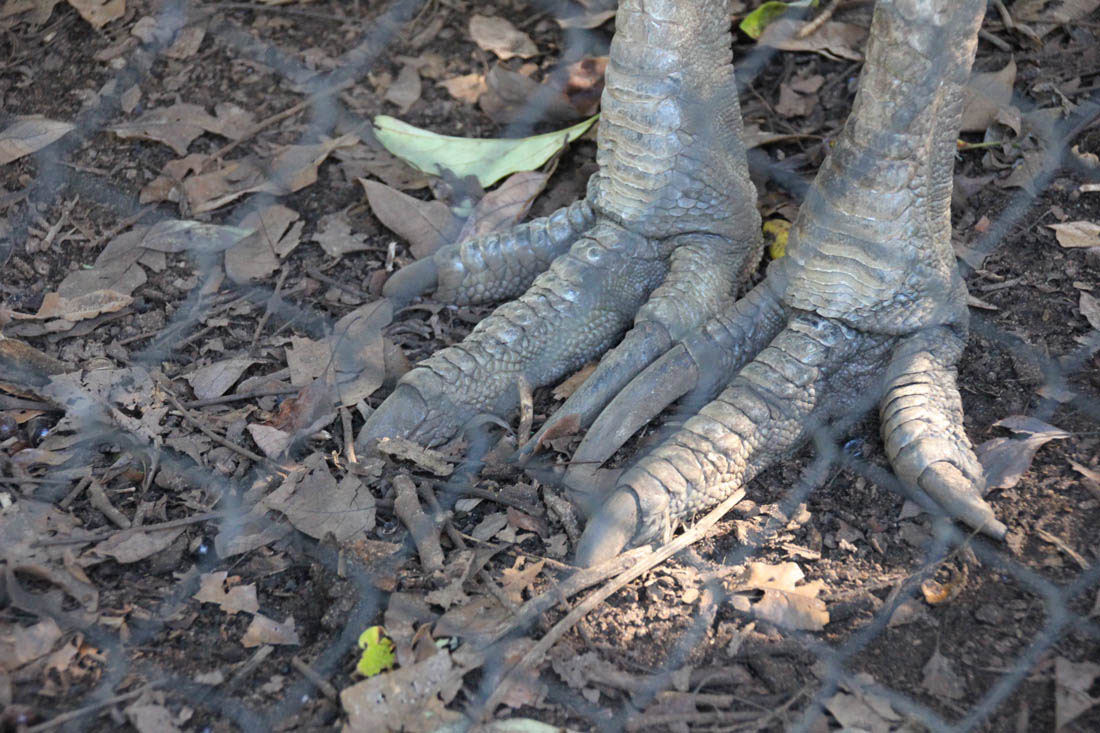 There was a dingo who got spooked by me and that made me feel badly for some reason. There were wild rainbow lorikeets and other exotic birds eating the flowers of a palm tree and there were two sad kookaburra's in a cage who wouldn't even laugh.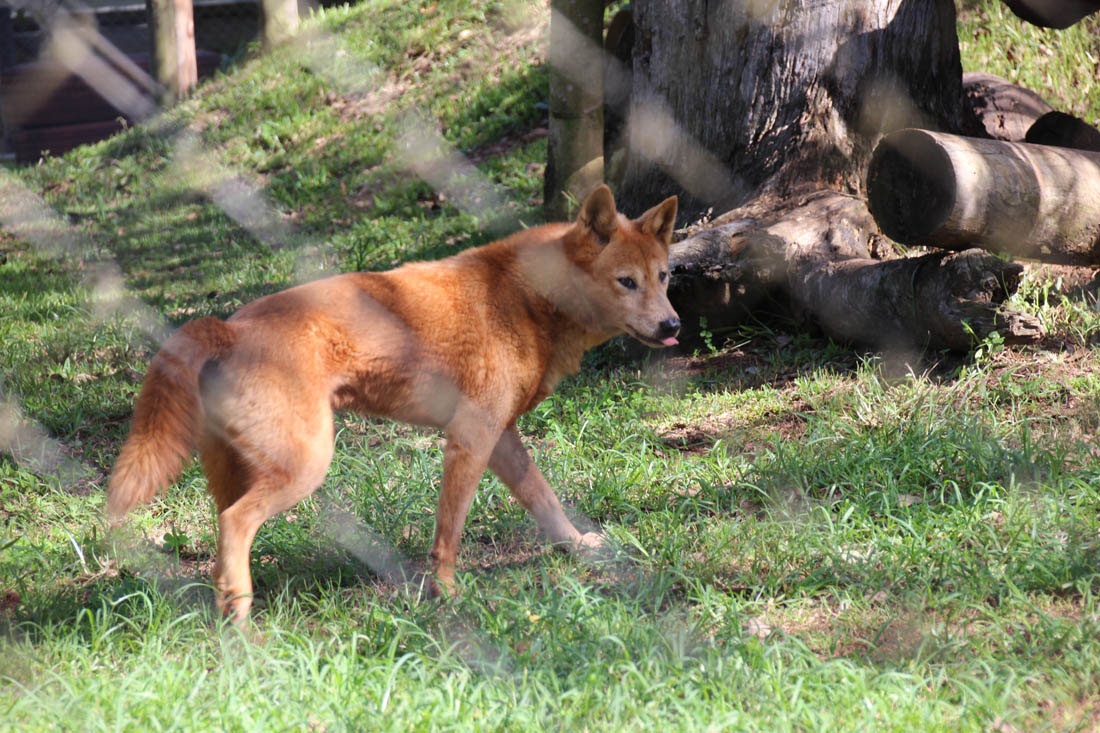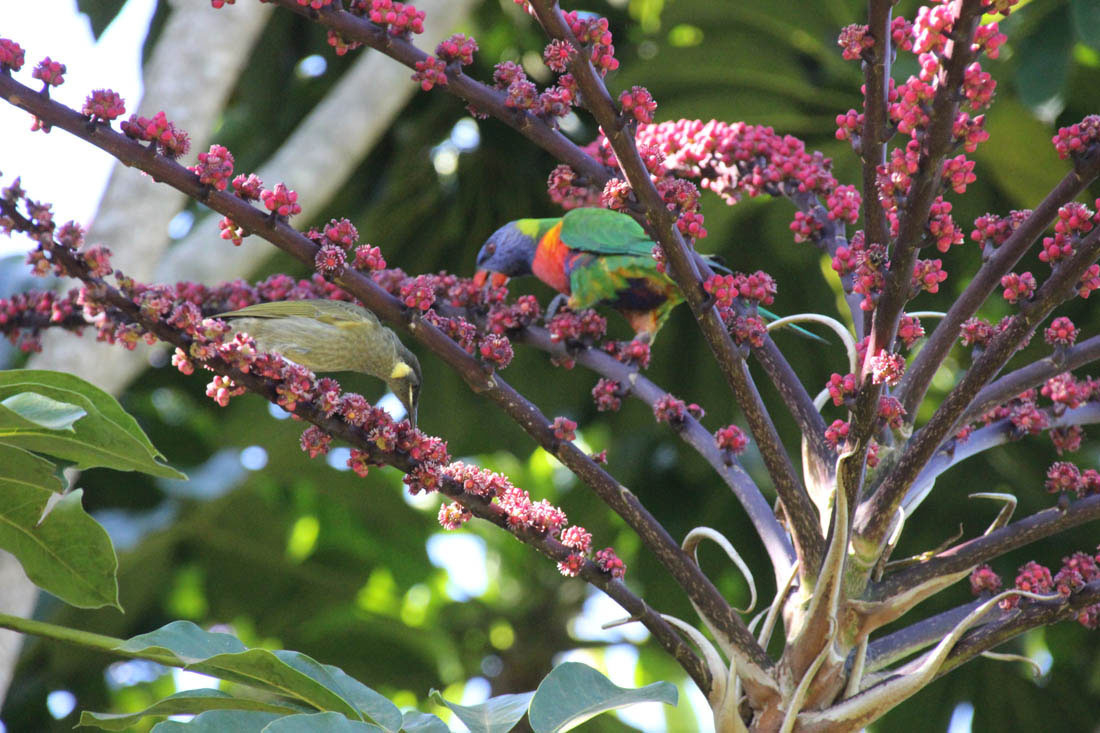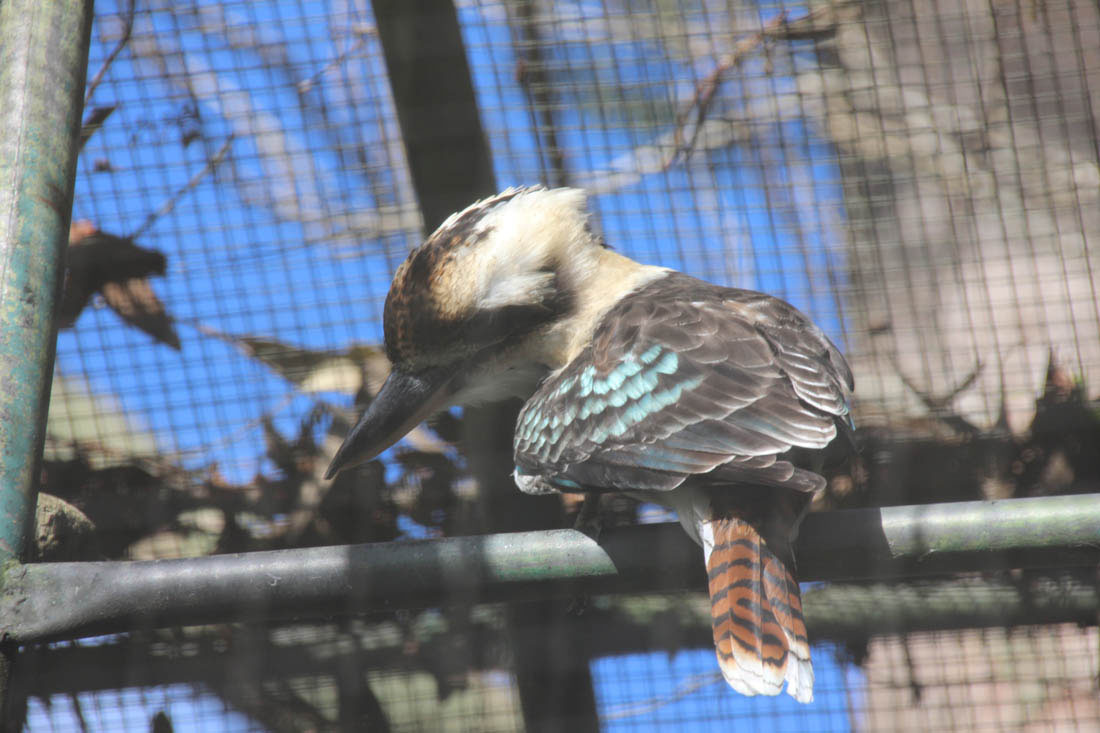 The place was large and I won't post any photos of the monkeys they had, but there were at minimum 6 or 7 species. I saw Capybara which were surprisingly large, eating their last meal for the day. A couple of funny looking alpacas and of course, the reptile house. And who doesn't love a big, cuddly wombat? I felt like it wanted to come out and play.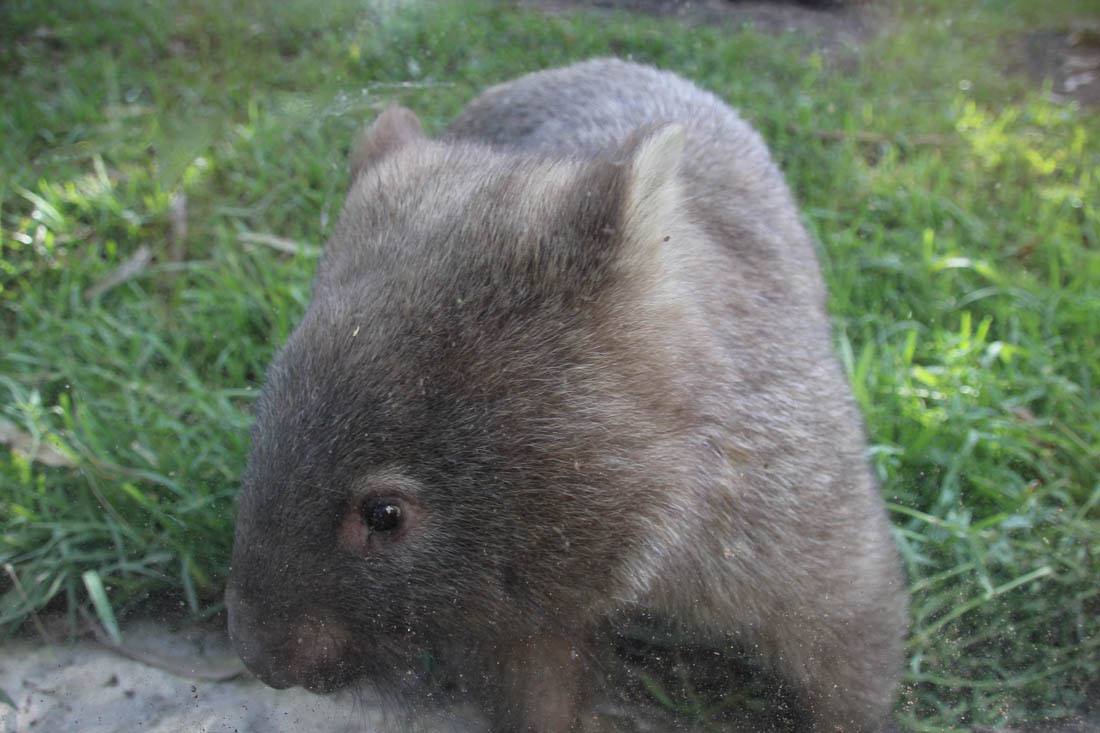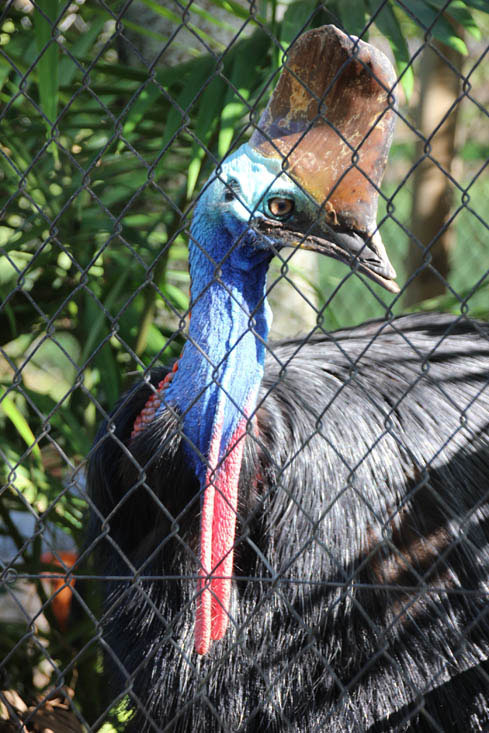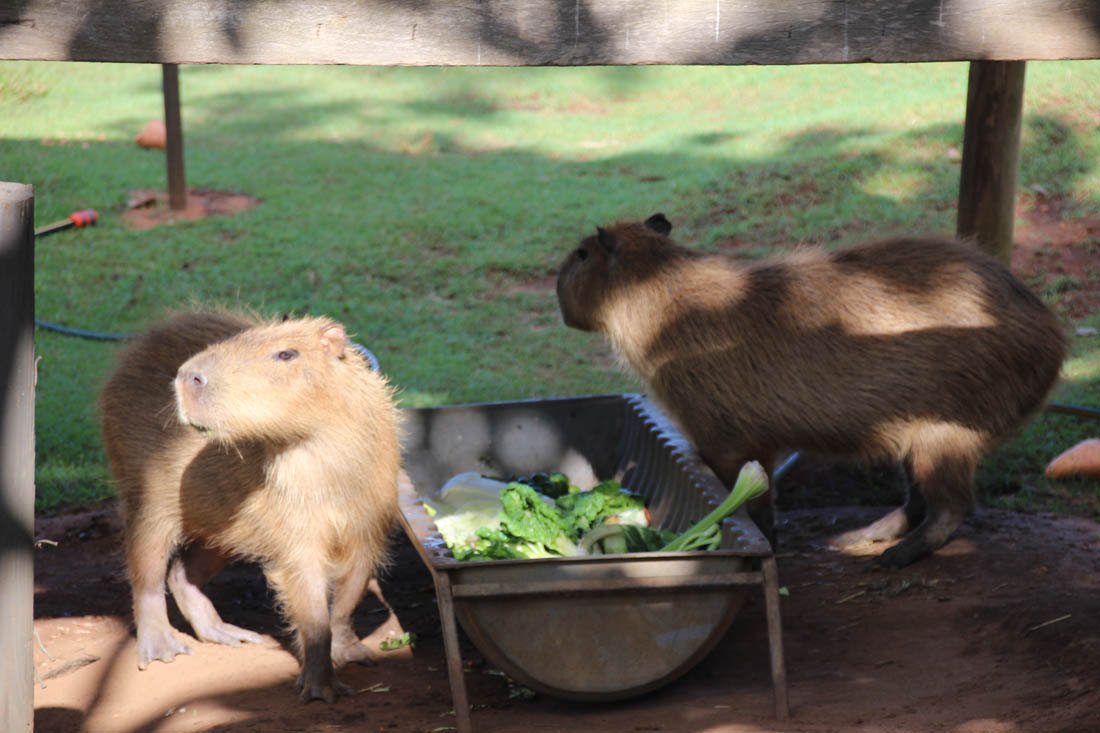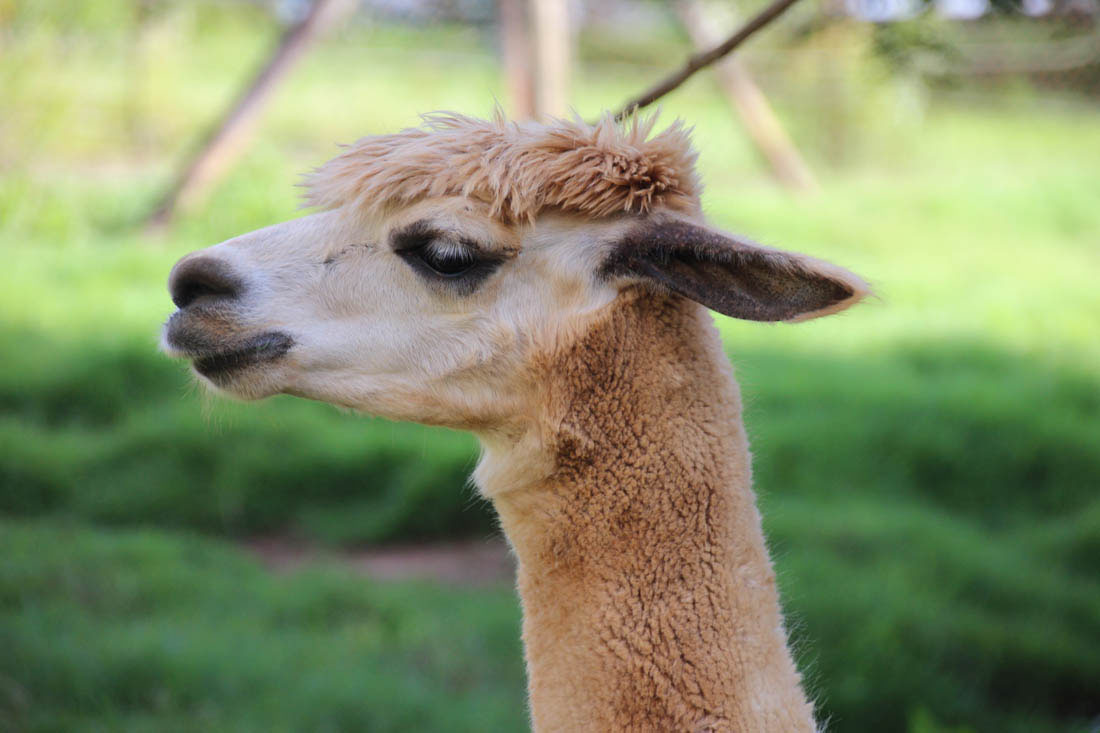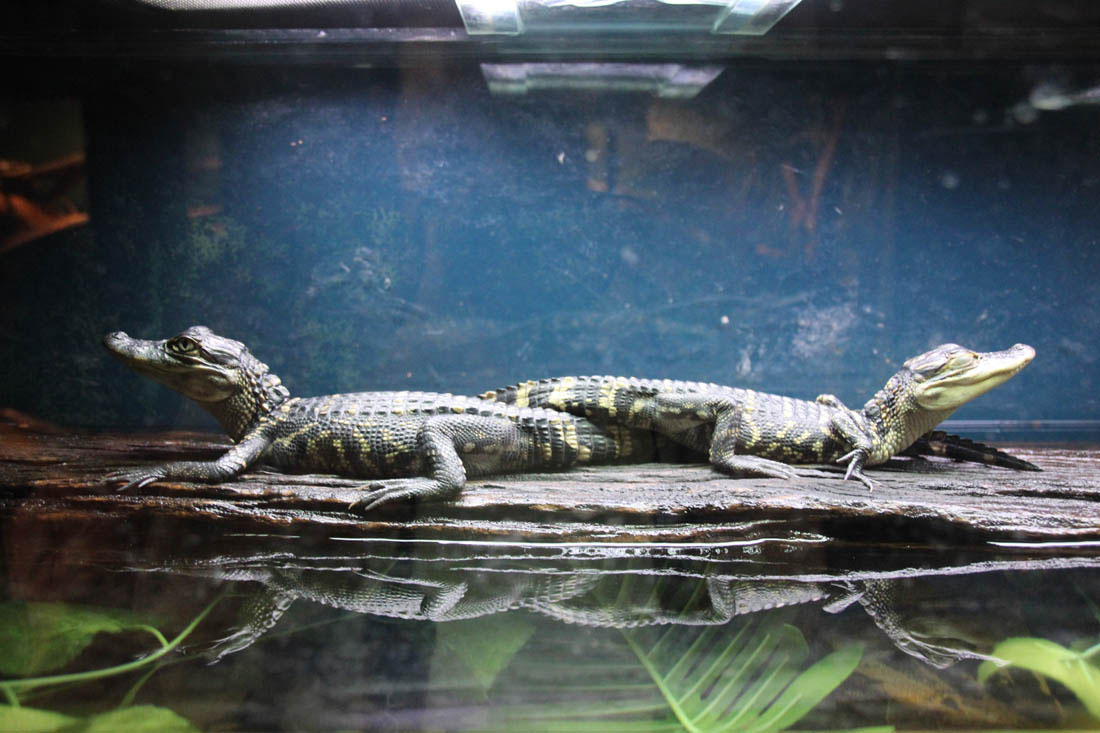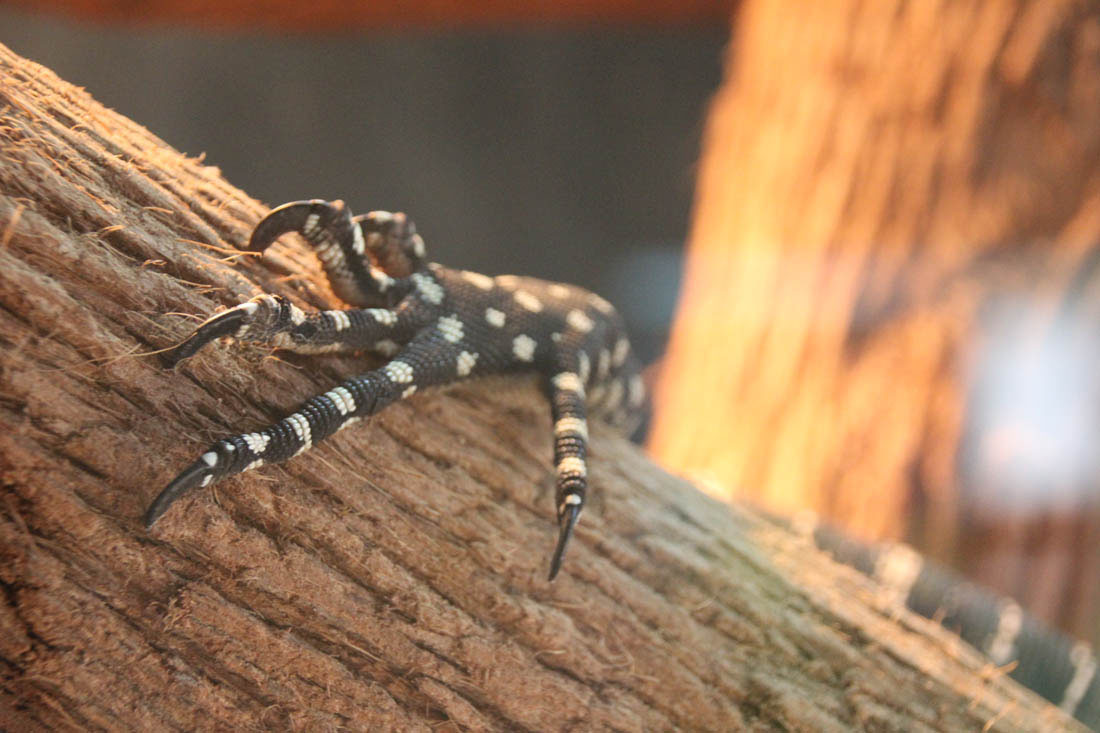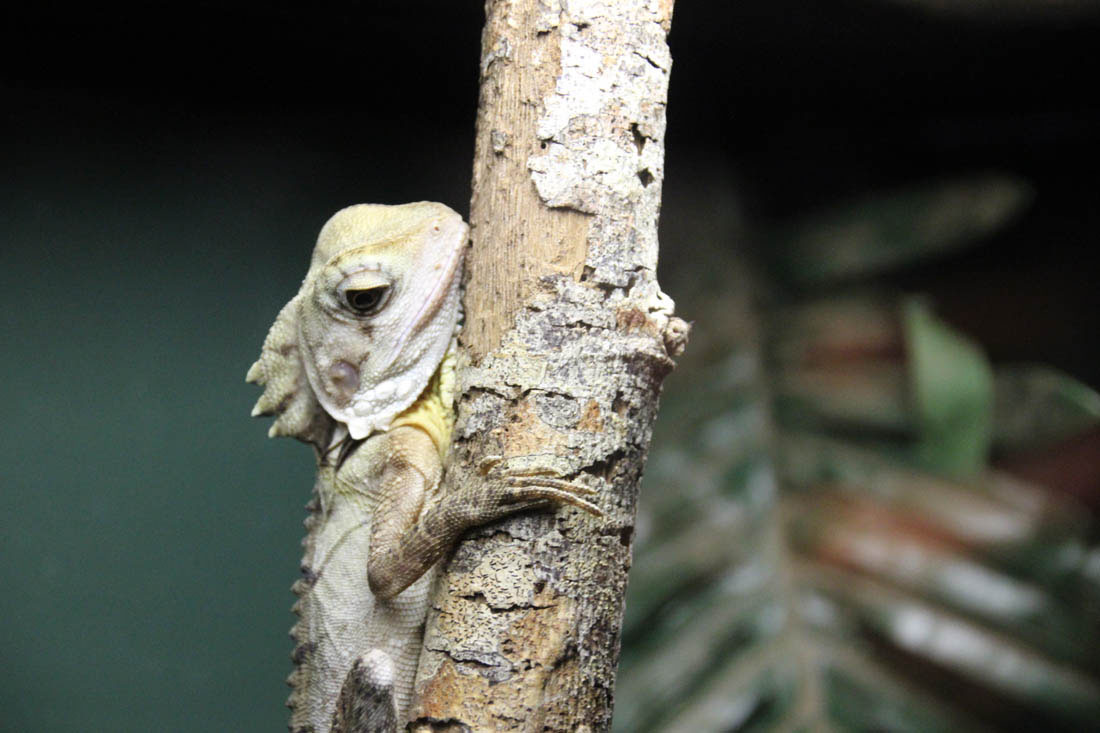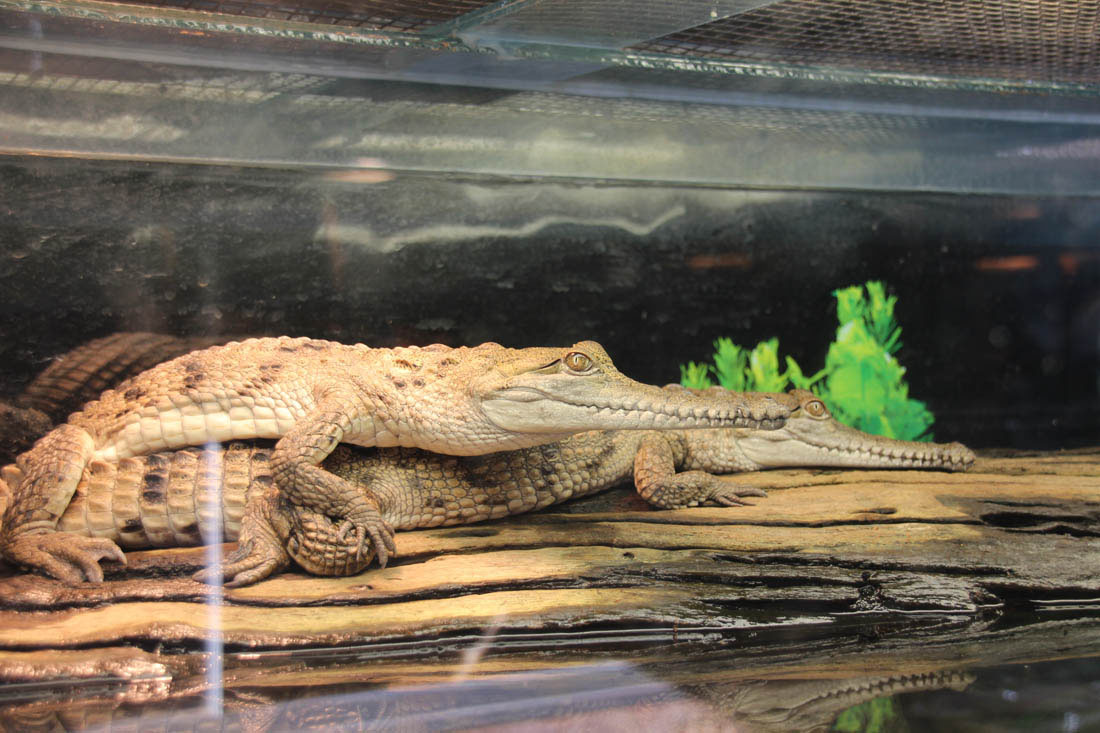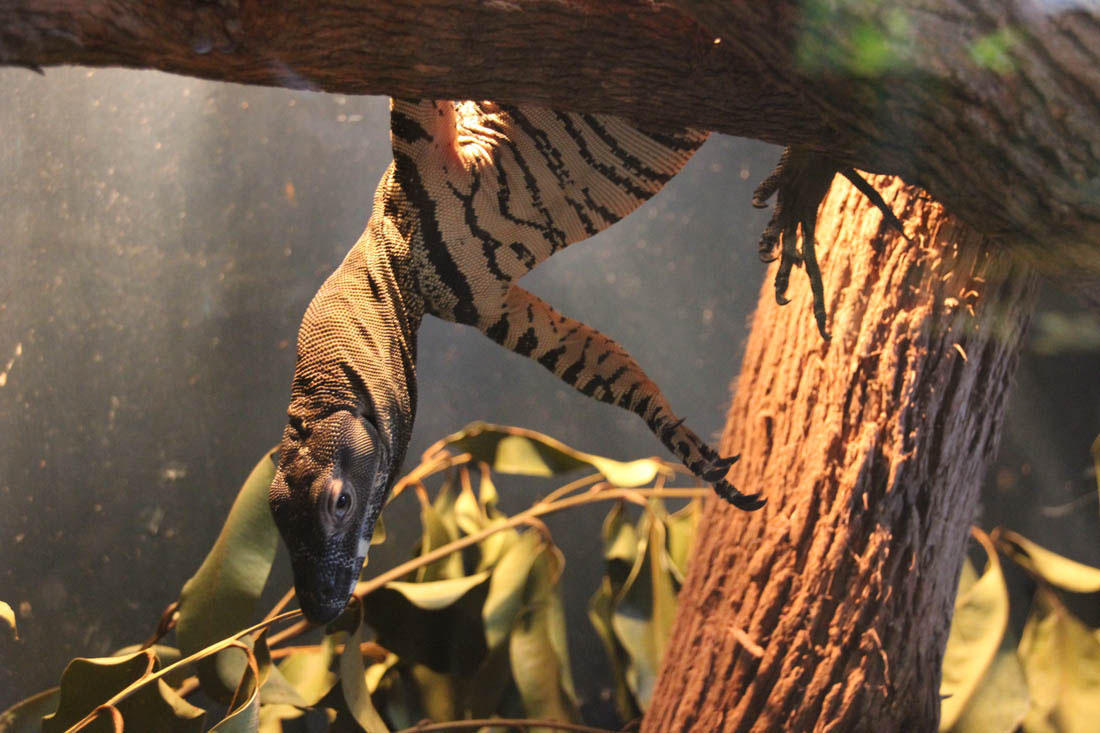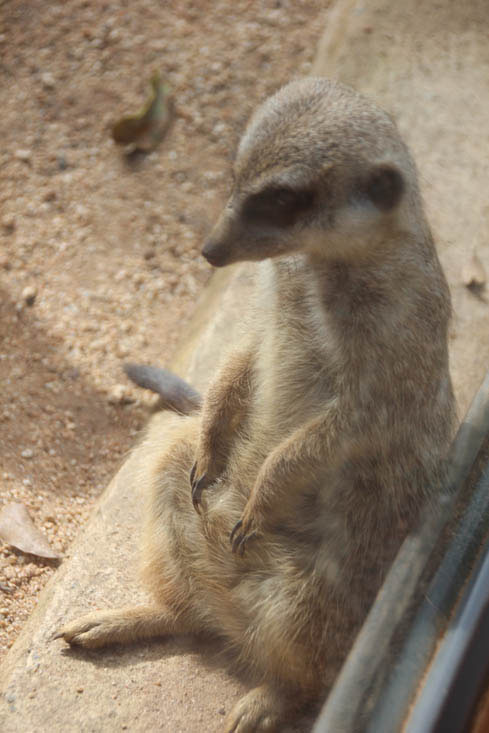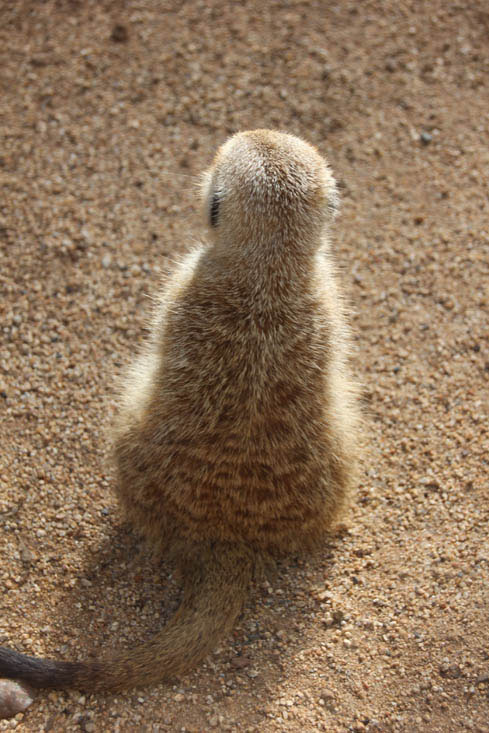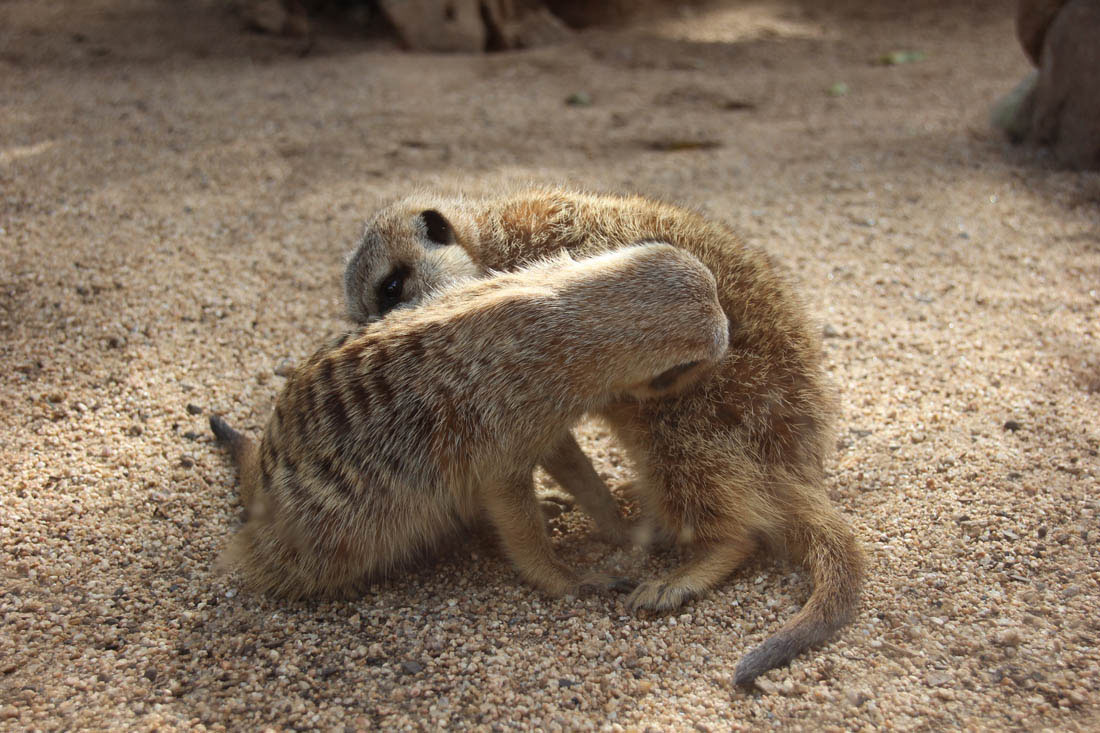 And talk about trees! There were some of these strange 'sausage trees' that only elephants can eat, but have great healing properties for skin. Then, I wasn't sure if I was really seeing star fruit littering the ground and rotting away, but sure enough, I was!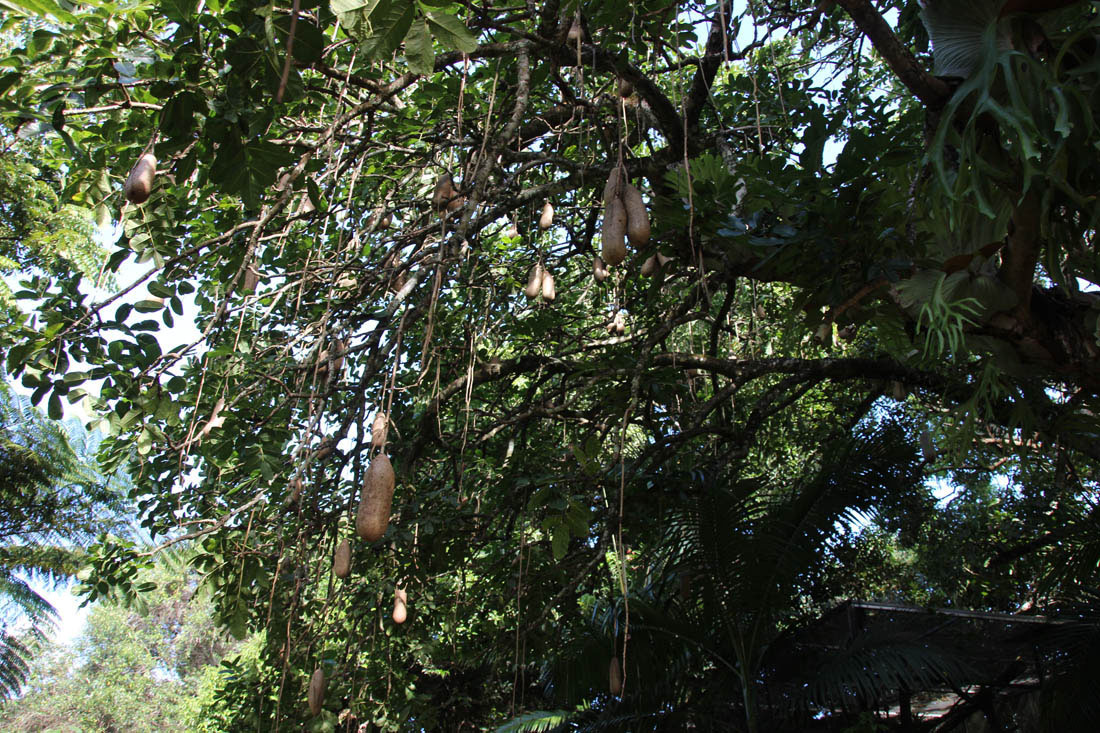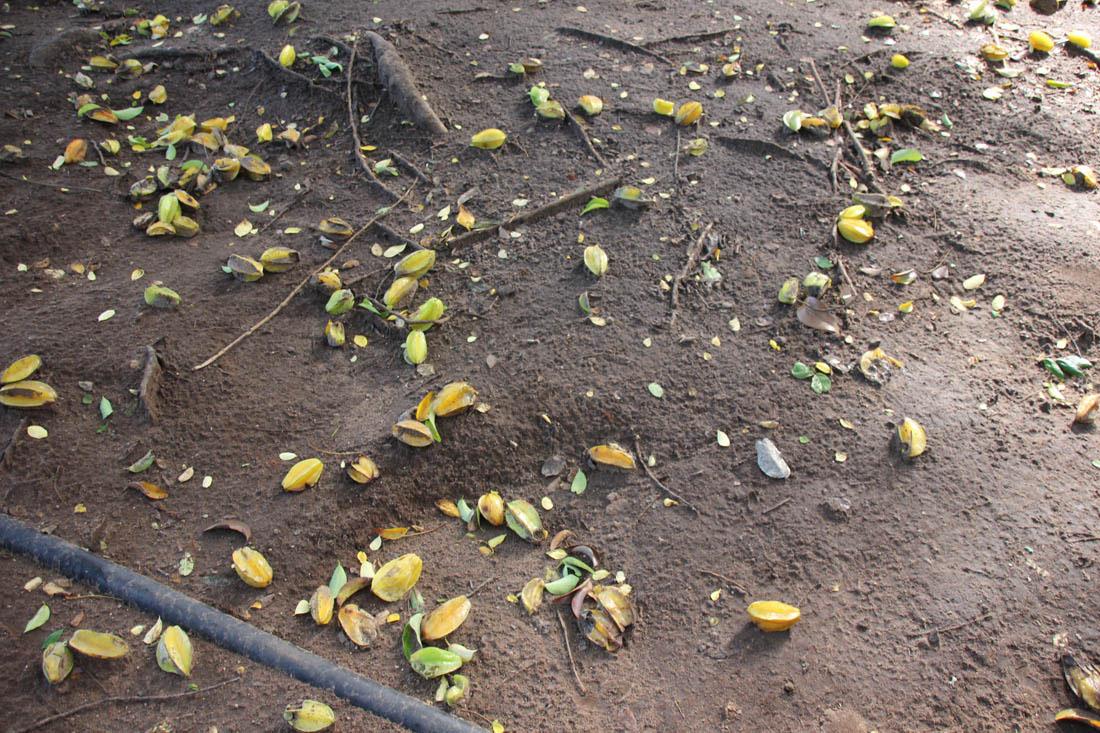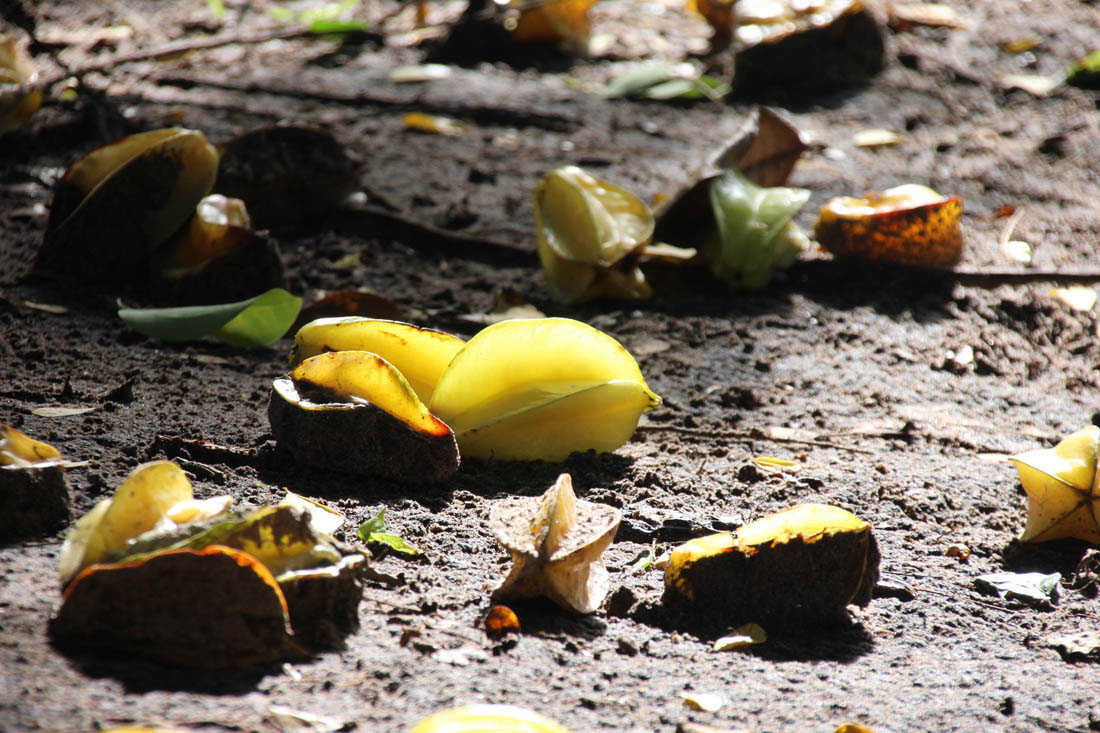 The park closed at 4, and it was about 10 til. I made it through the day and did everything I set out to. Phew…time for a drink!
Over the next few days, I hit Coolum beach about 10 minutes away where there were shops and restaurants. This was around the time I found out my host was coming back to town due to everything being closed in Italy and the cruise was cancelled. The Corona Virus had started getting pretty serious now and the toilet paper hoarding was even taking place where I was!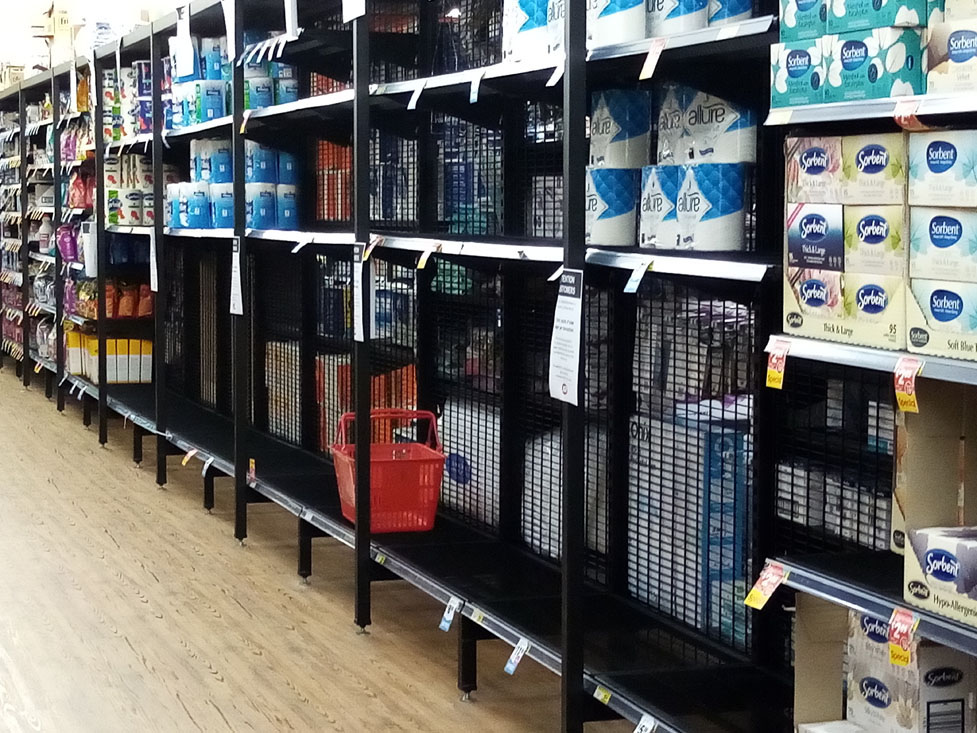 It was looking like my sit was going to be cut short so I changed my flight to come back home early. I made the most of the last few days and hit the beach when I could, although there had been a cyclone off shore that wasn't in a rush to go anywhere so for the most part, it was really windy and cloudy with rain showers.
I hit up the Surf Club for my first seafood meal of the entire stay and a view of the ocean.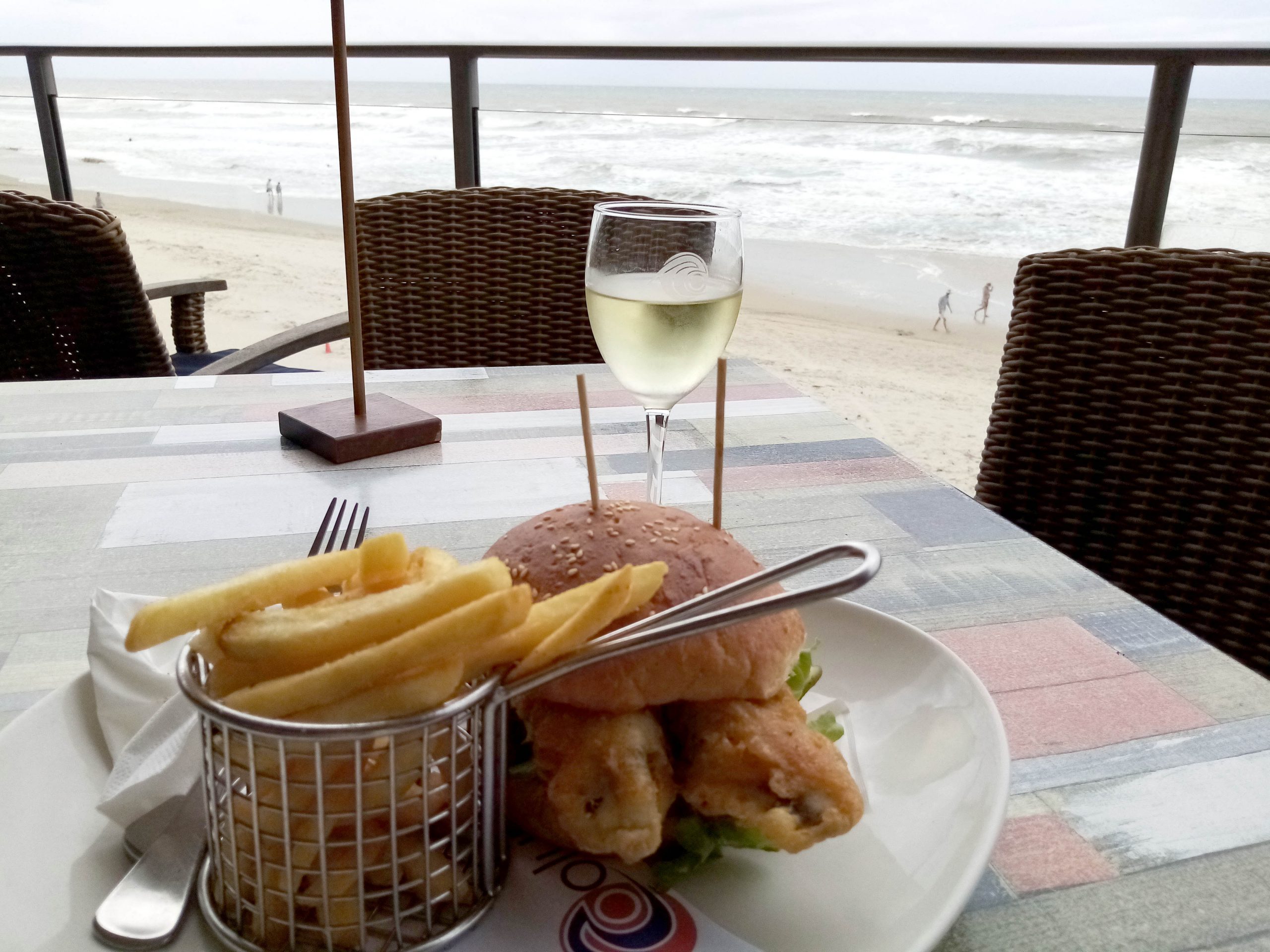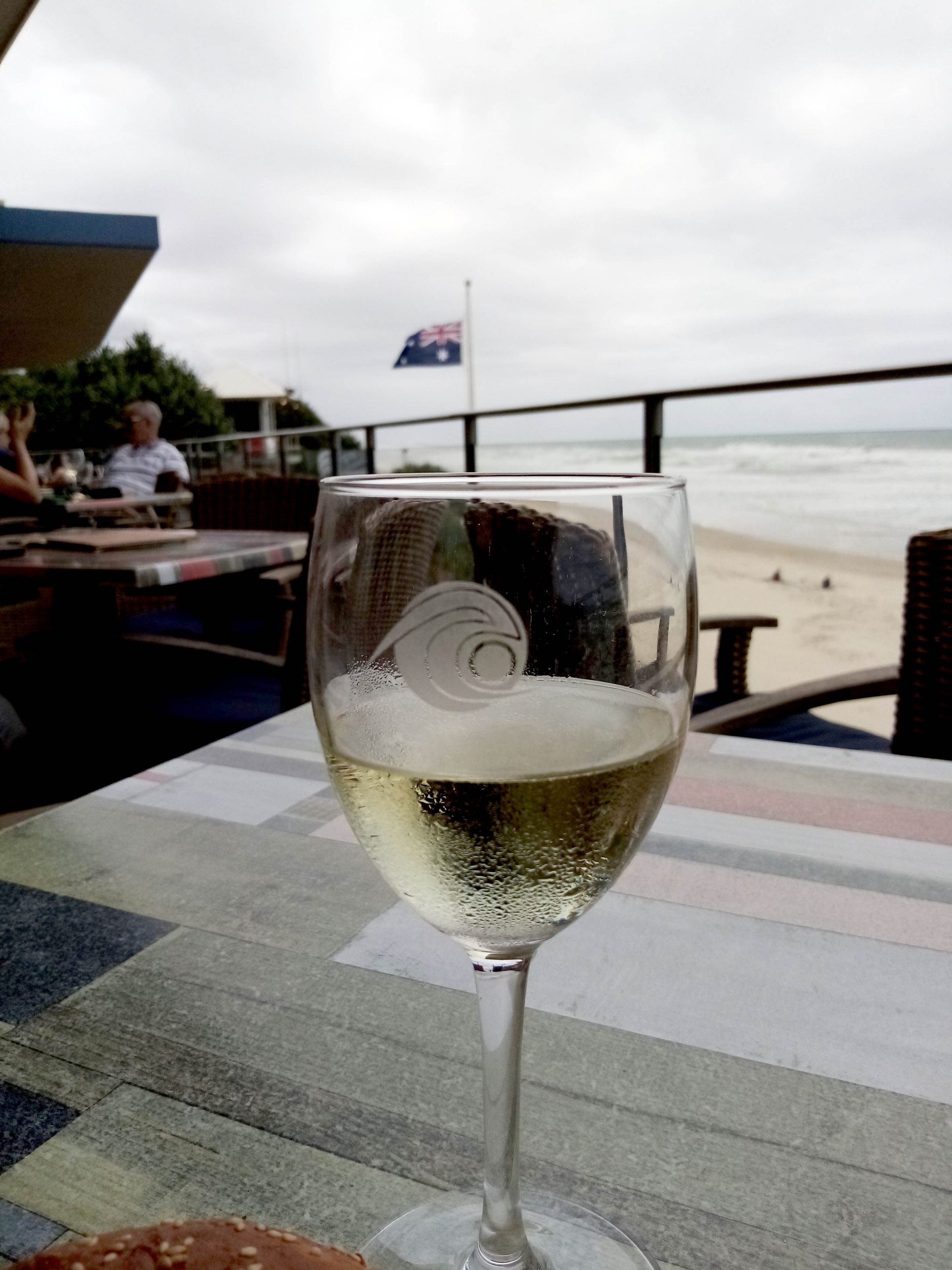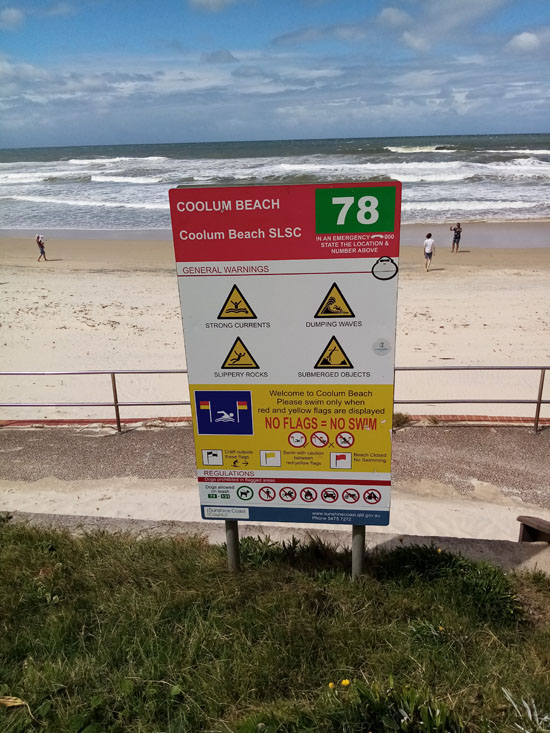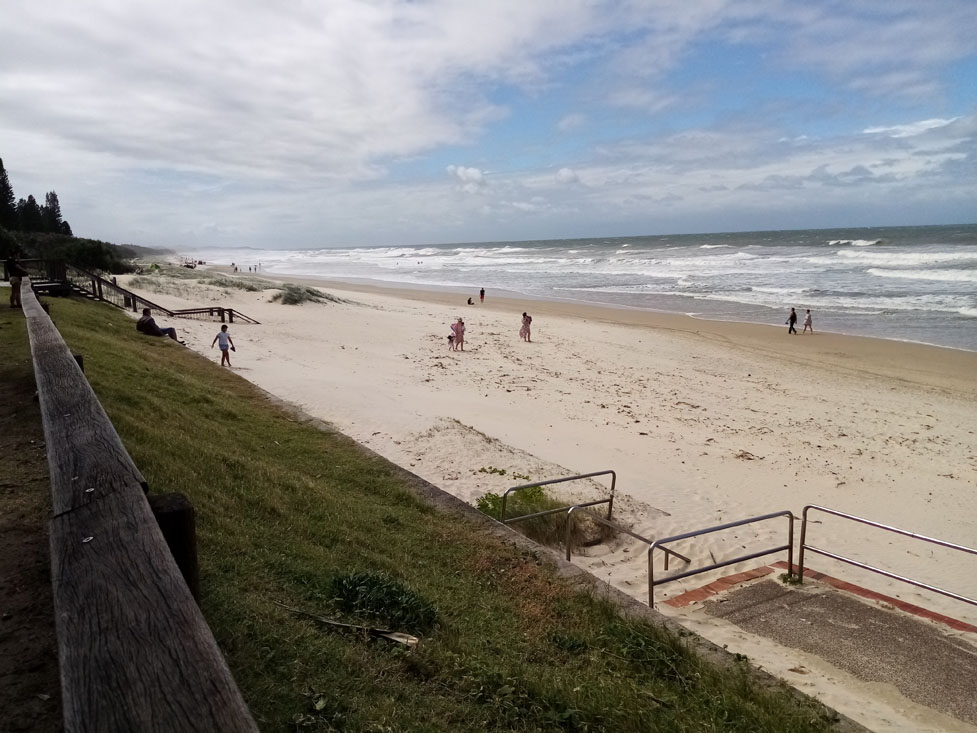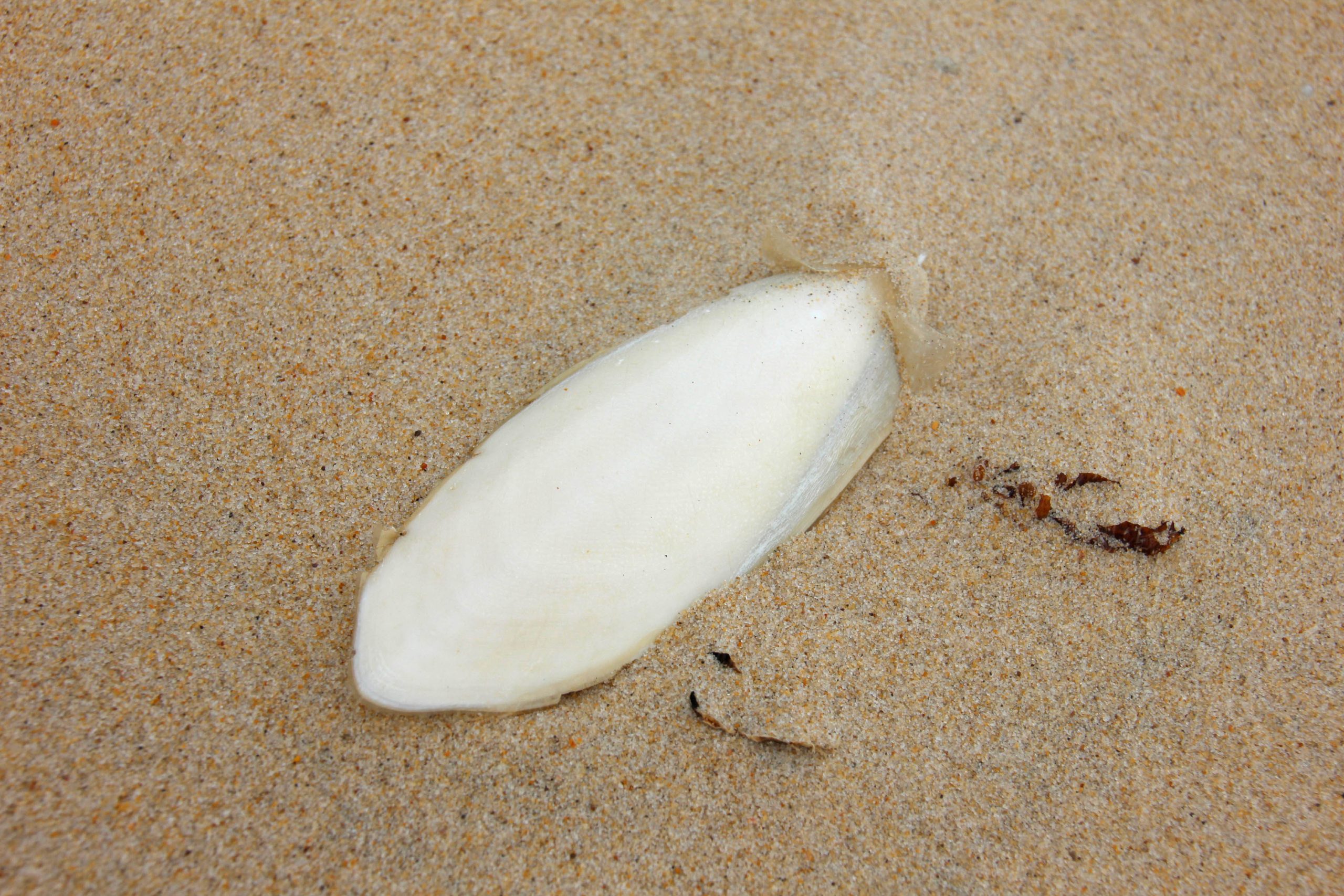 Word came that our Prime Minister was saying that anyone coming into New Zealand after midnight March 15 would be subjected to a two week self-isolation. Naturally, I was leaving at 8:30am on the 16th. I figure it wouldn't be much different from my typical life at home.
I said goodbye to the (not so) Sunny Coast, not knowing when I'd ever be back and hello to a deserted airport in Brisbane and a row of 6 seats to myself. That hadn't happened since the 80's! In Auckland, I had plenty of time to kill and a restaurant caught my eye called 'Orleans' which drew me in. Their claim to fame was chicken and waffles and I almost fell on the floor. I hadn't eaten that in a long time so placed my order and happily chowed down when it arrived. It was great, too!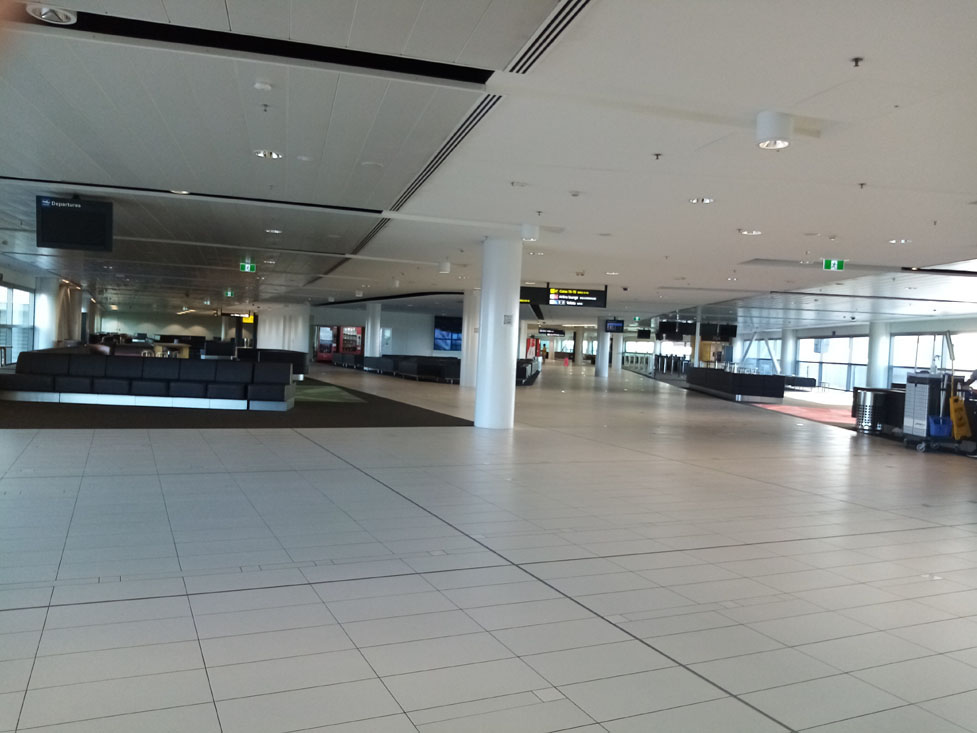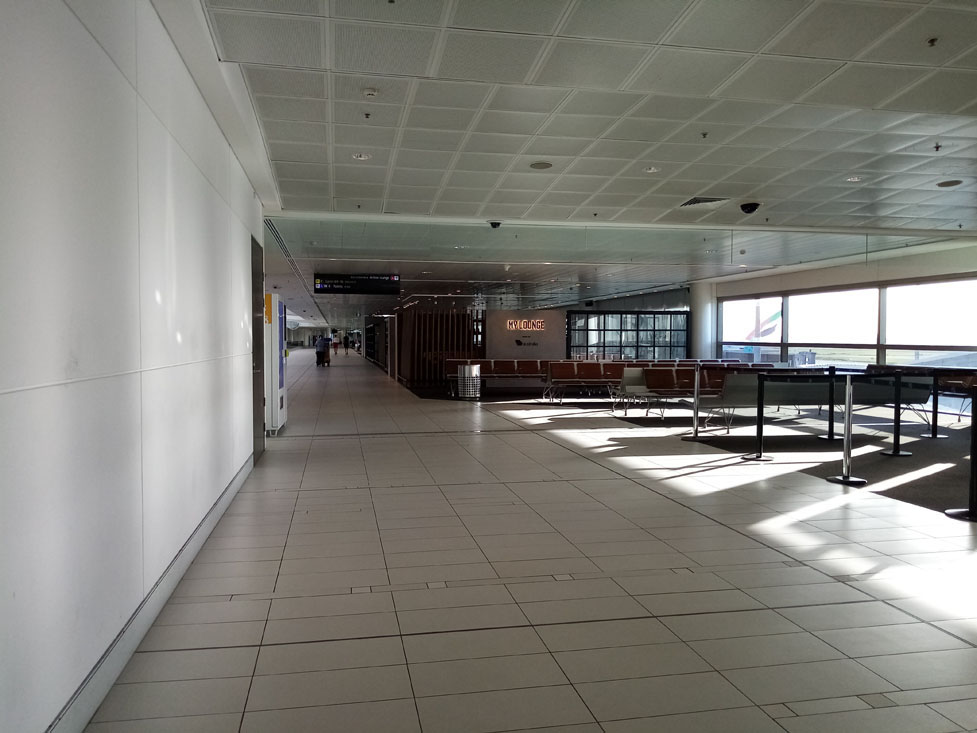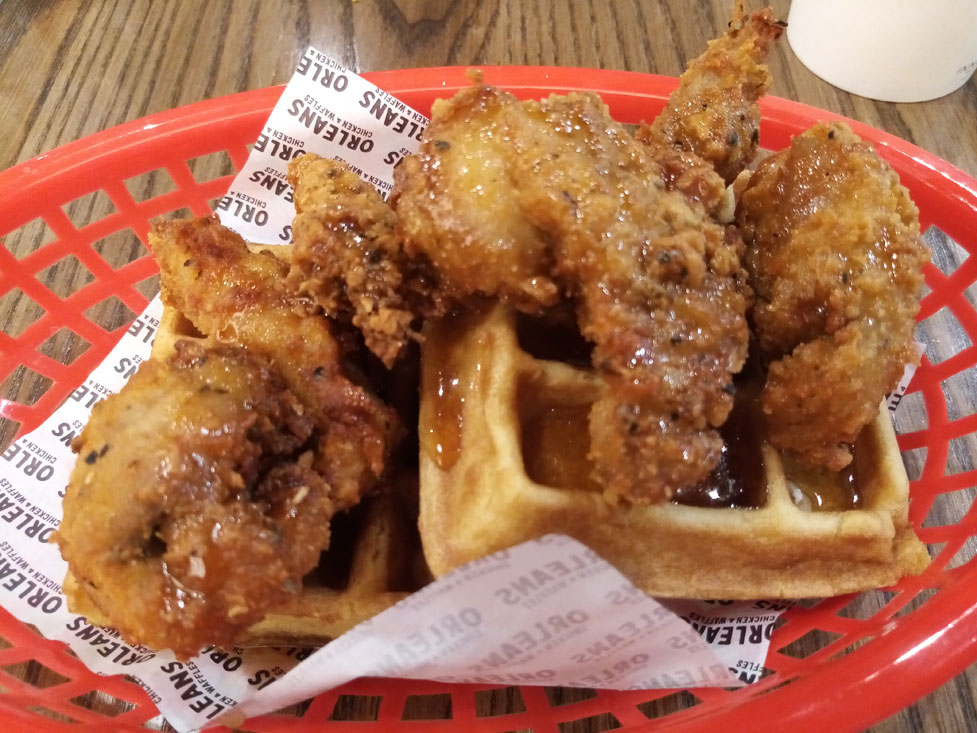 As I ate, a recording every 10 minutes warned people coming in that they had to self-isolate when they left the airport. We had to fill in some cards and get a lecture about what to do if we felt sick and was handed a flyer.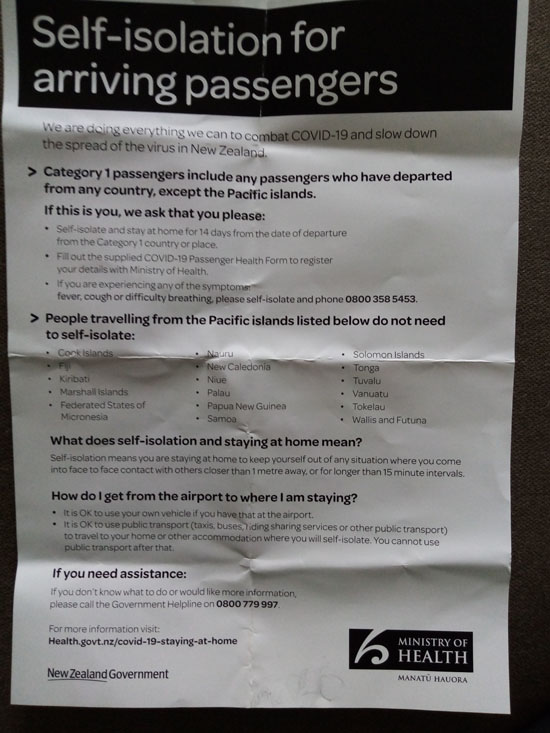 So this is a strange time to be alive, to say the least. Most everything is on lock down around the world, flights are grounded, people are staying home, borders are closed and the virus continues to spread. As I write, there are 307,000 cases worldwide and new Zealand has 66.
Not exactly how I envisioned the end of my trip, but there you have it. Keep safe out there, kids!