I got an email the other day for things to do in the area and Mangarara Station came up again on my radar. I knew they had a lodge but also read you can walk a 30 minute loop on part of their extensive 1500 acre working farm. It wasn't too far from home and it was something new, so we opted to go there yesterday.
We crossed the long one way bridge by Patangata Tavern and drove on a combo of gravel and paved road to the farm. We found the sign-in box where I had to record our visit in a log book. They posted a direction to where the walk was but the signage wasn't that great and we, naturally, went the wrong way toward the lodge instead.
Making yet another wrong turn, we heard the familiar sound of a 4 wheeler come up behind us so we pulled over and we were greeted by a smiling man named Greg with his dog on the back. He asked if we were going to the lake and we said yes, but also added in about the loop walk (which was the other direction). He said he'd show us to the lake and get us a map showing the walk.
We had to slow down for the piglets on the track – there were at least 10 of them squealing, trying to get back through the fence to big momma.
We found the lake and it became eerily familiar like we'd been there before. It must've been when we first moved here but we were down near the bottom of it instead of at the top. It was a great view and thinking we'd stay longer, I didn't even take a photo of the lake! I got the other side instead with the dogs. Unfortunately, we did not go back there after our walk. There were swans, ducks and a lot of native trees and bushes laid out in a peaceful landscape. Well, you'll just have to take my word for it. This is what the other side looked like:
We headed back again and finally found the parking lot then heard Greg riding up to show us the map on the board and gave us a laminated print out. Like that's gonna help a couple of people with no sense of direction. I took a photo of the board just in case. I wasn't getting a good feeling about it. At the last minute, he warned us about the electric fence which we'd have to climb under or jump over (but don't worry it's just 1 wire).
With no signage and a couple of gates and some optional off-shoots, we managed to navigate correctly, doubting our choices the whole way.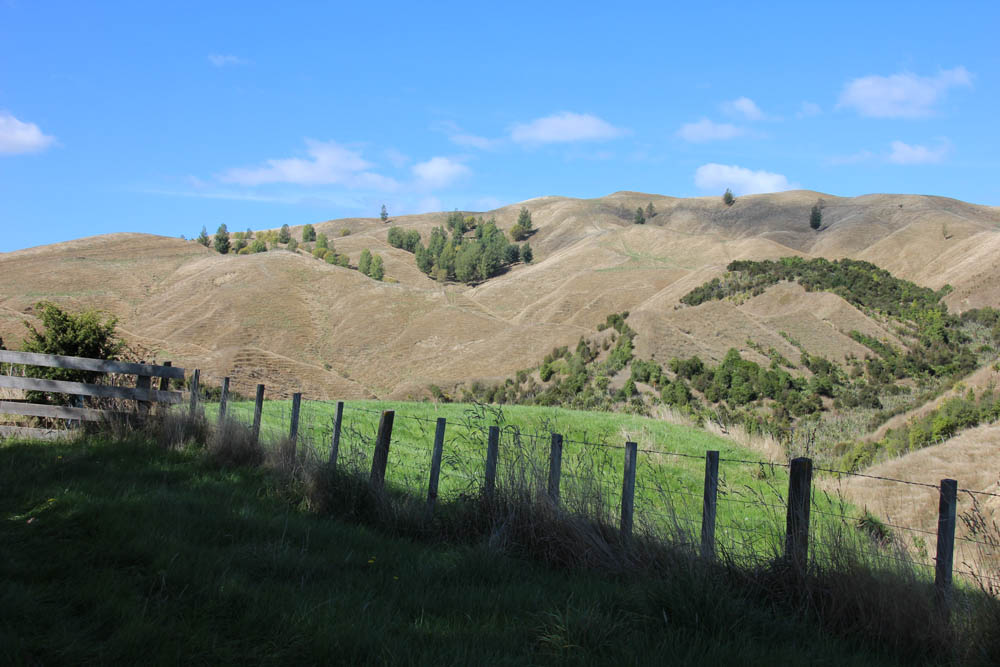 We walked along fence lines and avoided twisting an ankle over deeply rutted roads littered with cow droppings as the sun beat hard on the side of our faces. Around a bend, the scenery changed into a bunch of large flax bushes and yucca.
Thankfully, at another fork there was finally a sign for the hut!
We followed it until a little white "house" appeared and we went up on the deck for a rest in the shade.
I took quick notice of the blackberry bushes and picked some which weren't much better than the ones I last picked at the other spot last month. But good, nonetheless. The view was nice, overlooking what I think would be a creek if it had more water and some large trees. The birds were singing and flying around happily.
"Huts" here mean a free place to spend the night, so don't expect anything fancy. It's often a better alternative to a tent where at least you can stay dry and a tad bit warmer. There were a few beds and an old chair inside with some blankets. He flipped the light switch on but nothing happened. There was an outhouse a few metres away. Typically huts are in places that take a while to hike to or if you go on a 2 or 3 day trek, there will be some dotted along the way.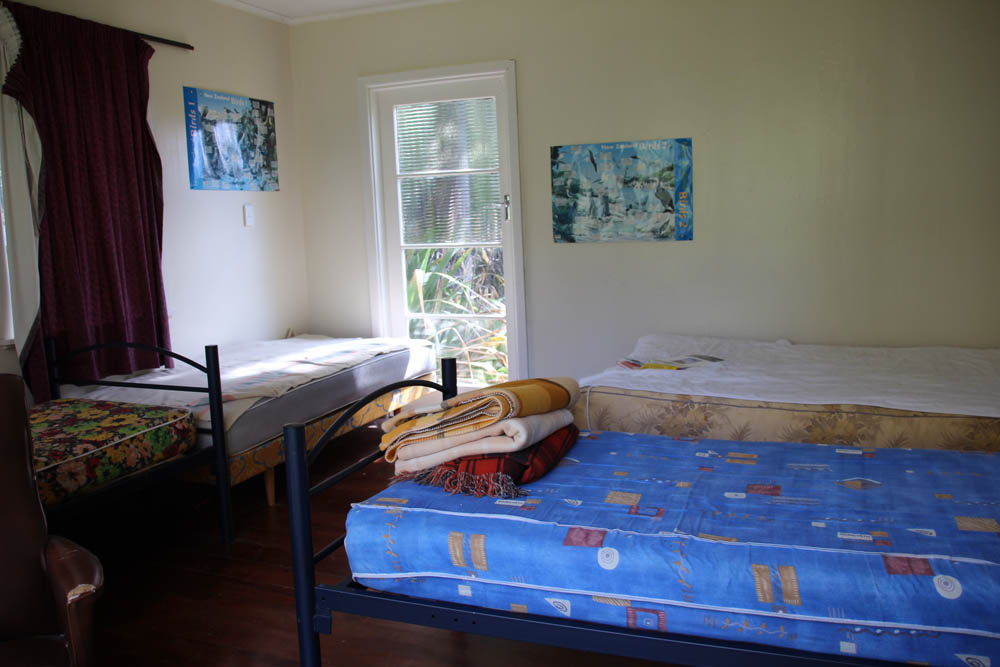 We looked at the map again and saw the loop track was right by the cabin. We took off to the right as I saw a hill to the left and would rather walk down it than up so I took a chance and trusted my instinct this time. We were happy to see a LOT of little tiny signs telling us we were heading the right direction!
It was unlike a typical park we'd go to which was sort of nice. It felt "wild" without a distinct track and nobody else was there.
It didn't take long for the fantails to show up. They seemed to fly closer to us than usual, singing their little song.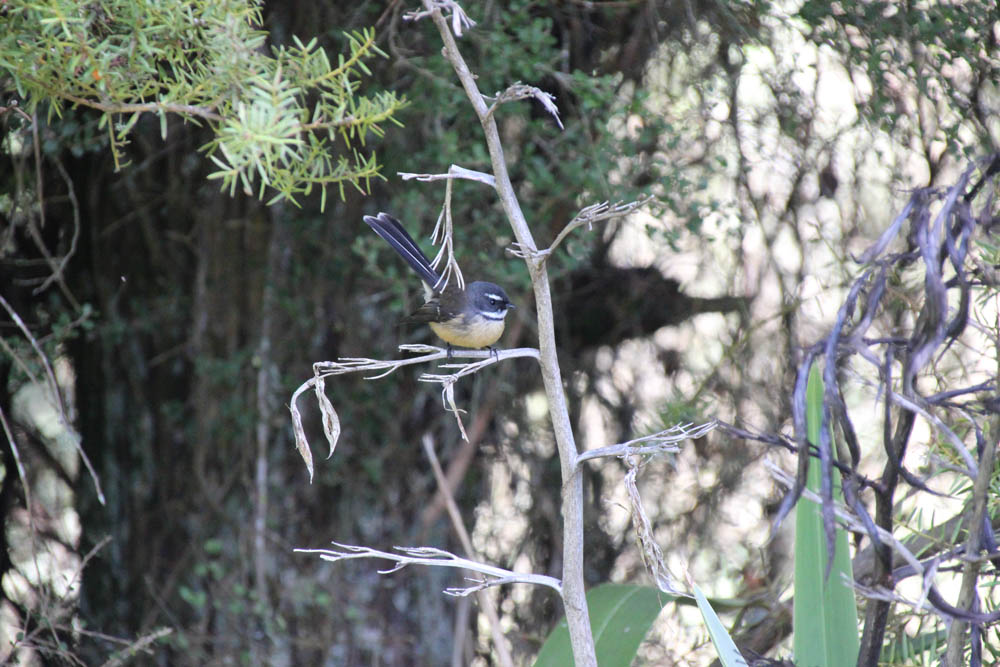 We huffed it up the hill and got a nice view.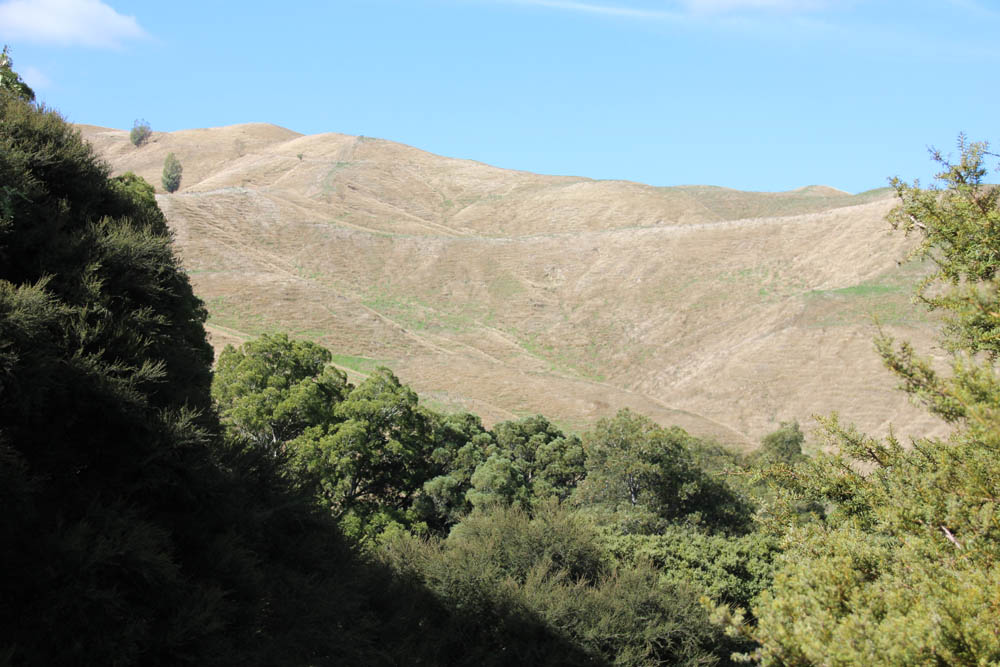 We looped back to the hut and found our way to the car. We also saw Greg again, shifting some cattle to another paddock and thanked him. We'd been there about two and a half hours already! We didn't go back to the lake but at least we know how to get there in the future. It was a peaceful place for a picnic in the tall grass on a soon-to-be cool Fall day, so we'll save it for another time.
Enjoy your Easter, everyone!