Our summer holiday this year took us West, to the Kapiti coast which is on the opposite side of the North Island from where we live. One of the main reasons was to visit Kapiti Island which is declared as predator-free. You can see rare bird life there and people can even spend the night so they can have wild Kiwi bird encounters. Sadly, all the spots were booked for that, so we grabbed the other option which was to take the ferry over and do a day visit which cost about $160 for two people (that was a sale I spotted, so it's a bit more than that typically).
I booked a motel a block from Paraparaumu Beach, also referred to as the Kapiti coast. We checked out the little town and beach for a bit before heading out and here's what it looked like. Since we arrived on New Year's Day, everything was pretty much closed until the 6th.
And just a disclaimer here, it could take you 3 days to read this post! It isn't a short one.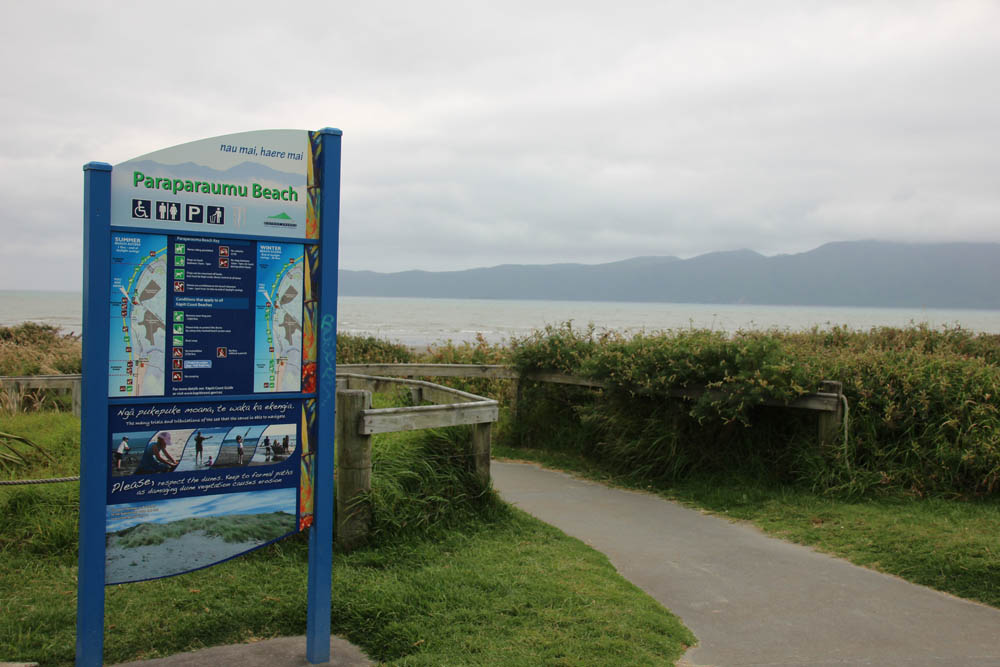 That's Kapiti Island in the background (10km long by 2km wide), looking pretty bleak. Our trip was the following day.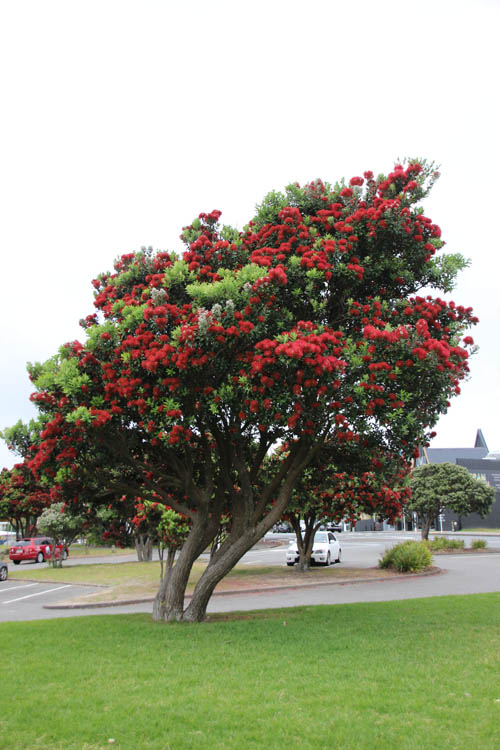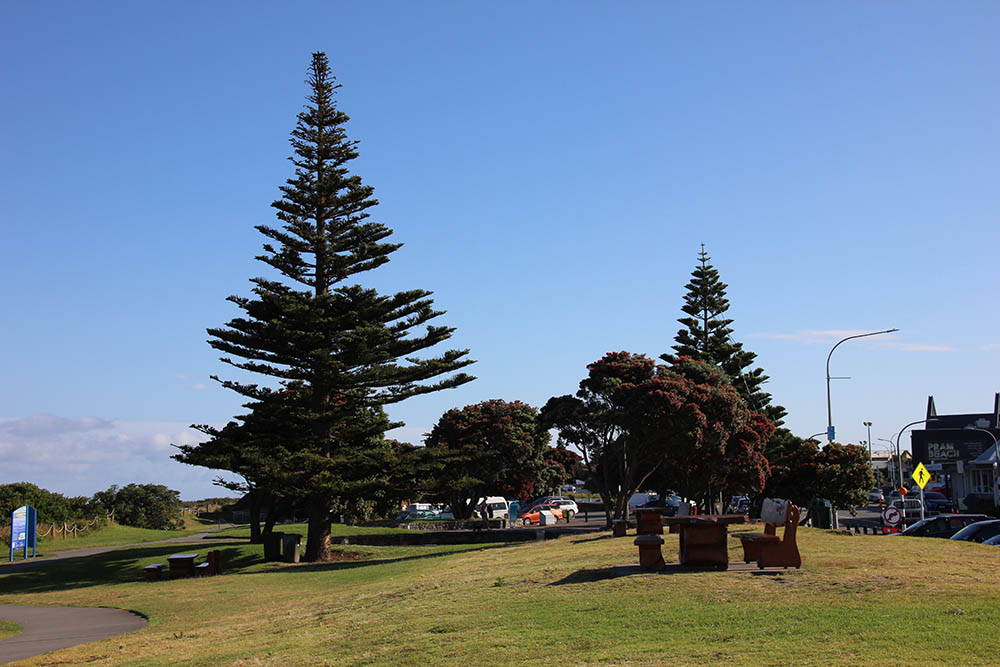 As you all know, whenever we go somewhere new (and because I'm in charge of logistics), I choose to see what type of wildlife is around and do as many outdoor activities as the weather will allow. The forecast was good and it was also going to be over 25 degrees Fahrenheit cooler than where we live (a heat wave around 90+ here!). As we started getting closer to Kapiti (a 2.5 hour drive), it was cloudy and noticeably cooler with rain looming.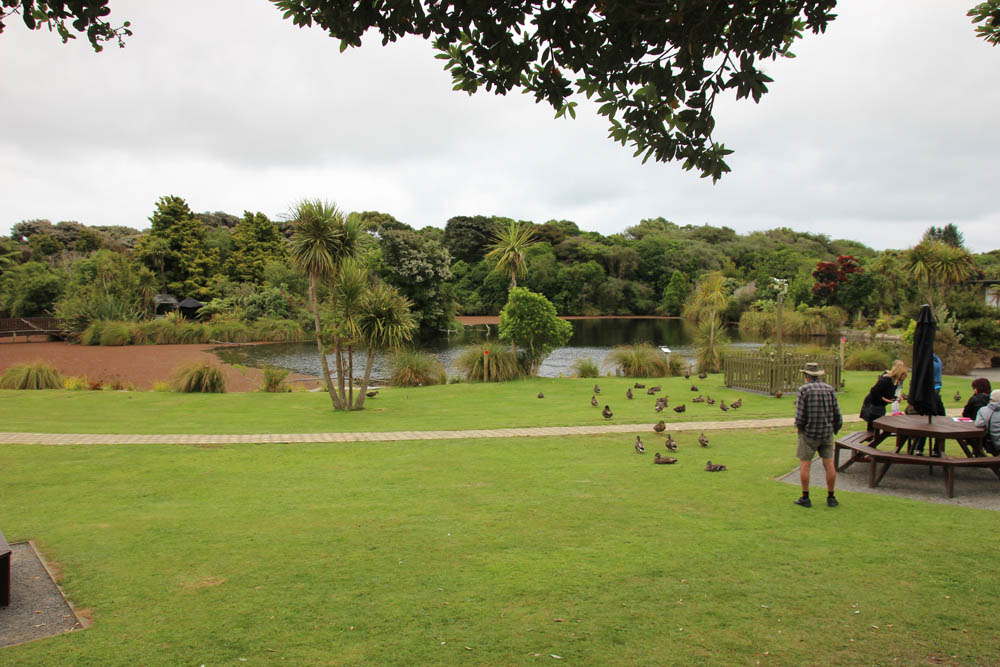 Since we got in around lunch time, I figured we could knock out Nga Manu Reserve first. This was the place we would be going for a night time Kiwi encounter starting after sunset on Friday (it was Wednesday when we arrived). However, I did want to see the place and the animals in the day. It was only 15 minutes from where we were staying so we headed out there.
We saw there would be an eel feeding at 2pm so we had about 30 minutes to walk around before then. We walked into an aviary where a Kaka bird was fiddling with some Pohutukawa flowers and was able to get quite close. There was also a baby Pukeko along with what appeared to be a juvenile and some rare red headed parakeets.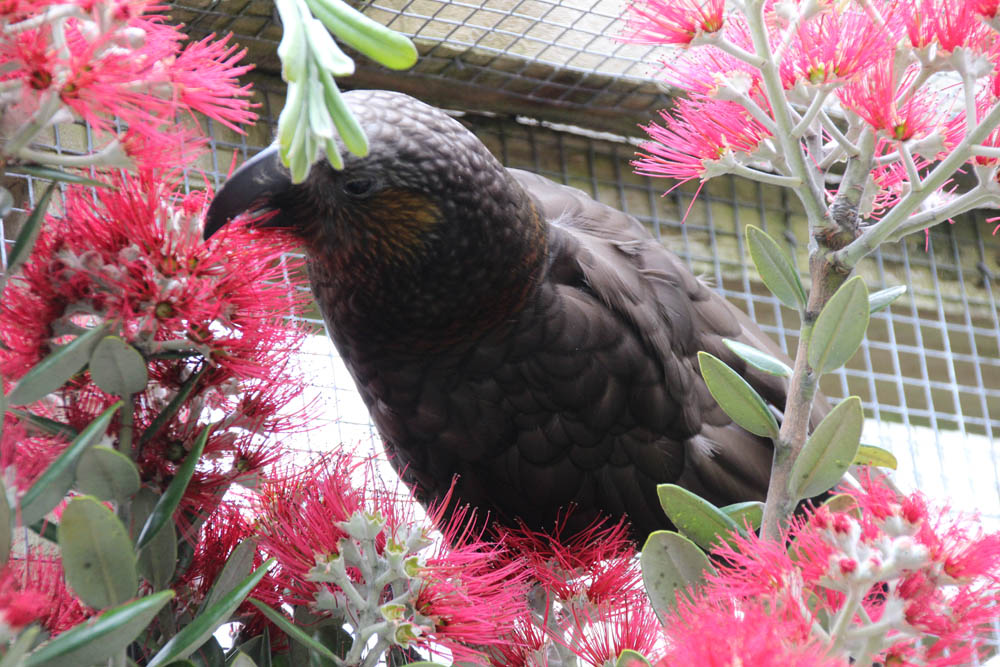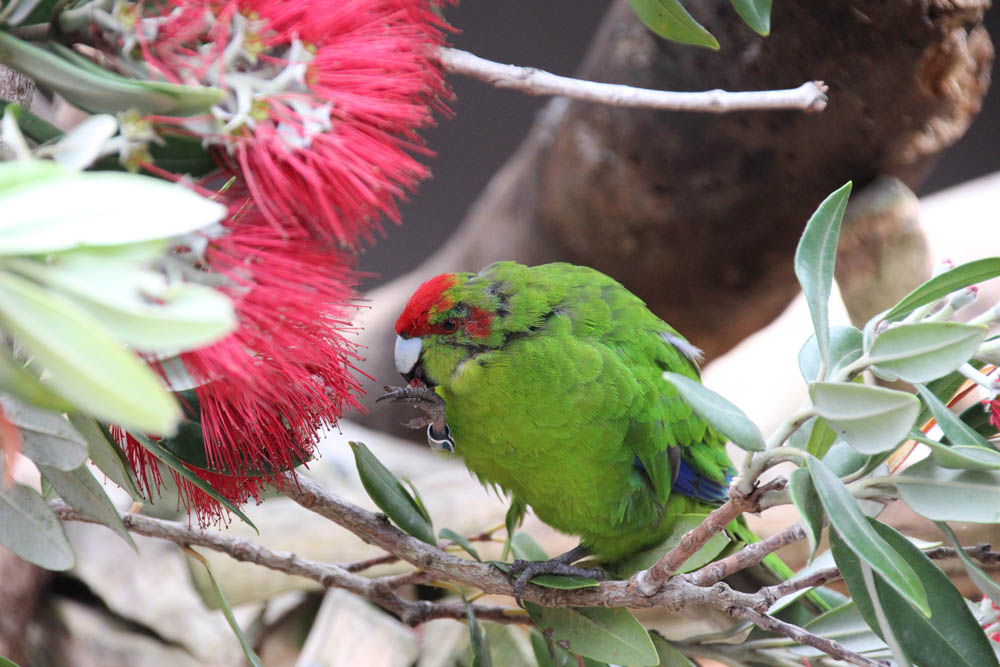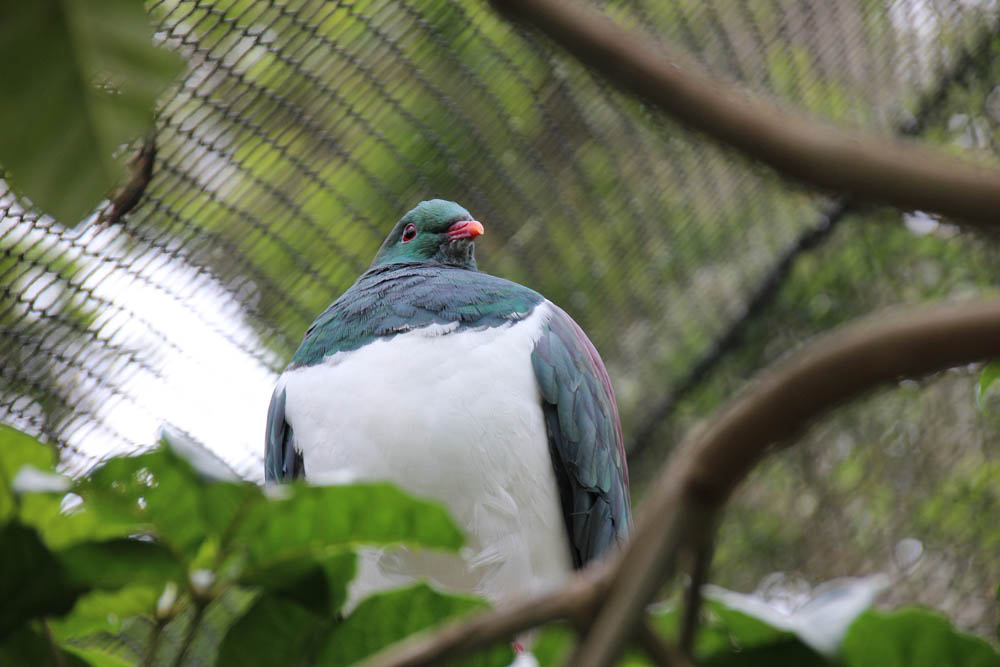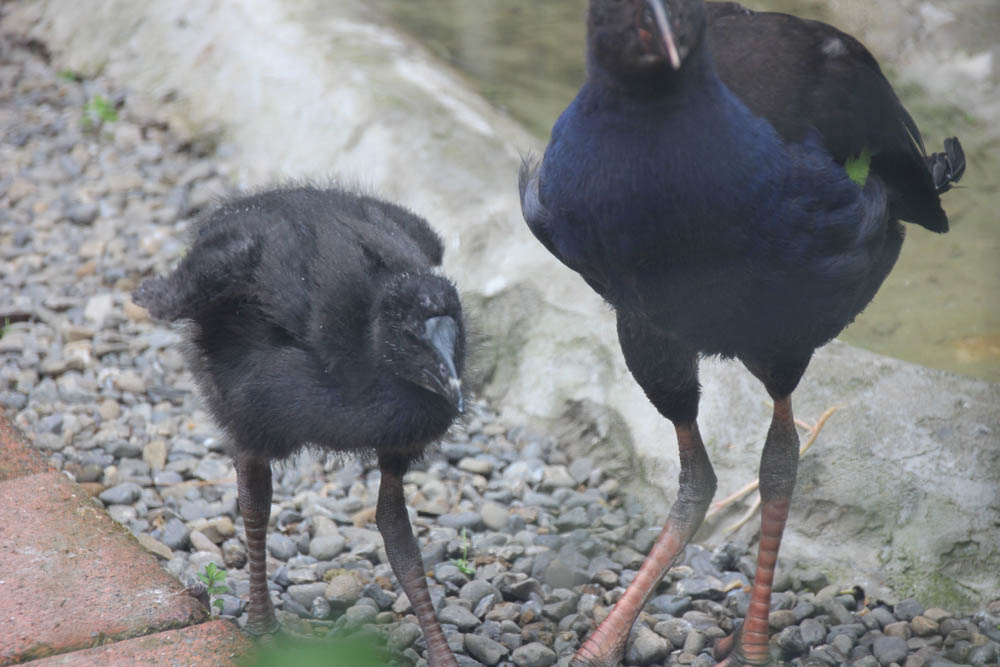 I love Pukeko's. They're a common bird you see here along very busy roads, in fields and near water. I like to call them swamp chickens. They're large birds that are about shin height to a human with large, awkward looking feet. Their colours are pretty spectacular. They can be confused with a rare bird called the Takahe (which I'll get to later). Here are some Pukeko's that were wandering the grounds.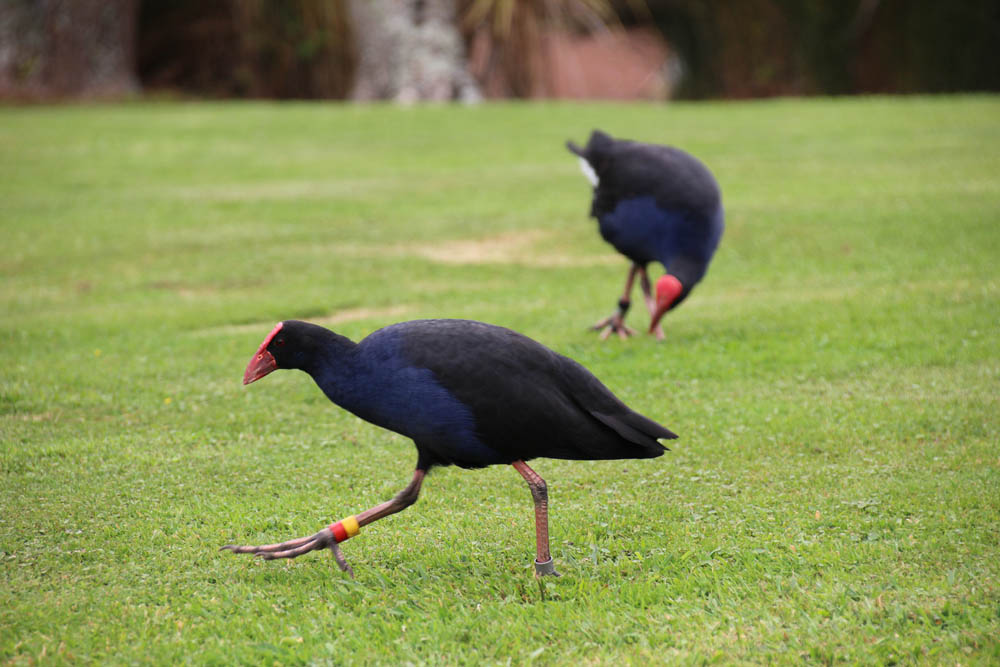 We also got to see a few Tuatara in their enclosures which are the largest native reptiles here (and rarely seen in the wild). They're like statues and people often don't think they're real since they hardly ever seem to move. I love these guys…they're direct relatives of the dinosaurs and can live over 100 years.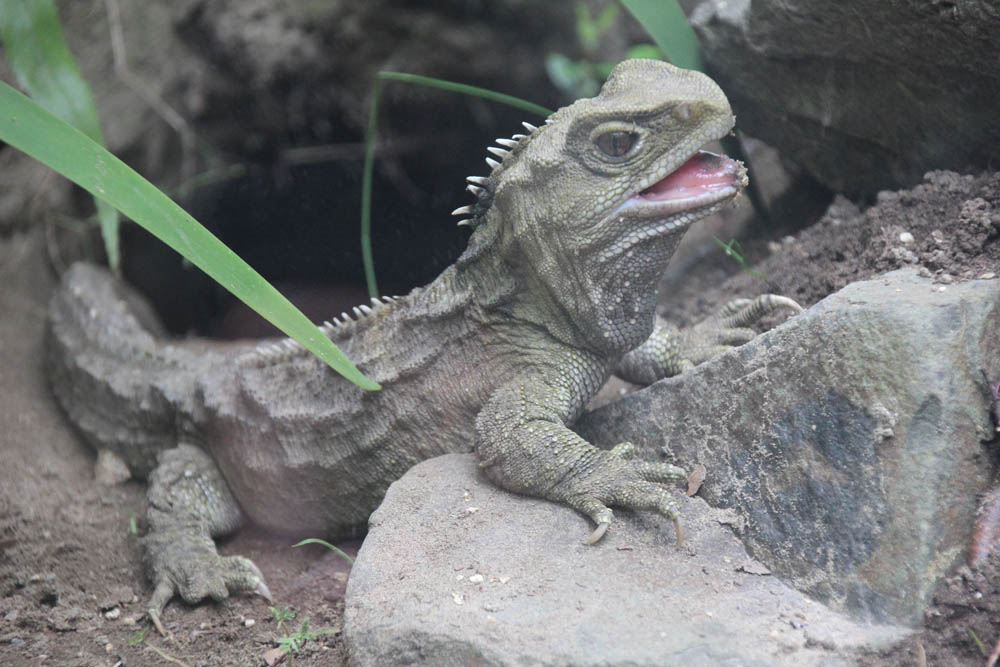 We climbed to the top of a lookout that was there to see what was around. Lots of greenery and trees! Unlike what we see back home.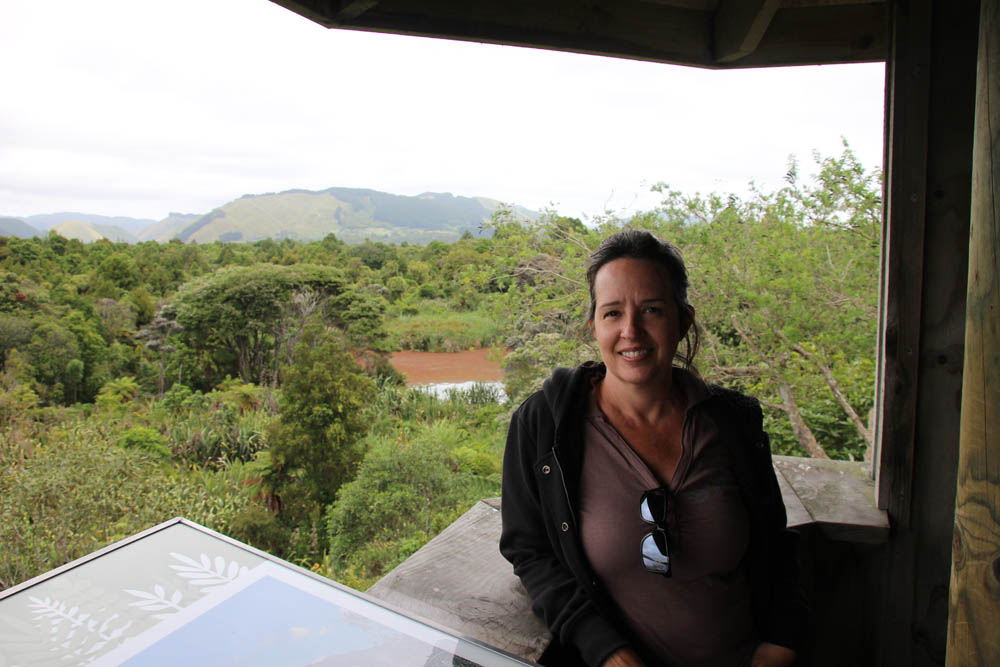 A sign talking about Kiwi's had me looking forward to Friday night!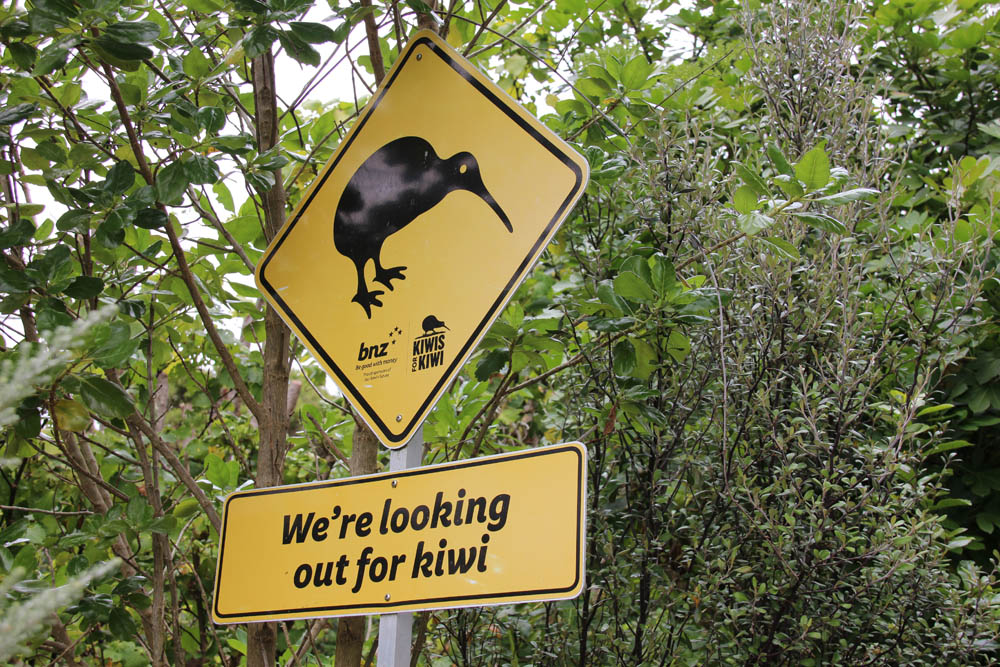 We took a short bush walk before heading over to the eel feeding. I can't get enough of these Christmas tree blossoms!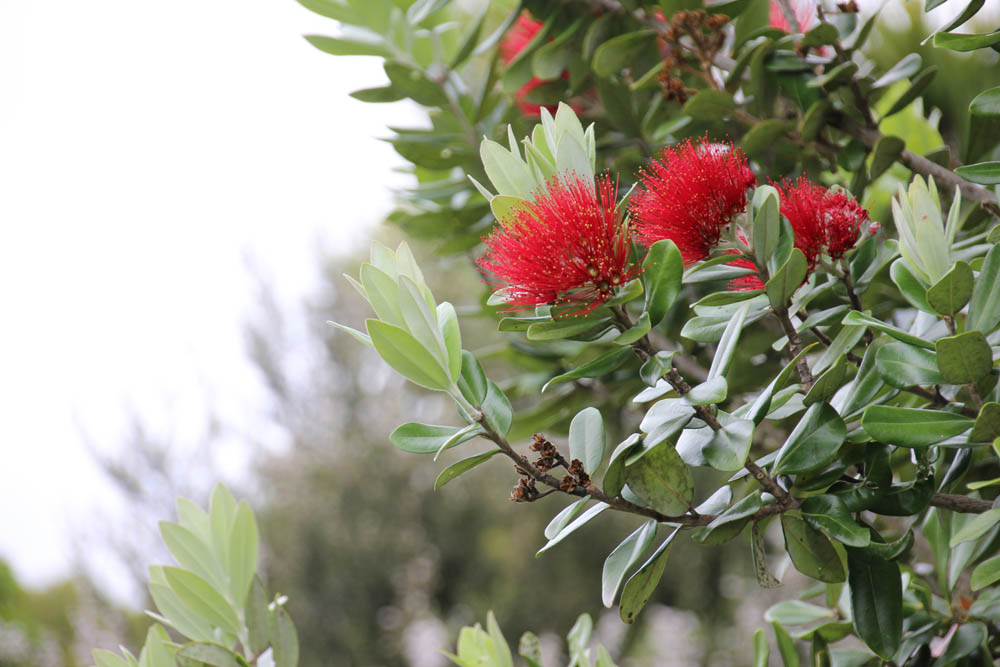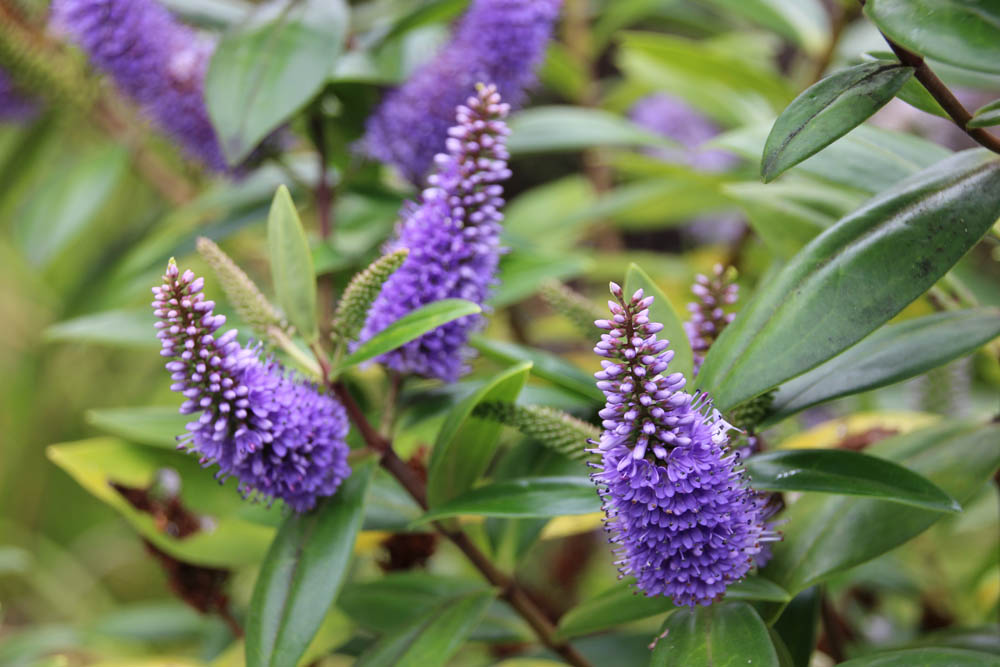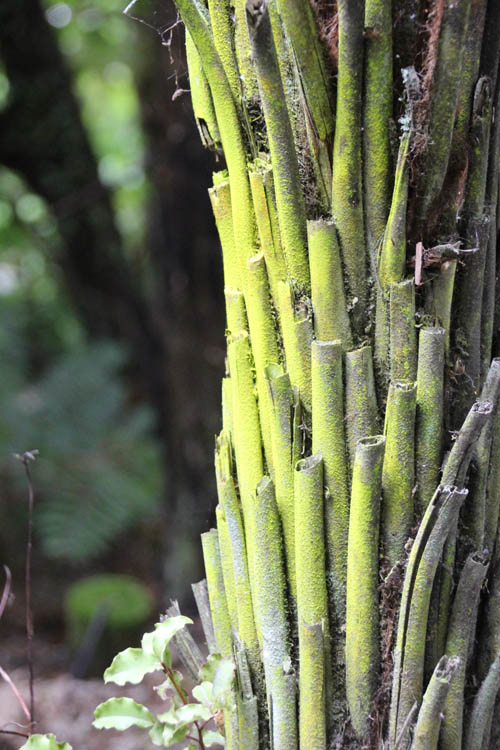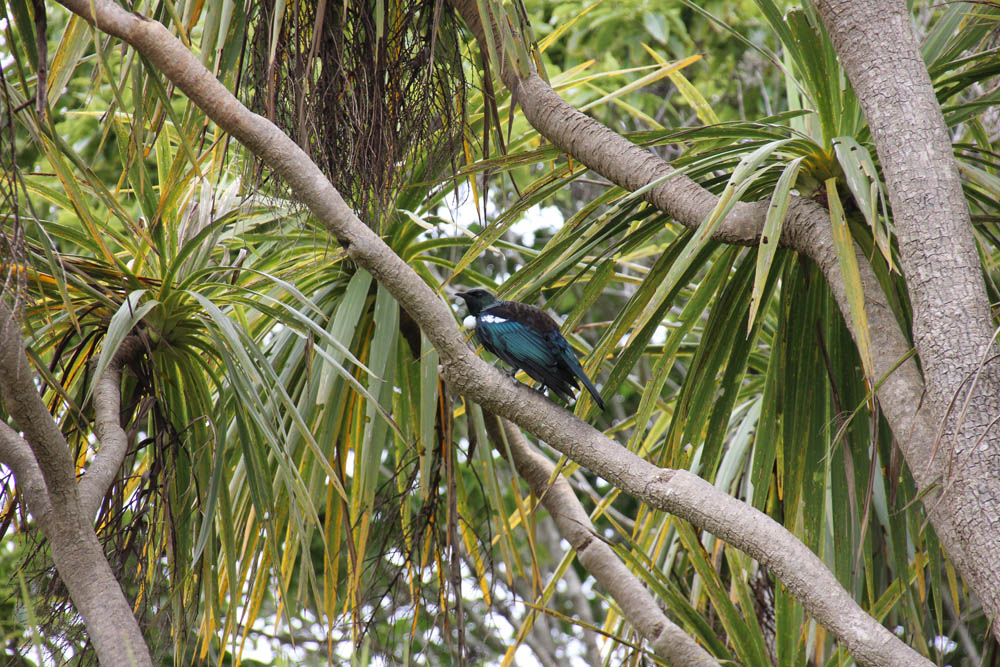 There was quite a crowd waiting to see the eel feeding. The guide talked about the long and short fin eels and their life from a wee transparent 'glass eel' as a baby, being born in the ocean to their long journey inland to live their lives before heading back out to the ocean to breed and then die. They can live over 100 years, as well. They looked hungry.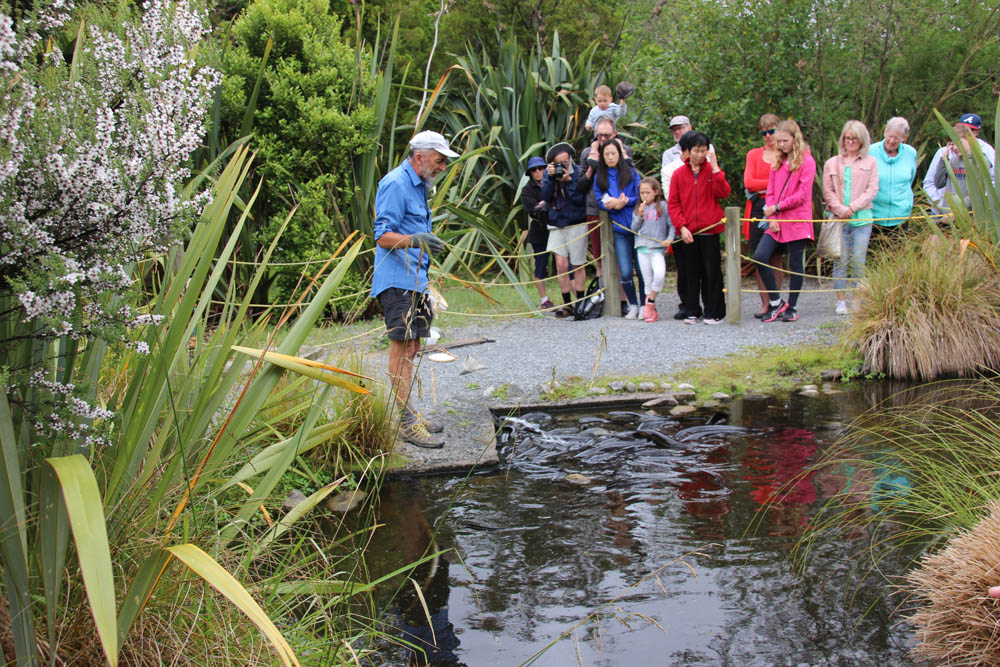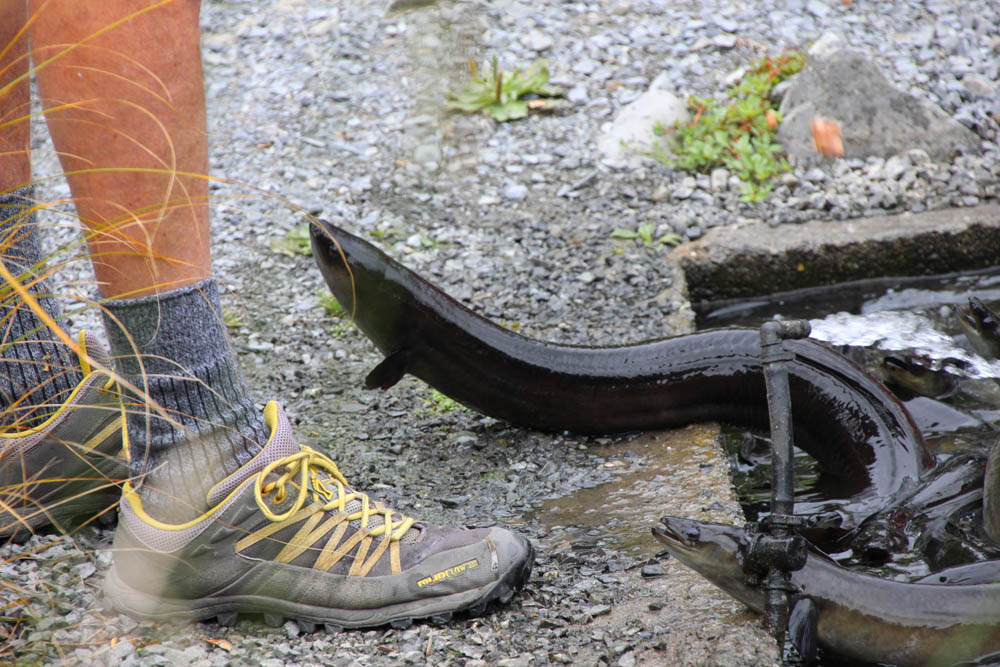 You could buy strips of meat to feed the eels and I was surprised how many little girls were down for that. They weren't even scared!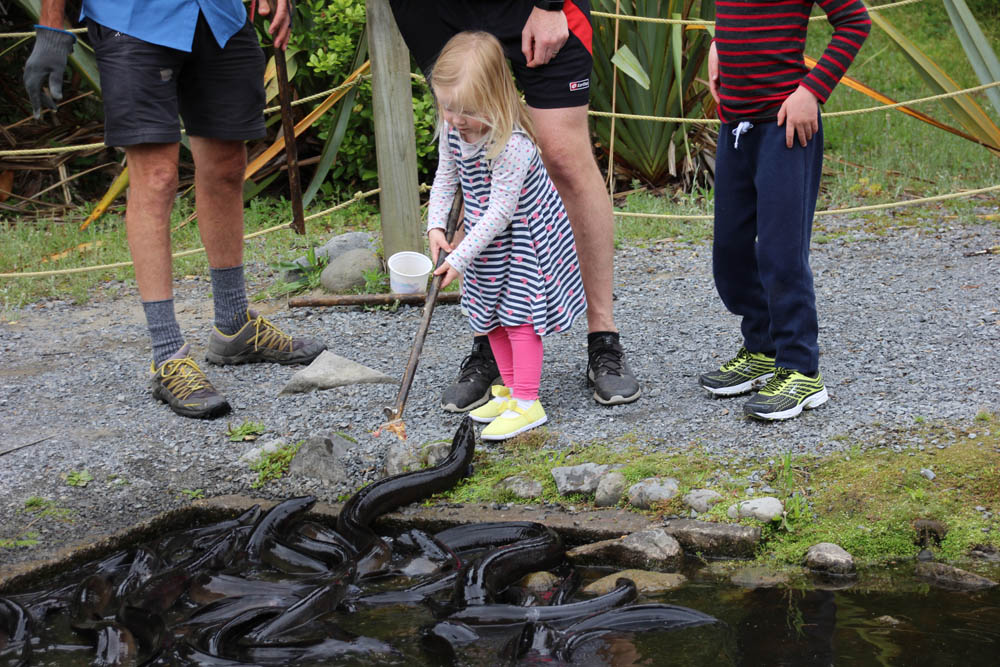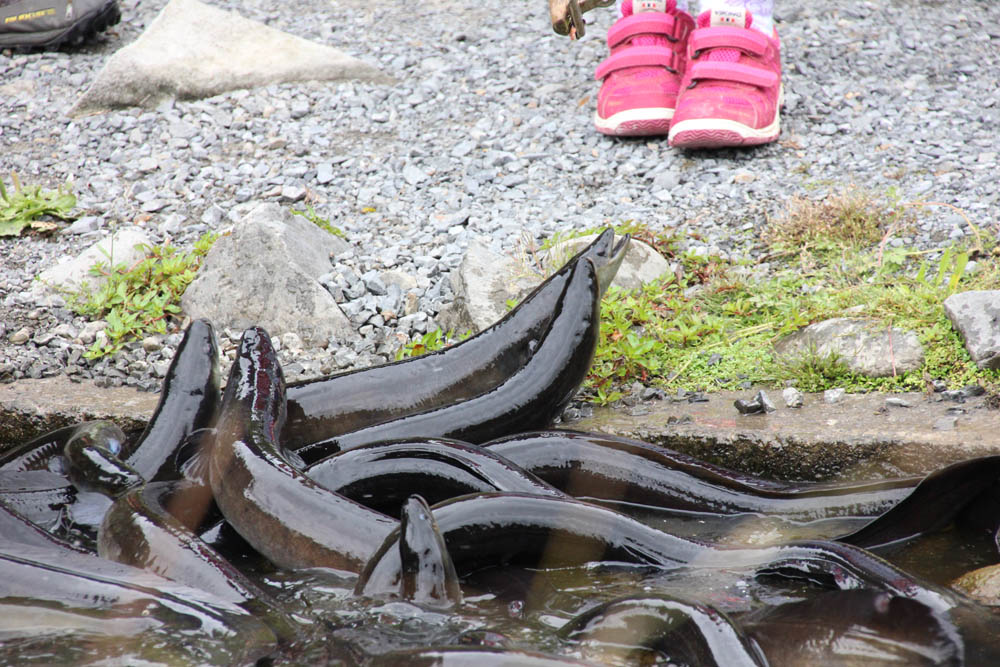 A pair of black swans were in the pond next to the eels and I can't help but take photos of these gorgeous birds.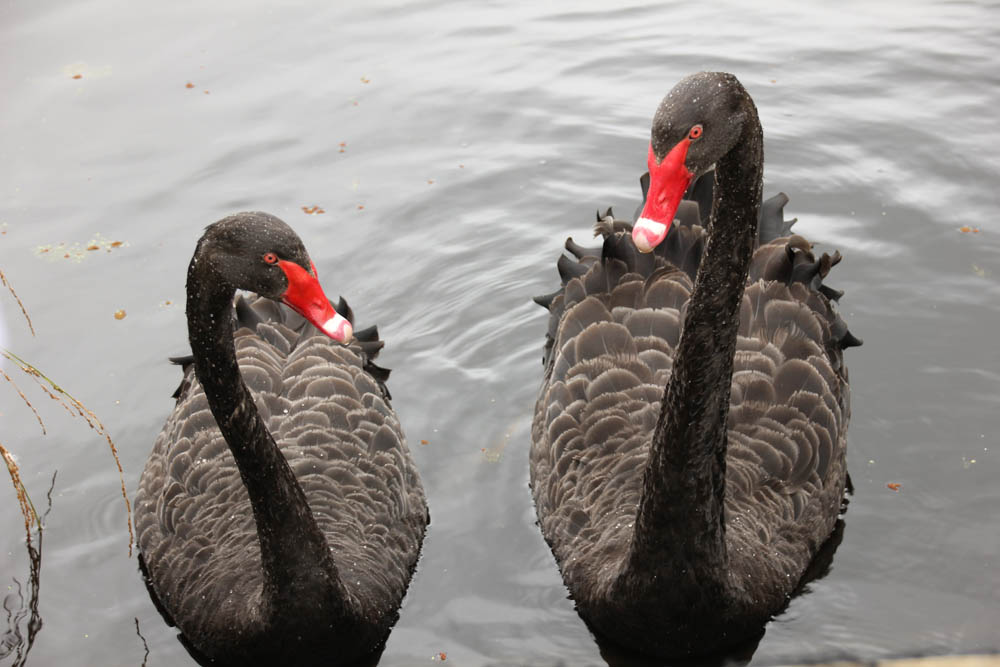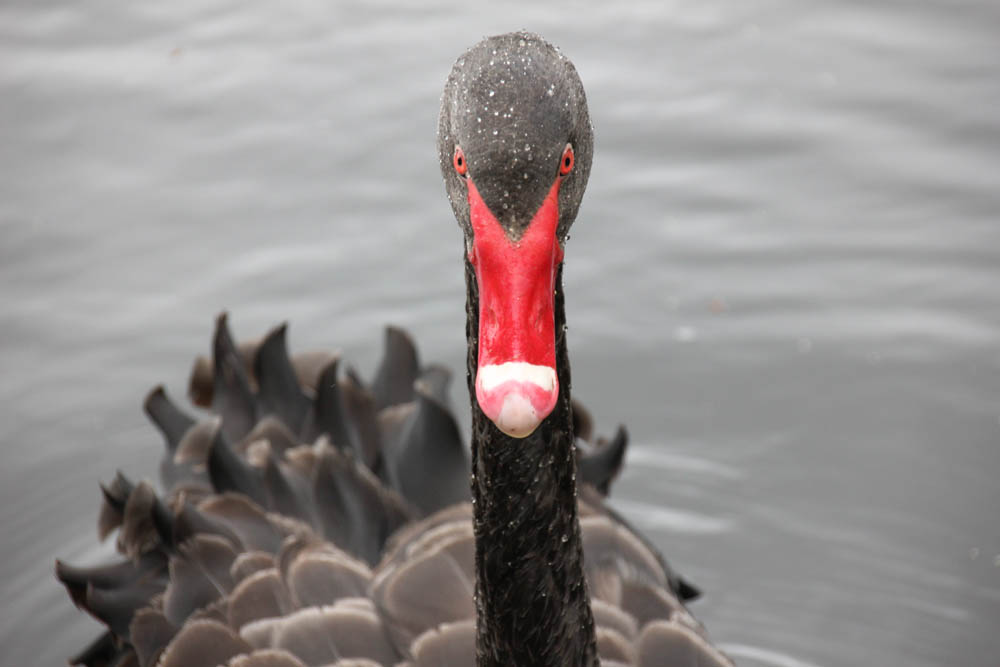 There were a few enclosures with some other native reptiles in them which I NEVER see in the wild. But they blend in so well, it's no wonder you can't find them. It looked like they were curled up in tiny tires which fit them perfectly.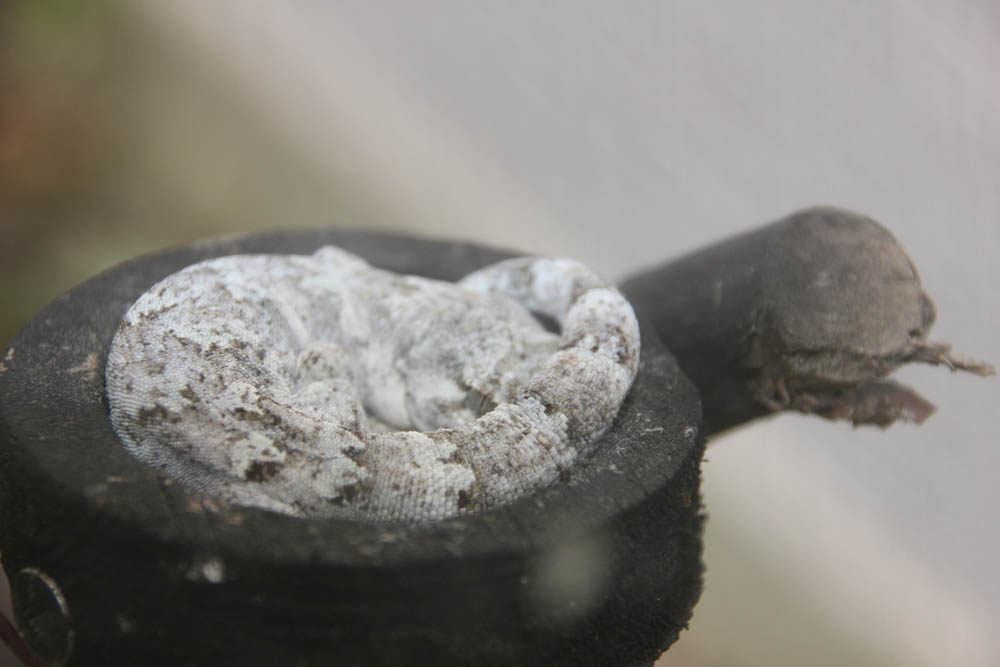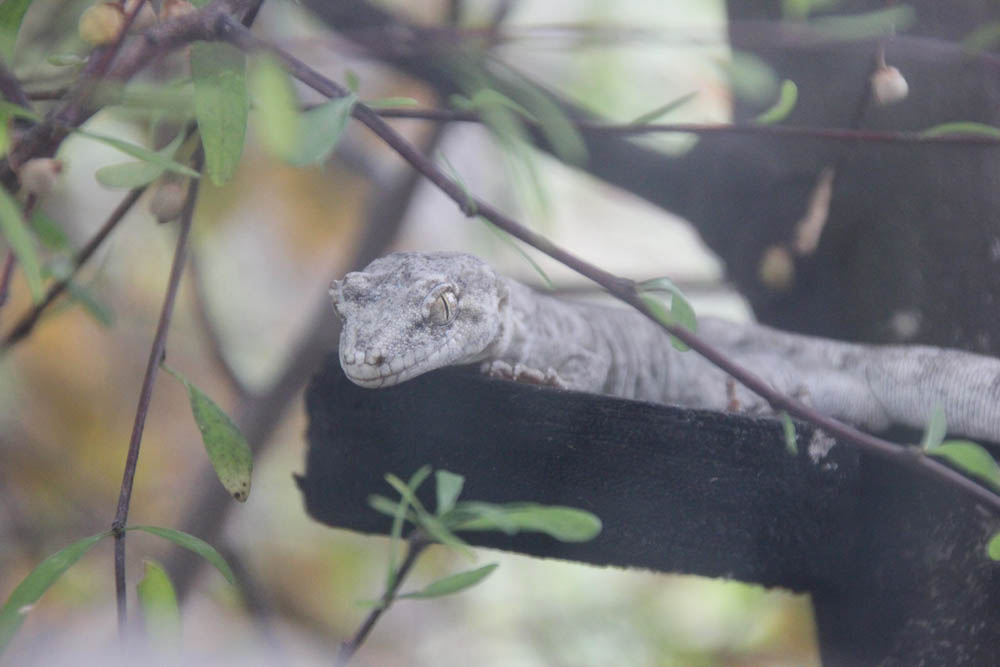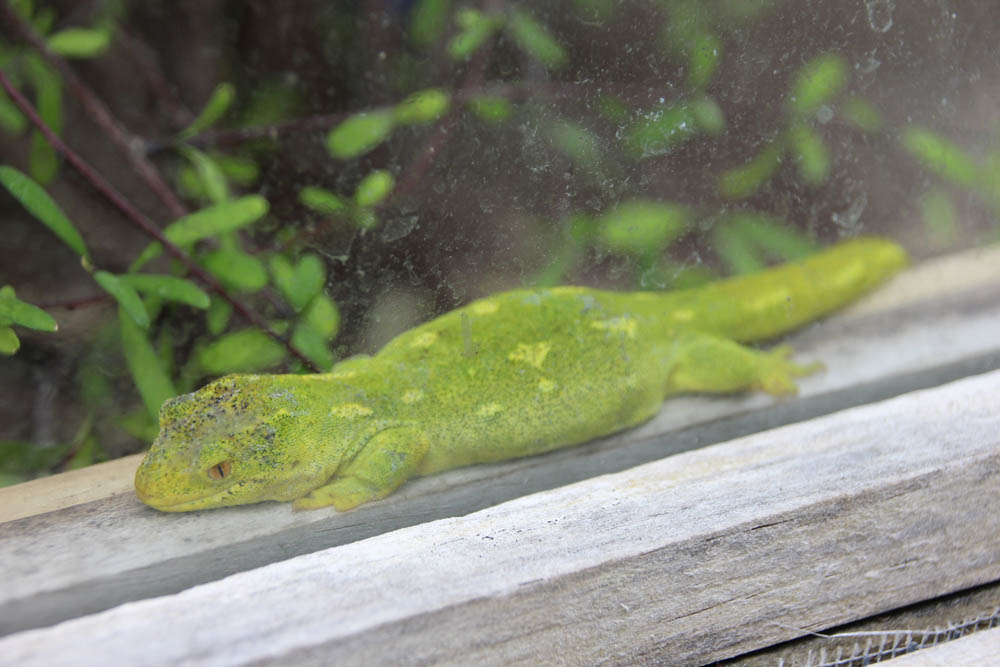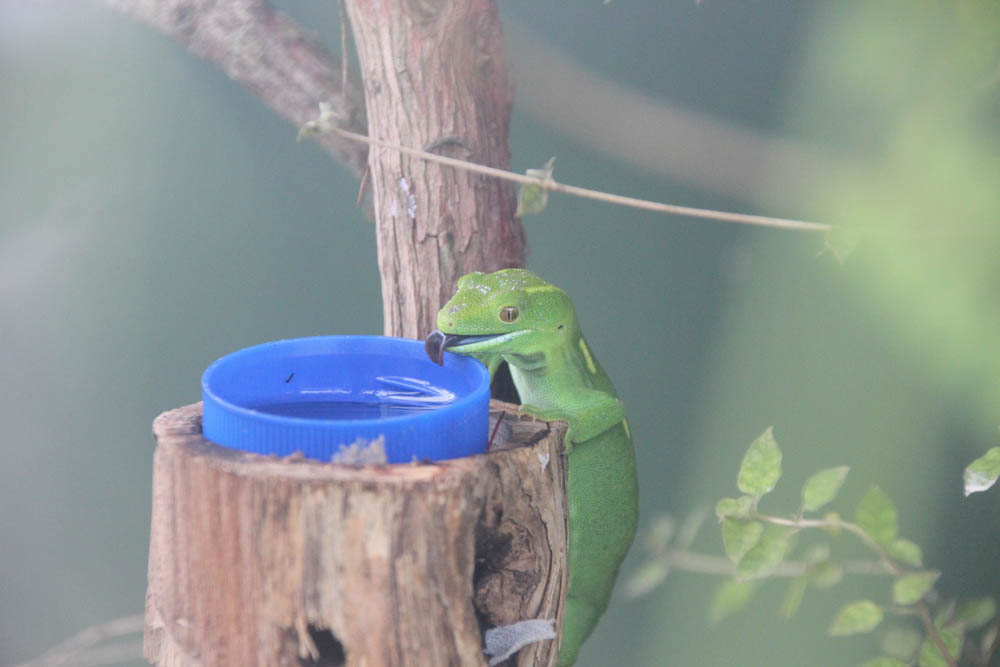 That's a bottle cap for scale. Such a blue tongue! That's also a piece of shed skin at the bottom stuck in the wood.
So with that, we left and hit up an Italian place for pizza which was really good and rested up for the trip out to the Island the next day.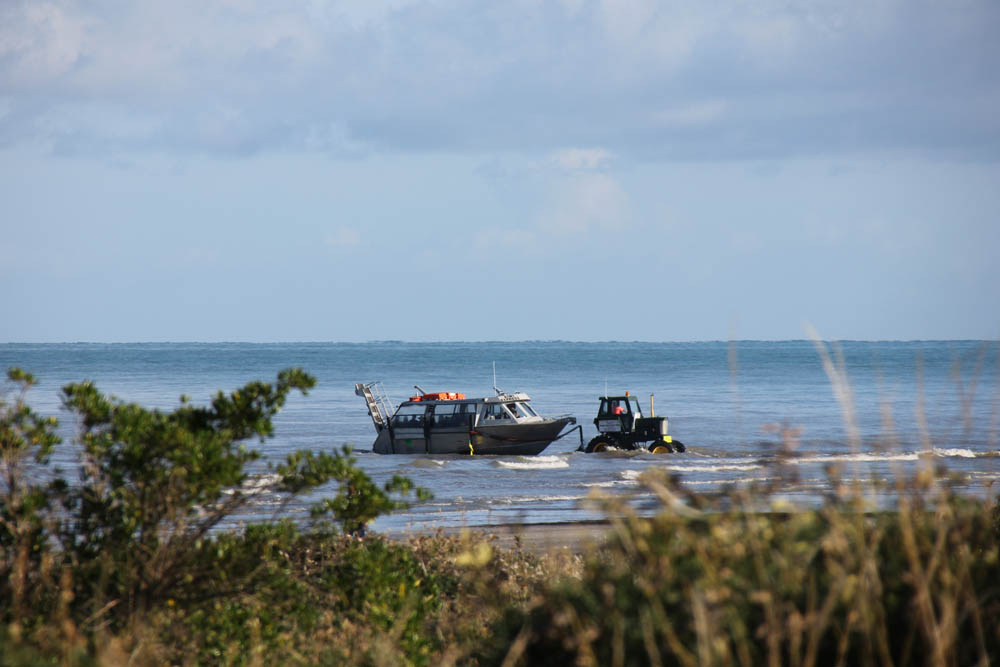 Ahhh beach landings can be interesting. After going through a quarantine review, this tractor towed the boat out to deeper water and we made the 15 minute crossing to Kapiti Island. When we approached the rocky beach, it was a steep dropoff at the shoreline, but the platform wedged itself into the rocks and we all got off the boat quickly before we could be tossed about by the waves.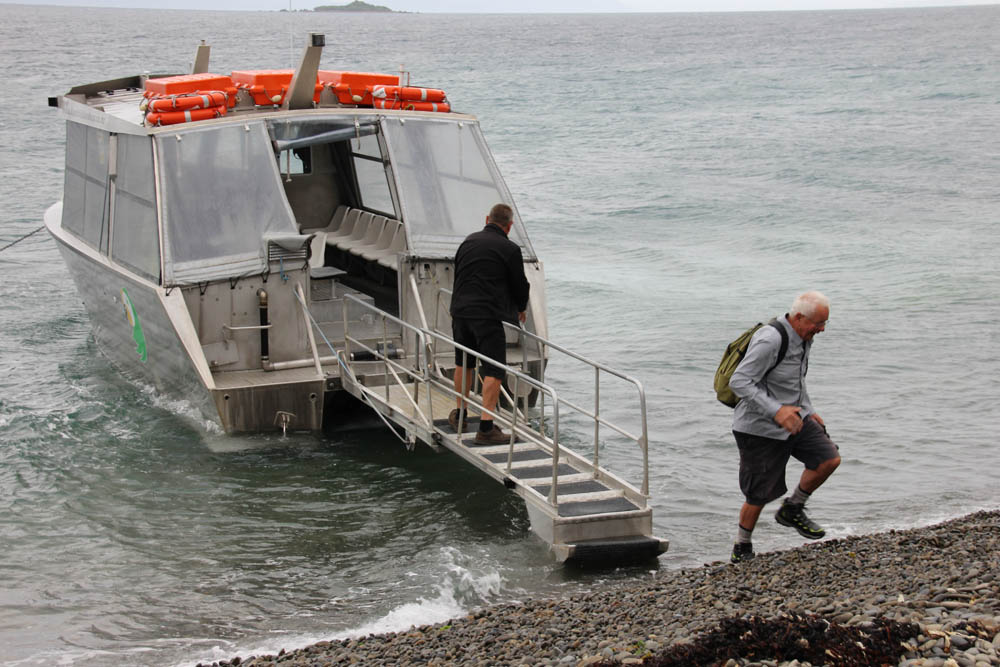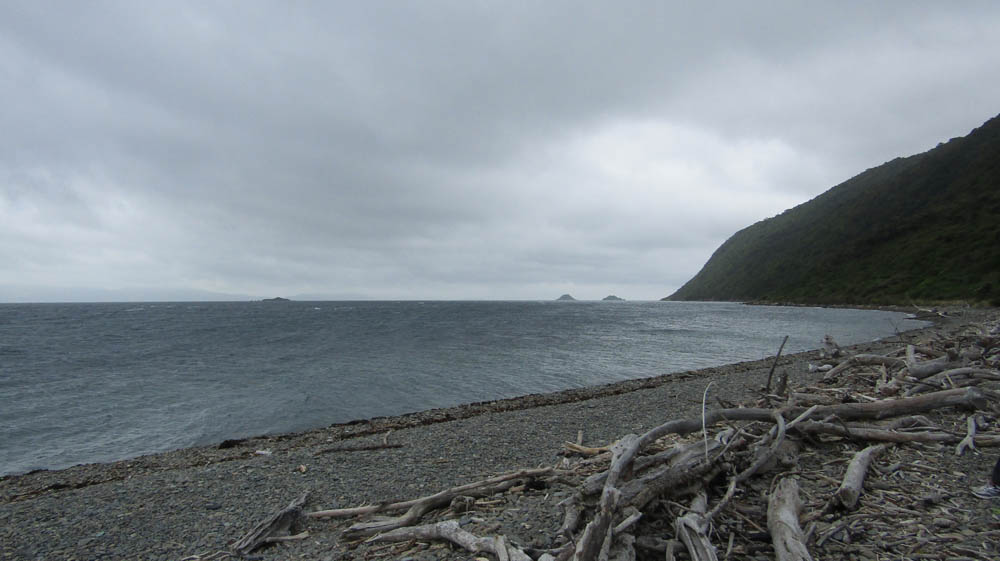 We used Kapiti Island Eco as our tour provider and they were great. Only 90 people per day are allowed on the Island and you must have a permit to visit. We walked for almost 10 minutes to the shelter where we heard about the wildlife on the island and how they managed to eradicate the pests that were there.  It was slated as a bird sanctuary in 1898, but was overrun with introduced pests.
According to the DoC site:
Goats were eradicated from the island in 1928, followed by cats, deer, sheep, cattle, pigs, and dogs.

Possums were destroyed between 1980 and 1986 in the first-ever successful operation of its kind. More than 22,500 possums were killed during this process. Kiore and Norway rats were eradicated using aerial application of brodifacoum in September-October 1996, leaving the island completely free of introduced mammals.
Sadly, they used 1080 poison (brodifacoum) drops to do this, as they do all over New Zealand. However, the island is so inaccessible due to the steep cliffs that it was probably the only way to get the numbers under control. There was only a small amount of primary forest left, but it has regenerated nicely.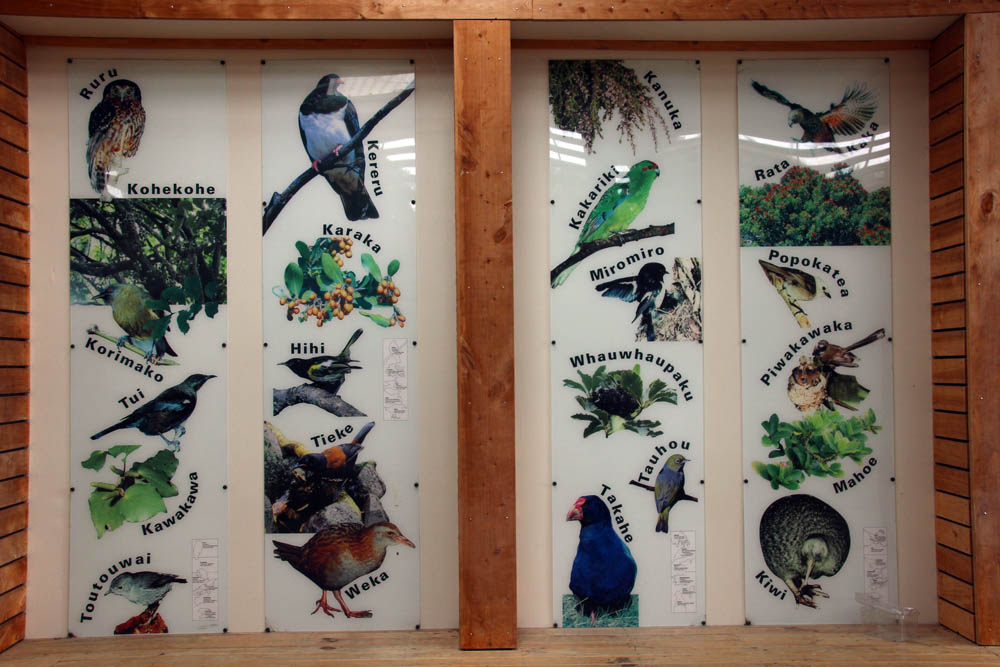 Another sad bit of history of the island was that it was a whaling station. They had recovered these huge pots from the ocean and they weren't sure where the stations actually were. They killed a lot of right whales during this time.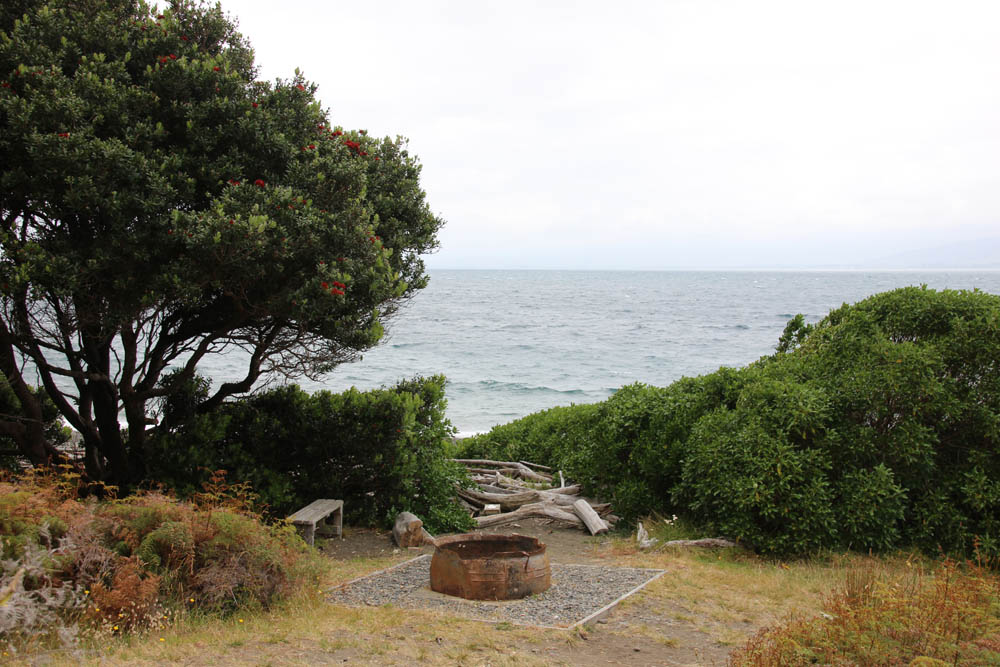 We were told that a couple of Takahe hung out in a grassy area and I really wanted to see them, so we walked by it a few times and ate lunch there hoping to catch a glimpse. Finally, on the third visit, I caught sight of one but spooked it and it headed back into the bush, but not before I was able to get one decent picture. There are less than 350 birds left in the world, but thankfully, their numbers are going up over the years. They look similar to Pukeko's.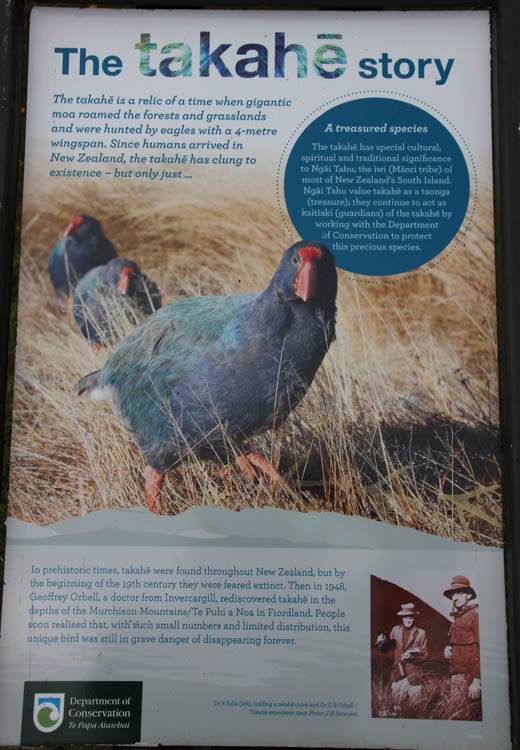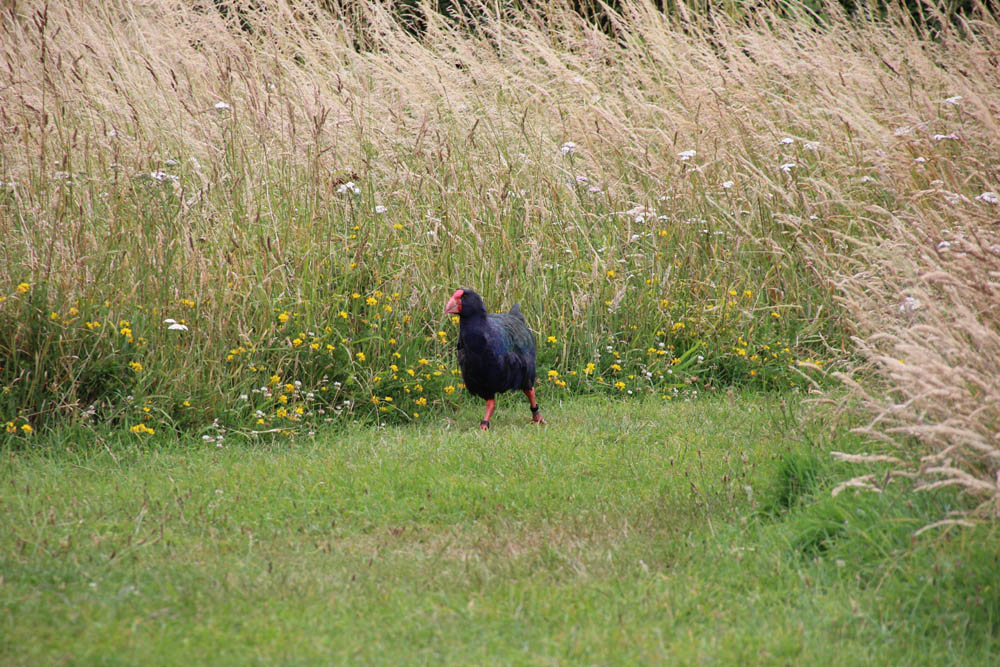 We stayed closer to the bottom of the island, where most of the birds were hanging out and only took a short walk up into the bush. The views were still pretty good from here and I was impressed with the amount of trees that were growing.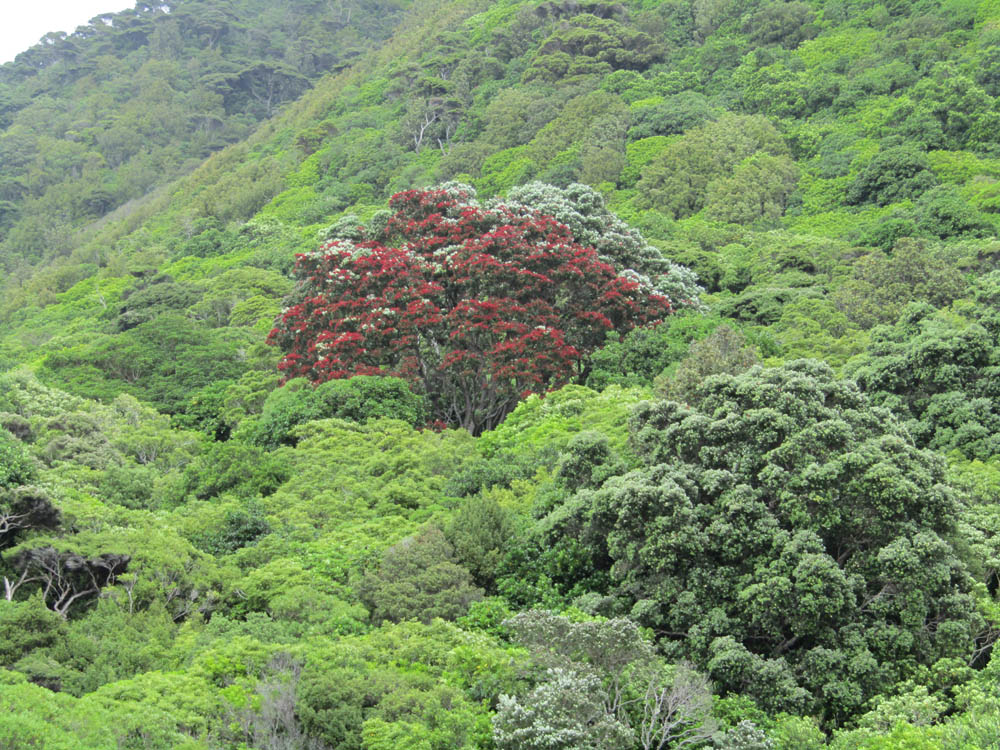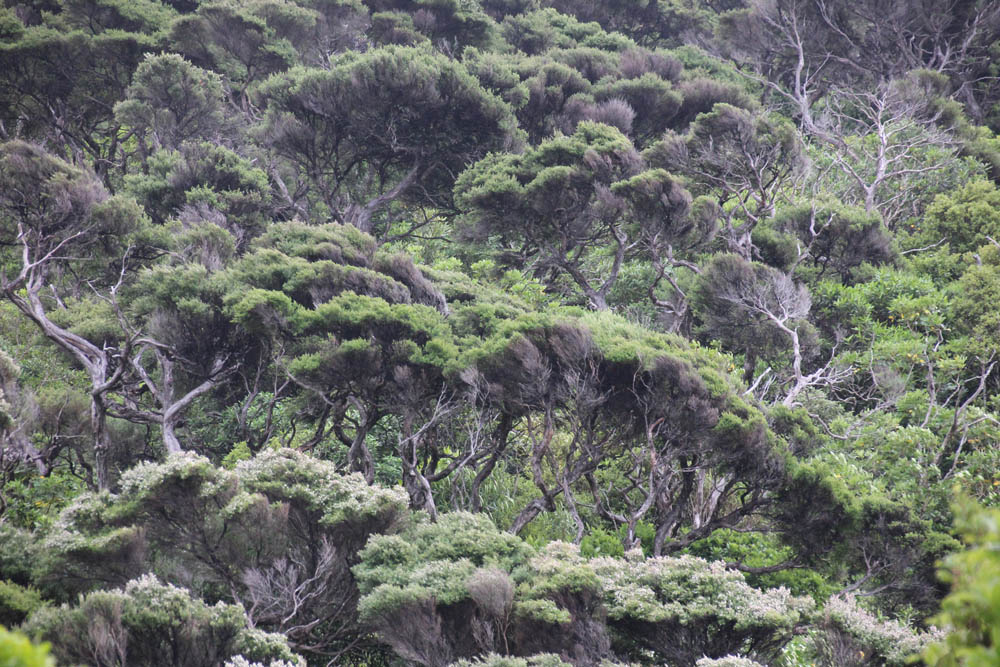 We saw a lot of Weka (cheeky birds that are good at stealing things of yours). They sort of remind me of Kiwi by their body shape and the way they walk. I caught the rear end of a chick hanging out with the parents.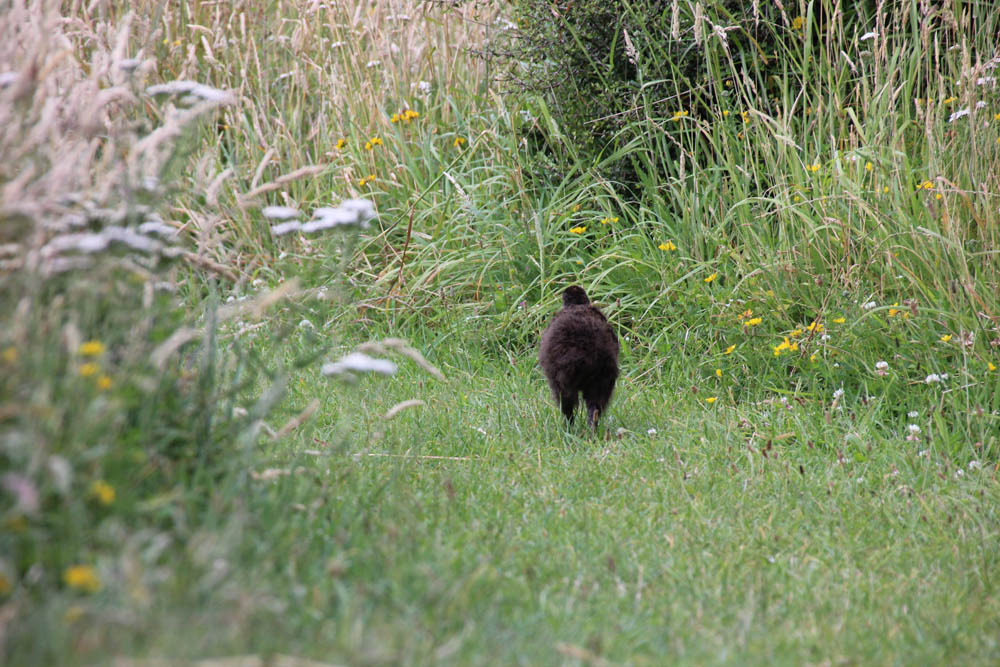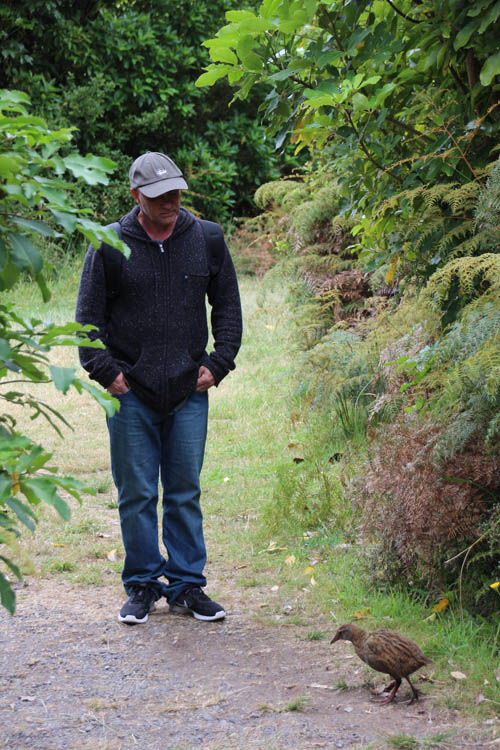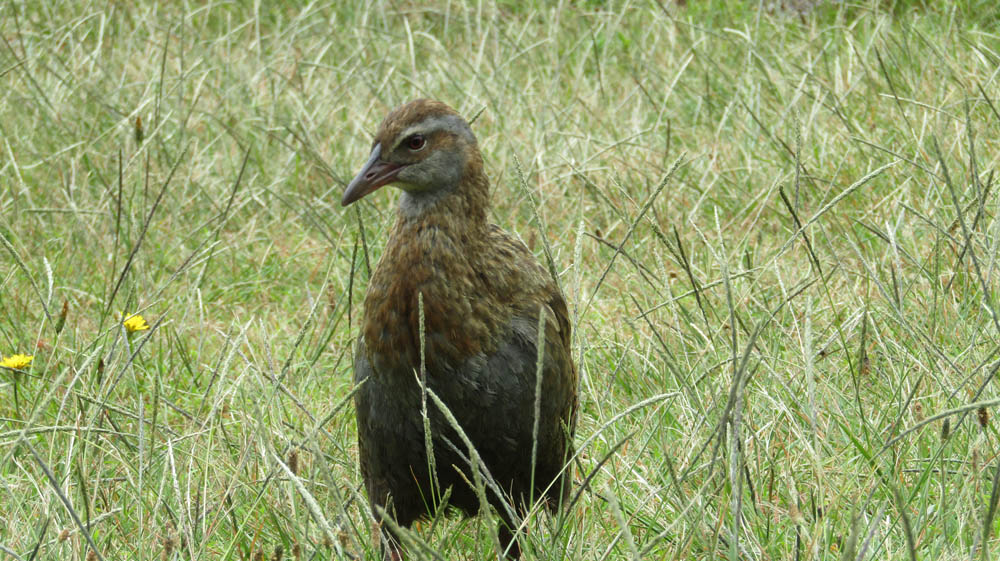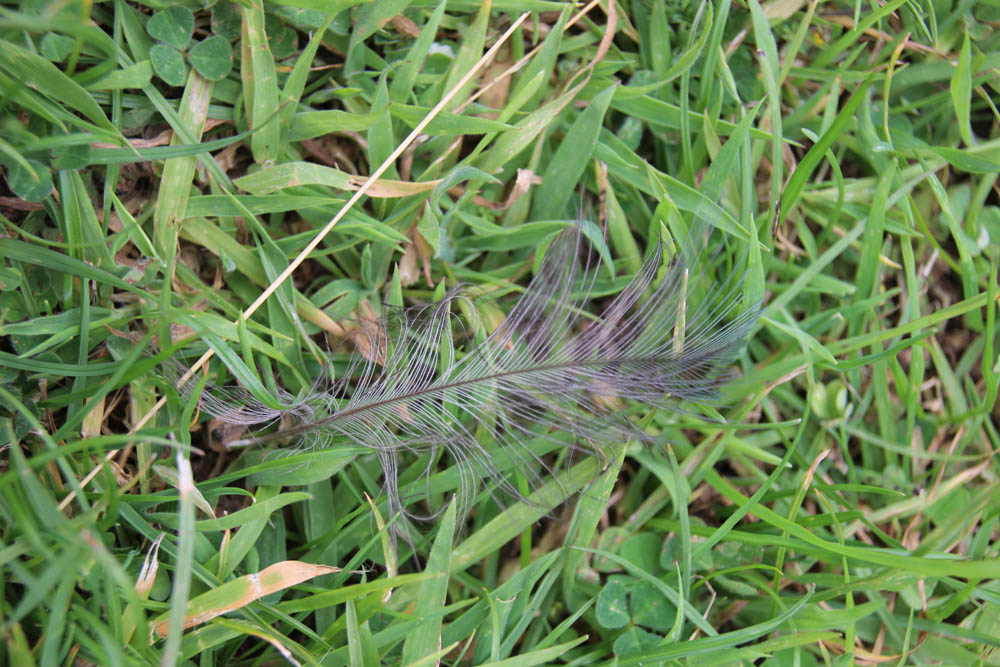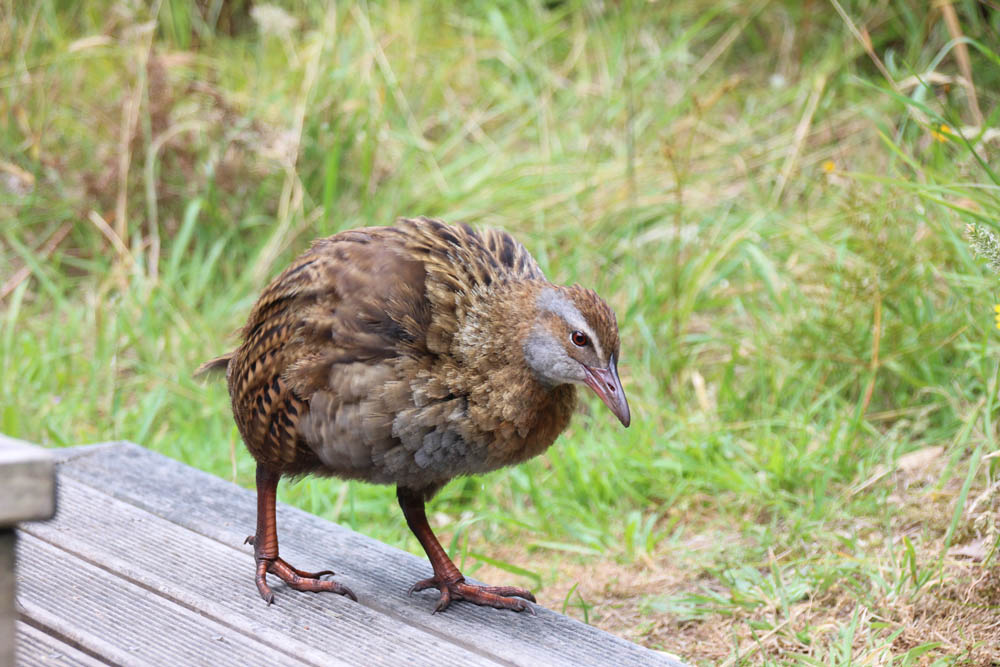 This was the picnic area by the Takahe and you could see a house from there. Talk about a lonely place to live. And I thought Waipukurau was bad!? I'm not sure I could hack it out here.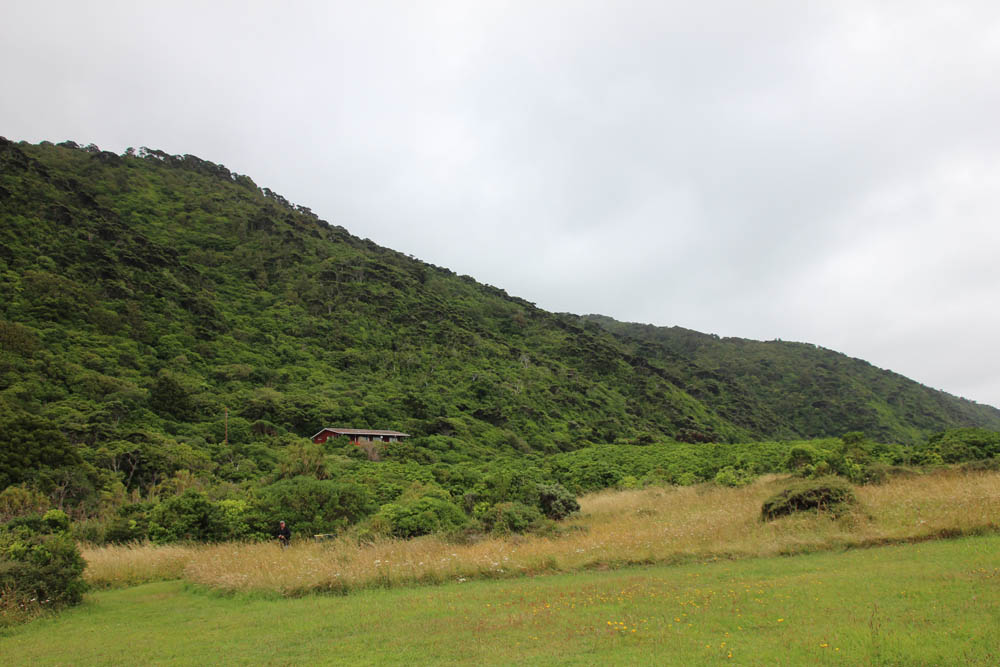 There was a nice section of trees that had a ton of birds flying around and hanging out but were often hard to see.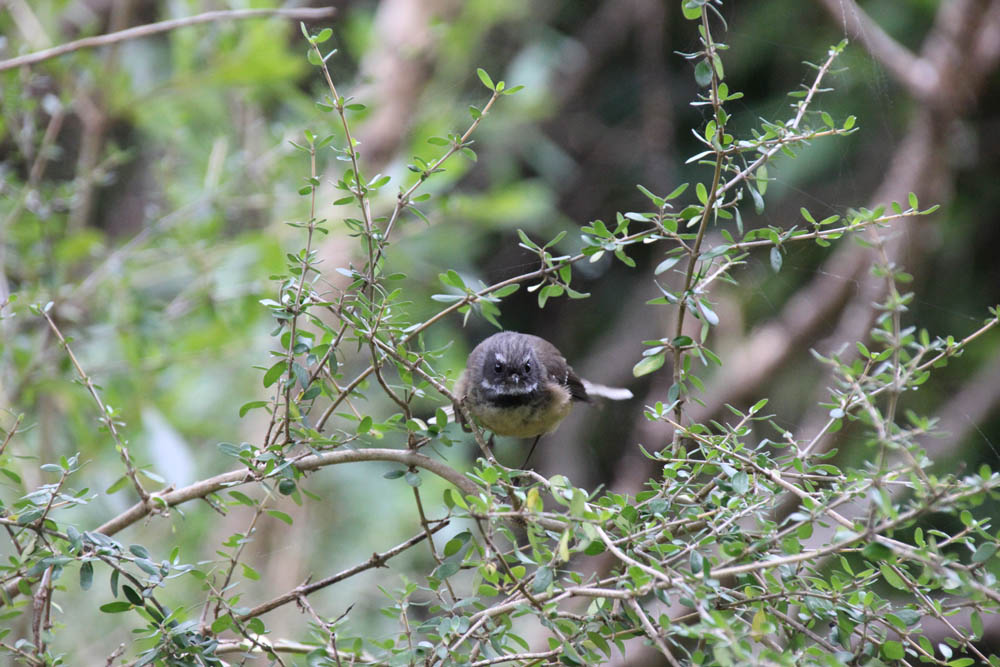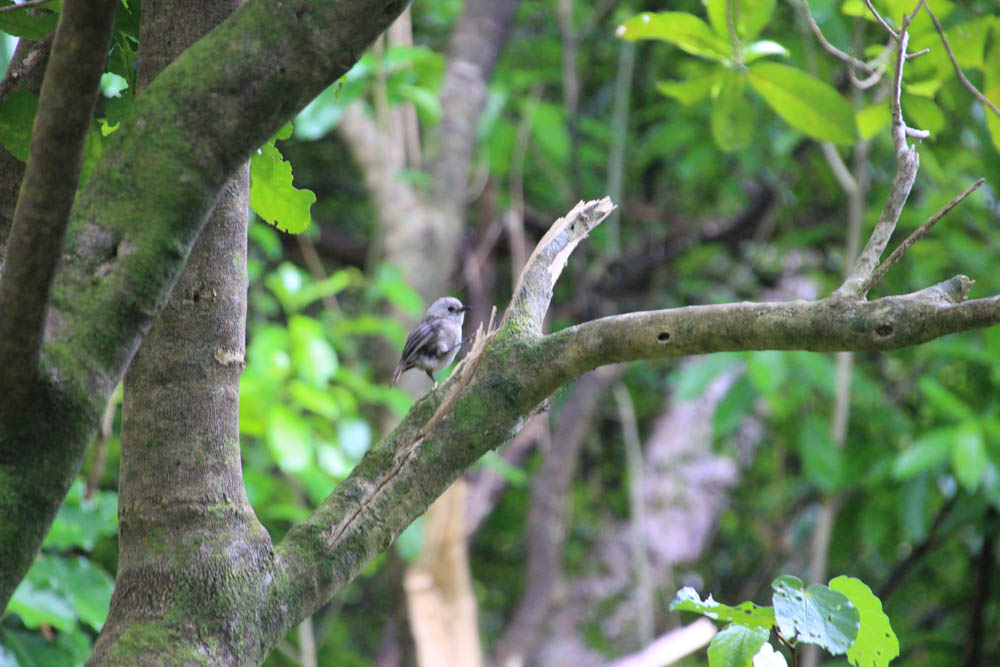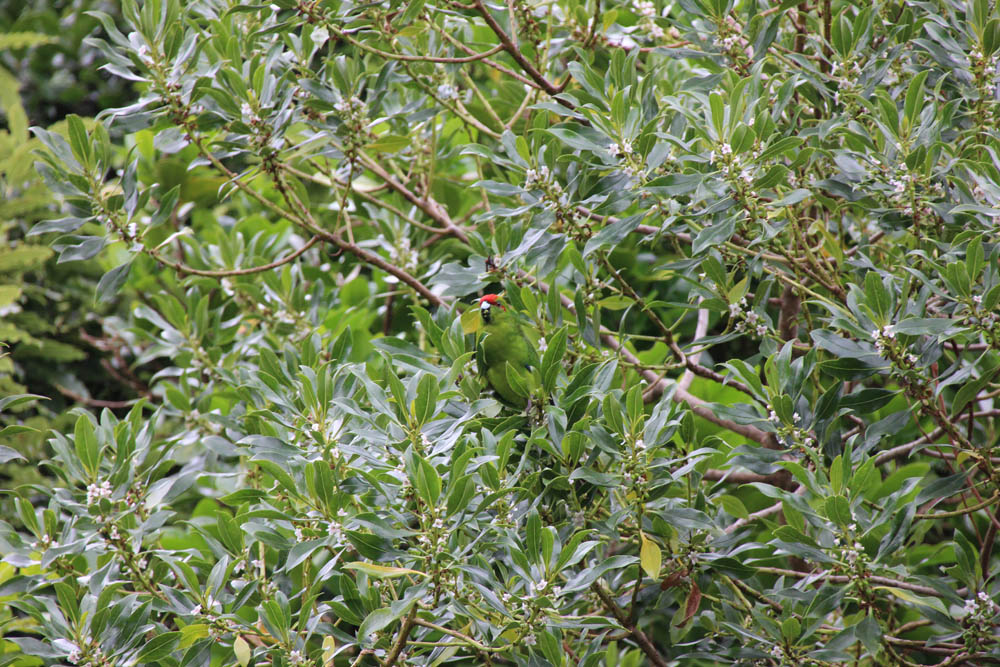 These Kakariki (red crowned parakeet) are rare on the mainland but doing ok on predator-free islands like this one.
A walk through the bush had these plants and soft, fluffy flowers catching my eye.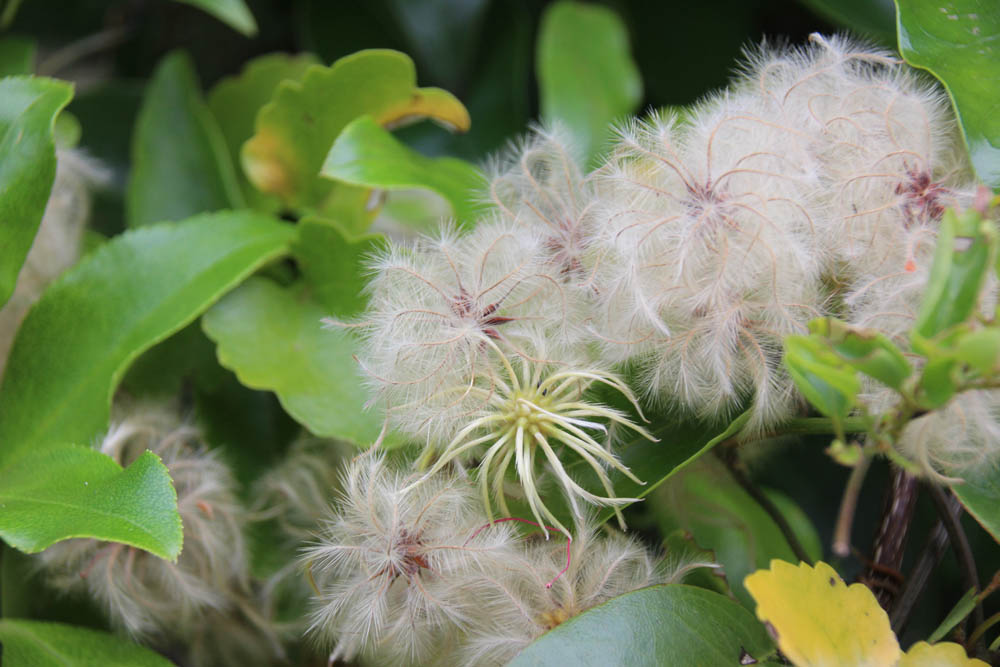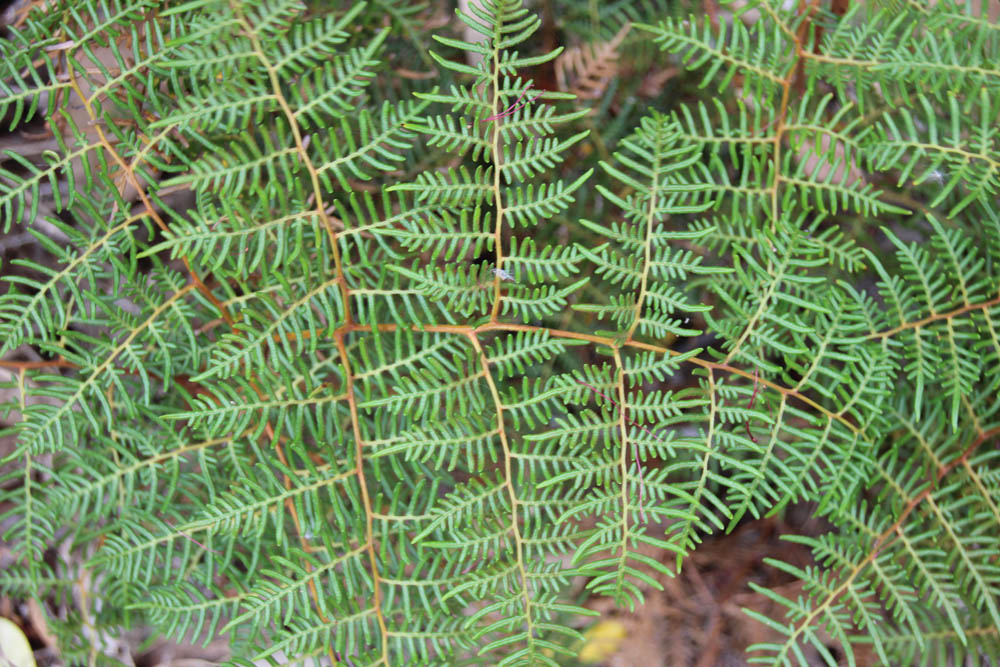 The seagulls were squawking away because they had chicks on the beach. It's interesting how the chicks look nothing like the parents, so they can blend into the rocks to avoid predators. They were really adorable.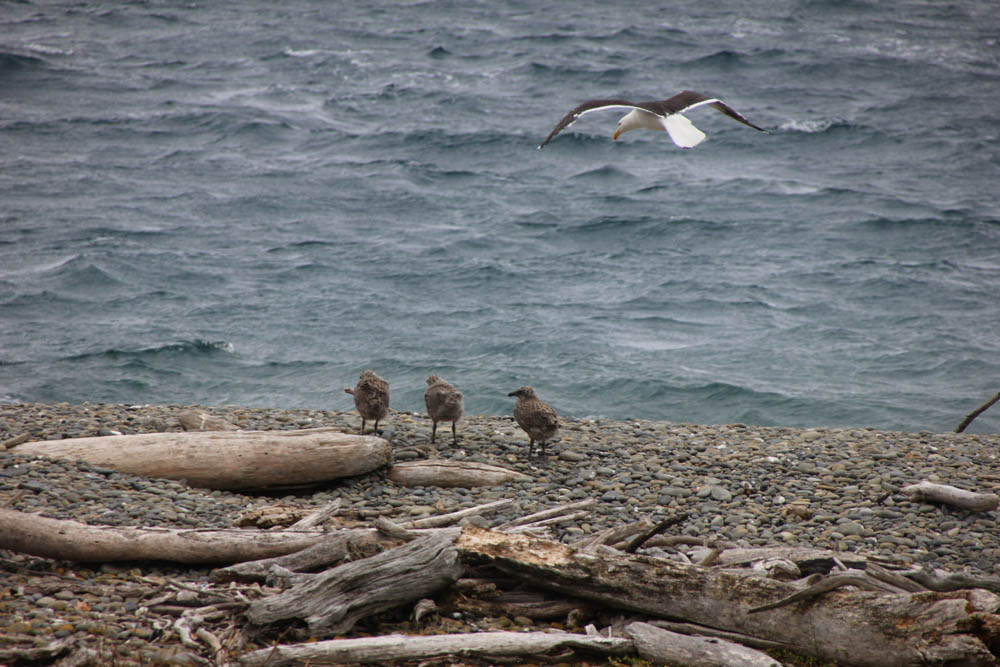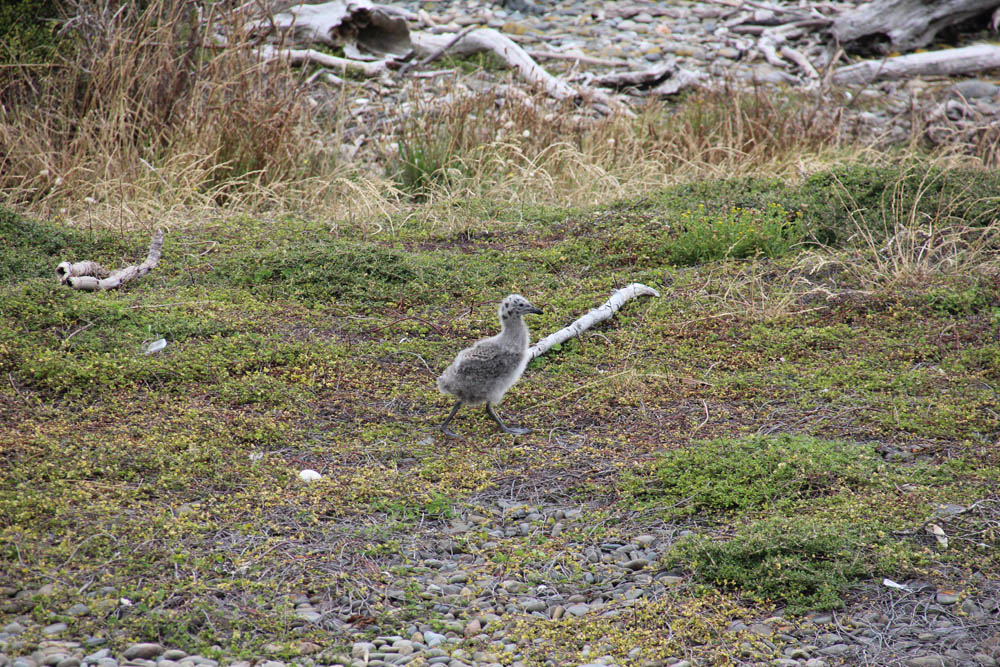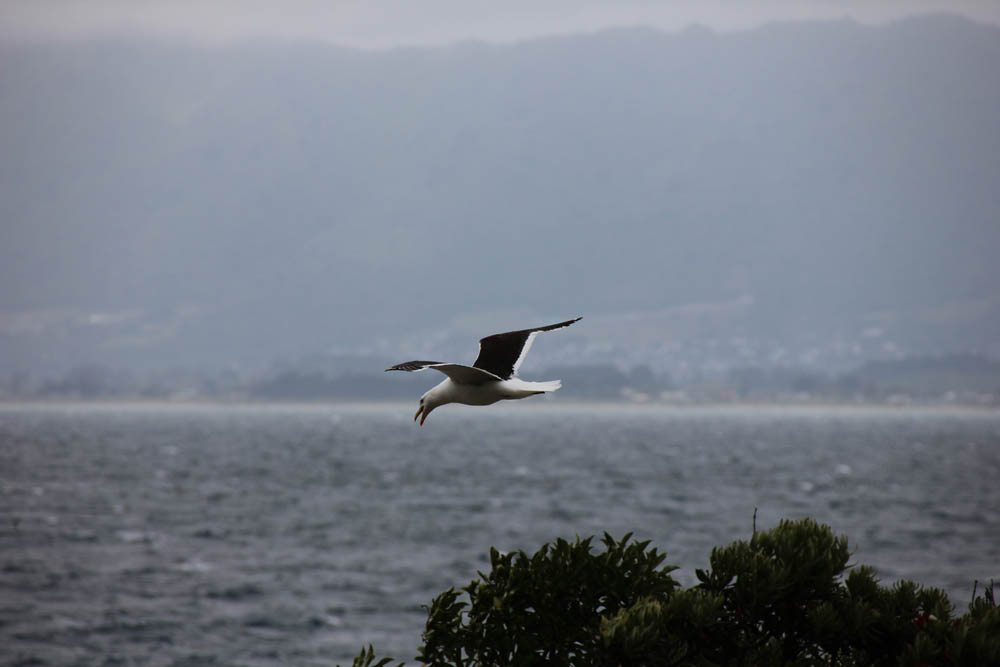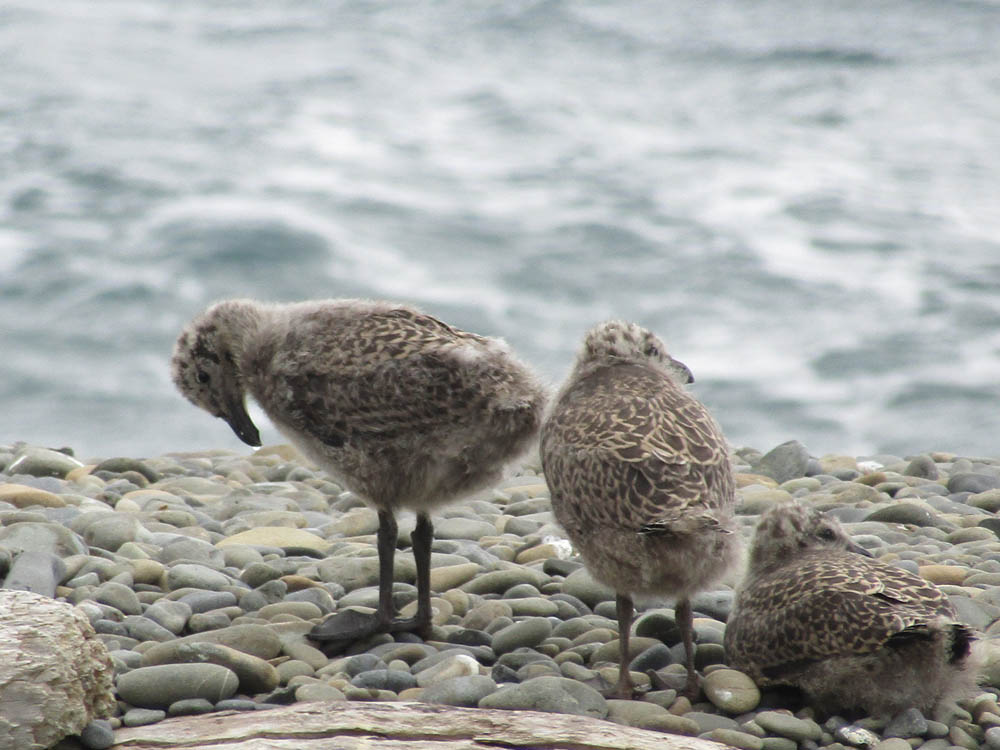 I walked down to the rocky beach away from the birds to see what was there.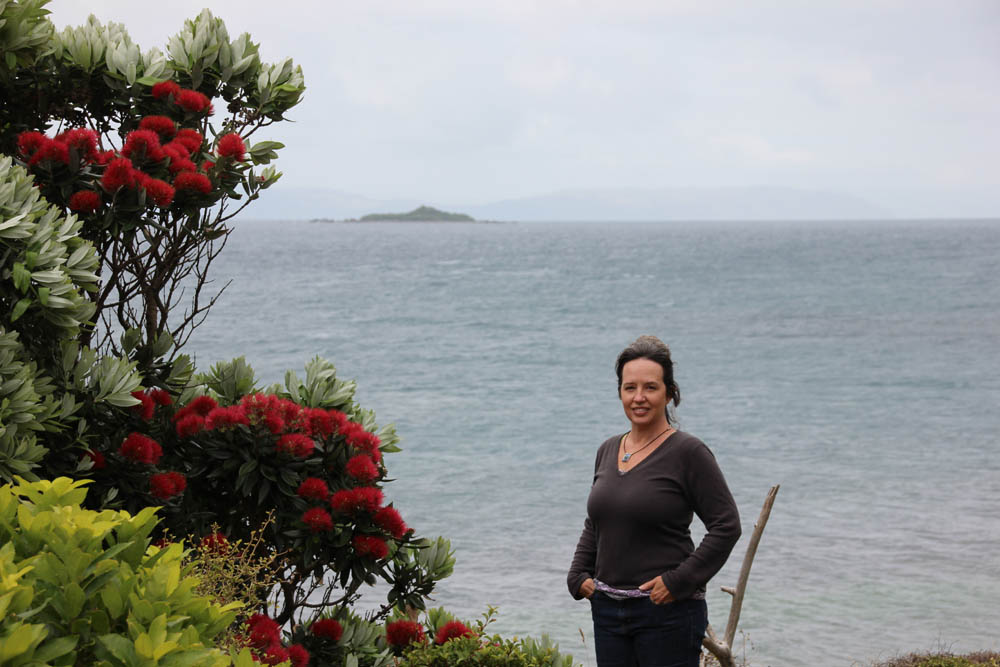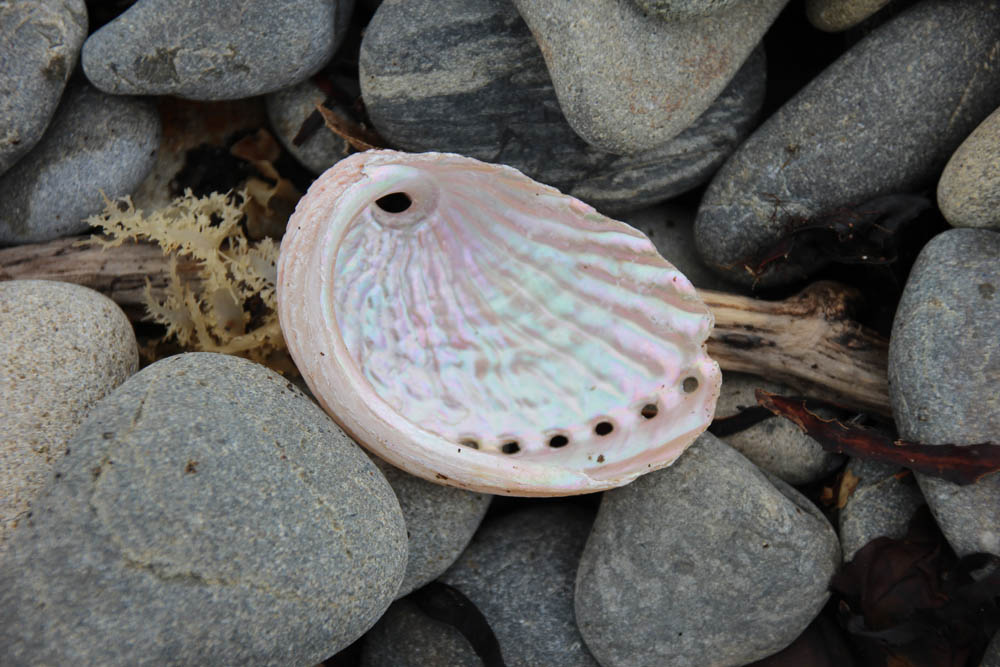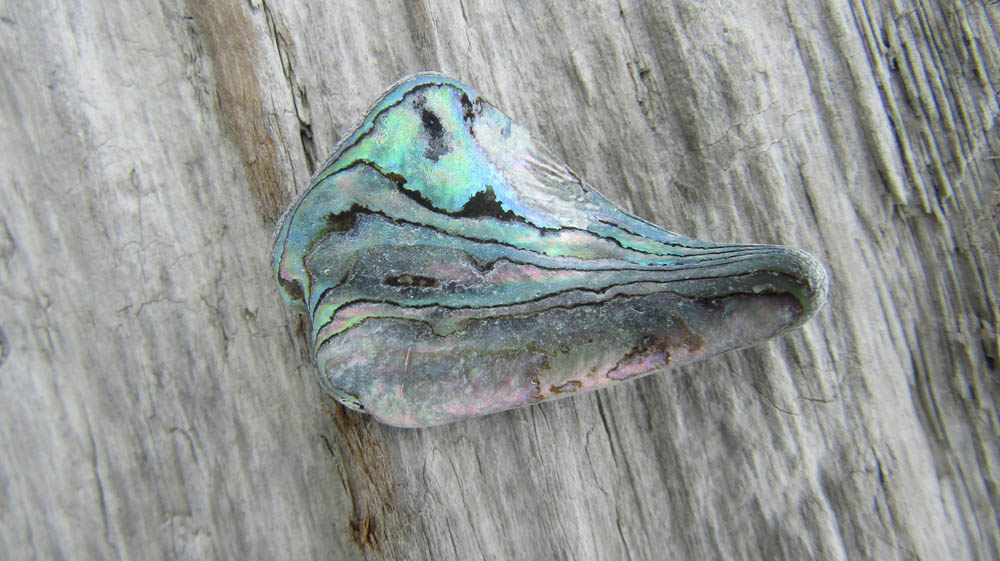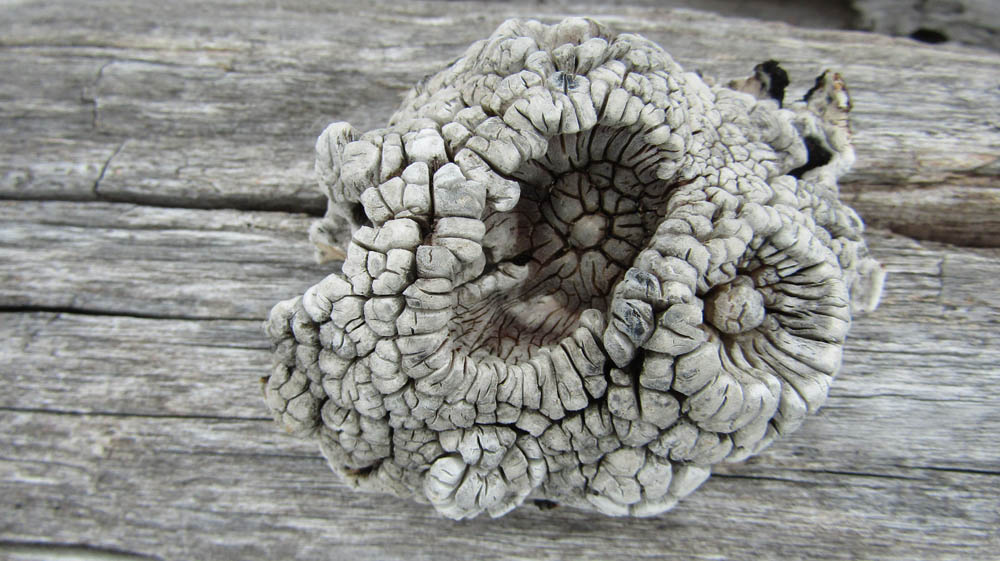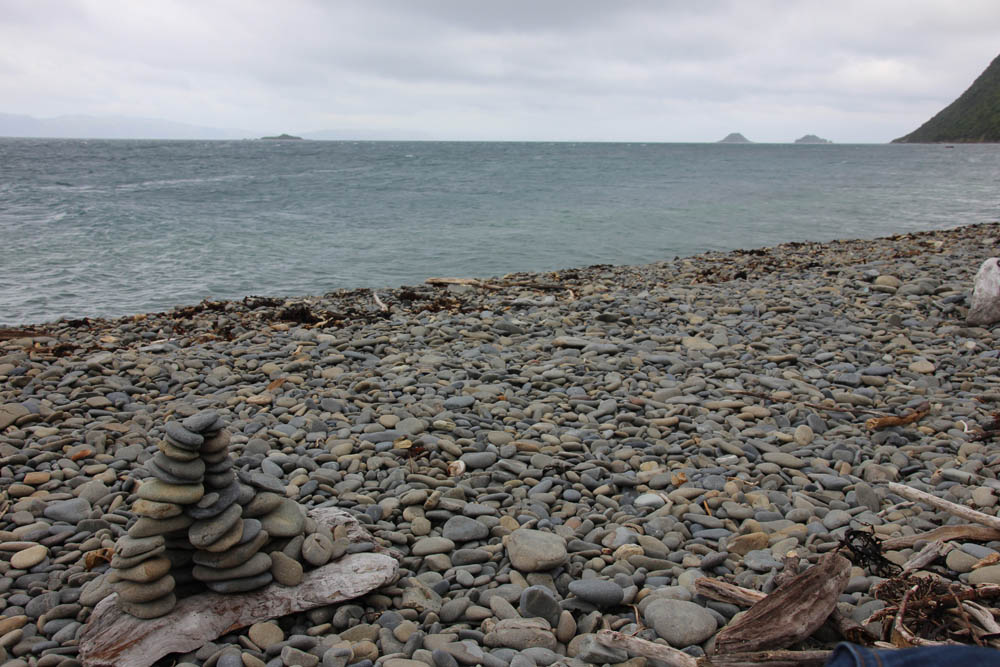 The rain held out until we were pretty much done seeing what we could and we headed back to the shelter to wait for the boat. A really nice trip out there. I highly recommend it to anyone in the area!
The following day, I scoped out an estuary for bird watching and was surprised to find Spoonbills there! I'm not sure I've ever seen these in the wild before. They had such graceful bodies and long flowing feathers that looked like glamorous hair blowing in the wind.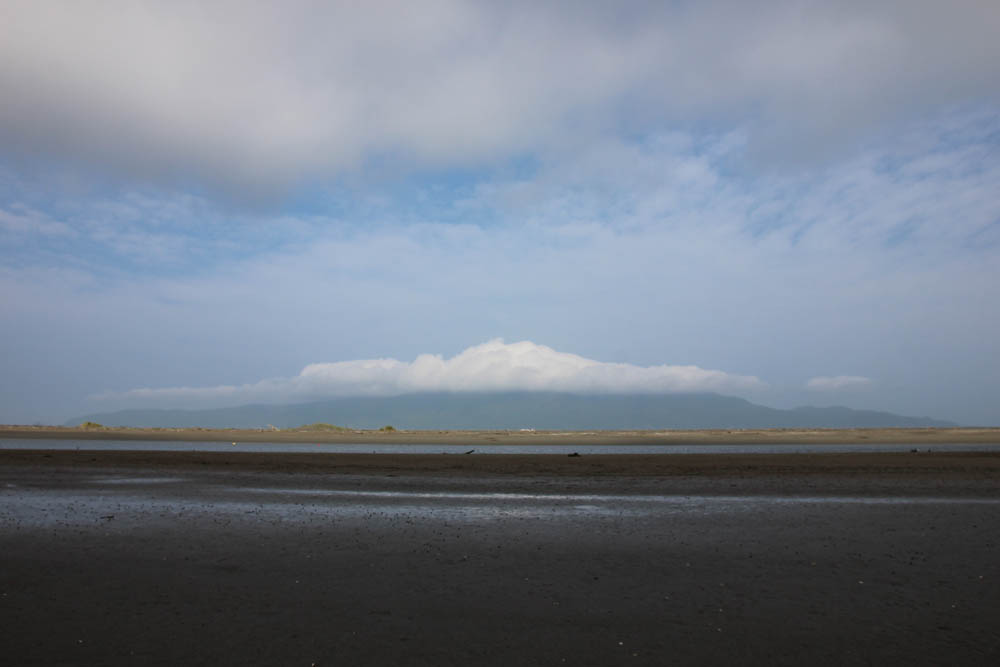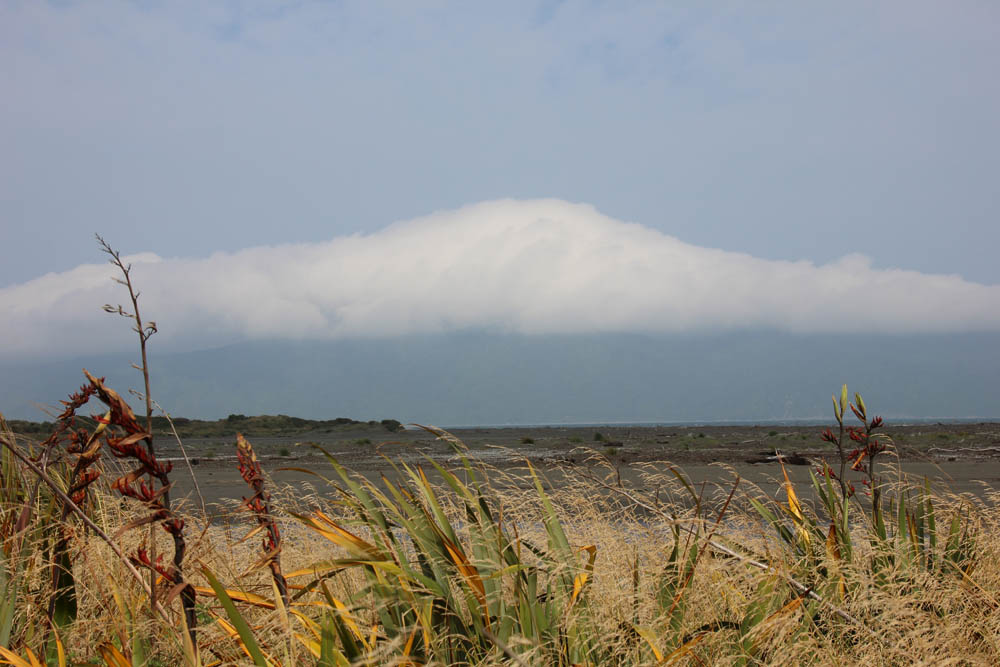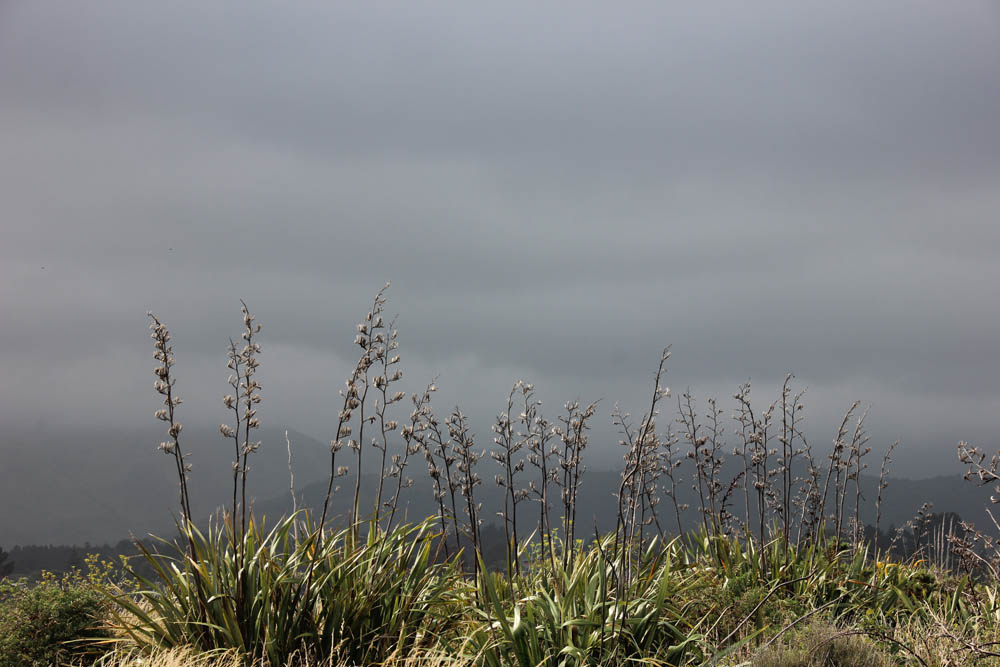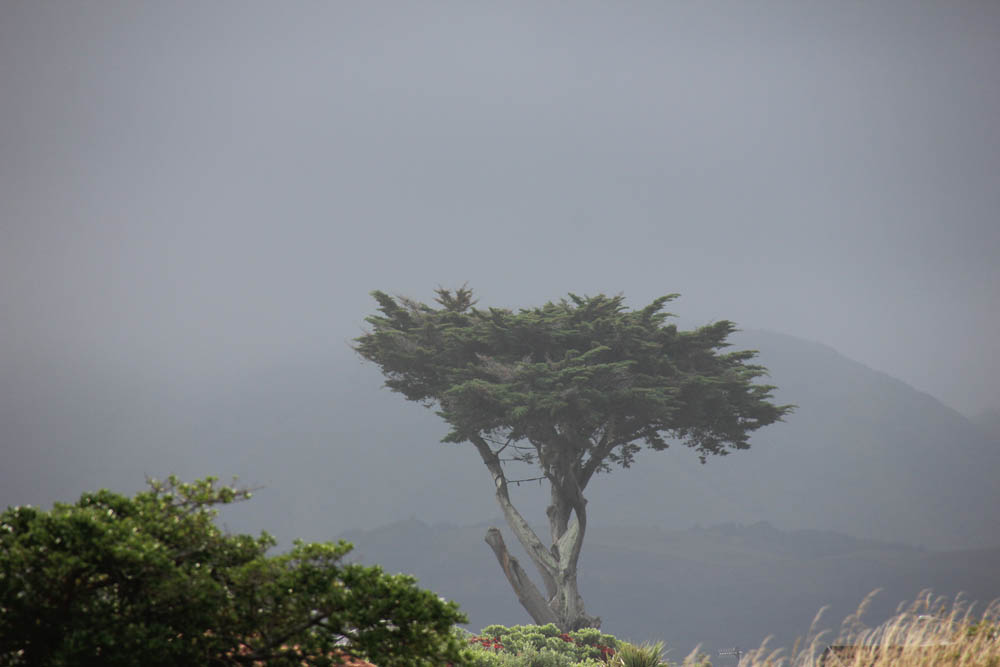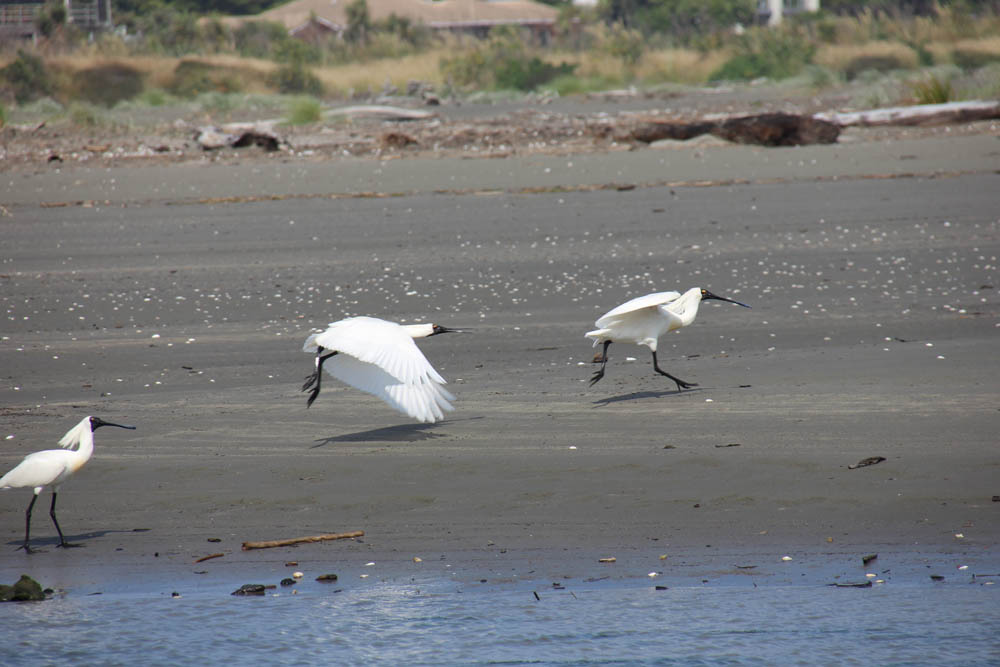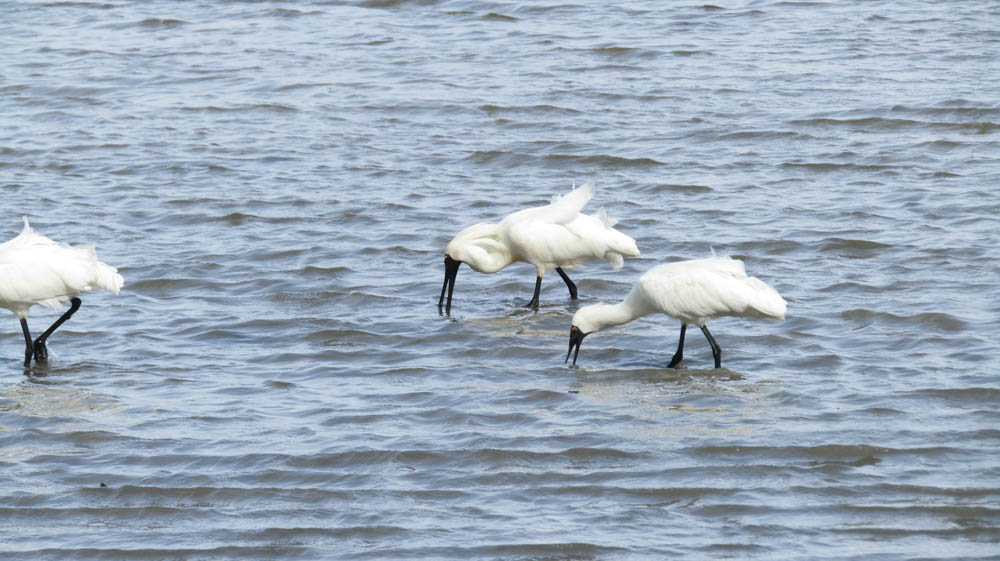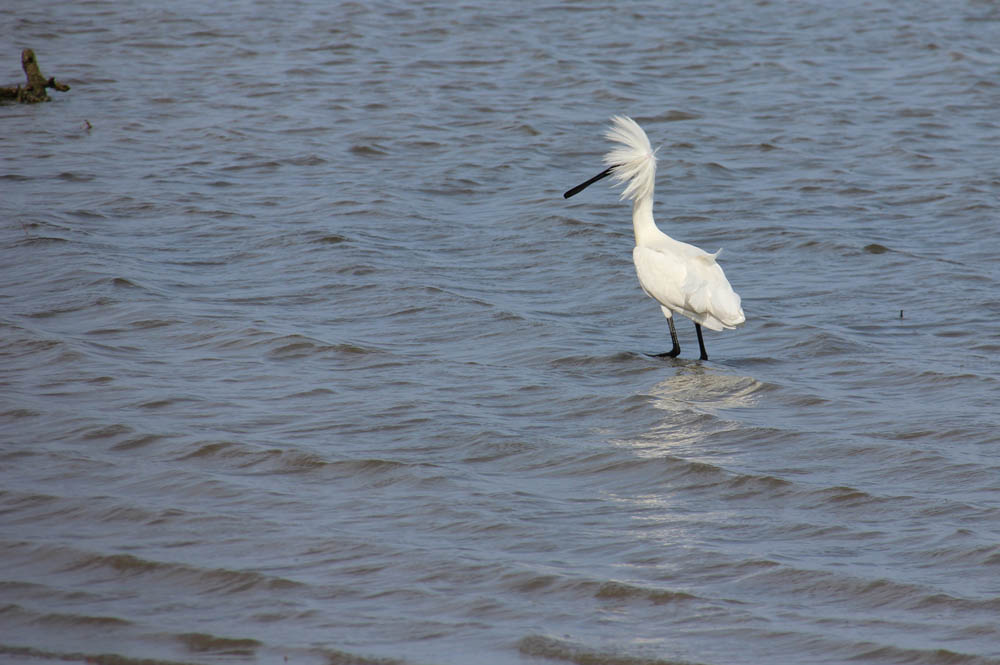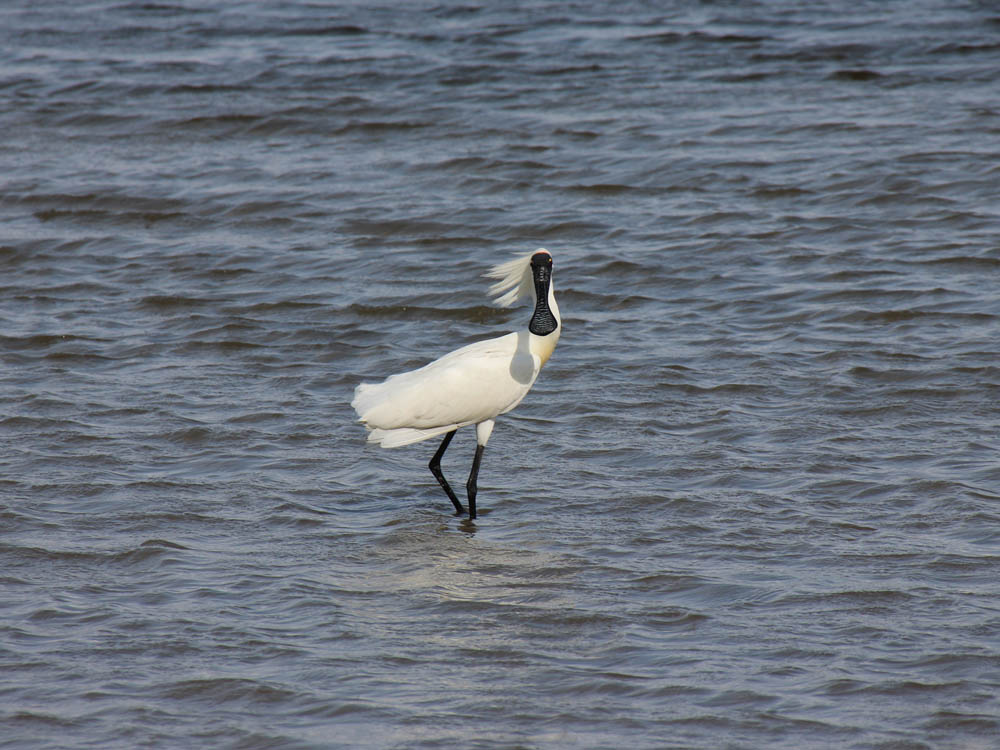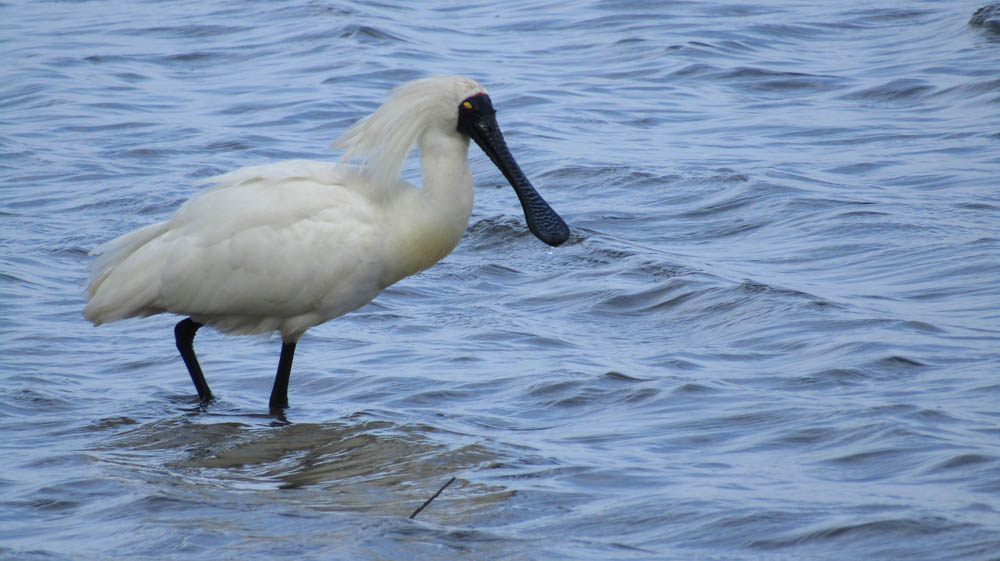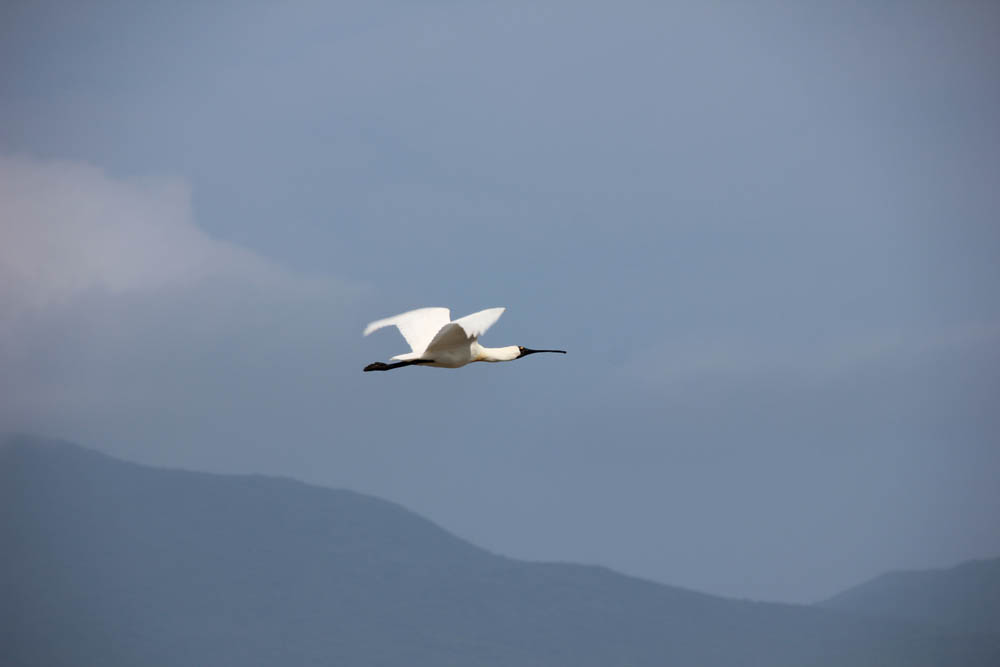 The ice plants always make for good photos and the wood log here was magnificent.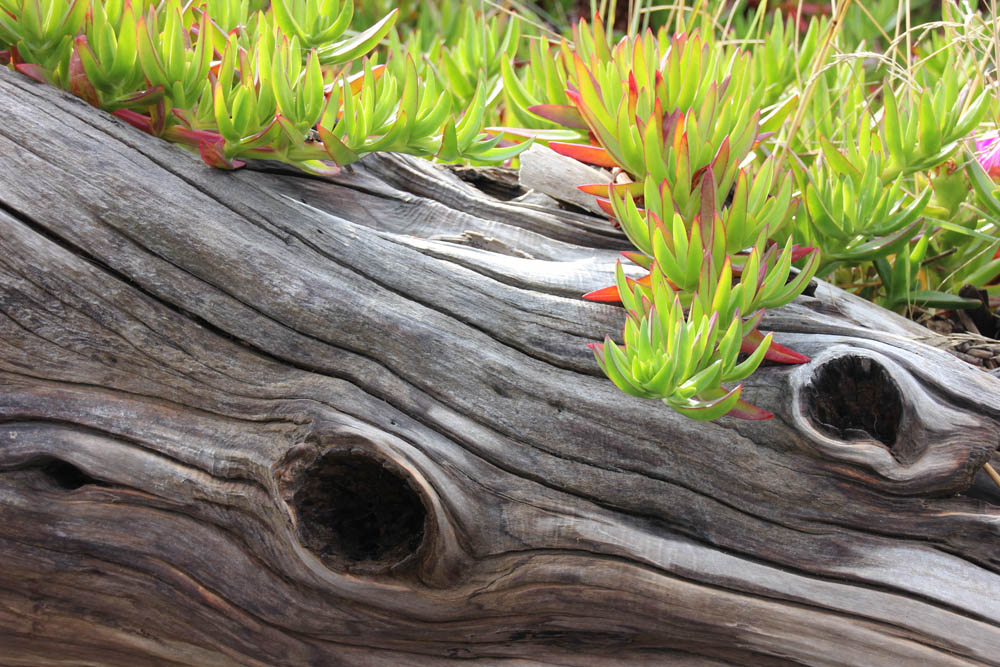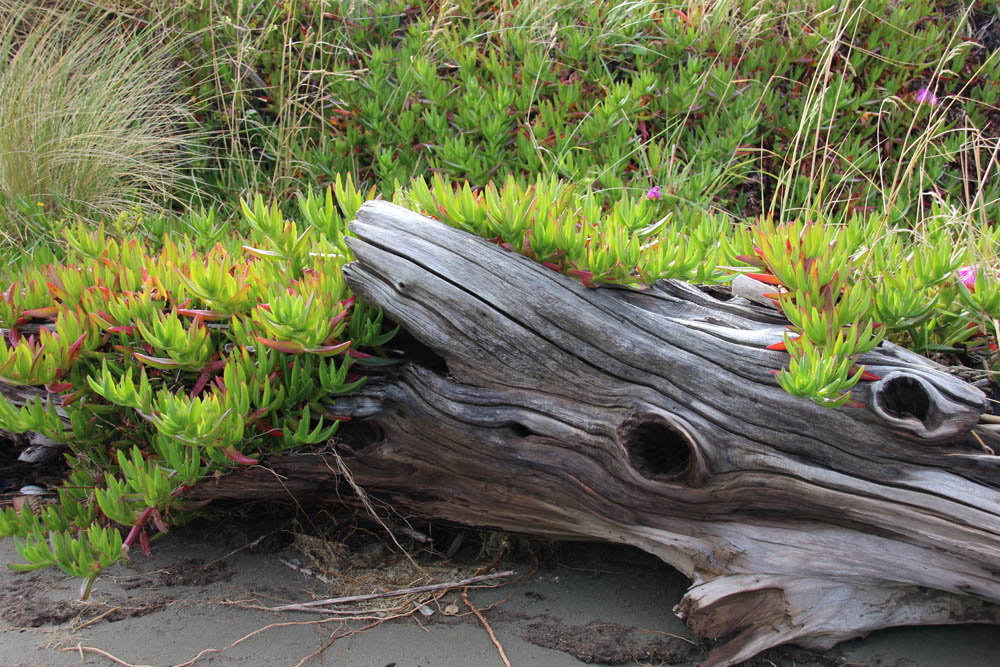 We saw some people fishing for whitebait which always makes me mad. These poor tiny fish show up around this time and people fish for them incessantly to make fritters out of and to sell the meat. They get a lot of money for them and it's decimating the population. There are now rules that you must be present in the location where you're fishing (instead of leaving the traps and coming back later) but I don't know how it's affecting the population.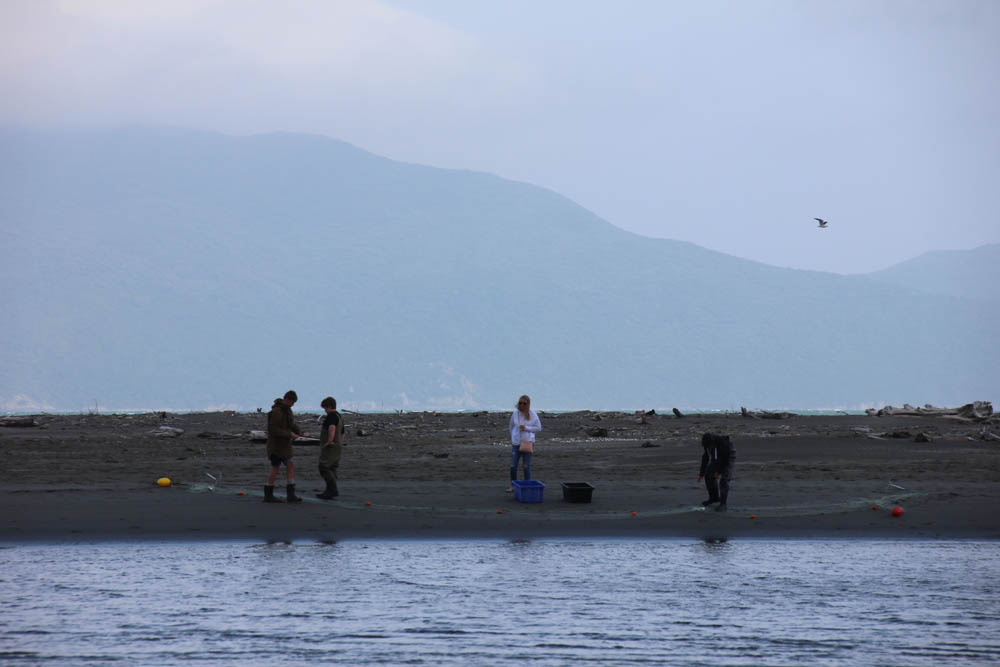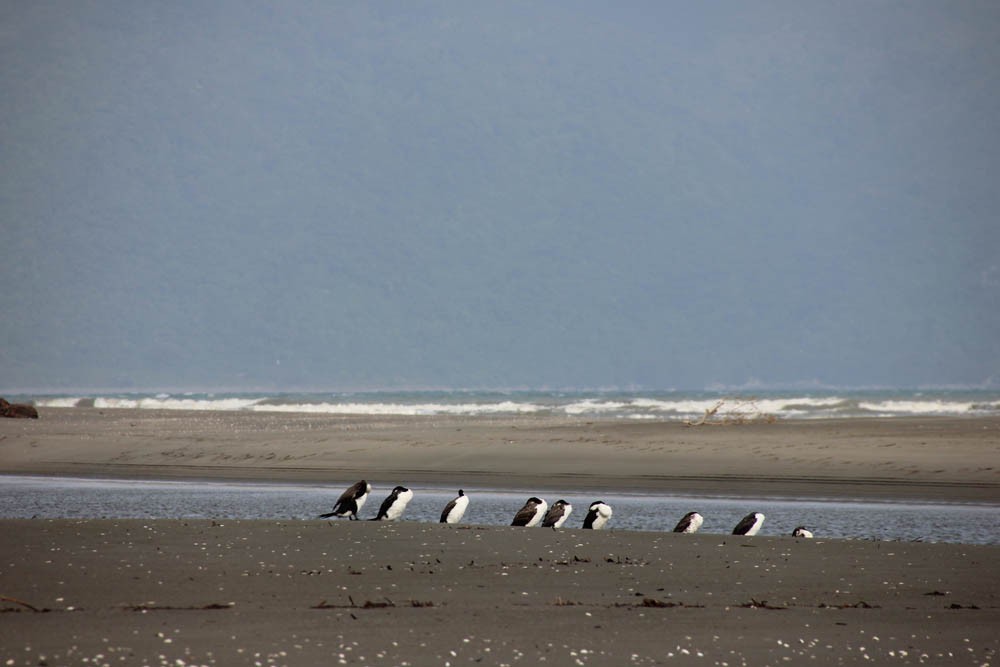 We stopped by a little pond on a busy street corner but it was filled with all sorts of birds! There wasn't anywhere to sit and it was surrounded by houses which would've been a lovely place to live. There were more Pukeko there who followed us around. Here's a video so you can see them in action and hear their call.
There were three young-ish black swans all cuddled up together near the bank. I thought it was pretty funny how awkward they were when they tried to fly into the water, then play it off being all graceful while floating away.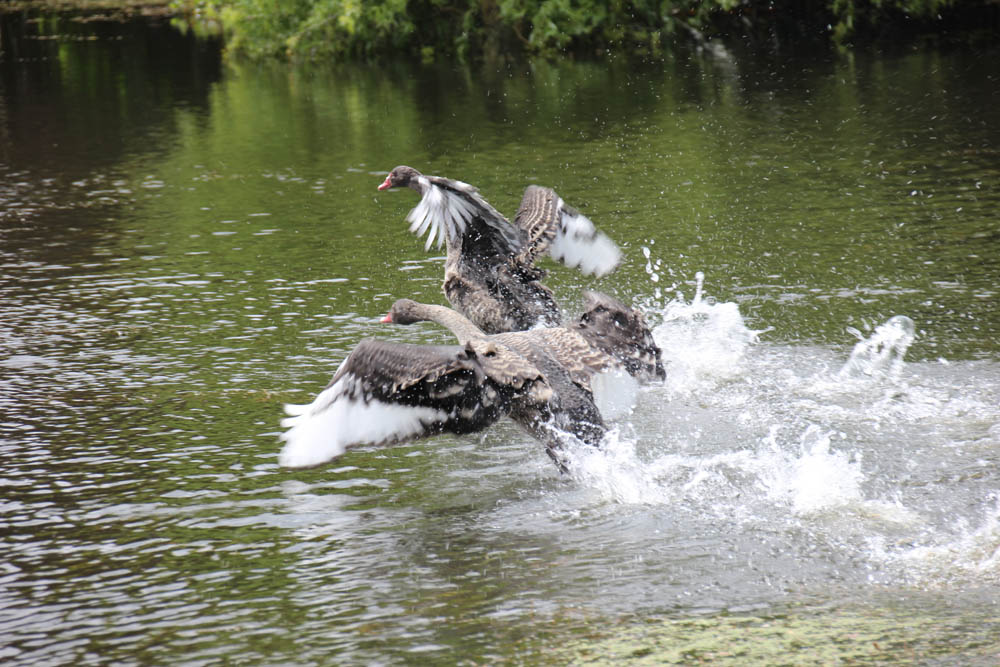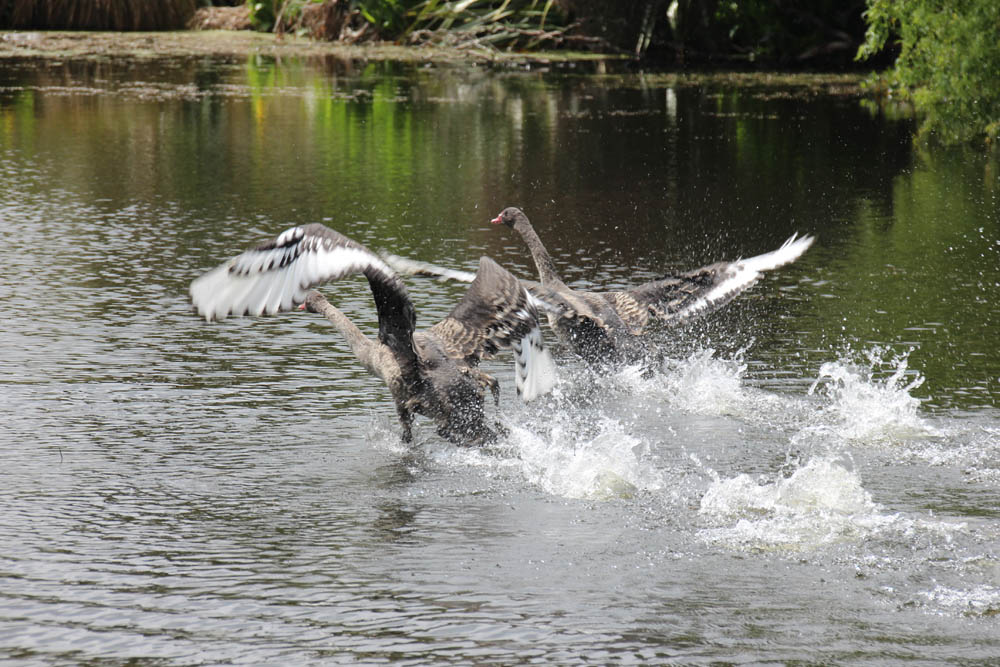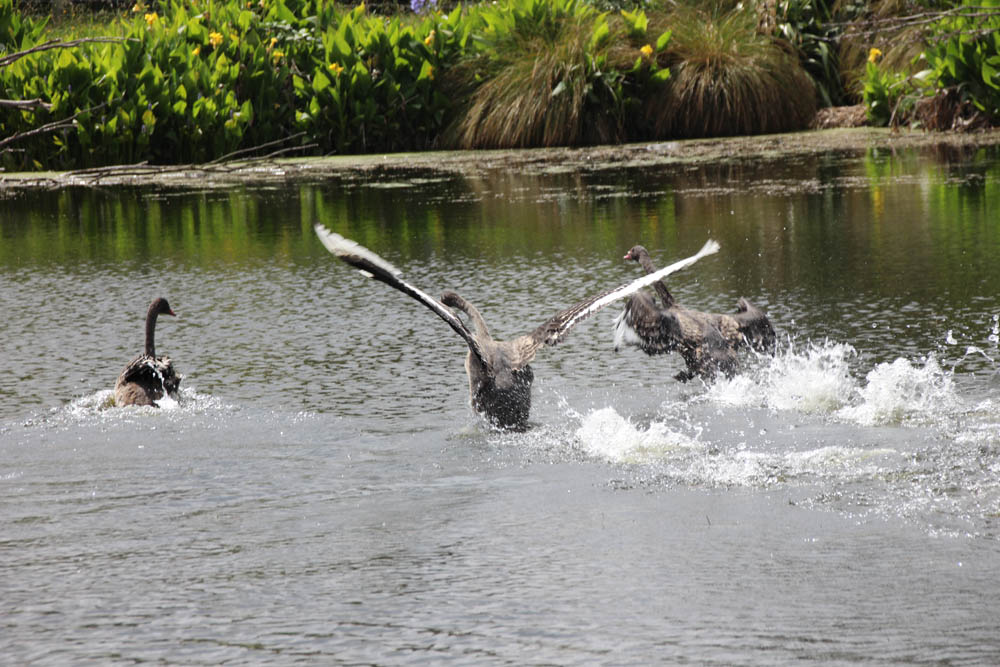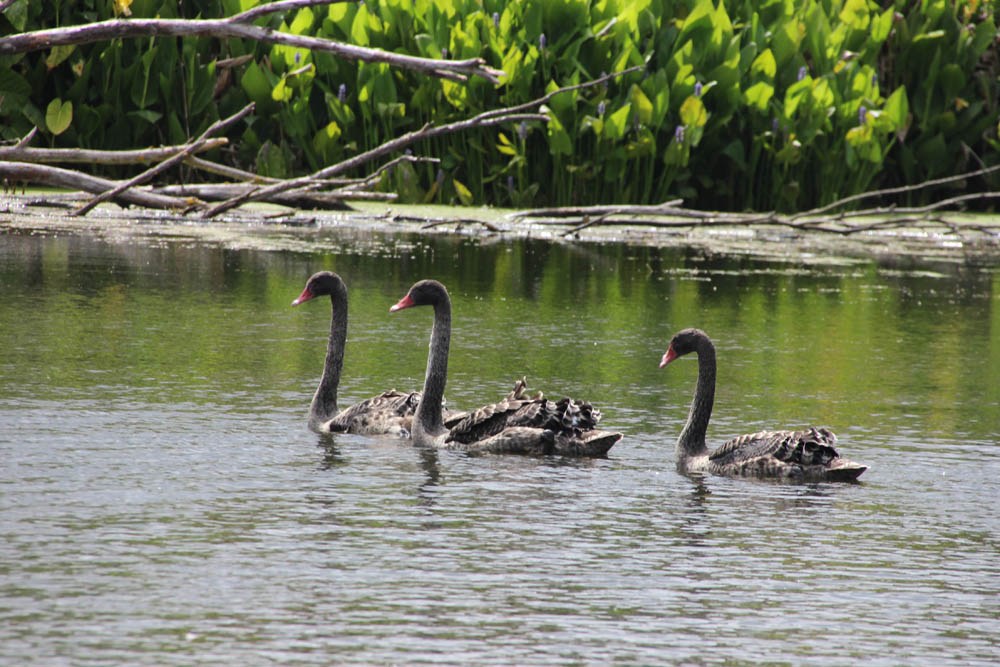 There were shags in the dead tree as well.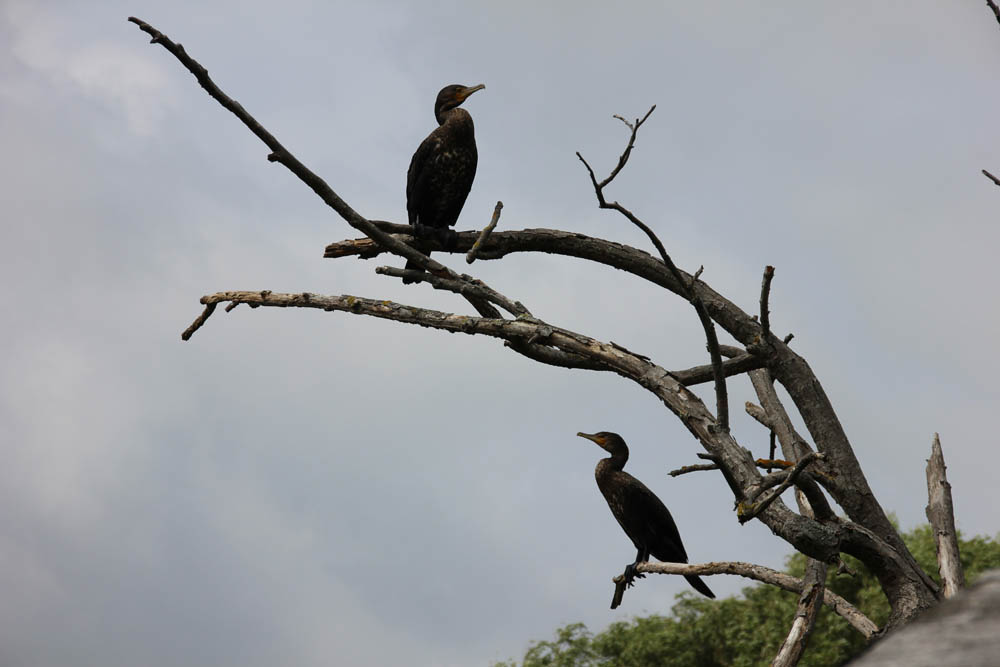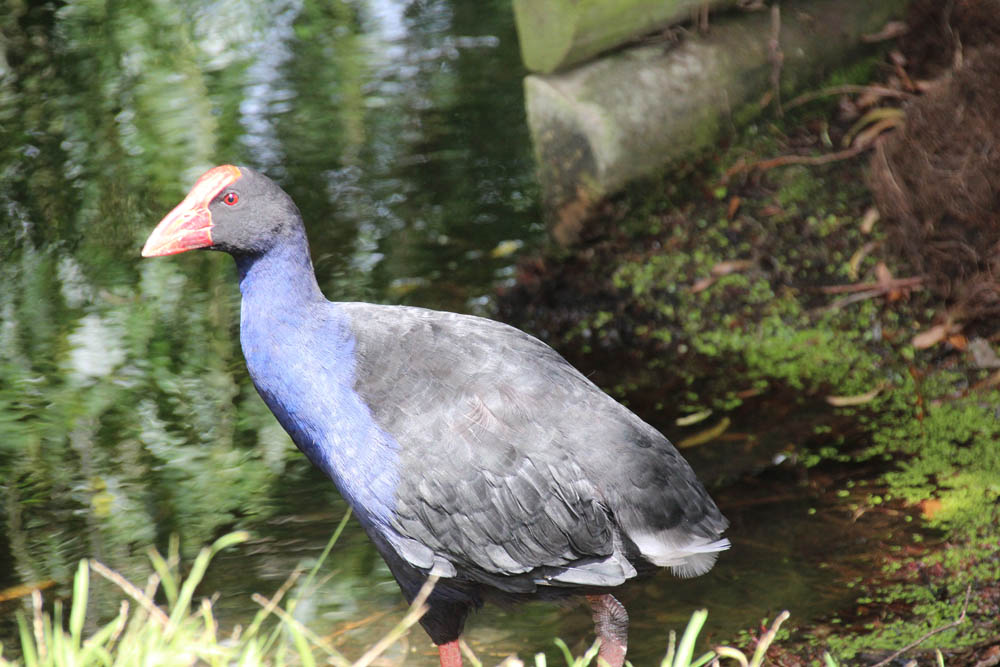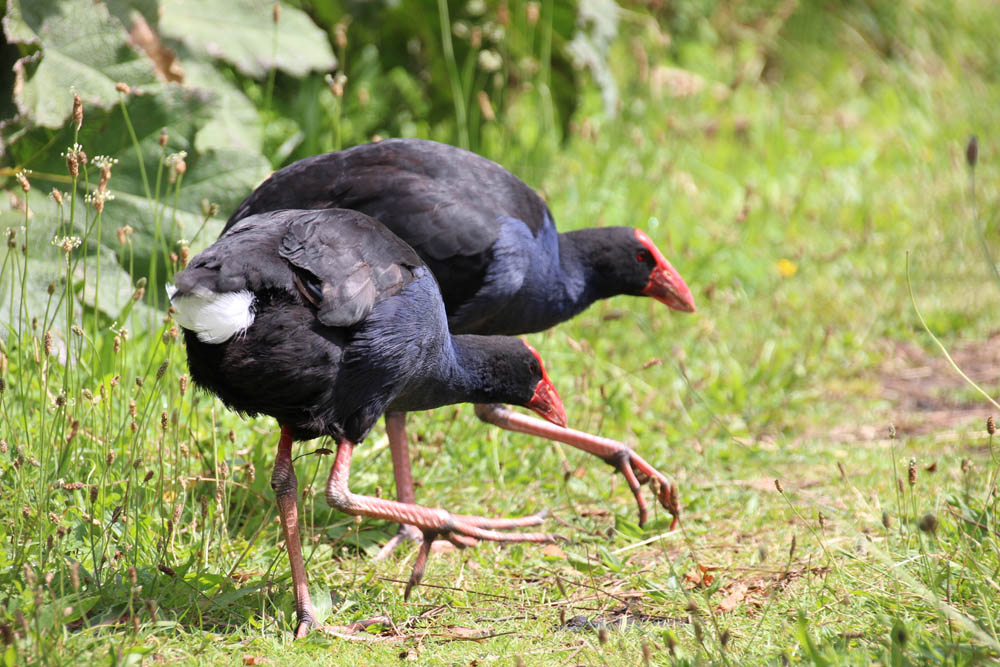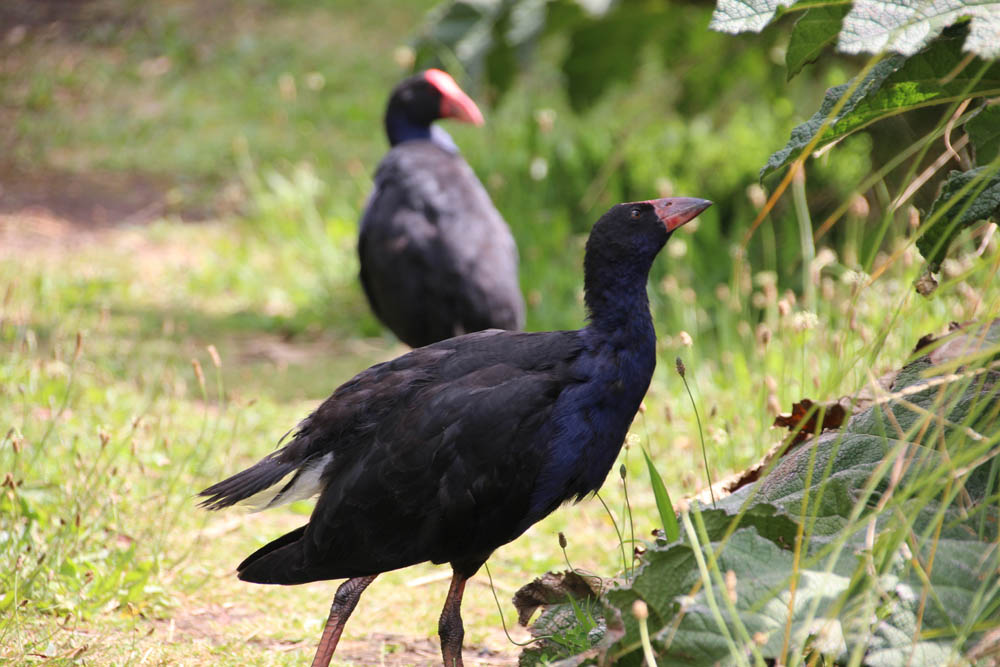 Believe it or not, we also managed to squeeze in a walk to a Nikau Palm reserve which has left my legs aching days later. I did some research on these and they take over 100 years to grow to about 40 feet! They're a source of food and shelter for birds and other animals.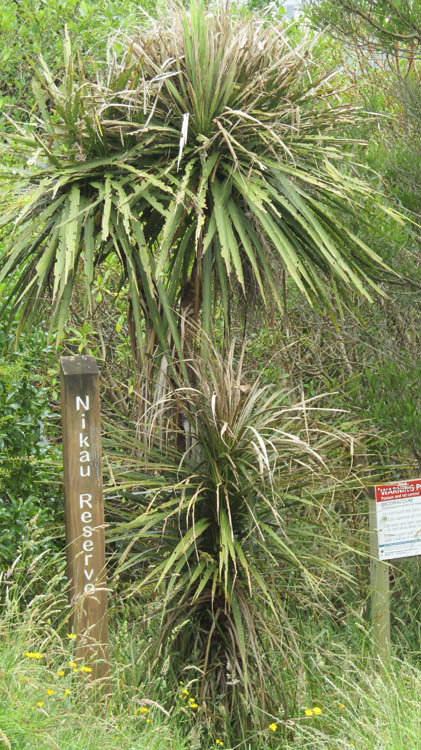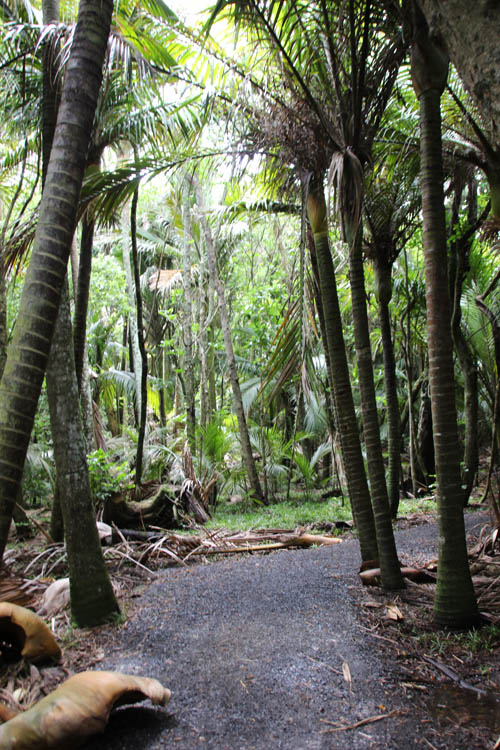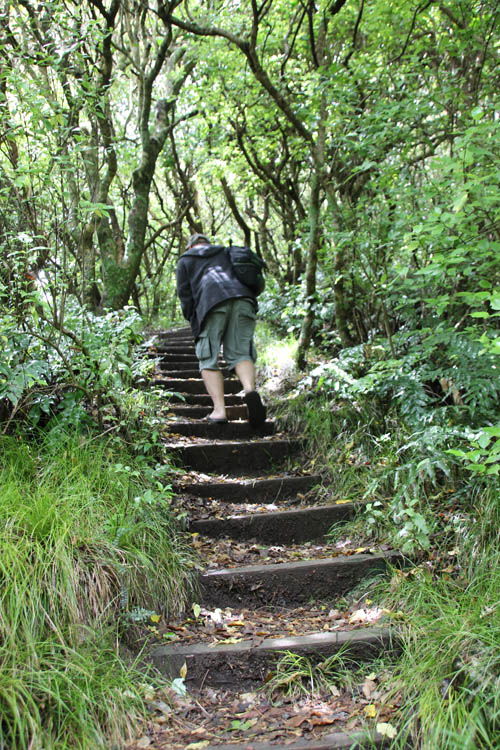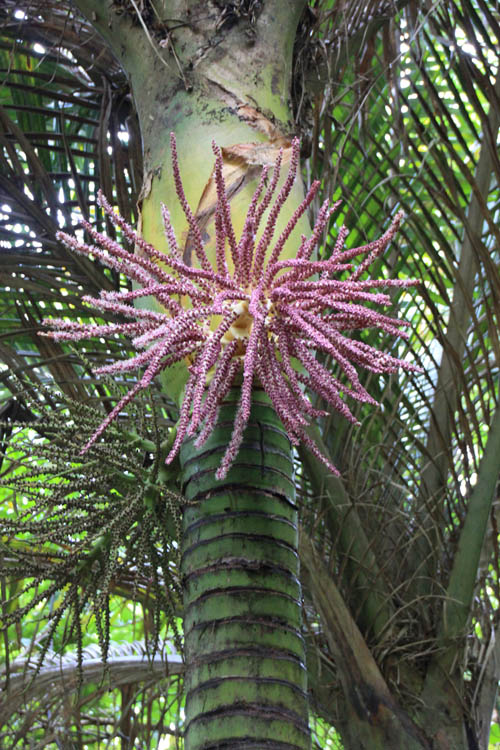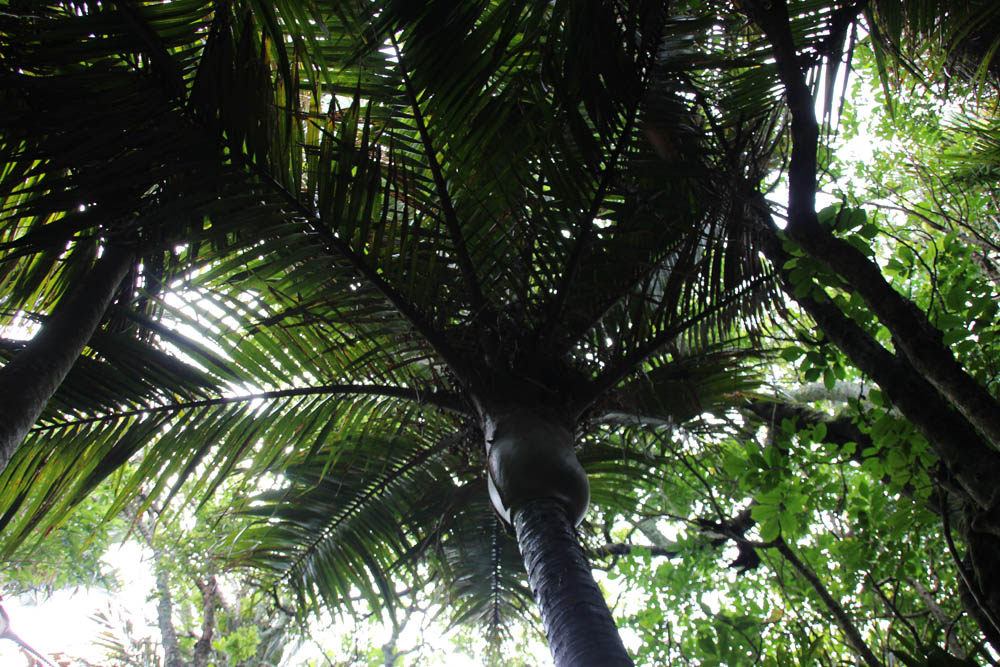 Just when we were wanting to give up and turn around, we saw a woman coming down and I asked how much longer to the top…"Oh, 10, 15 minutes." Reminded me of the Seinfeld episode when they were waiting for a table at the Chinese restaurant. Ok…we shall forge on. I had assumed she meant 10-15 minutes WITHOUT the 3 rest stops we had to make. Man, we're outta shape. It was 100 metres up which doesn't sound like much, but my legs beg to differ.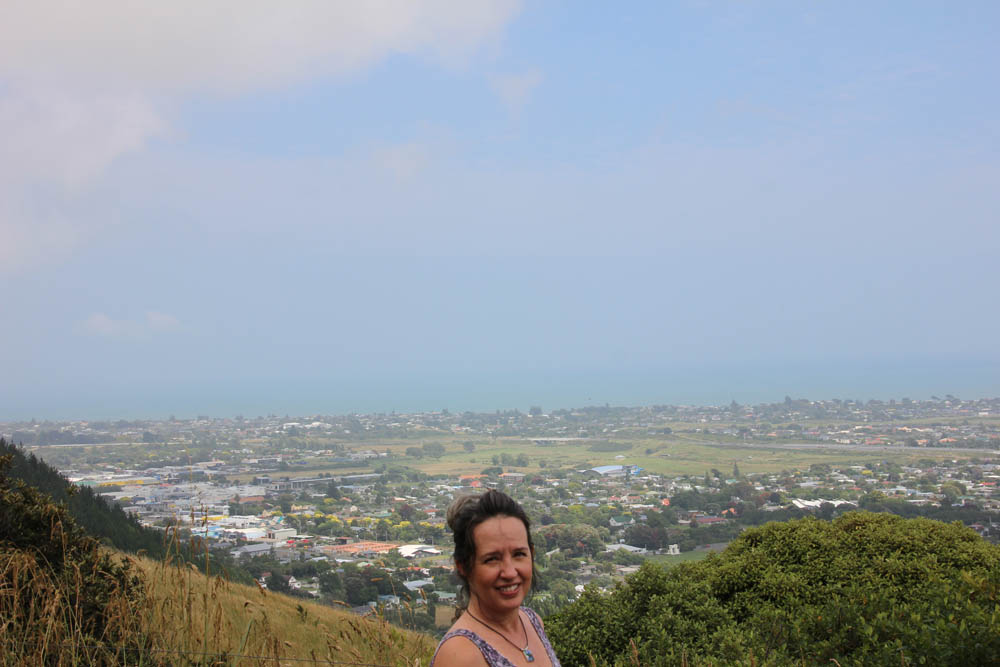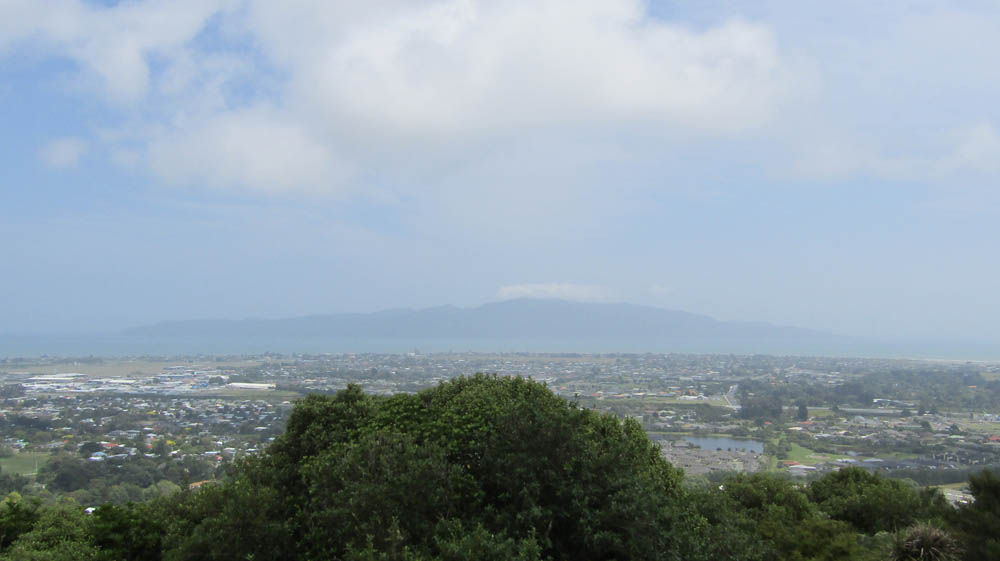 But once at the top, the view was hazy but vast and the breeze was blowing. We sat on the bench for a while as I tried to tan my white chicken legs and we saw a parakeet fly by! The trip down wasn't AS bad, but had my hips aching and legs shaking when it was over with. Phew.
Remember those Tuatara I mentioned? Well, there's a Tuatara brewery here that started in the Kapiti area. They have the coolest beer bottles.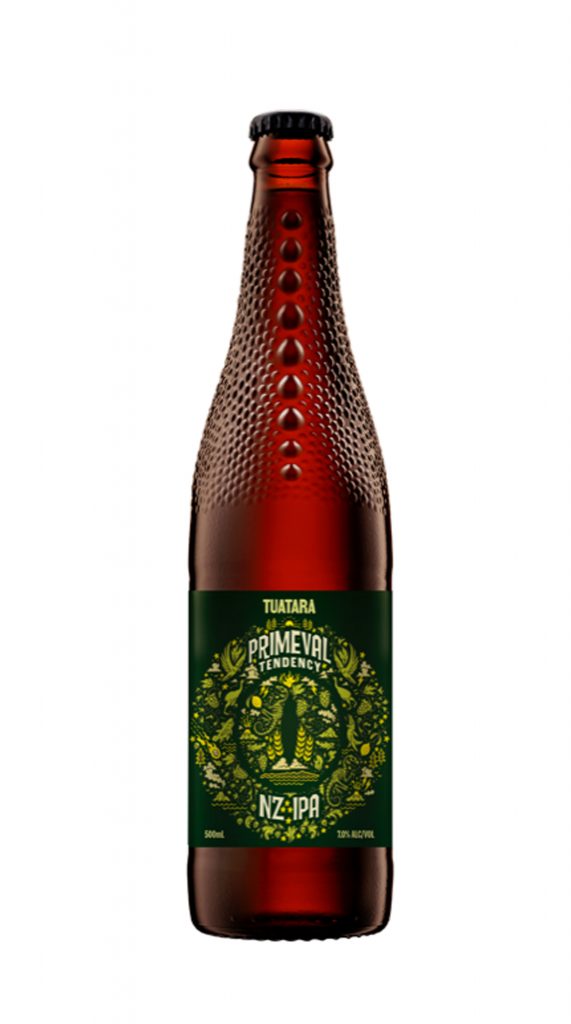 I wanted to see the place and we had a drink and a pizza. I had hoped to get a couple of the caps for the bottles I have which have a neat eye on them but that was a no-go. I did pick up a cool bottle opener and Andy bought me a shirt.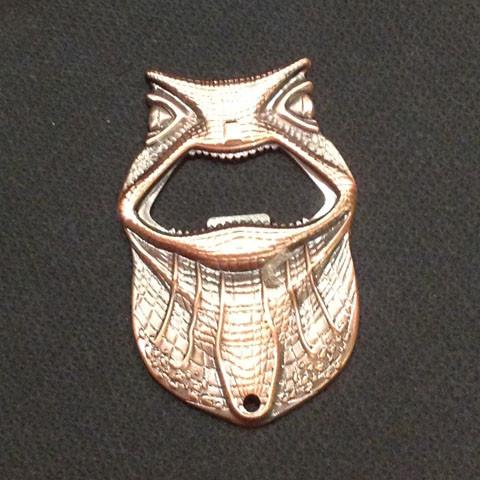 The artwork on the wall was neat, too.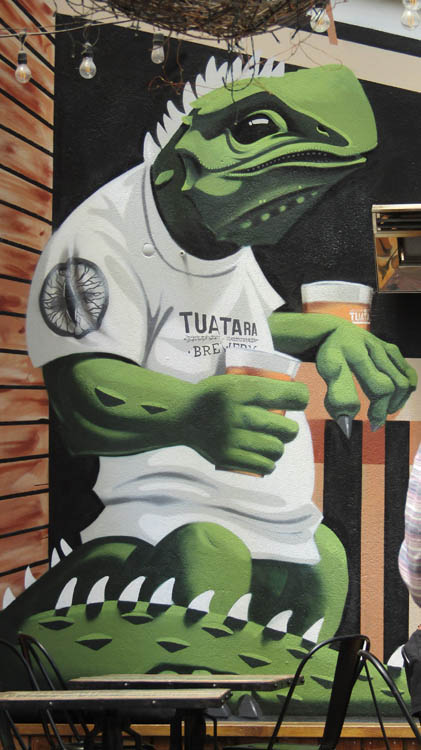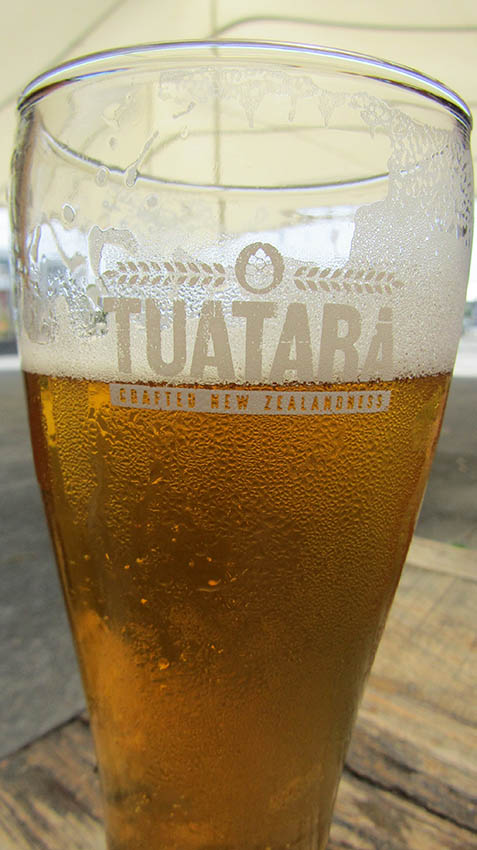 We took a walk on the beach later and I built a sand Tuatara for fun. It's been a while since I've made anything in the sand!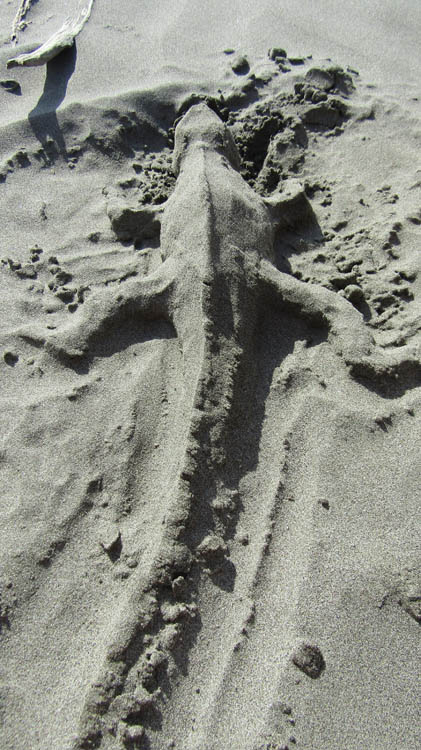 Sadly, we saw two dead sharks on the beach as well which angered me, thinking it was fishermen who had caught them on a long line and just discarded them. The injury didn't look natural to me so I was pretty upset.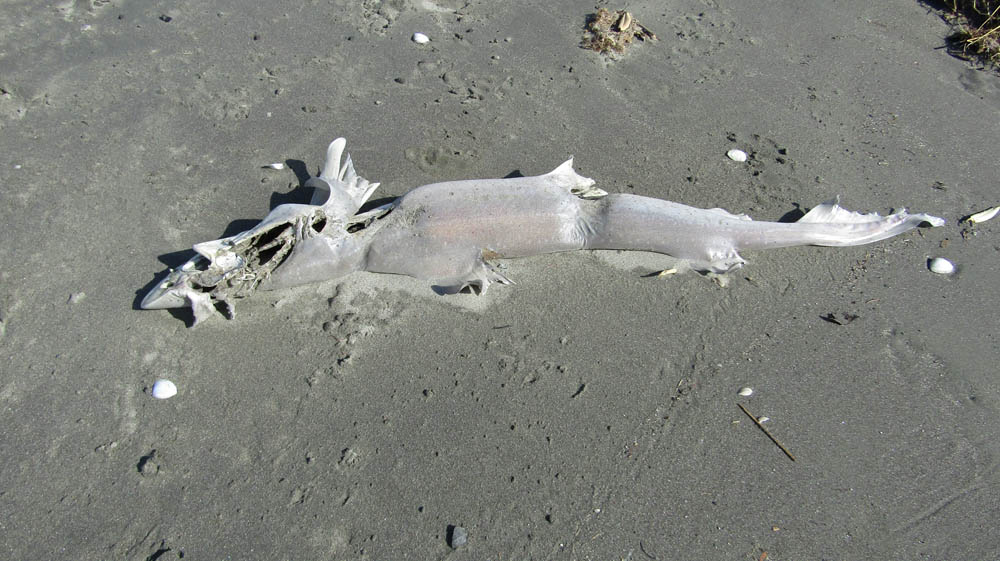 The Kiwi Night Experience at Nga Manu Reserve was finally upon us! It starts after dark, so the hours vary during the year. We got out there around 9:30pm. We weren't allowed to take pictures or video inside the enclosure, but we had a nice talk beforehand and learned about the five species of Kiwi and how there used to be millions here, now down to about 17,000. There are a lot of successful breeding programs going on though and the chicks are being put back into places around the country.
In the photo below, you can see a glimpse of the Kiwi enclosure. Those people are on their knees, so you can get really close to the birds.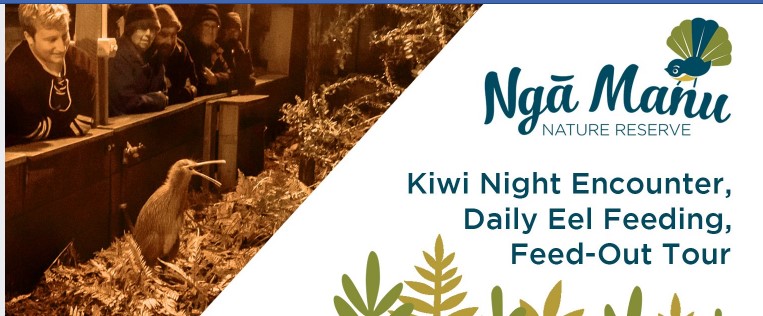 He passed around a taxidermy small spotted Kiwi which he let me take my picture with. Unfortunately, it was a bit blurry. This is the correct way to hold a Kiwi because they don't have that big breast like a chicken does due to the fact that they have no wings. He described the chest as being flattened so if you were to try and hold it like a chicken, you could actually crush the poor thing. They also put their fingers between their feet to keep from being kicked and scratched.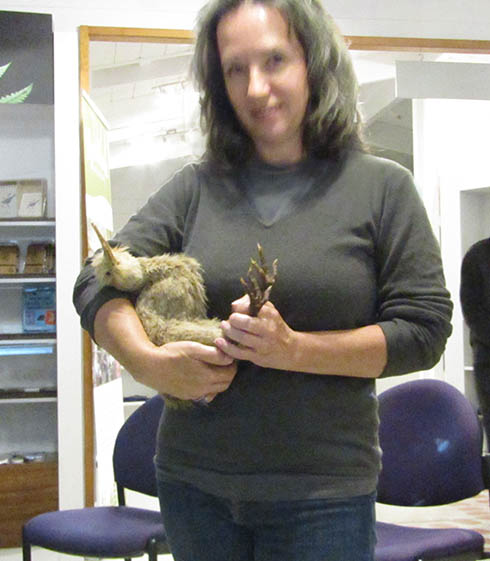 We entered the dark outdoor enclosure (framed out with mesh on the top) and a small wood seating area. We had to be absolutely quiet so the birds weren't spooked. He turned up the red light and as our eyes adjusted, we witnessed the female starting to poke around in some rotting wood to look for insects.
We could kneel down beside the enclosure to get even closer to them and it was such a thrill to have the birds forage along the divider within inches of us. At one point, the female was right in front of me and poked her nose up right near my hand (of course we weren't allowed to touch them).
The male called out for about 30 seconds from the back and then came out, getting a bit too close to the female's liking and it was funny to watch them waddle around as she chased him through the enclosure. This pair has bred a few times (the male is supposed to incubate the egg) but they haven't had a successful hatching.
At $35 a person with a group no larger than 10 people, it's an affordable and unforgettable experience that anyone interested in seeing a Kiwi should do. It surely tops my list of wildlife encounters and this is the only country that it's possible to do it in. I feel very privileged.
The final day of our trip saw the clouds clearing (naturally). What a difference a day makes! You could actually see the island quite well.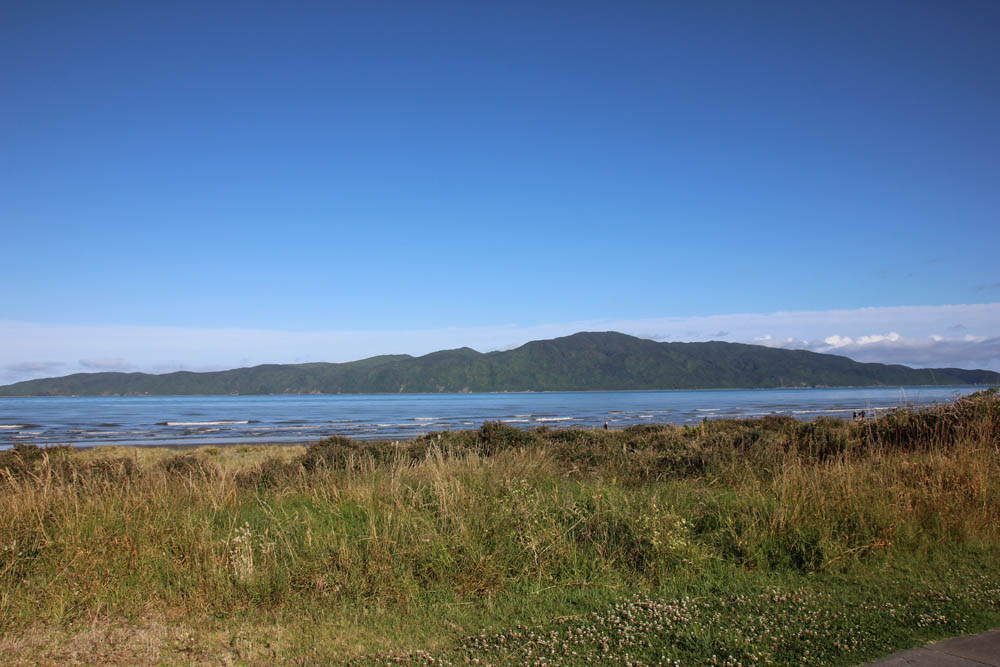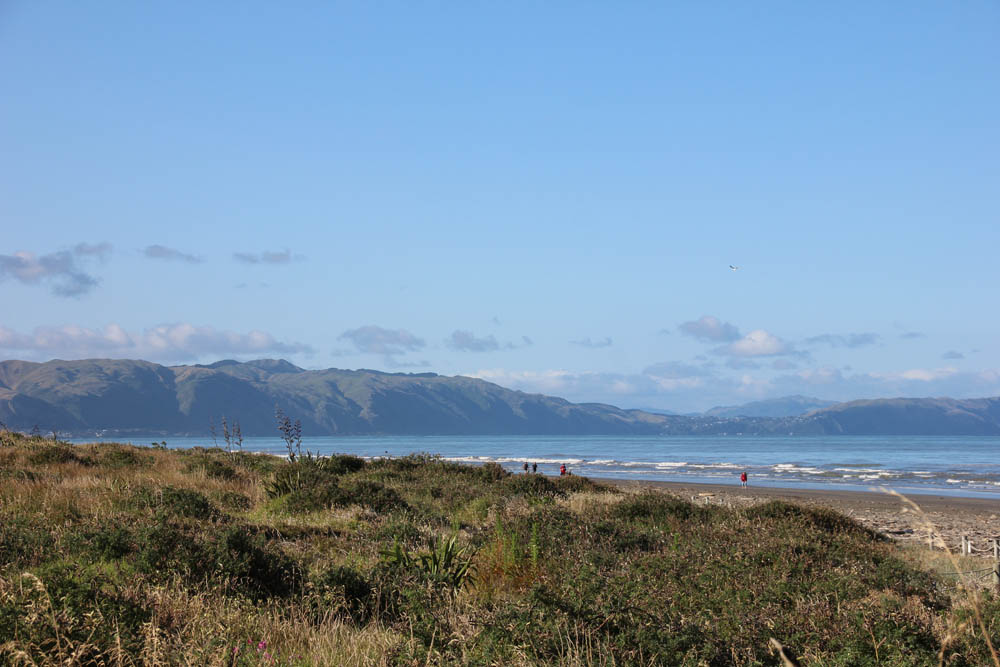 As we grabbed a coffee, there was a little street market going on where I was able to buy a piece of honeycomb for $15. It was a thick piece about 3 inches square and tasted heavenly! I didn't chew the wax like I did the first time I had some and instead, squished it between my tongue and the roof of my mouth to extract the honey. Delish! Such a rare treat to have.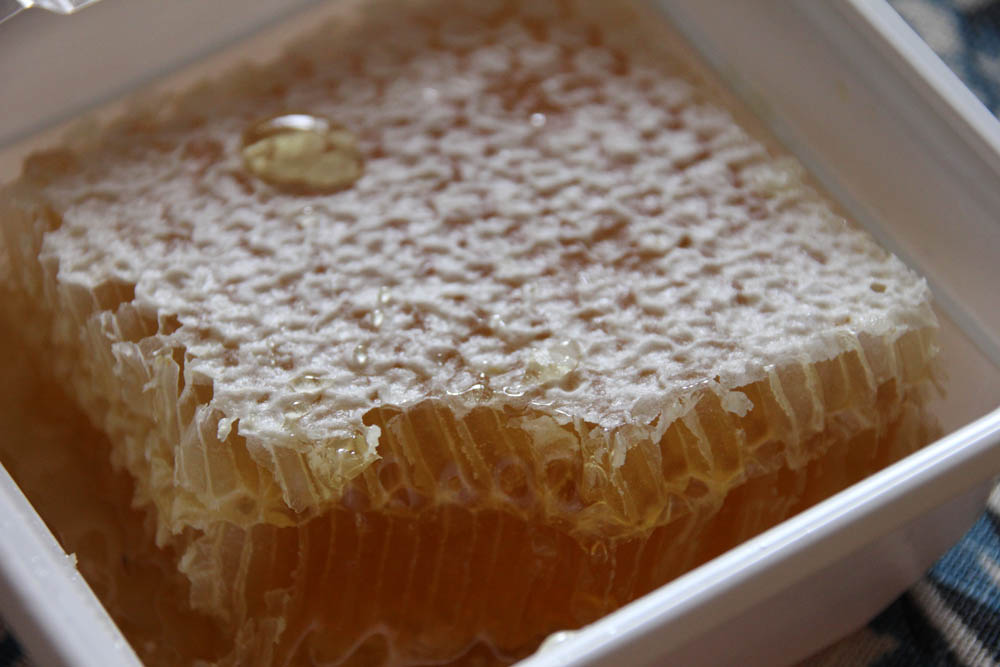 A sweet ending to a nice trip that was just long enough to do what we set out to. With it only being a 2 1/2 hour drive from here, it's a nice getaway that isn't too far. You could definitely see the difference in weather as the West coast gets a lot of the rain and gales which shows in its lush greenery and trees. Compare that to our tall, bare rolling hills which are often brown during the summer. I think I prefer to live on the East coast though.
With that, I leave you with a sunset picture from the coastline.