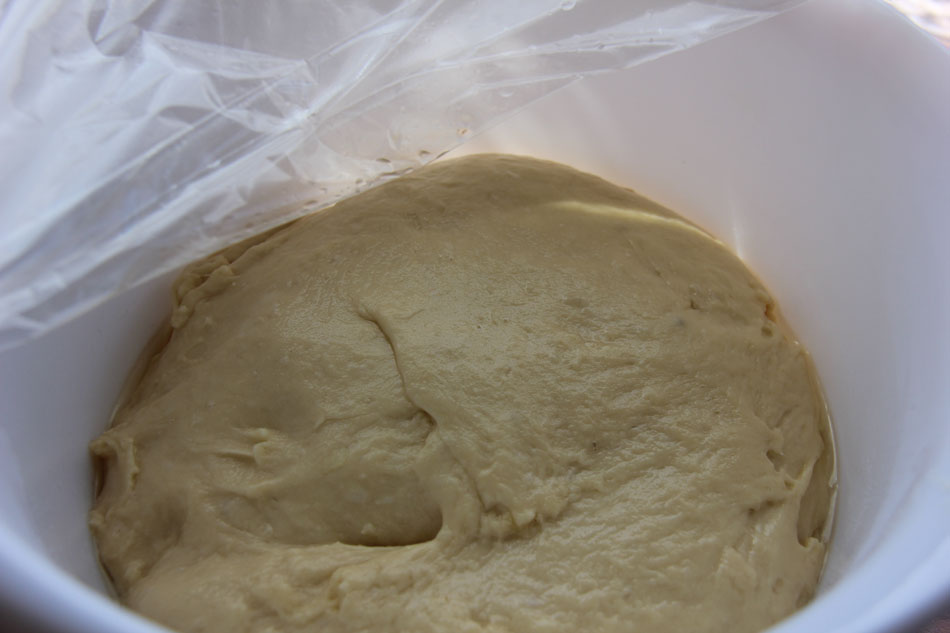 It must be the cooler weather. I can't explain the craving for sweets this week other than Mother Nature feels I need to start packing on the pounds early. Admittedly, I did have a hankering for some cinnamon rolls and browsed some recipes. I was intrigued by a 5 star rating that used mashed potatoes. Someone claimed it won them first prize in the Iowa State Fair. I'm no stranger to using potato water in homemade bread, so it wasn't THAT unusual to see this odd ingredient. But like a good girl, I closed out of the website and I didn't even send myself the recipe.
Well, that honey I got this past weekend…remember I said I would share with friends? I actually did! I took some to a neighbour two doors down who met me on the porch with a purple bell pepper. She only harvested four and gladly(?) traded one for the honey. Perfect timing! I was making shrimp that night and figured I'd throw it in the mix.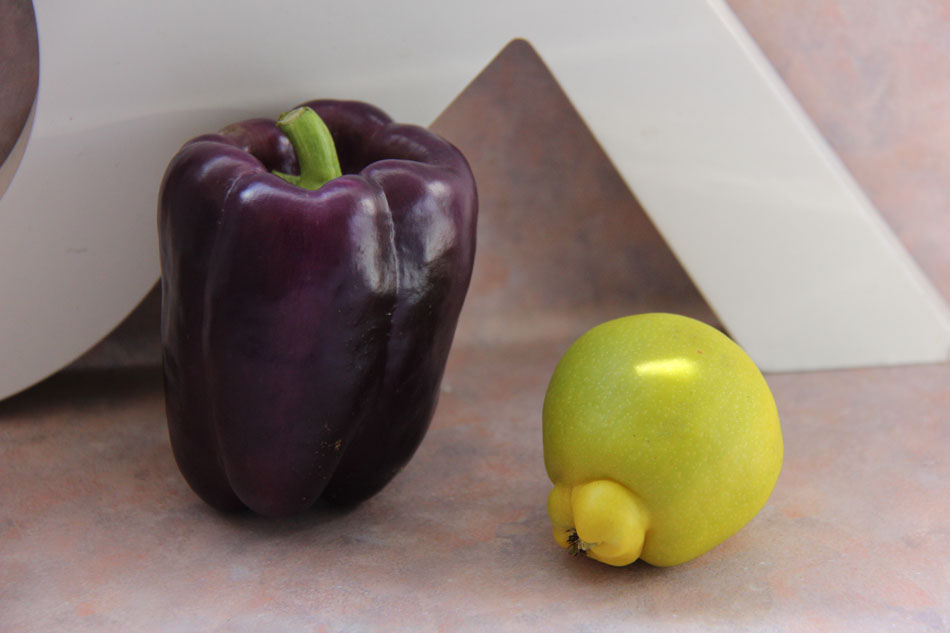 Oh, that's a japonica fruit that I spotted on the way out of her yard. She asked me to google it and see if they were edible. Sadly, they really aren't, but I told her she could put them in a bowl inside the house because they let off a sweet scent for weeks. It reminded me of when I lived in Costa Rica and would pick wild guava fruit and do the same.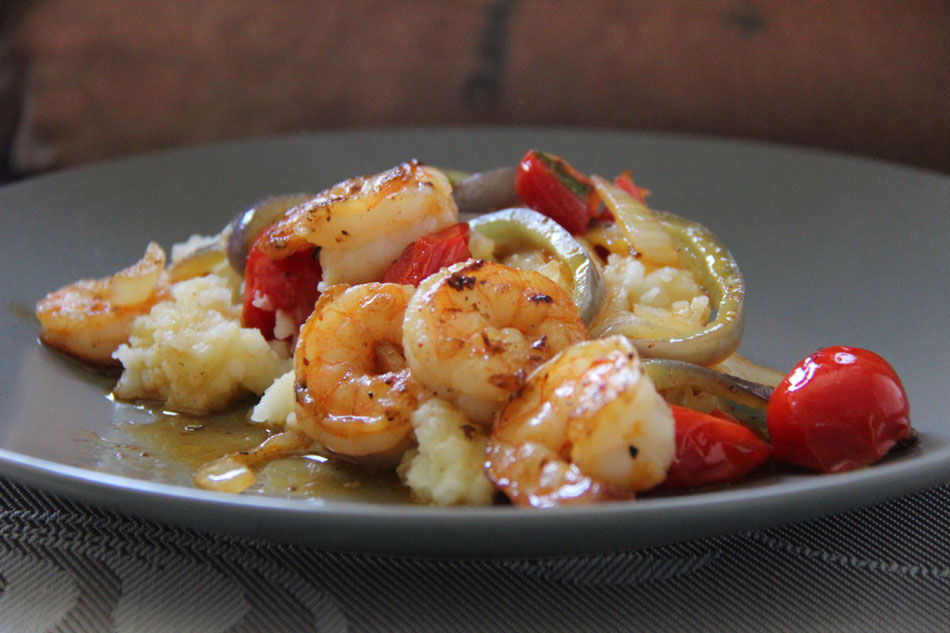 Well, well…what do we have here? Mashed potatoes! I should really put some aside and make that cinnamon roll recipe.
So that was my excuse. Now I'll preface this by saying, this isn't going to become a foodie blog, I swear. No scrolling for 15 minutes before getting to the recipe (heck, I'm not even going to post the recipe!). No annoying popups promising yummy pictures of food every 10 minutes to your inbox. No fighting with banner ads that cover up everything you're trying to read.
Right, now that disclaimer is out of the way….let's get to the meat….errr, dough, rather.
While the recipe did have quite a few ingredients, it came together pretty well. I did have to switch to a dough hook while mixing it all together because it kept crawling up the beaters and I had no intention of doing a deep clean of my mixer. In hindsight, I could've used a bit more flour but it came out just fine in the end.
The yummy fluffy dough after a cup of mashed potatoes, water, eggs, sugar, butter, yeast and salt joined the party: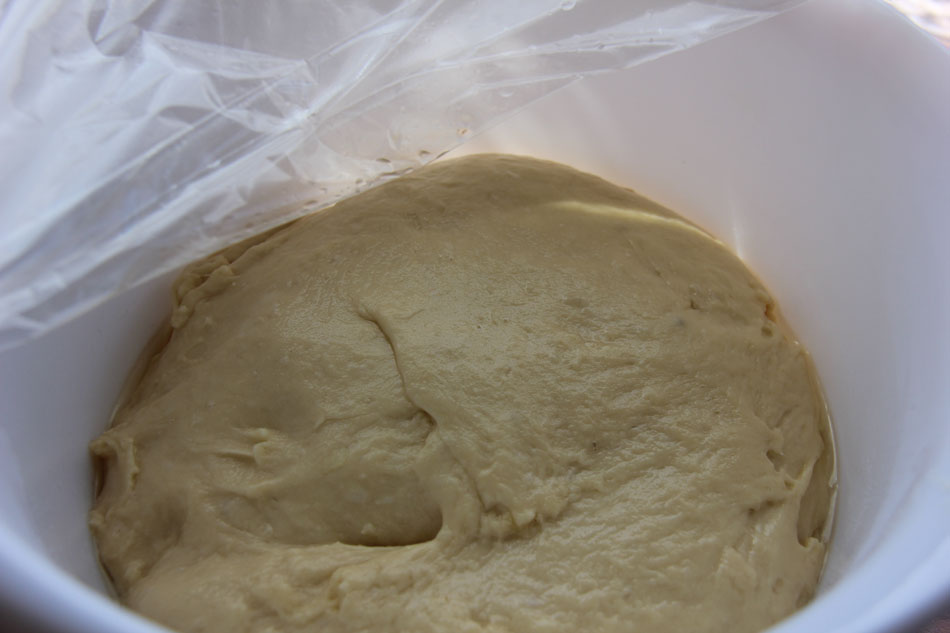 Um, a word of warning should anyone attempt this recipe that you google yourself….don't use garlic mashed potatoes. That's all I'm saying. OBVIOUSLY I didn't have this cinnamon roll recipe pre-planned.
After an hour, it said to roll it out to 12×18 which happened to be just about the size of my cutting sheet. I didn't even roll it…just flattened it with my fingers. Boy, it felt nice. Not sticky at all, just super soft and fluffy.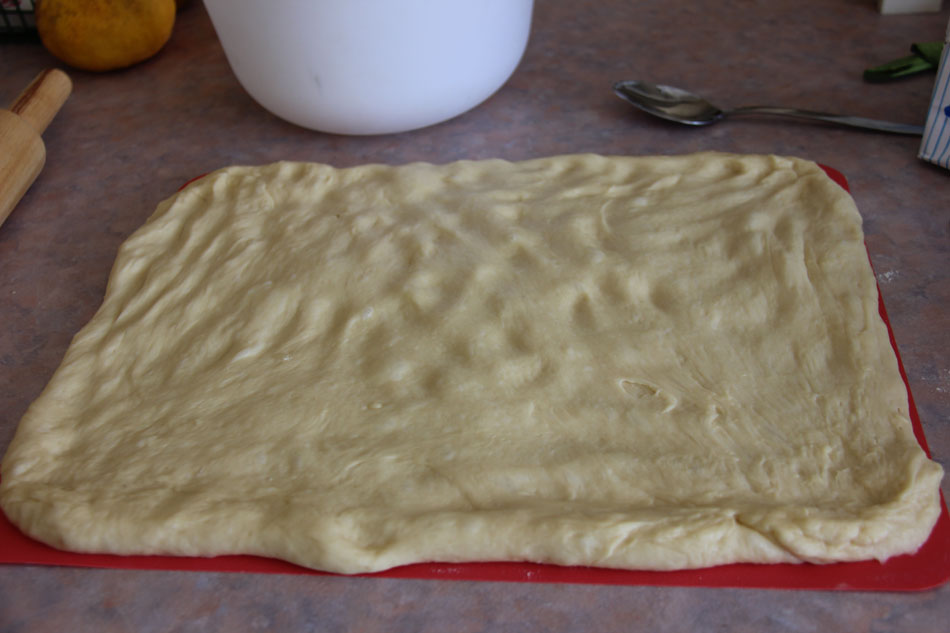 Now the horrible part. Slather with softened butter and then sprinkle on what seemed like far too much sugar and cinnamon. I'm hating myself right about now. Why not just rub a stick of butter right over my heart?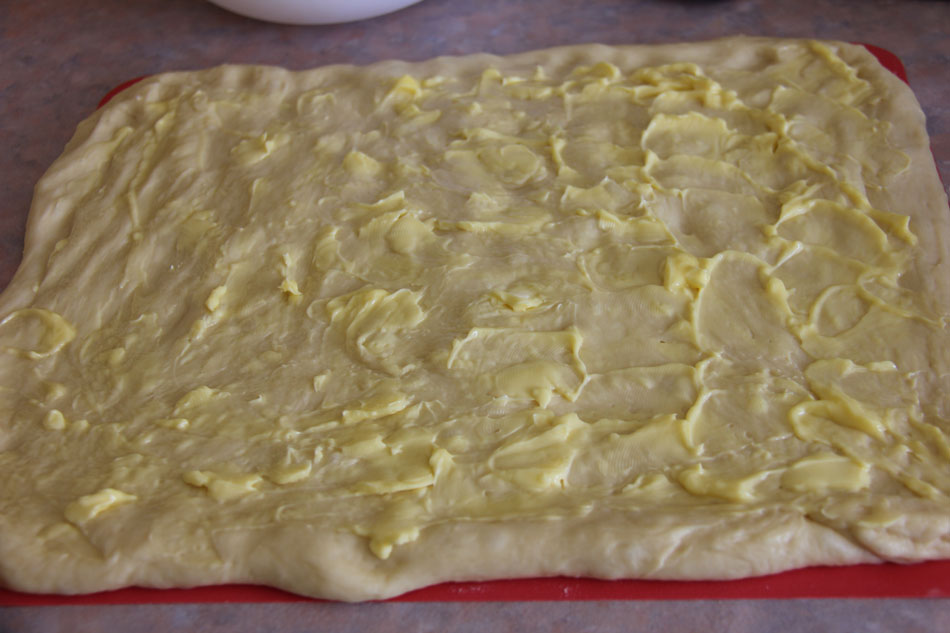 It's like the sugar mix never ended. I thought of stopping short but that'd just be a waste. It all went on there.
Then it said to roll it up tightly. Hah. Well, that's when I figured I should've made the dough a bit more firm. I was able to roll it, but it felt about the way my stomach was going to look after eating some of these.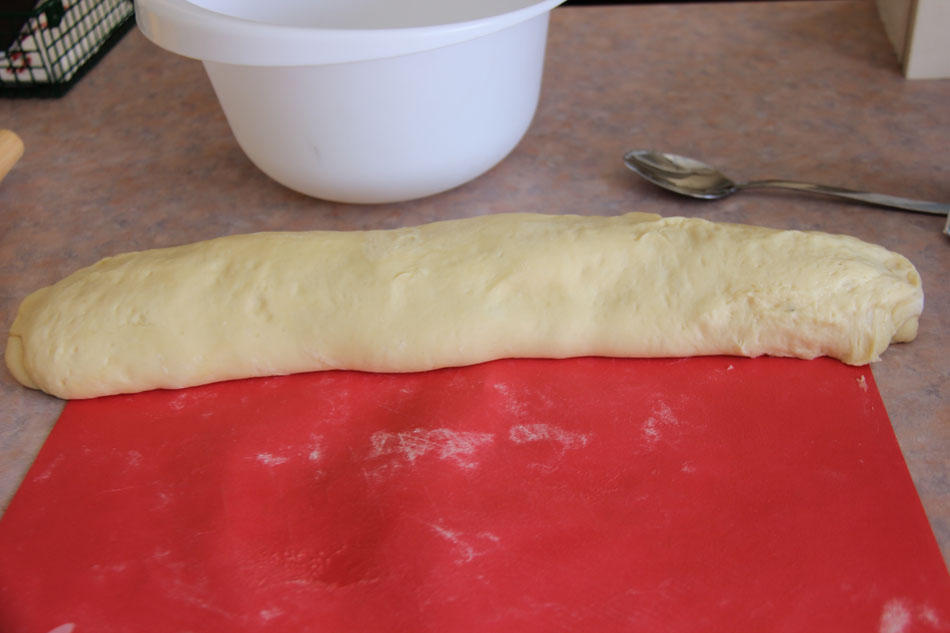 Yep, a big ole python that just had a large meal. That's what it reminded me of. Seal the edges and cut into 12 equal parts. Easier said than done.
Sloppy little things, aren't they? I was starting to worry at this point. They looked more like doughy cinnamon roses. Oh well…how bad could they be?? Now, let rise for another 45 until doubled.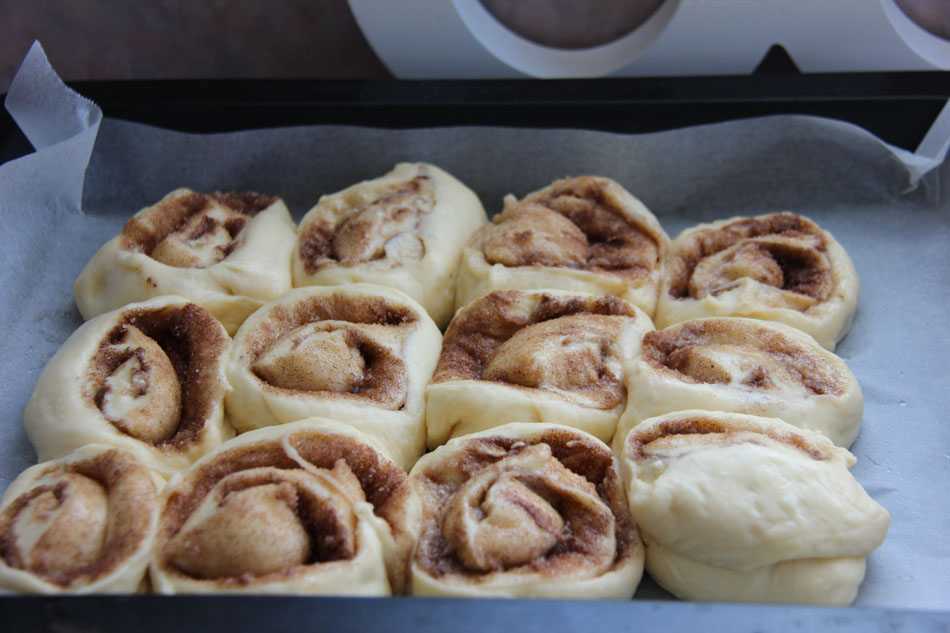 Bake at 350 for 25 minutes. I will say at this point (I should've said it earlier) that parchment paper is your friend here. I really would've hated to clean up a pan after baking these.
The house got that Cinnabon smell going and with all of the doors and windows open, I'm sure some of the neighbours were hoping they'd get some of these!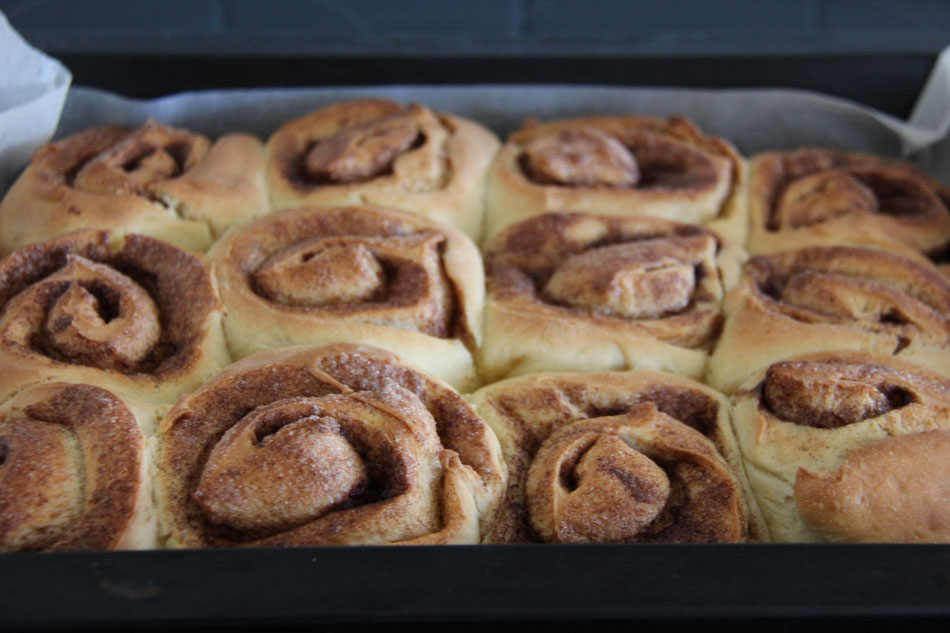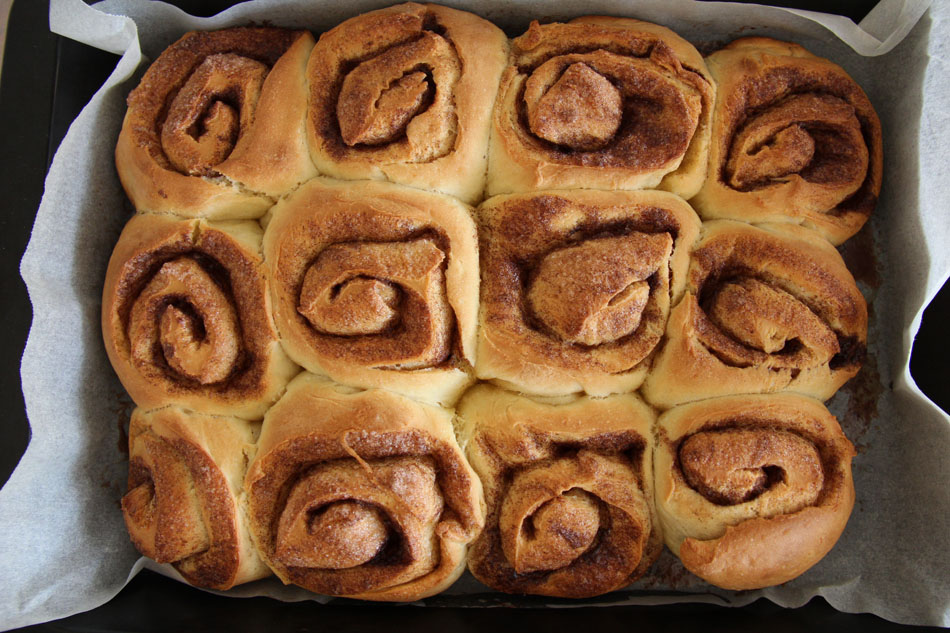 There's nothing worse than overcooked cinnamon rolls, so I had taken them out after about 20 minutes and pushed on the middle ones to find they were still a bit doughy, so back in for another 5 and they were perfect. Look how they filled up the pan! And this was just HALF the recipe! No way I made the full one…that's far too much temptation to have in one house.
Now the glaze. I thought I was at the bottom of the guilt pool by now, but the glaze had not only the typical powdered sugar, vanilla and milk but to make it even MORE calorie laden, softened butter, too. I guess this is what helped make it a prize winner.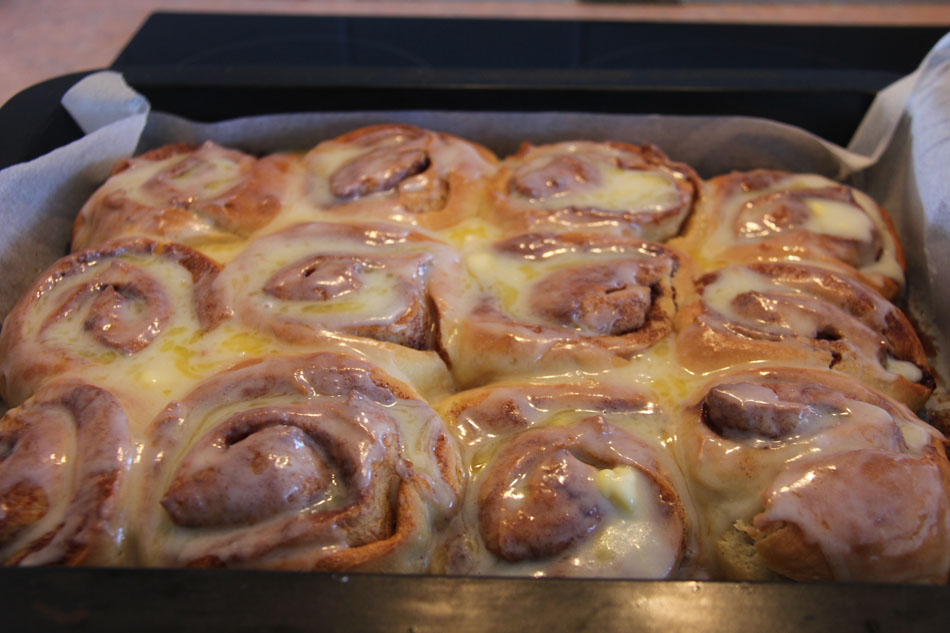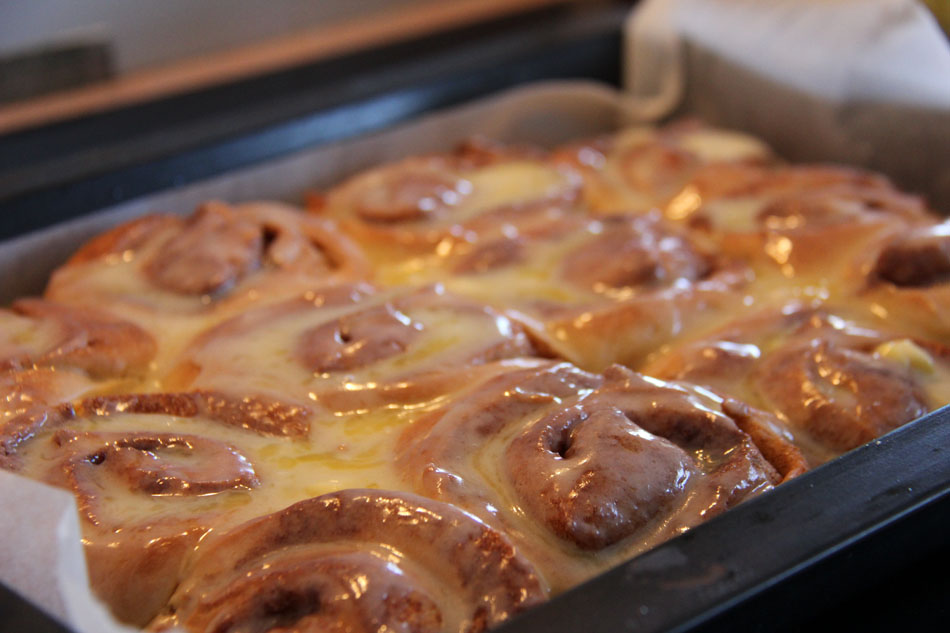 First bite…felt like I was back in the States at a gourmet bakery. Man, they were great. Soft, chewy, undeniably sweet and that 400 calorie bun left me wanting more. I hesitated for at least half an hour and decided I'd just have half. Then I went back later and had half of the half. Then for sake of cleaning up, ate the last quarter. Dangit!!!
I froze most of them (who knows how those will defrost) and kept 3 in the fridge. I did NOT have any for breakfast. I'm STILL hating myself. But I tell ya, should I ever need to win a contest or take a dessert to a party, this is the one. That way, everyone can hate each other, themselves and me for eating such a sinful dessert!