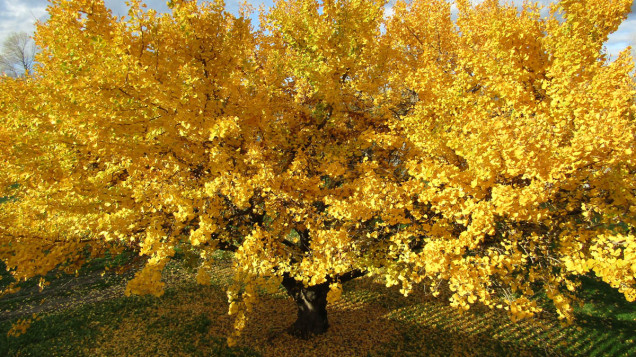 Four days after winter arrived, we finally went for a walk in a park near Hastings. We'd passed by it many times before, but the yellow ginkgo trees caught my eye and I had my camera with me. I declared we would be going there on our way back home (without any rebuttal from the driver).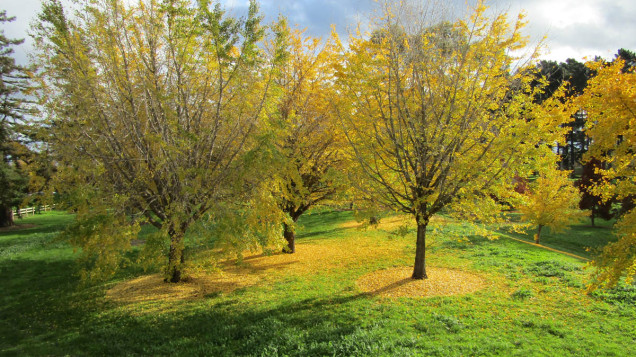 Pakowhai (pronounced POK-o-fie) Regional Park was clearly a dog park. People there (of which there were many) either had a dog or a baby. This is one park where dogs are allowed to run off their leads. Considering how crowded it was with children, I could only imagine this happening in the States. There were a couple of pit bulls running loose but I wasn't concerned. They don't have the bad reputation here that they do back home. Everyone seemed to be happy, including the friendly dogs who came up for a pat.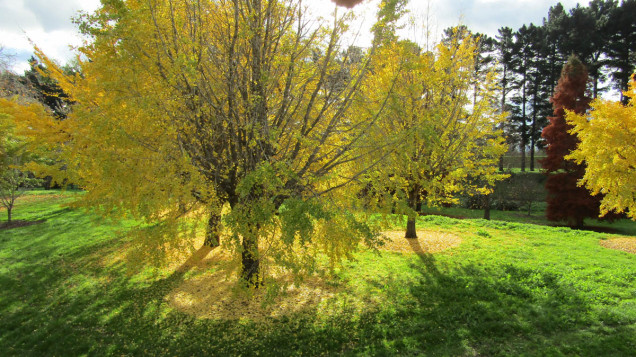 I immediately went the opposite direction of everyone and headed for the trees while the sun was still out. Unbelievably beautiful, it was hard to take my eyes off of them. It made me think about Pollard Park in Blenheim. It wasn't quite the caliber of that one, but it did have some typical New Zealand scenes.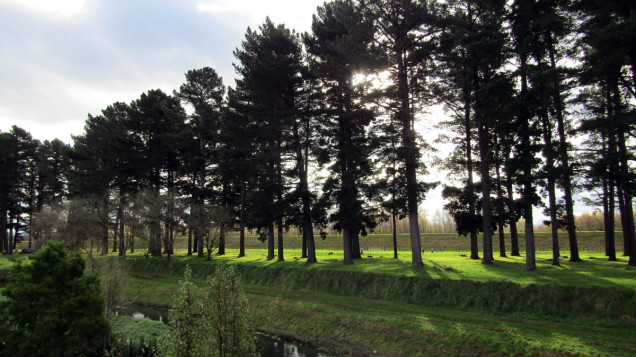 Large, mature trees that are perfectly shaped and super green grass that contrasts with fallen leaves. A mix of evergreens and large clumps of flax with a stream or river running through it, is always clear and cold. It's nature's eye candy and just makes you feel good to take it all in.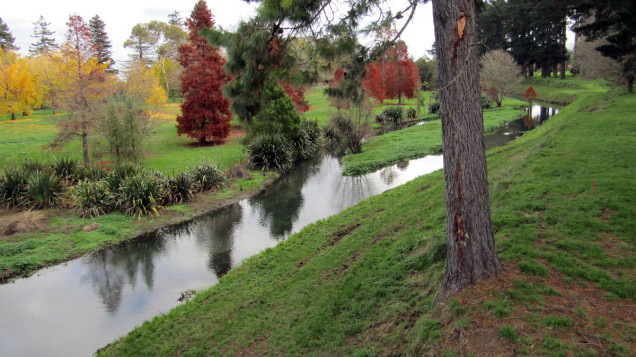 Leggy pine trees lost a few members, but I liked that they made use of the stumps. One tree had been uprooted from the recent heavy rains we had.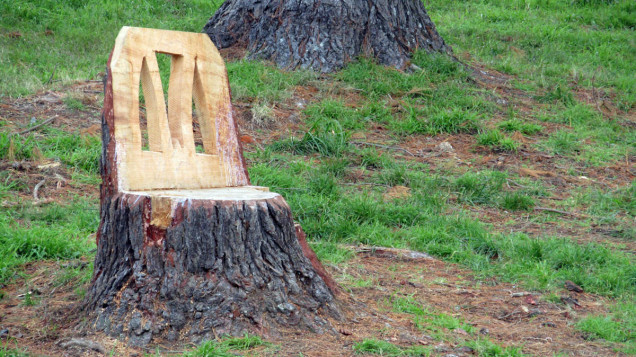 We walked back toward the parking lot and I was surprised to find a gathering of large cabbage trees. One had been cut down and the heart shaped trunk caught my eye.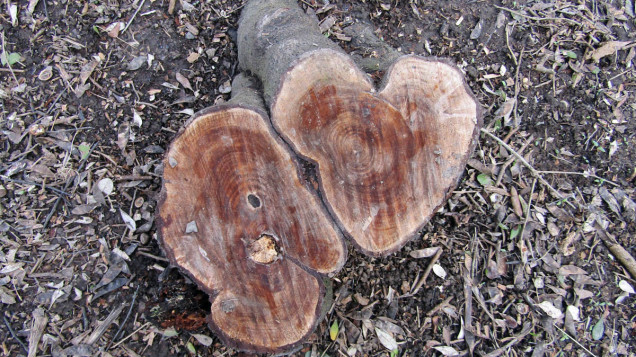 Some beautiful VERY white gum (eucalyptus) trees appeared around the bend, looking like the skin on an animal.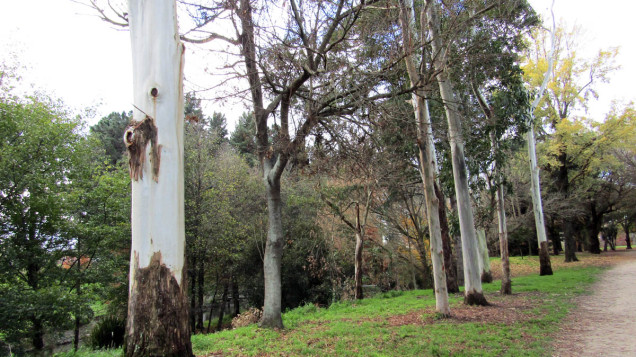 On the way out to Hastings, an apple orchard caught my eye as we were coming off a bridge. It was high enough to see over them so I said we had to pull over before getting to the bridge so I could walk up there and take a picture. This is a big fruit town, so most of the orchards you see are a lot of these creepy, multiple armed apple trees. They look like they come alive at night and run around terrorizing the town.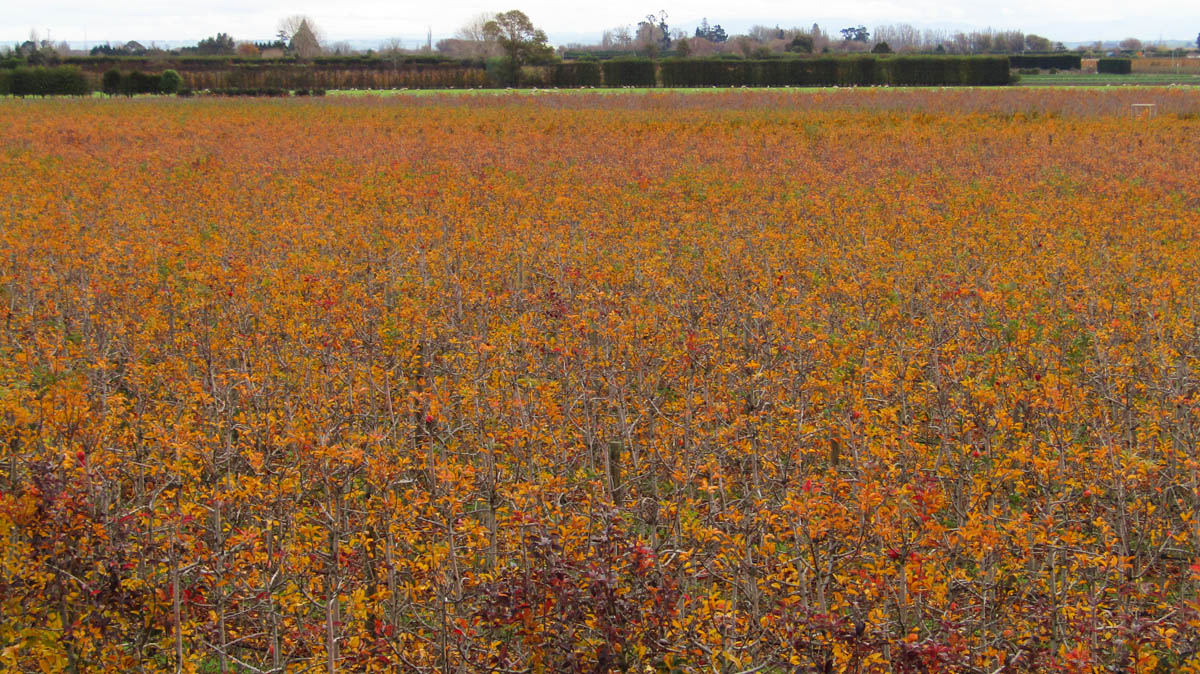 These seemed harmless enough and their yellow and orange leaves stretched as far as the eye could see. If you look close enough, you can make out some apples still clinging onto life. It's not a sight I'm used to seeing, coming from wine country, but definitely worth capturing. Now, the citrus trees are ripening so we'll have more oranges and mandarins than we can eat. I could think of worse problems to have.