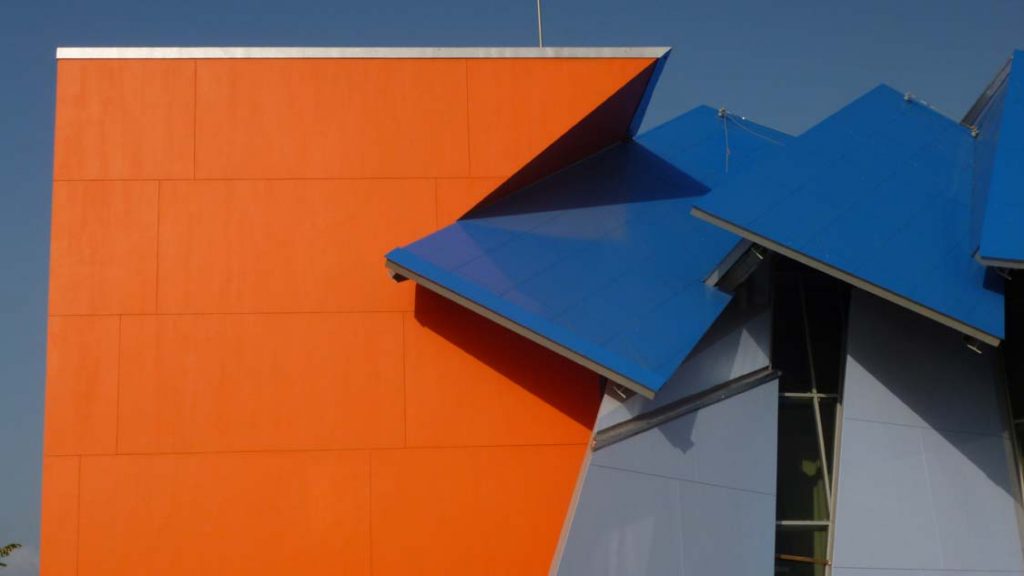 My last two days were spent with Jackie in the city and we were some of the fortunate people to be able to visit the Gehry Bio Museum before it officially opened.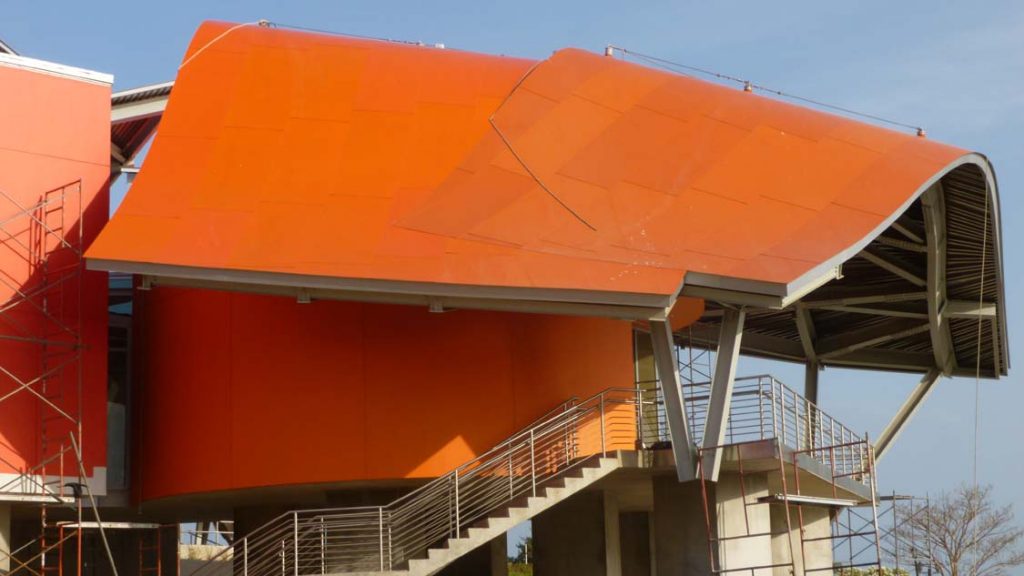 This is a funky building with Gehry being known for his architectural style.  It is located at the end of the causeway facing the Pacific and the opening to the Panama Canal. They are accepting groups with a reservation.  The cost for a non-resident was $35, resident $25 and jubilado (over 65) $13.  I got in as a resident luckily.  They still had about 3 exhibits to open but we saw 5 of them.  It was bright and colorful, overlooking the bay and had a VERY cool surround movie that you stand up to watch.  That was my favorite part of the whole tour.  Considering the size of the place, the exhibits weren't all that big, so I hope the other three they do will make it feel like you actually get something for the money.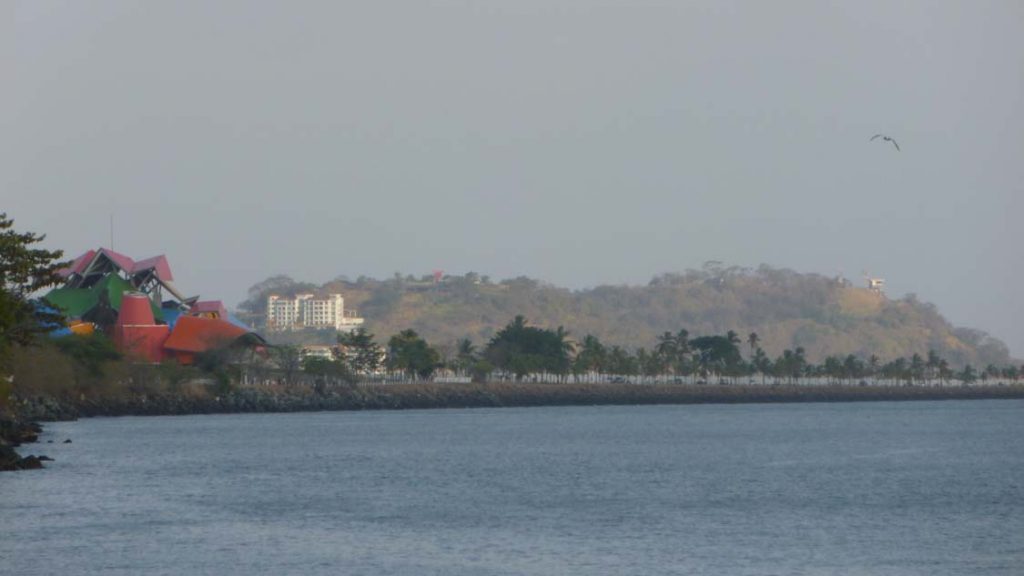 The area where the movie was consisted of 8 large screens with images on the floor beneath you.  It was a combination of the ocean, trees, animals and weather.  You were basically engulfed with images all around you and felt like you were right there in the middle of the scene.  It probably lasted about 5 minutes or so, but I could have stayed for 30 watching it again and again.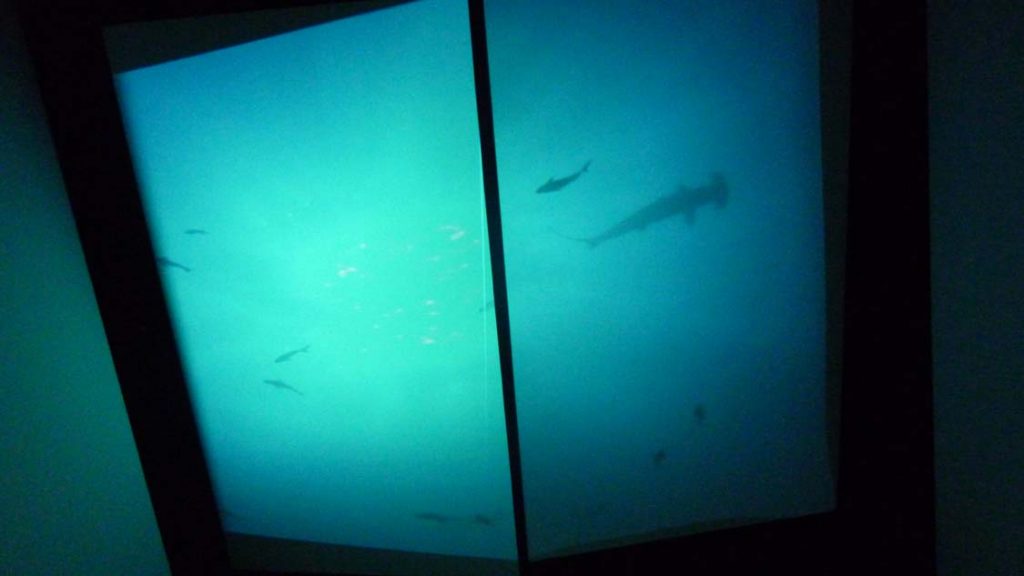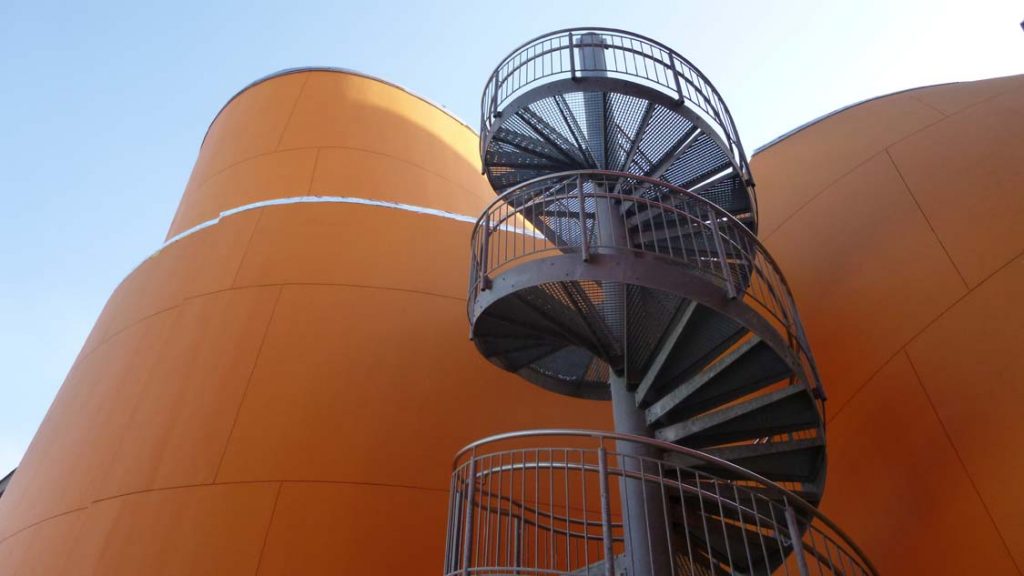 Another room had life size replicas of animals and the interesting thing was how they positioned them.  The previous exhibit talked about the Isthmus of Panama and how when the land bridge was created, the animals used it to cross into and out of the Americas.  So they had the animals heading south or north depending on where they were coming from.   I also liked that I would see a different animal each time I turned the corner that I hadn't noticed before.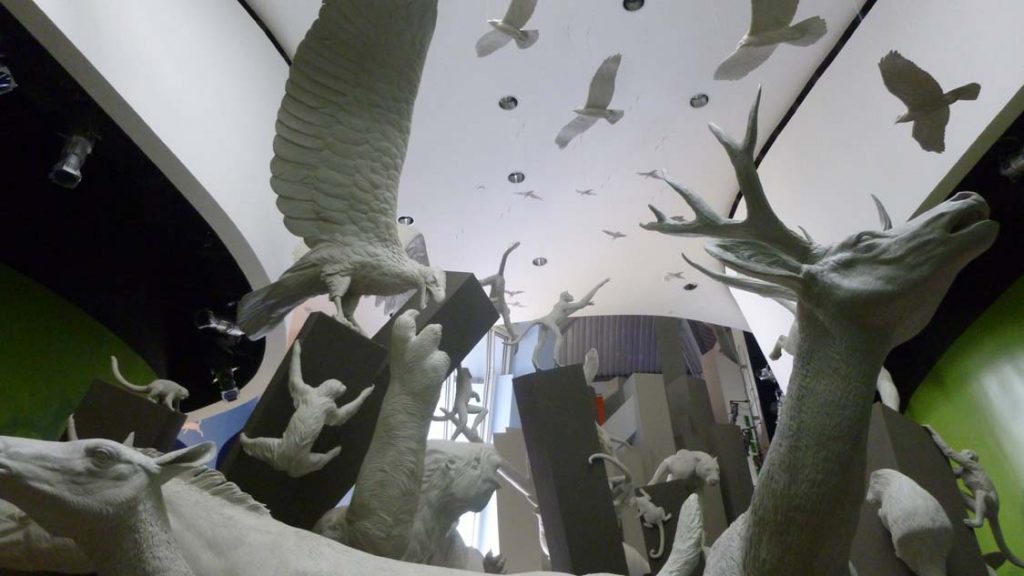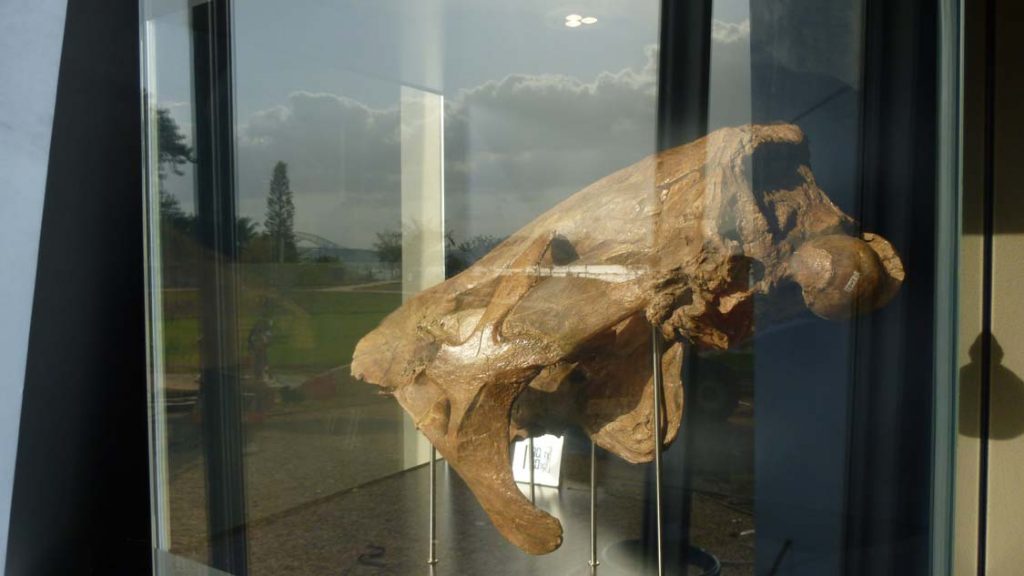 Finally, they had an outdoor area explaining the history of Panama which will be free to the public.  They are working on landscaping the grounds which they hope people will use for playing music, creating art or simply coming to have a picnic.
I'm really glad I was able to see the place as it's Gehry's only work in all of Central America.  They are way behind on the opening date, now saying the soft opening will be sometime in June.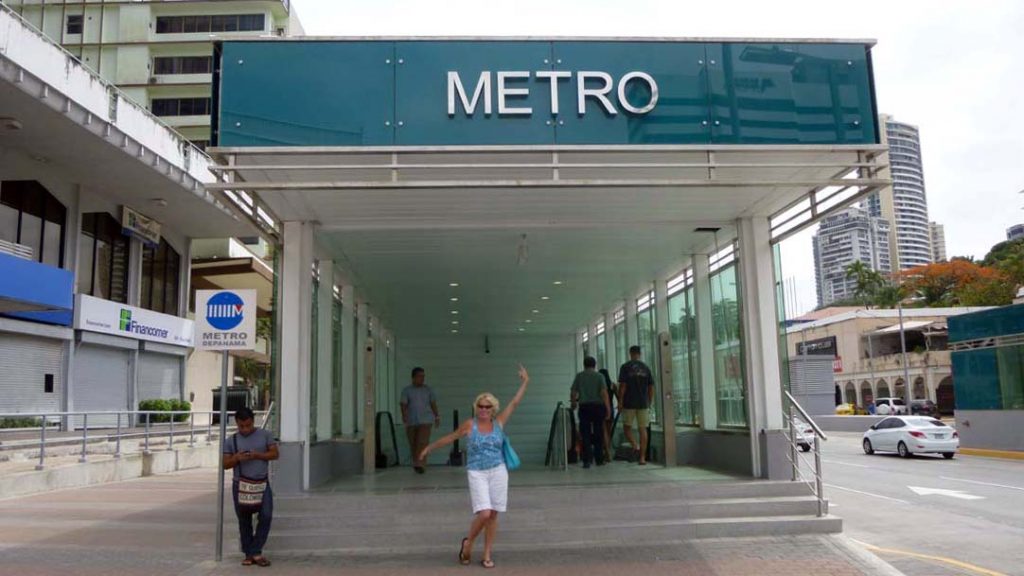 The next day we headed out on the new Metro!  We also found out it was free (after buying the $2 card) for the first month.  The rail only went to Albrook mall with about 5 stops along the way.  There will be more stops in the future.   It was amazing to me just how quiet people were on the train.  It was standing room only although not super crowded.  We got to the mall, not realizing it didn't open until 11 on Sunday.  We had coffee (the BEST) at Tryp then took a taxi ($5) to Casco Viejo…the old town section.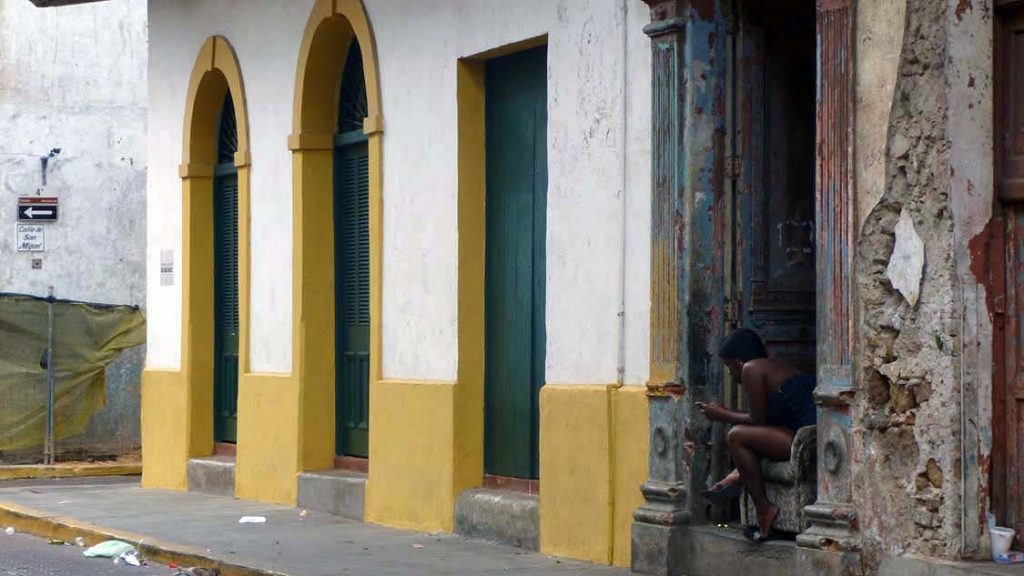 I really loved this area and could have easily spent another couple of hours walking around.  There was a mixture of new and old buildings with cafes, shops, parks, vendors and artists.  There were a lot of Kuna women selling their Mola's for pretty decent prices.  The Kuna's are some of the smallest people on the planet, next to the Pygmy's.  I felt super tall around them!  We also got to stand in front of the Presidential Palace for a while.  There was a live heron inside on the fountain!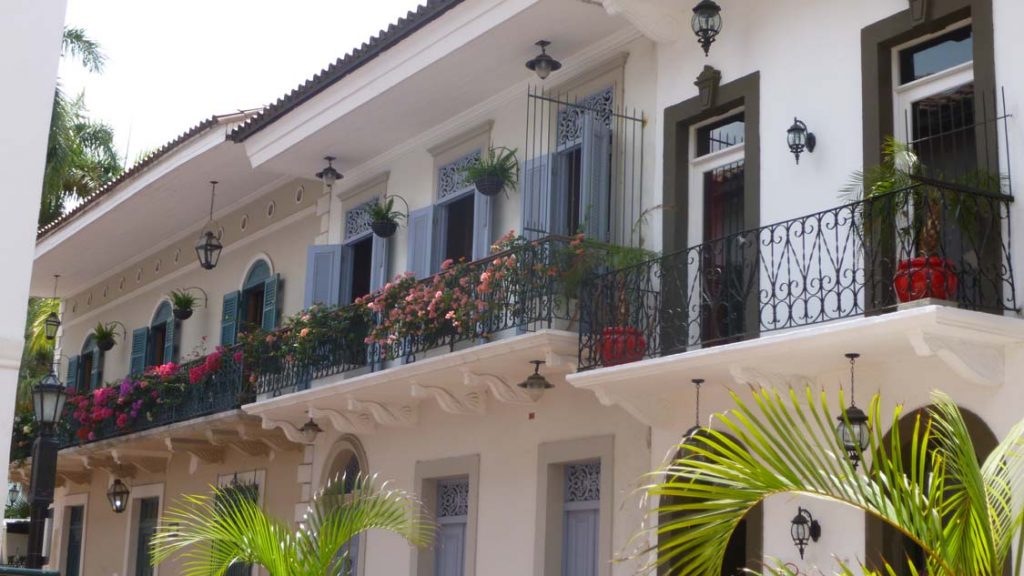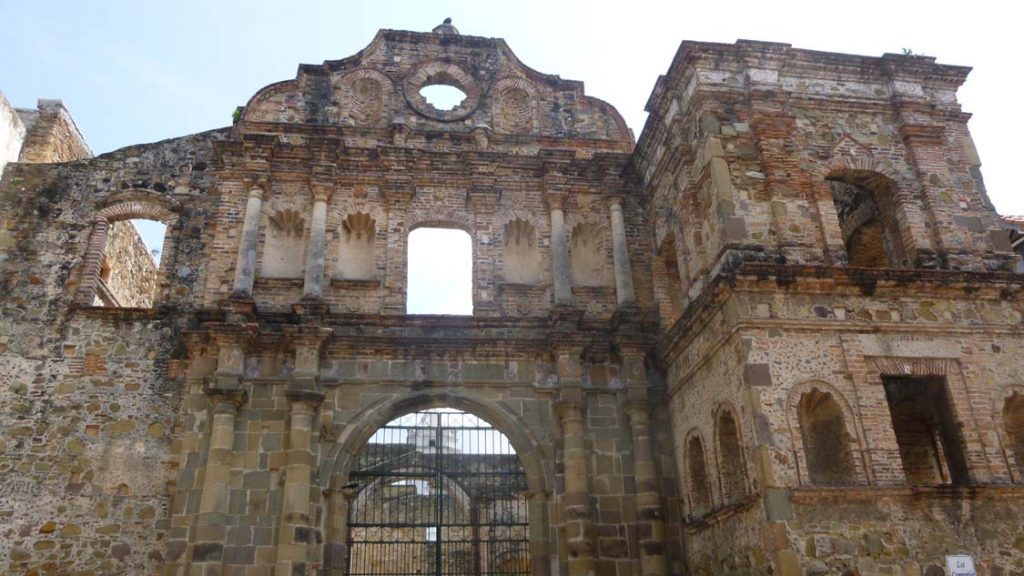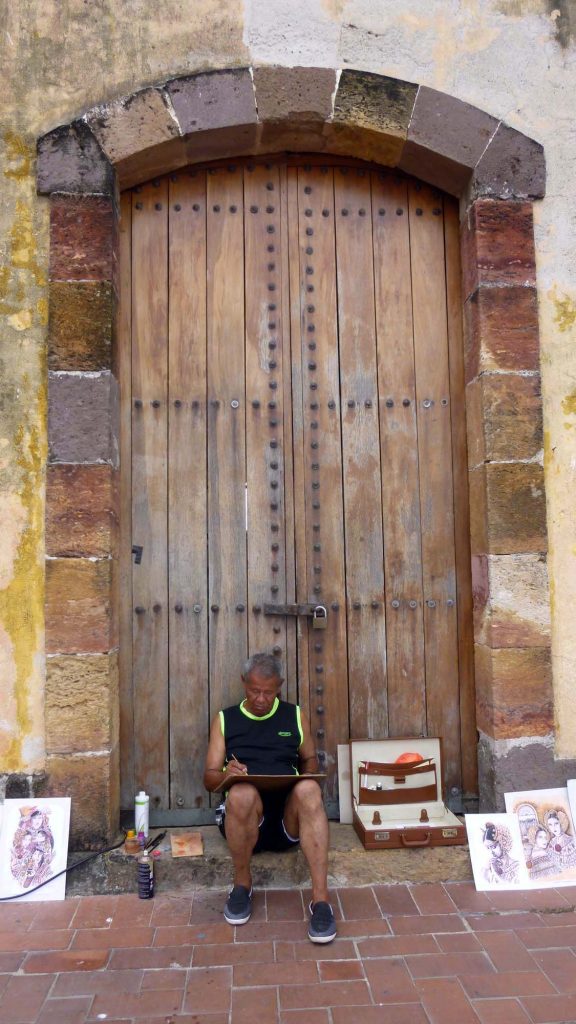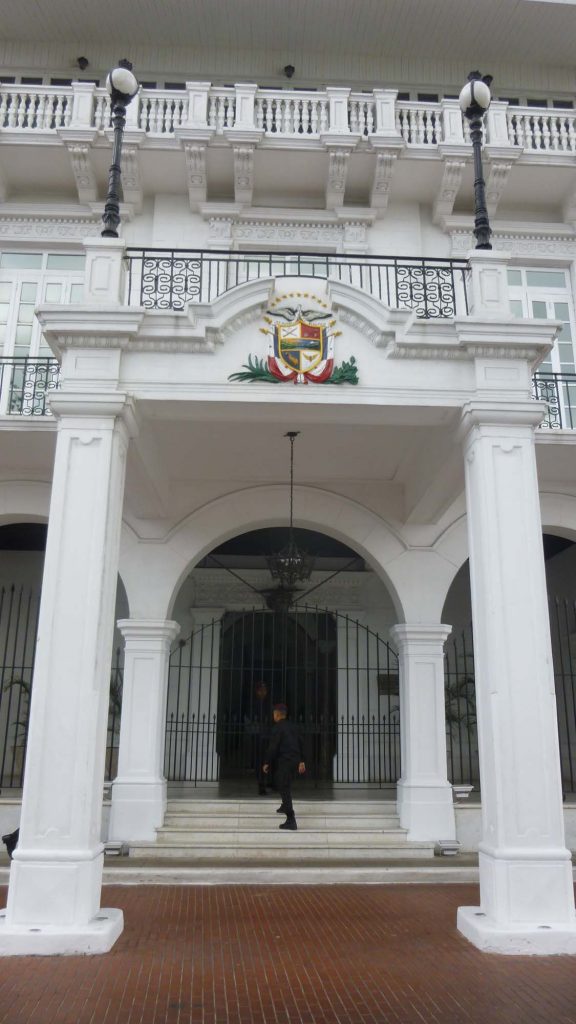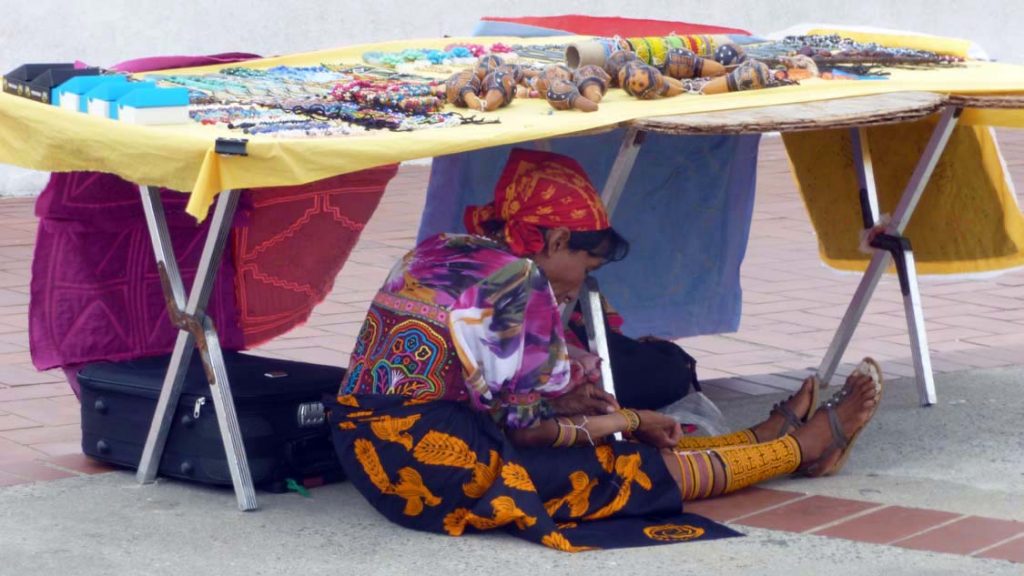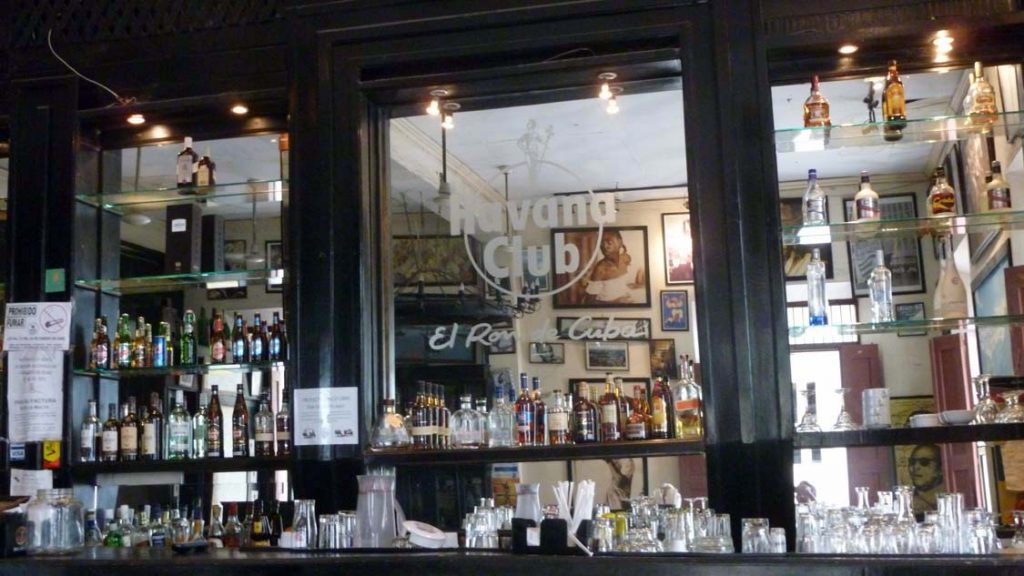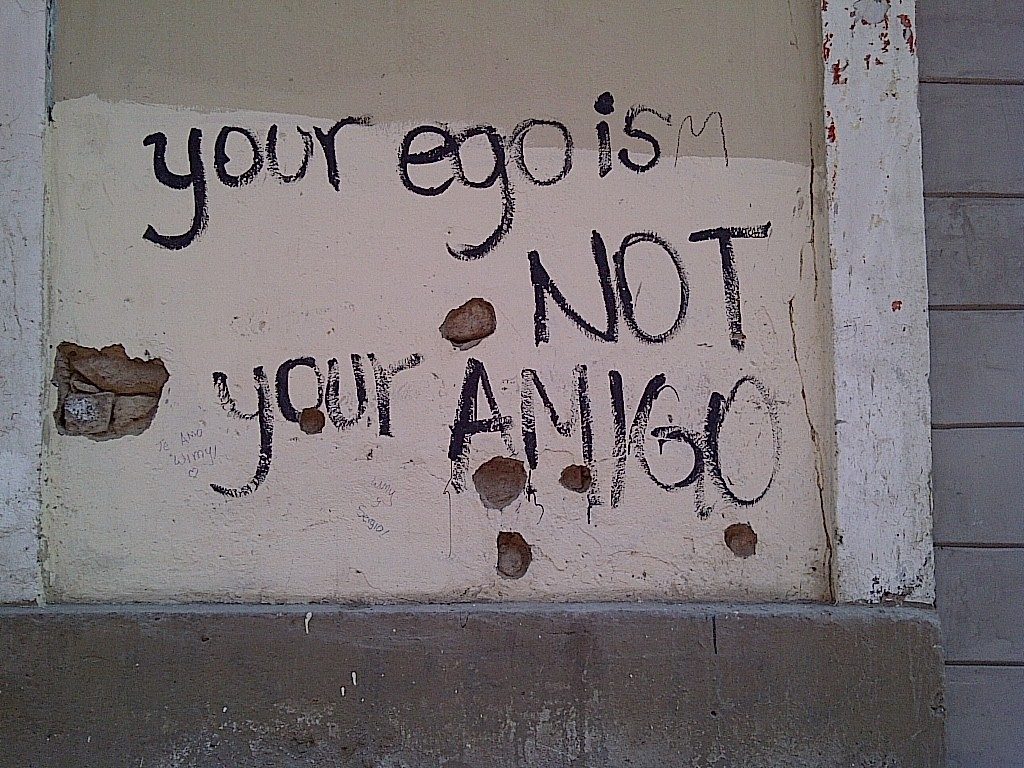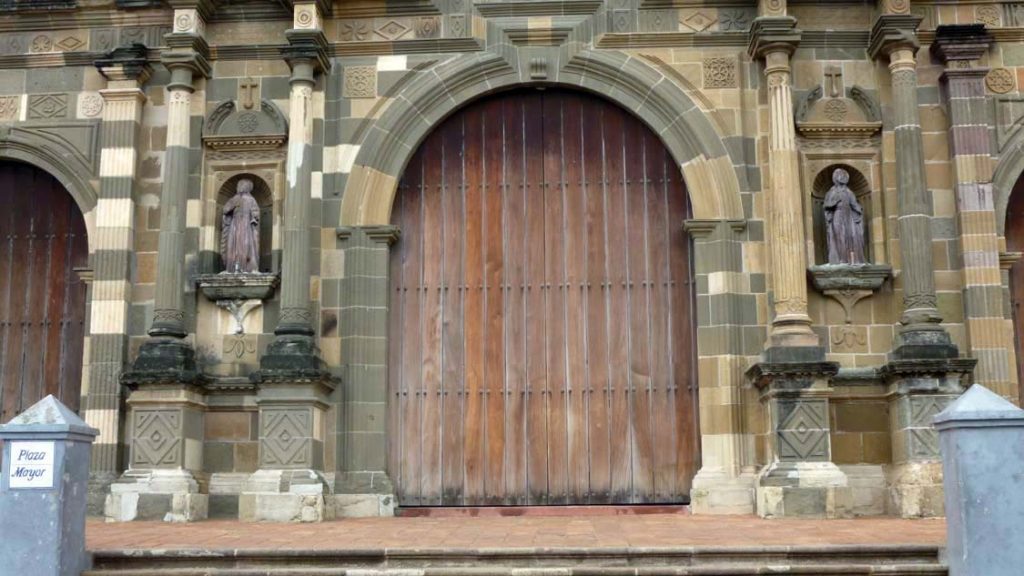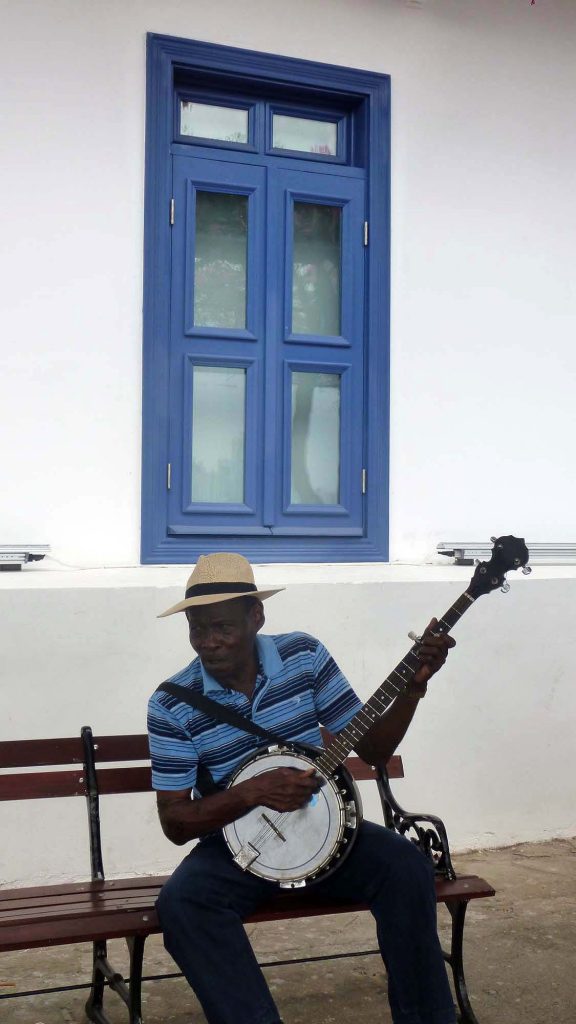 We ate lunch at a nice restaurant called Diablicos and had ceviche.  Not crazy about the $7.50 price tag on it, but it was air conditioned inside and filled us up.  I bought a couple of drawings in the park this man had and was happy I did…they were very beautiful (and he gave me a good price!).   We ran across a woman in a traditional Panamanian dress who was there for a photo shoot.  She was actually living in the U.S., but was born in Panama and felt privileged to be doing it.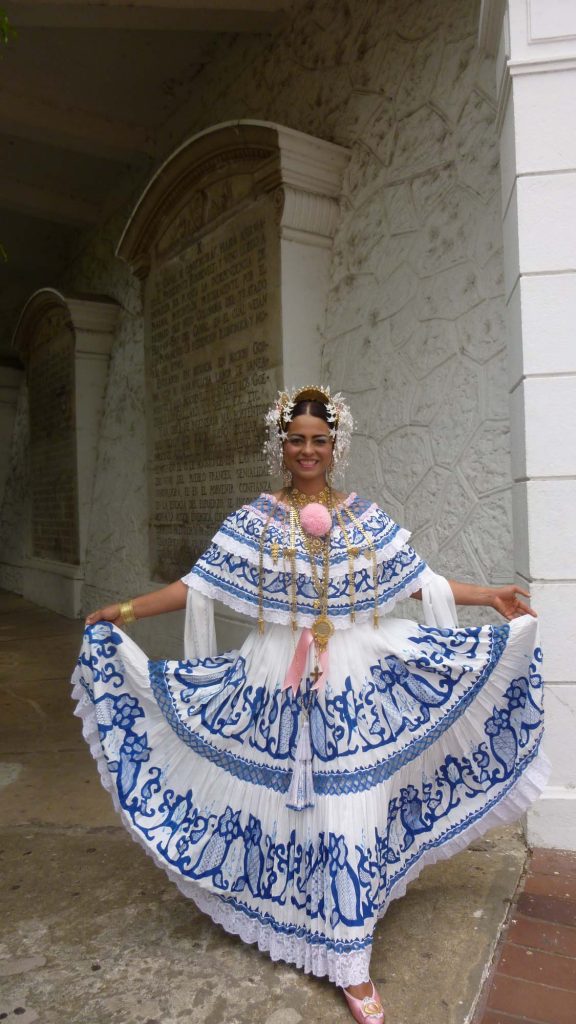 We headed back to the mall to catch the train again and it was a madhouse!  Being the week of Santa Semana and also being free, I was having my doubts that we'd even get on it.  We made it somehow.  I suppose they have enough trains going back and forth to quickly pick up and unload people.  We stood by the door again which was the only breathing room available.  It was a quick 10 minute trip or so.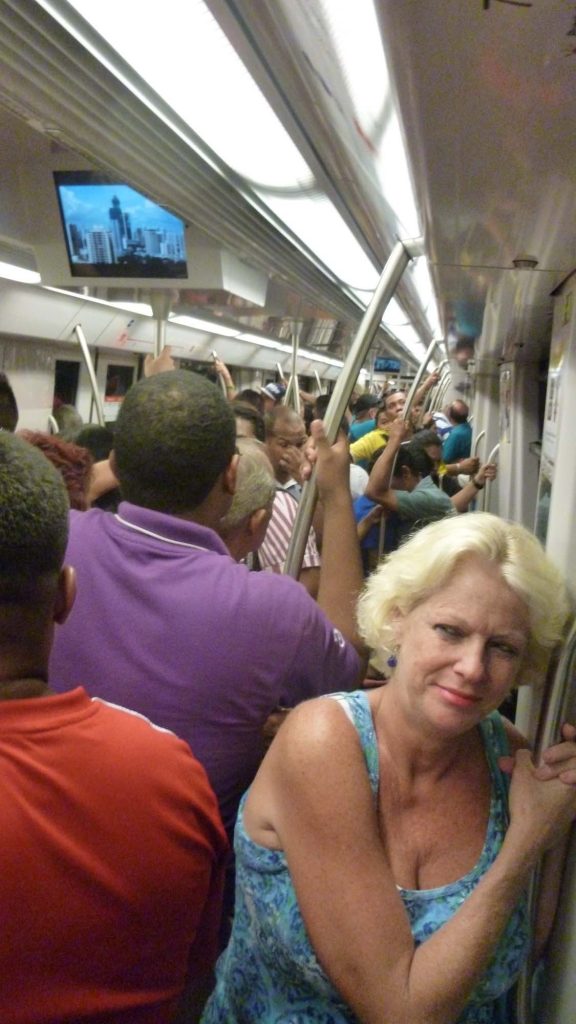 We hit Jimmy's for dinner and it was outstanding!  It was going to be the last of the gigantic shrimp for me in Panama, so I splurged and got them fried.   Jackie had them with garlic and that was one of the most delicious things I've ever tasted in my LIFE! We also got some garlic pita bread and dinner came with salad and twice baked potato.  We wanted to collapse after eating.  It was painful, but so good.  The bill with two glasses of wine came to $53 before tip.  Not bad!
I've had a lot of fun in Panama, especially in the city.  I sort of hate to leave, but know I can always come back and hang out with my partner in crime.  Jackie was a life saver for me, getting me out of the house and town quite often and showing me around.   I'm glad she loves the beach as much as I do and took those road trips with me.  Thanks so much, Jackie!  You haven't seen the last of me!
I hated leaving right when the mangoes were coming into season and also right before the rains came.  I will remember Panama as being dry, hot and dusty.   I wish I could have seen it get green.  However, one thing I won't miss is the amount of trash everywhere and do hope one day they get on the 'No Litter' campaign for their sake.   The frustration with people, service and traffic may take longer to alleviate but then again, no country can be perfect.   So it's time to take a break and go back to the States for a few months but I have a feeling I'll want to come back down South again or maybe head over to Europe for the summer.  The journey continues….