I'm in the Interbus (just a mini-van really) on my way from San Jose to Puerto Viejo.  I was promptly picked up EARLY…8:00 instead of 8:10 and scored the front seat which is awesome.  I'm sure everyone else unknowingly appreciates the fact that I won't be car sick.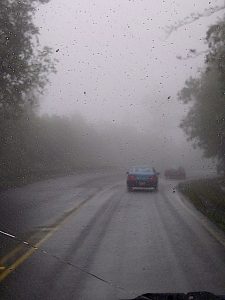 There is a long stretch of road leading out of SJ through a national park and every time I've been on this road, it's always raining.  It was clear and beautiful in SJ, but this road…fog and rain.  It amazes me the road is in as good condition as it is.  You will inevitably get stuck behind an 18 wheeler doing 4mph.  So after what seemed like an hour, he finally let people pass.  My driver didn't want to risk the next curve so we got stuck behind the truck again.  Then I saw a nice stretch of road with nobody coming and he took that opportunity to pass.  It's always a harrowing experience when you're doing that, right next to the truck and you see a car and another 18 wheeler round the bend coming straight at you.  Of course, that's what happened.  But the Ticos are good drivers and we squeezed in between them all back into our lane.  No casualties.  This was right after we passed a long guard rail that someone had obviously run into and thankfully, appeared to NOT have fallen over the mountain.  Although I can't say for sure.
It is holy week here, which means everyone is on vacation at the beaches and mountains and shops are closed.  I need to find a USB air card that accepts a SIM so I can get internet in my little casita.  Probably won't happen soon.  I think I can get internet at the guest house across from mine, so that will be fine.  I am always in a rush when I'm here and it's nice to just be able to say…'eeehhh…it's ok…it can wait' for once.  That's a good feeling.