If you know me, you know my plight every year when Thanksgiving rolls around. Scrounging up money to buy a turkey that's about the size of a large chicken at 4 or 5 times the cost. To a turkey lover, such as myself, it's a necessary evil. All year round, I think about Thanksgiving…waiting for it to arrive. THAT'S how much I love turkey and the great memories it brings of being with family and friends. I stock up on the jellied cranberry sauce from the American store in Auckland and look forward to turkey sandwiches for a couple of days after the shindig.
We drove to the beach one day, which is a good 35 minute trek through gorgeous rolling hillsides with happy, grass munching sheep and I spotted a flock (or rafter) of turkeys in a field! Our mouths started to water and I kidded how I was going to make a mental note of where they were when November rolled around. As we drove a bit further and rounded a bend, a huge black turkey was perched on a fence post. I'd never wanted to have an animal jump in front of the car as badly as I did right then. I would have gladly taken that piece of roadkill home and saved us $65.
A few days later, I was with a couple of friends and asked if they knew of any turkey farmers in the area so I could get a cheap one for Thanksgiving. Liz said there were wild ones all over the place and to just go out and kill one. HAH! I didn't actually realize they were wild…I had heard of farmers who had them so it never occurred to me that these were free roamers. I blew off the idea because I couldn't actually kill an animal and clean it. I recall getting ill in biology class when we had to dissect a worm. I was promptly dismissed from my duties when the teacher saw how white my face had turned.
No more than two days later, there was a knock at my door and Liz stood there, looking quite sporty in her hat and gumboots. She proudly proclaimed that she had a turkey for me! I was like, "Huh?" Her son and husband had shot four of them and asked if I wanted one. I went to the truck and they opened the back of it…lying dead as door nails were four big, black turkeys.
Now I felt guilty. There was no way I could bring myself to plucking and gutting the thing and so I offered to pay them if they did it for me. They were kind enough to oblige and once the shock wore off an hour or two later, I asked her to get pictures for me so I could blog about it.
Not for the squeamish, right? Liz's husband works for the meat packing plant so this is just another day at the office for him. I'm still feeling slightly bad about it, though.
Liz cooked up her turkey soon thereafter and gave me some white and dark meat to try. As an interesting aside, she said that you shouldn't hunt turkeys in the late spring or summer. Apparently, they eat crickets and that changes the taste of their meat. She let me know that there were no crickets in the gizzards so that was good to hear. I will say that the dark meat was not like the turkey I was used to tasting. It was very 'gamey,' as they say (even though I don't eat wild game, I can see what they mean now). I wouldn't have thought there to be a difference, but I was wrong! As one local told me, "Keep the breast, toss the rest!"
I took the turkey from them after a week or so…they had kept it in their large freezer for me. It now fits snugly in the bottom section of our freezer and takes up the entire space, unlike any turkey I've ever had in New Zealand (and I struggle to remember the last time I cooked one this large in the States). I'll defrost it a few days in advance and hope it fits ok in the oven. Yes, everything is smaller here…refrigerators AND ovens, alike.
We're now spotting turkeys everywhere we go, it seems. The other weekend we took a drive to see a small man-made lake just 10 minutes away. On the way out, there was a turkey on the side of the road looking like he wanted to get on the other side of the fence. We slowed down and stopped…waiting for him to run out in front of us! Hah…ok, not really. He stayed in the grass, possibly noting my American accent and tried to blend in. We laughed it off and kept driving…still feeling badly having one of his relatives in our freezer. This one was safe…from US, at least.
So the day has finally arrived and even after 4 days in the fridge, the turkey was still frozen the night before Thanksgiving. I woke up early today and took it out to unwrap and thaw some more and to test the size in the oven. Uh oh…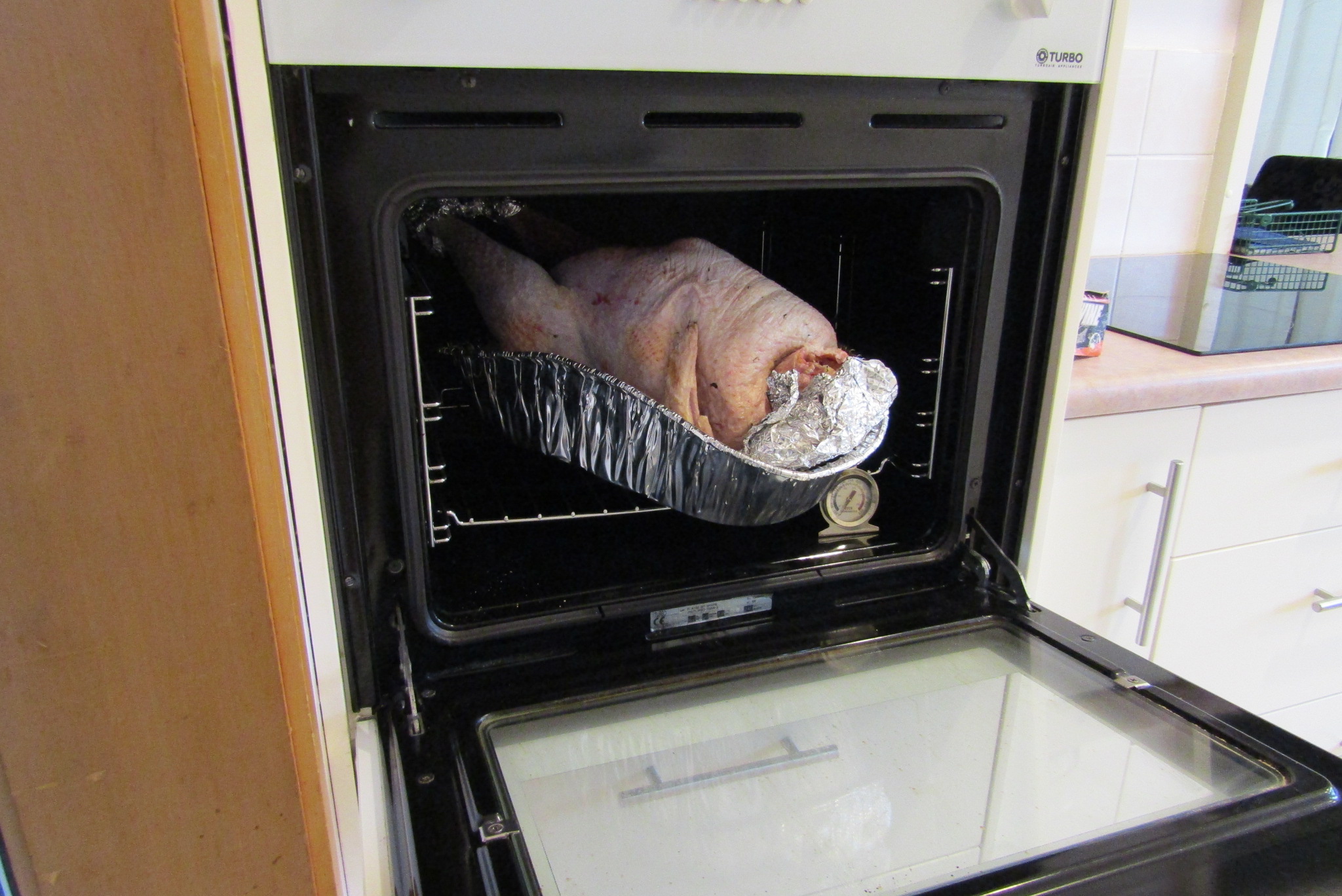 I tried to bend the legs back, to no avail. The neck was pretty much still on there (covered by foil). I stood there at 6:30 a.m. wondering if I should try to hack it off and said, "Nahhhh." I couldn't stomach it, regardless of the time. I'm not entirely sure how to shove the butter under the skin but I'll tackle that later.
Heck, I even made a butter pie crust for the first time in ages last night!
As the time grew closer to stuffing this bird in the oven, I figured I'd better hack off the neck. Two knives later (and fingers still intact), it was off! I moved it to a sturdier roasting pan and then tried to put it in the oven. Didn't work. I tried tying the legs together and pushing them in but this was the best I could do. Tin foil will be my friend today.
Thanks to the small oven, it cooked in about half the time it should have and the legs were a bit, shall we say, overdone. However, the breast was still semi-juicy and only slightly tougher than the plastic wrapped counterpart I'm used to. It wasn't the most attractive turkey I've come across, but hey…whatever works, right?
The turkey was too big to fit on the table, plus I had nothing to even put it on. The breast was smaller than I would have expected for such a large turkey, but there was still plenty leftover. Liz brought over a pumpkin cake and a bottle of bubbles and she cleaned her plate on her very first Thanksgiving dinner. Thanks for the turkey, Liz and hope to do it next year too!