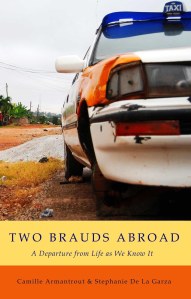 I'm happy to report that Camille and I have published our book, "Two Brauds Abroad" which is now available directly from us or on Amazon (paperback or Kindle)!
The book is mostly comprised of our email correspondence while Camille lived in Africa and I lived in Costa Rica. I was preparing my escape from life in the States when Camille and her husband moved to Ghana for work. We commiserate on the challenges and discomforts while also taking time to reflect on the better things about living abroad. We offer up practical advice about making the move yourself and what to expect once you get there.
Camille and I have been friends since 2005 when we met in Nicaragua and it's been great to collaborate with her on this project. I'm happy to report that we ARE still friends after this year + of working together. Thanks for making it happen, Camille and here's to many more travel stories to come! Feel free to share with anyone you think is interested in reading what it's like to live abroad!
We thank you for your support!!