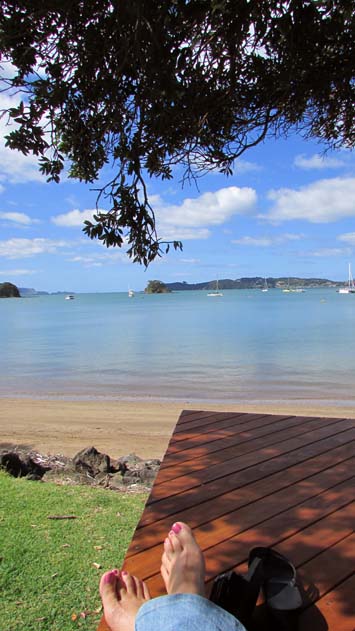 It's been a relaxing week up north (35 degrees south latitude on a map) in Paihia. The Bay of Islands is comprised of 144 of them…at least that's what they say Captain Cook counted. I've stayed just around the bend from the beach. Yachts and sailboats anchor in clear blue waters and backpackers trudge up the street a few times a day when the bus arrives. It's a sleepy town for the most part although I arrived the weekend of Labor Day and it was pretty crowded. The people were friendly as usual and the motels I stayed in were great!  Everyone had left by Monday afternoon and the town relaxed again.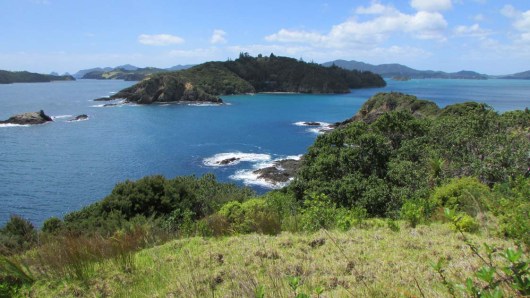 It's a place with quite a bit to do and has a lot of history behind it. The treaty grounds were up the road a few miles where the Maori and the British Crown signed a peace treaty in 1840. It's considered the founding document of New Zealand but problems with the interpretation and rights associated with it continue to this day.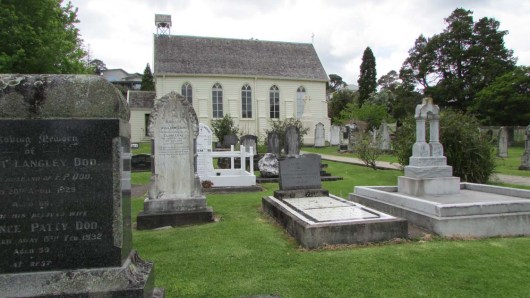 Across the bay, a short 15 minute or so boat ride is Russell. This is where the first church of New Zealand still stands (musket holes in the side and all). This is also where one of the most expensive rentals is…the likes of Tom Cruise, Johnny Depp and Brad Pitt helicopter into this place at a mere $15,000.00 a day in high season. Only $12,000.00 a day in low season. Pocket change!
After a couple days of rain, and my departure from there a day later, I decided to stay a couple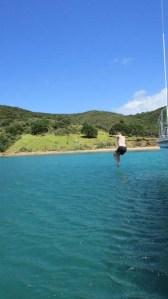 more nights. What a great decision maker I am!! The weather cleared, the winds picked up to about 20-25 knots and I figured it'd be a great day to go sailing. I got a charter with 'She's a Lady',  a lovely sailboat along with 8 other people.
We sailed out to Moturua island where it was crystal clear with nobody else around. One crazy Canadian jumped off the boat and swam to shore. Some even got in and snorkeled! The water temp is about 62F. No gracias. Our skipper claimed it's what's saved New Zealand from overpopulation. I really wish I could jump into that lovely blue water without cardiac arrest occurring…but so it goes.
There was an old bunker at the top of the hill that some of us climbed up to and the view was postcard material. We had a nice lunch on the beach then headed back out. We saw million dollar homes belonging to people you've heard of…one with a his and her helicopter parked out front.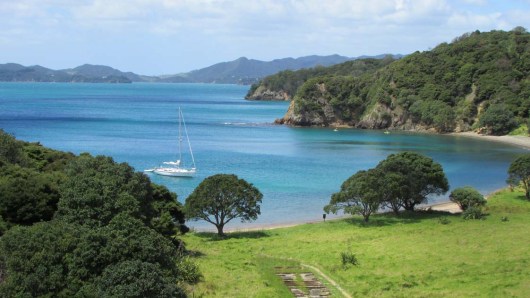 I was trusted to do some of the sailing and helped pull in the ropes for the sails a few times. We saw a pod of bottlenose dolphin fishing and flying up into the air. Someone caught the glimpse of a penguin swimming by as well.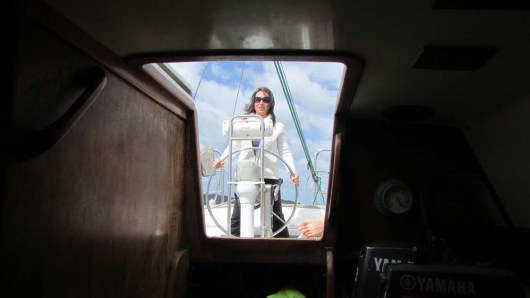 The beaches in Paihia are littered with oyster shells clinging to everything. When the tide goes out, the broken mussel shells reflect purple, blue and silver in the sun. Most of the beach is packed full of small shells. I got some serious shiny object syndrome going on out there. I could have just wandered with my head down for days on end. I can't recall ever seeing a beach quite like it before.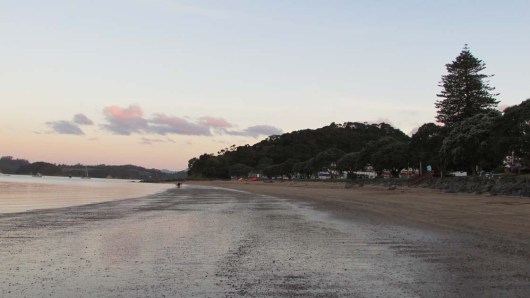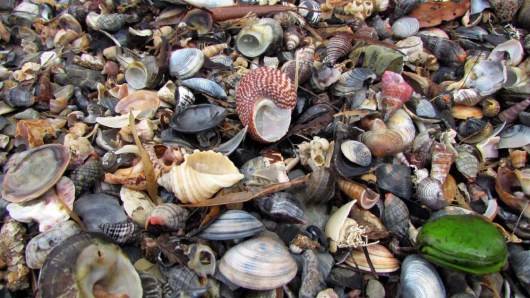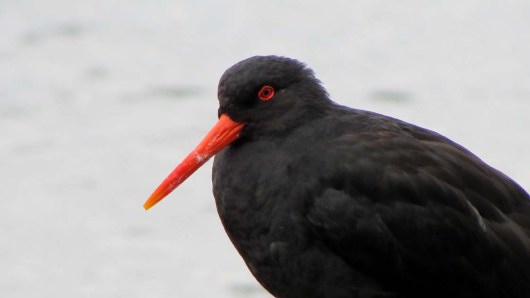 Well, the fun had to end sometime so off to Auckland I went on the Naked Bus. No, you don't ride it naked, that's just the name. Yeah, I thought it was weird too. Four hours later and about $30USD lighter, I arrived in the big city! This really was a big city for me…with Prada, Louis Vuitton and Gucci all within walking distance of each other.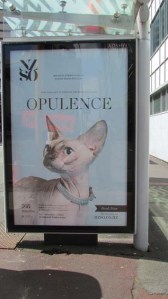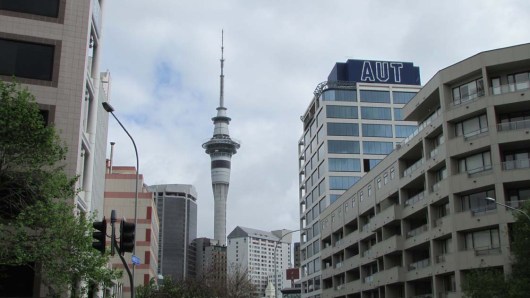 I found myself drifting toward the water after checking out the park (more creepy trees) and orienting myself with the streets.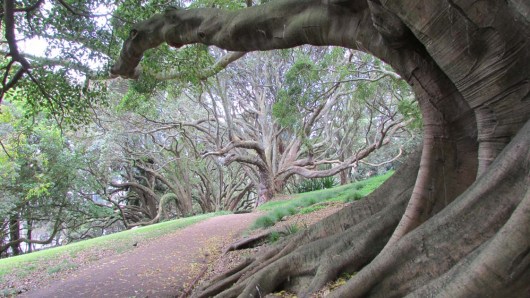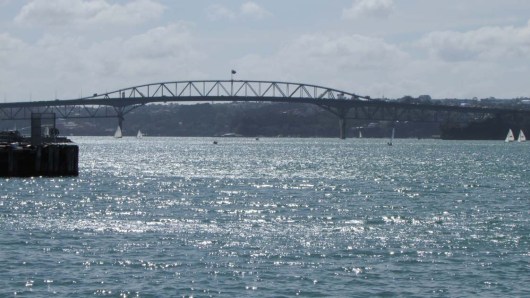 I had to see Sky Tower where people were jumping from insane heights. Sky Tower is 1076 feet tall (I'm sure they're including the needle at the top).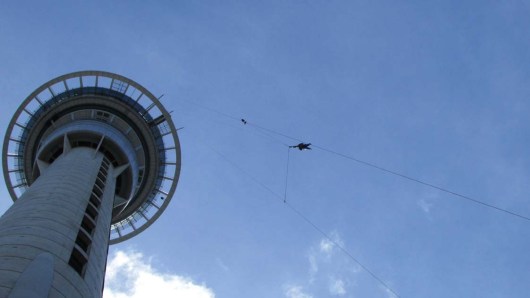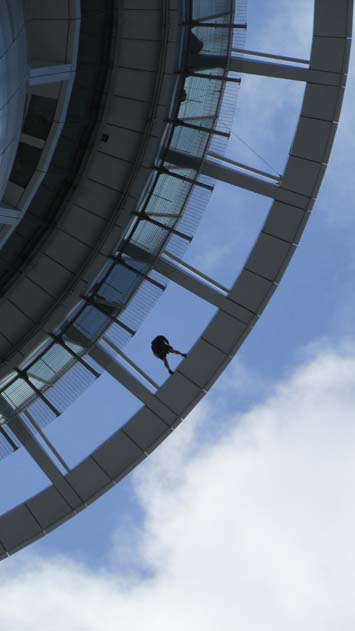 I checked out the penny slots in the casino and was promptly separated from my money. I popped into a Mexican food place for a glass of sangria then headed out to an Irish pub for a steak dinner.
I'll be heading to the lovely Sunshine Coast in Australia next for some R&R at the beach for a week and a half before starting a house sit that will take me through Christmas and into the new year!