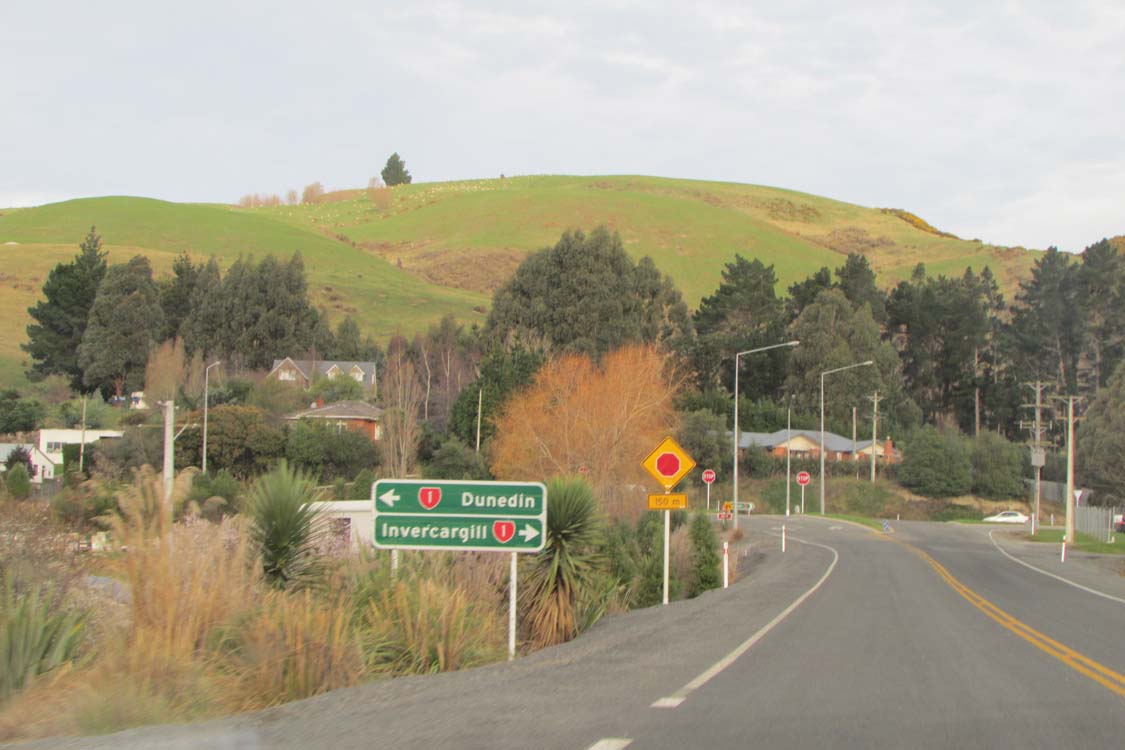 Where to start? I've only been here for 10 days but it seems like a month already. Quite a bit has transpired since I arrived, starting with my cancelled flight to Dunedin from Auckland due to snow. It wasn't that pressing that I got down there that day, so I holed up in a not so great hotel down the road from the airport.  I didn't have a first impression of New Zealand by staying there, really. However, walking around to find something to eat and checking out a nicer hotel, I saw in the distance a large tall field with trees on it that looked nice, but that was about it.
The flight to Dunedin (which is located near the southern tip of the southern island) was amazing. It's the only land I've seen besides Guyana that has been so sparsely populated.  Of the 4 million people in NZ, 3 million live on the north island, mostly in or near Auckland and only 1 million on the south island. I saw a huge snow capped volcano and mountainous areas devoid of trees. I was actually surprised at how few trees there were. Apparently NZ had about 80% of its land covered by them but when people came here, they were cut down.
There aren't many animals here either. The poor flightless birds that were native to NZ were killed by introduced species like humans, cats, rats, possum, pigs and dogs. I thought I was asking a dumb question as to where I could find kiwi birds, but I was told that they are very hard to see in the wild. I believe the only mammal here is a bat. NZ is free of snakes which is amazing but does have the sweet tuatara lizard who is a relative of the dinosaurs. Those are hard to see in the wild as well but can live between 60 and 100 years!
When I was about to land in Dunedin, there were patches of tall dark trees poking up out of the earth like knives standing on end. I could see where the snow still hadn't melted in spots yet and bright yellow bushes dotting the landscape.
The following day, I got into town and had a look around. It certainly was quite different than what I've been used to seeing. First, the weather was very cold and damp. I stayed bundled up in my jacket, three layers of clothes and bought Merino gloves right away. It was overcast with drizzle on and off and then the sun would come out. However, it was subject to change at any given moment and I learned quickly to always have an umbrella with me.
There are quite a few photos, so I'll post them here with comments under them:
I was able to take a penguin/albatross/fur seal tour the other day and luckily it was beautiful! Not a single drop of rain. The tour only had 7 people, 4 of which didn't speak English so it was a fairly quiet group. We were able to go onto private land to see the very rare fur seals, hooker sea lions and yellow eyed penguins. We stopped at the Royal Albatross Center which is one of the only places in the world based on a mainland that albatross nest.  They are the largest sea birds with up to a 10 foot wingspan! We saw about three fly over us and the views out to the ocean were spectacular. If it's not obvious by now, I like taking photos of the sea gulls. They're actually quite beautiful and they pose very well. I didn't realize I caught this one flying in until after I took the photo:
After that, we drove about 40 minutes toward the peninsula where huge hills awaited us.
Fur seals were hunted to extinction by European hunters last century. Luckily, a large population increase occurred over the past five years here. They looked silky soft!
Then it was off to see the penguins and sea lions! The scenery did not disappoint and was literally breathtaking (especially after coming back up the hills!) The hooker sea lions are the rarest of the world's five species of sea lions and are endemic to NZ. The Maori hunted them to extinction centuries before the Europeans showed up. These males weigh up to 880 pounds! They can also live up to 25 years and can dive to depths of over 700 feet!
We waited patiently for the penguins to come in from the water. There were two on the cliffs already and finally one appeared right before we left.
The drive back provided some great shots of the sunset, albeit from the inside of the van.
I feel this was the first time I got to see the New Zealand I have been hearing about and I look forward to seeing more of it over the next few months.