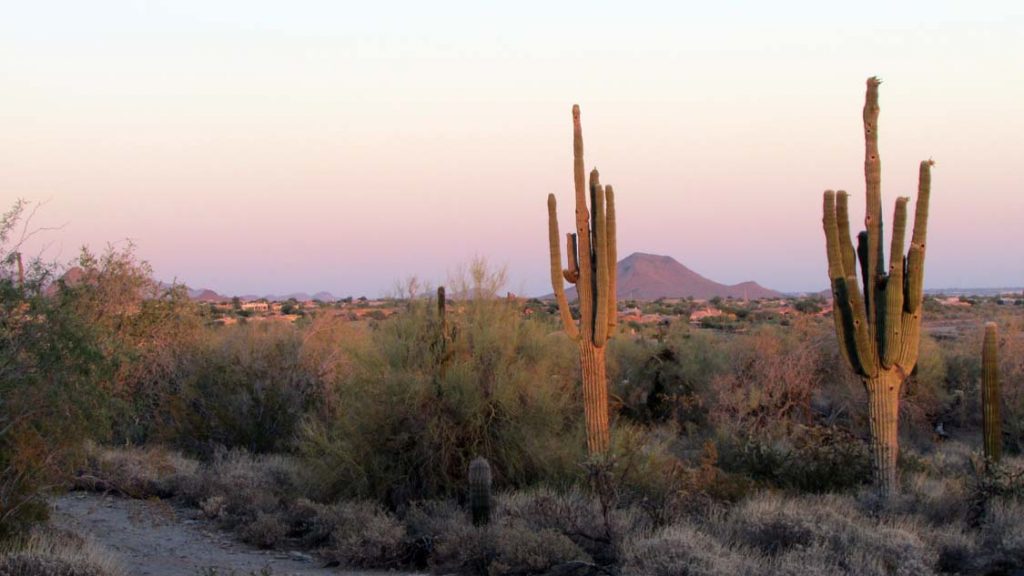 I had the opportunity last night to go see Taliesin West, Frank Lloyd Wright's winter home in the desert.  Apparently he had bought 160 acres for about $12.50 an acre way back when.  This was still true desert area and Phoenix wasn't nearly as built up as it is today. He had apprentices (read: free manual labor) who helped clear the land (yikes!), make a road and then build structures which included places they lived (they were actually in tents) as well as the home itself.
Although we didn't venture out into the desert area, the landscaping looked really nice and the footprint that the house sat on was huge.  They had found petroglyphs on the land which they preserved and used near the entrances. They had used only one concrete mixer to build all of the walls!  They would make wooden forms, put rocks in them and pour concrete inside. (Part of the wall can be seen in the first photo.)  The maker of the concrete mixers found out about this, gave him a new one and took the old one to put in a museum. Frank wanted the house to look like it was part of the landscape, so even though the walls weren't exactly pretty or perfect, they were unique and did their job!
This was his (and his wife's) winter home so at first, there was no glass installed.  She eventually got tired of cleaning the place and windows were finally put in.  They had used canvas for shading and protection from the rain in spots, but that doesn't hold up well in the desert.  There had also been no air conditioning but it was installed later.  They used the house for entertaining and it was very apparent by the looks of the rooms.  Huge spaces with a lot of seating and one building was even a theater!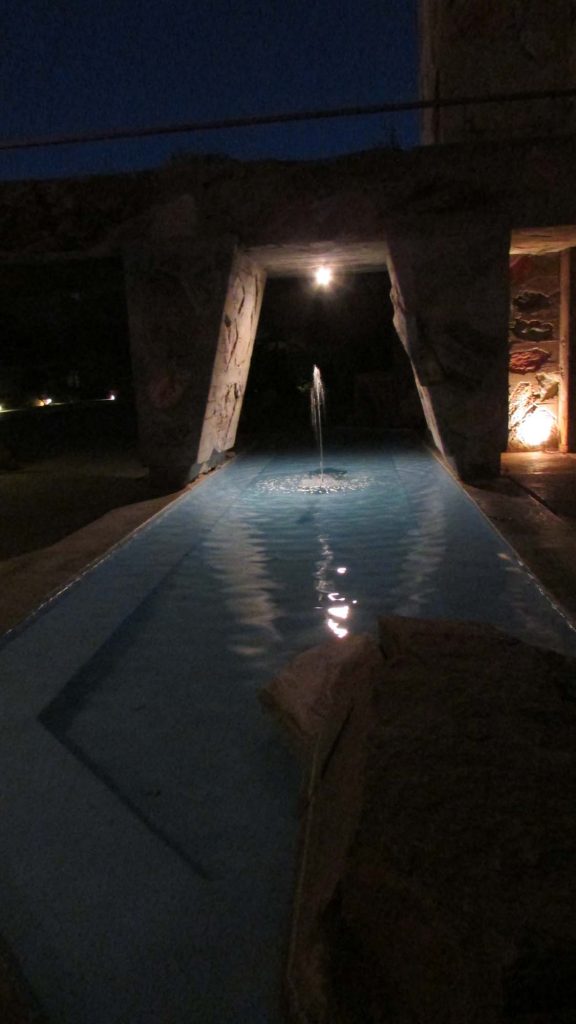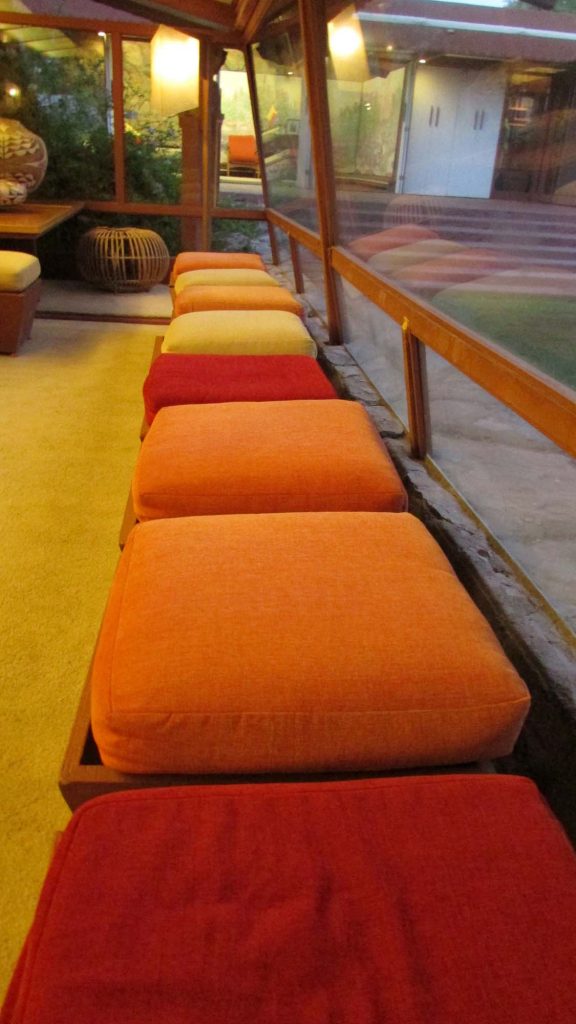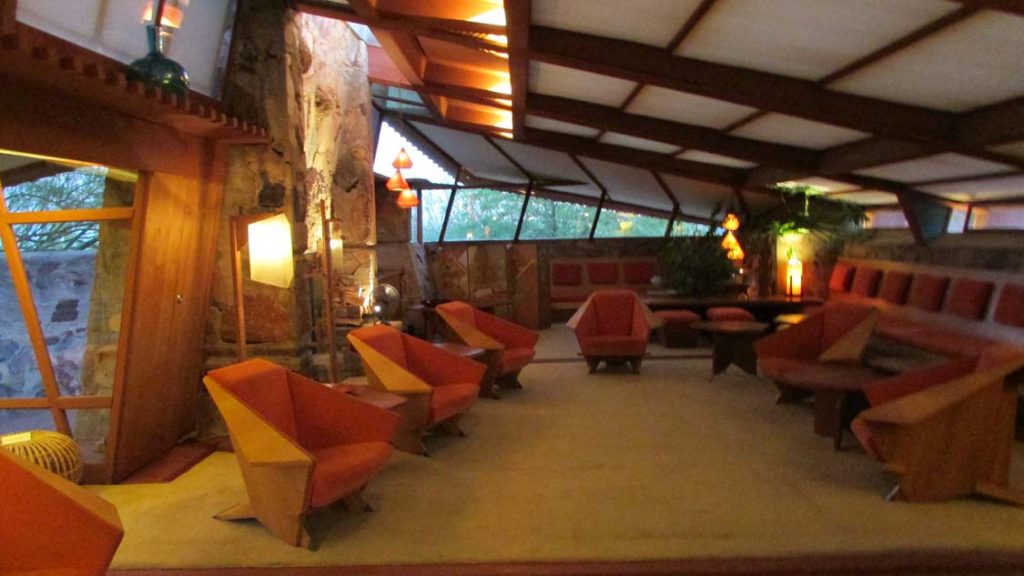 The bedrooms (his and hers were separate…very smart!) were quite small and basic.  He loved the feel of the outdoors and would often move their beds outside so they could sleep under the stars.  In his room, there were two single beds in a corner, separated by a wooden half height wall.  On the nicer evenings, he would sleep in the outer facing bed.  When it was windy, rainy or chilly, he would sleep on the other side of the wall where he was more protected from the elements.  His bathroom was quite sterile looking, with metal shower walls and fixtures.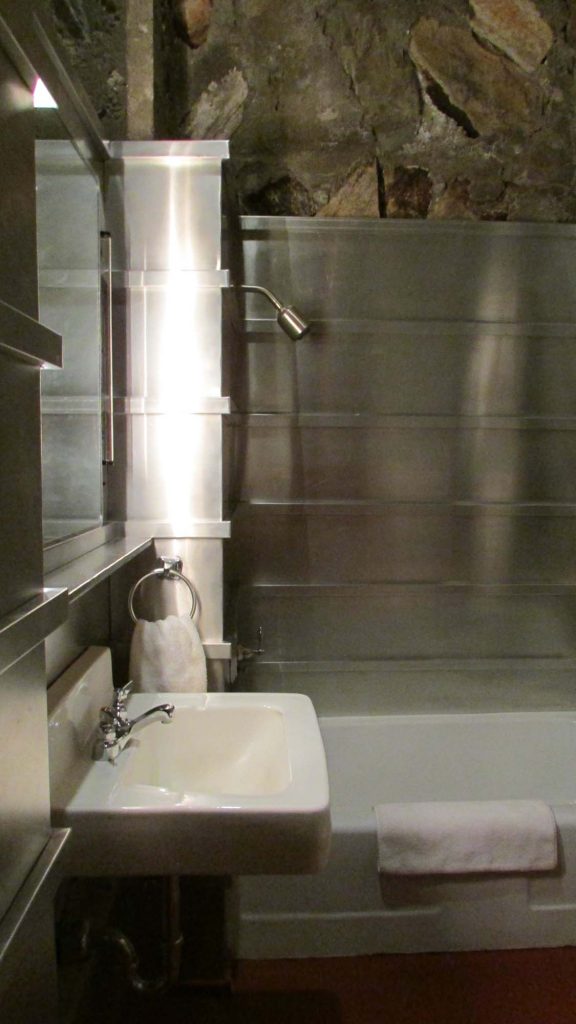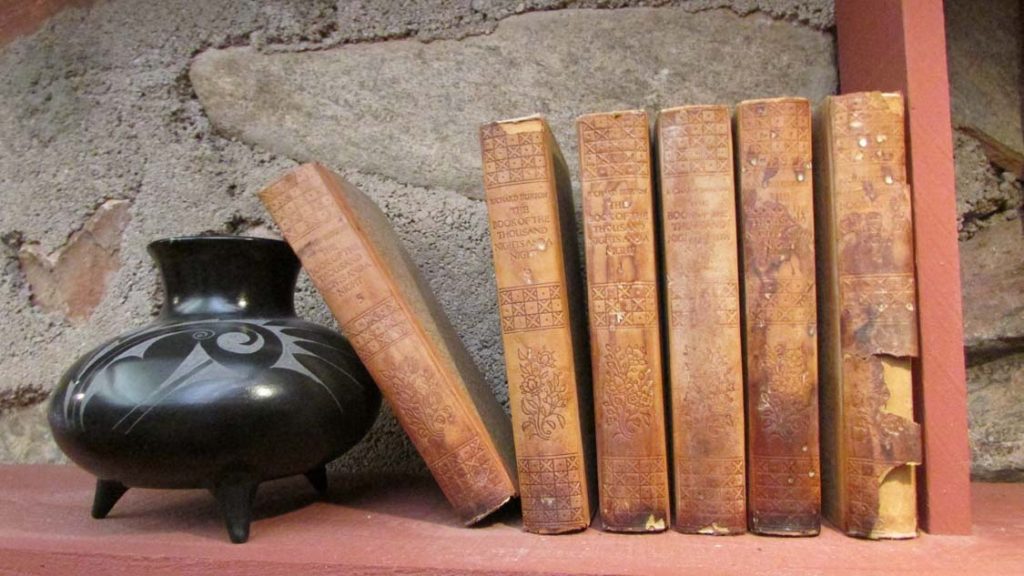 He also had a small amphitheater with an interesting angle to the seating.  He liked to sit with his left knee over his right and his arm behind his wife, so the couches were angled so that your head faced forward when sitting in that position!  Talk about custom fitting!  It made sense and it really did work.  Our guide showed that one could be standing at the front of the room, back facing the guests and you could still hear him speaking as clearly as if he was facing you.  The Wright's allegedly liked to sit at a table in the back of the room so they could hear their guests whispering to each other!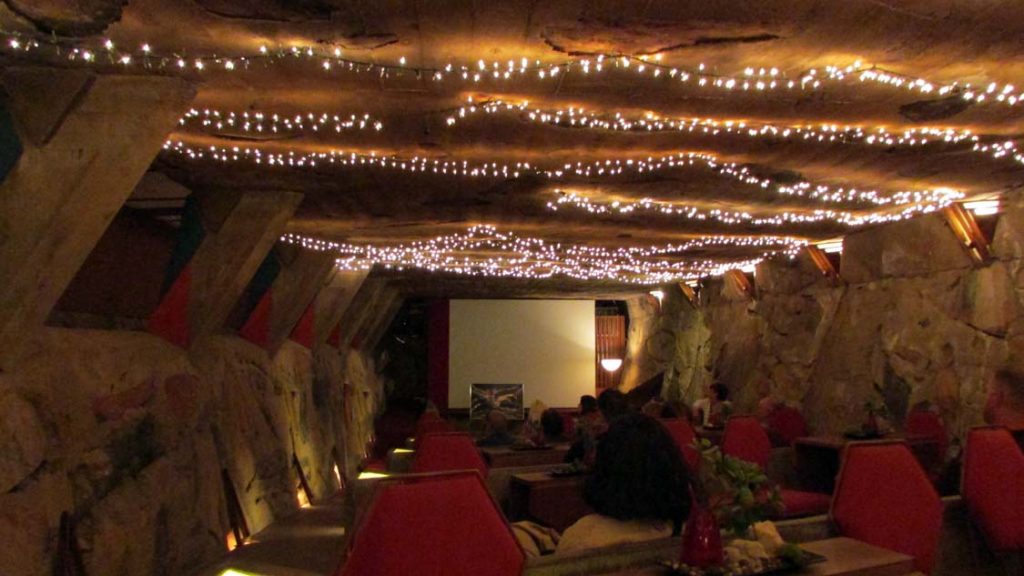 Frank also had a movie room which doubled as the safe room for storing their things when they left for the season.  His wife kidded that there wasn't a movie bad enough he wouldn't sit through twice.  His son worked on sets in Hollywood and would send first run movies his way.  Frank would take notes and send them back to his son, asking him to share with the directors what they could have done better!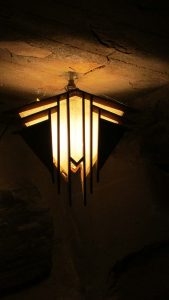 He believed that light made people feel good and toyed with it in his designs.  He had a lot of lights in corners to open up the room and not make it feel so boxed in.  The lighting outside was lovely as well, with triangular shapes along sidewalks and even a fire breathing dragon!  He also liked to make you feel compressed in doorway entrances then open it up to a vast expanse.  He was only 5'7 and didn't think that ceilings should be higher than six feet tall.  This was for doorways and outside structures mostly.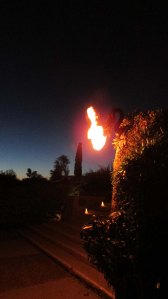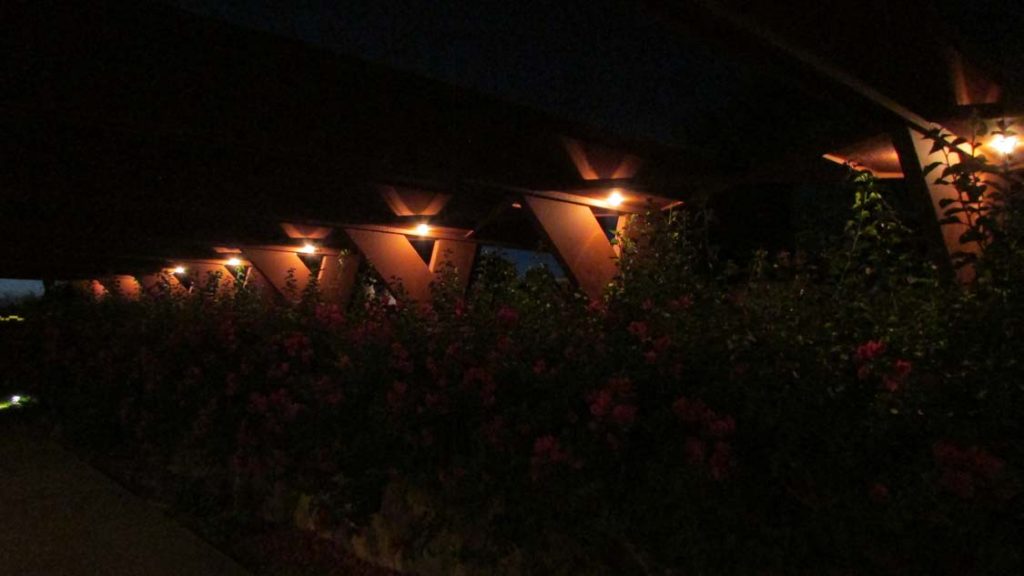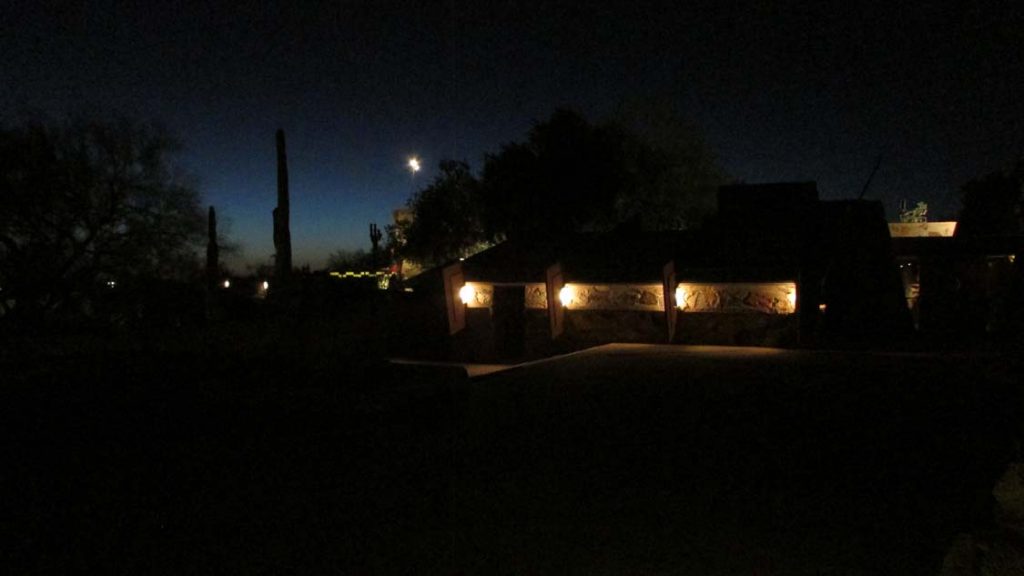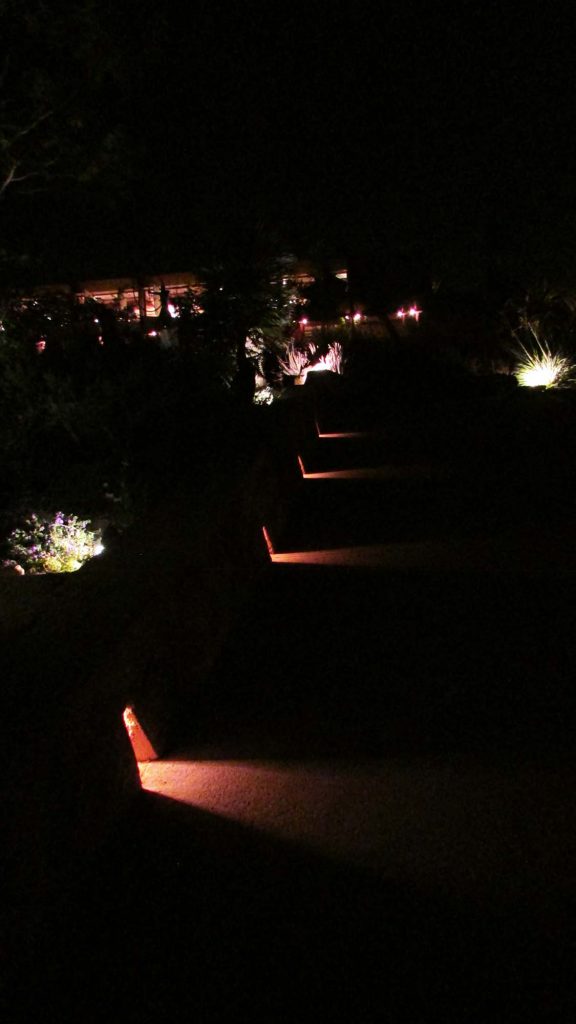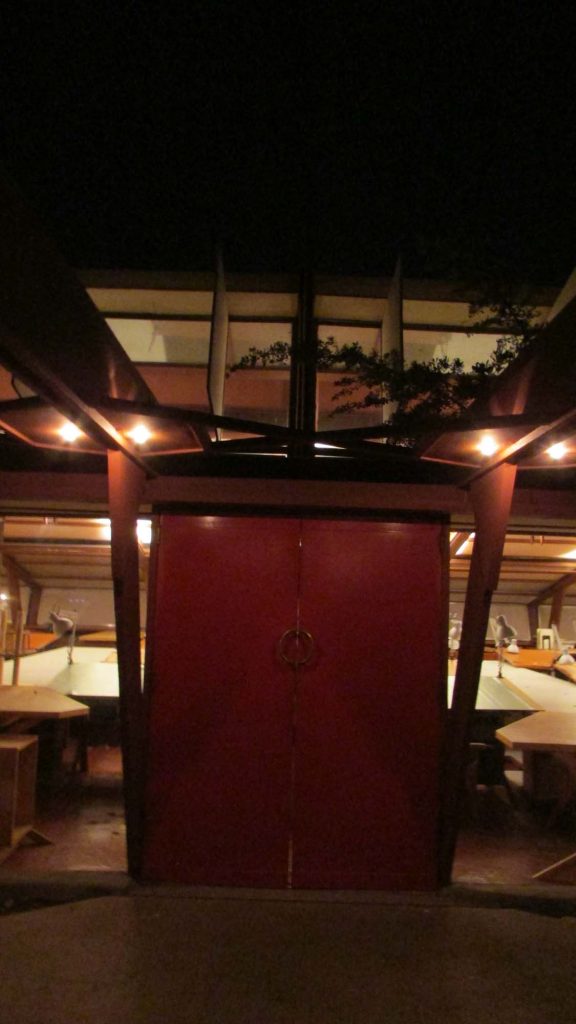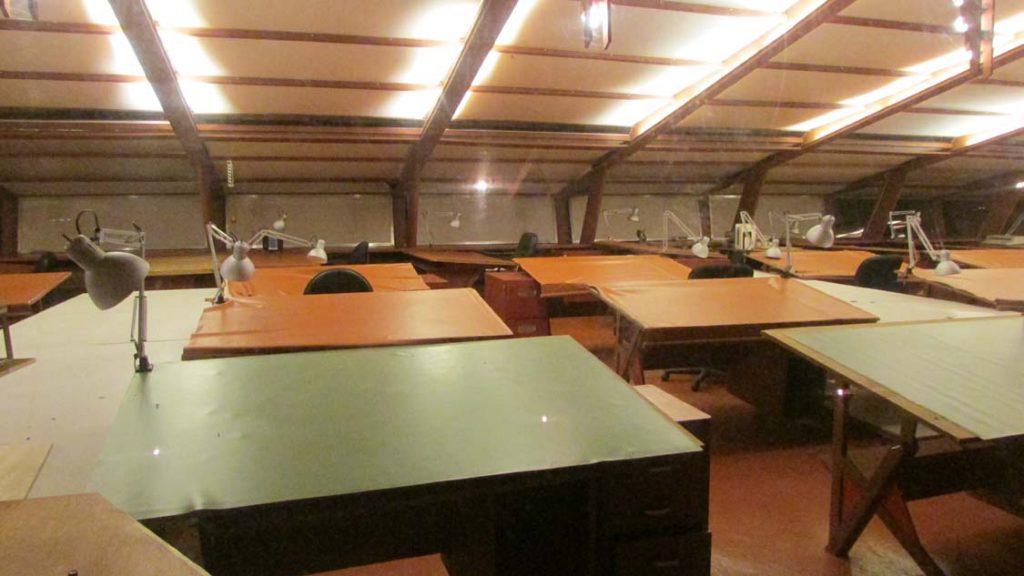 Although the designs were timeless and aesthetically pleasing, I didn't feel that it was homey or comfortable for everyday living.   I have never seen any of his other homes, but believe that isn't how the rest of them are.  This was obviously a 'party home' for lack of a better term but the detail and customization were quite amazing.
Unfortunately, he was a bit of a swindler and spent money frivolously on luxury items, leaving his wife in debt after he died.  He would buy Steinway pianos, over 80 luxury automobiles (all had to be custom painted a certain shade of red) and other non-essential items.  There were a few car dealers who got burned after the fact because he wouldn't pay off his loans!  In addition to that, the IRS caught up with him after his death by claiming those 'apprentices' weren't really that at all and he owed back taxes for all of those years he took write-off's on them. His wife had to end up selling many homes and items to repay his debt.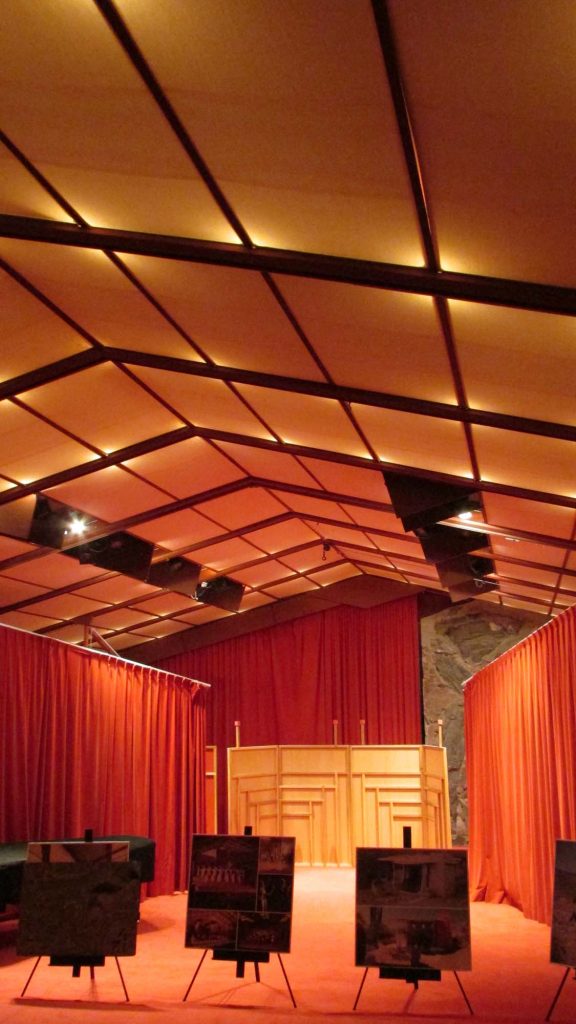 The story about his apprentices were interesting.  They were all expected to entertain the guests he had over which meant planning the menus, cooking, cleaning as well as conversing, dancing, playing the piano or putting on shows for them.  They also learned how to sew and make costumes.  Frank's wife wanted them to be well rounded when they left Taliesin.  Today they still accept apprentices who pay about $40,000 a year to live on site and they too must cook and clean.  He also made it a point that no families would be broken up.  So if you were married or had children, they all had to come live there while you went through your schooling.   This rule is still followed today.  We believe he had a guilty conscience since he had a mistress and three wives.
In regard to the Biltmore Hotel I blogged about earlier, he apparently never wanted his name associated with it at all.  He would have hated the fact that the bar was called "The Wright Bar".   It was a great tour and if you're ever in the vicinity, go check it out!