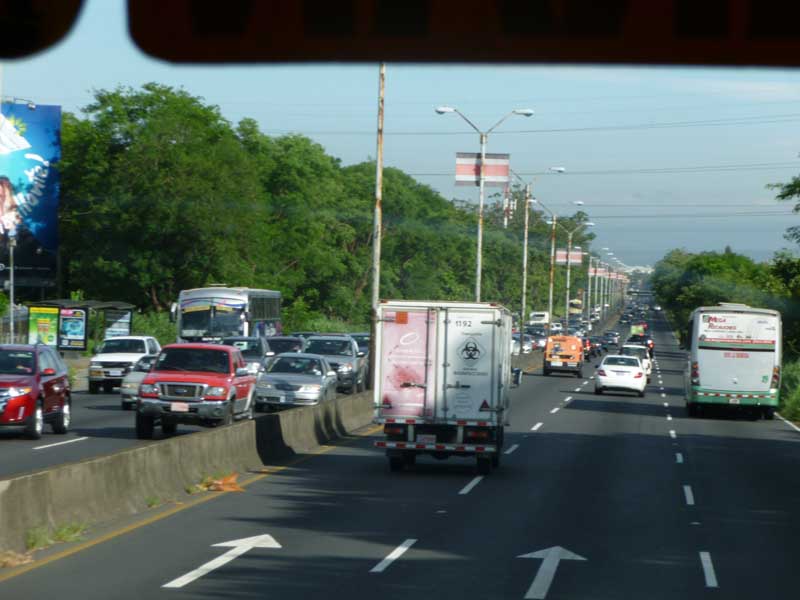 I arrived last night to San Jose and for the first time ever saw Costa Rica from the air bathed in darkness.  It seemed sparse with just a few lights here and there, then a cluster of them from a small town.  I knew the mountains were out there which is why there wasn't much 'civilization' but they were impossible to see.   My wakeup call came far too quickly, only allowing about 6 hours of sleep until my dreaded bus experience was upon me.
I've read so many horror stories about the infamous 'Coca Cola Bus Station' in the bad part of town that I had a feeling that something was bound to go wrong.  From warning signs posted about keeping your eye on your luggage INSIDE the bus to having your luggage that is stored below getting ripped off during the stops that occur.  Oh and there are about 4 different stations altogether.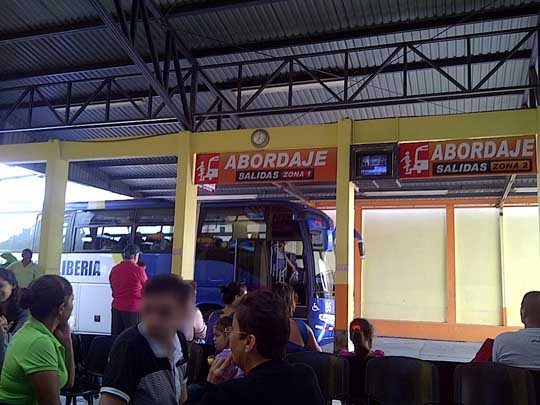 Luckily there's a website that shows when the buses take off and from what station so I was prepared to do this right!  I didn't know how much it would cost but I knew it'd be fairly cheap (it was about $8 to go 4 1/2 hours away).
I stayed at Adventure Inn for the second time and had a great experience once again…the staff there is fabulous and I always get my wakeup call!  I woke up two minutes before 5 and waited for the call which did come so I staggered out of bed and got ready.  I asked her to have a cab here by 6 and as I was eating my to-go breakfast he arrived.  My spanish is still a little shaky although I could have gotten by.  I asked her to tell him to please help me out at the bus station and make sure I got on the right one, which he did.  It took a while to find the place, but we got there (I have no idea how these folks know how to get around these streets here…I'm always super confused!).  From there on out it was pretty straight forward.  They show where they go and what times the buses leave, you buy your ticket and wait.  This wasn't as intimidating as I thought!  Now to keep two of my bags with me and the other under the bus…we'll see what happens to it.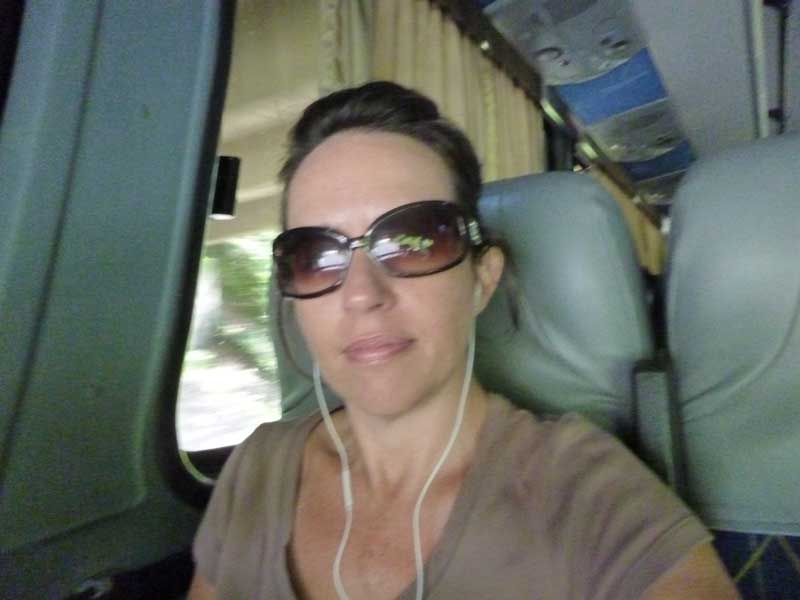 The bus was actually very nice…not those chicken buses you see or even old school buses…nice, plush roomy and large.  I'm sure a/c was on there but the windows were open which was fine.  I plopped my huge backpack next to me, my 'diaper bag' by my feet and my suitcase in the underbelly of the beast.  It wasn't as full as the one heading to Liberia so that was good.  I did ask how many stops there would be before reaching Tilaran: 5.  It said it would only be a 4 hour ride.  We made a few stops along the road to pick up people then we headed north.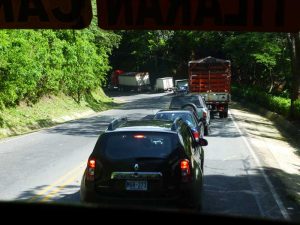 There were the usual suspects along the road: a child riding on the back of a motorcycle as cars and even our bus overtook it, a woman with her two small children walking dangerously close to the edge of the road as cars sped by them…I cringed when I saw that.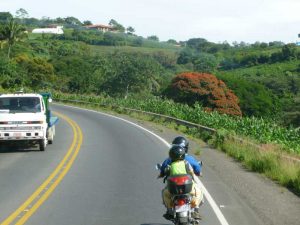 Flashing lights from trucks coming the opposite direction warned us of some kind of danger ahead (usually stopped traffic) and the ever present possible head on collisions as cars try to pass the one in front of them.  Nothin' like sitting in the front seat again!
Then we finally got out of the madness and into rolling hills, devoid of trees for the most part.  A few were left standing like the beautiful mango tree I managed to get a shot of.  Cows were becoming more abundant and my craving for a dairy product increased.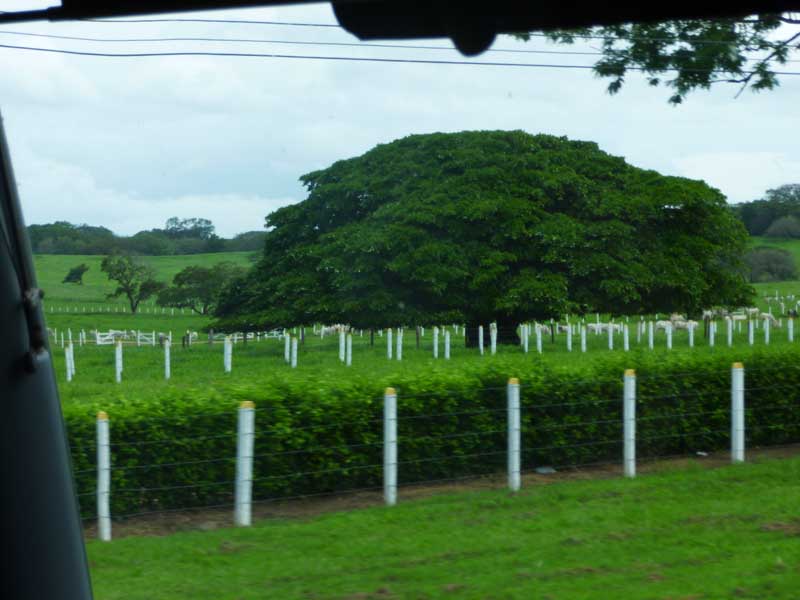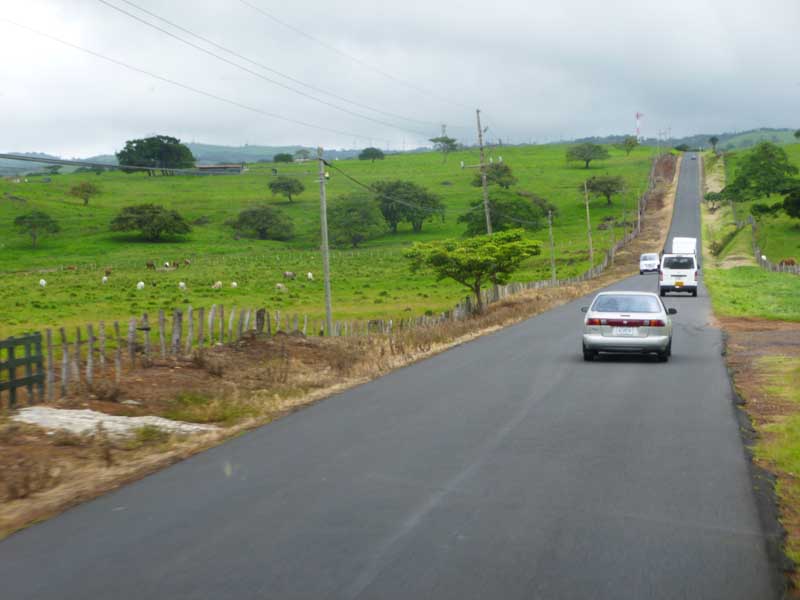 We stopped in Canas and I texted my landlady and she said I was about 20 minutes from Tilaran!  Phew!  I'm so ready to get out of moving vehicles.  There was nothing remarkable about the town itself.  It seemed smaller than Puerto Viejo was and definitely had less people and no tourists.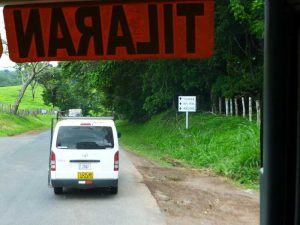 We arrived at the station and she said she was on her way.  I saw one other guy there who didn't look like a local but I didn't feel uncomfortable or anything.  Guess I'm getting used to being a stranger.  I took a picture of the murals on the wall at the station.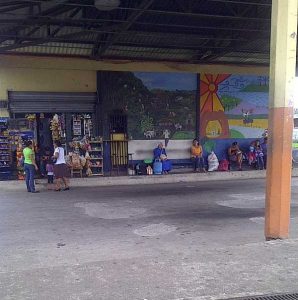 As I stood there, the breeze was cool and the gray clouds started rolling in and a light drizzle hit me at an angle.  I moved closer to the covered section but it didn't seem to matter where I stood, I was getting pelted from all directions.  It soon passed and the landlady showed up in her truck to take me to my new digs.  She pointed out the grocery store, which I asked to stop at so I could stock up which she did.  Thank god for that because on the ride up to the house it was very steep and rocky.  I would never have made it up the hill walking with the $80 worth of groceries I had.  So that was a little intimidating…I knew a bike just wouldn't work here so I will be walking to the store when I need to.  The bus pickup is a 35 minute walk away and the lake is quite far.  I'd have to take a bus to a hotel to get access to the water because the shores here are muddy and pretty impossible to navigate.
The house is cute, a bit bigger than I expected and way more comfortable than the one in Cocles.  Steps were being built by a man here which is a HUGE help as this house is also on a steep hill.  The view of the lake is very nice and I'm sure when the sun comes out it is much better than it was today.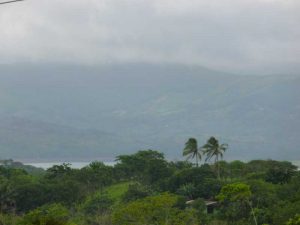 I settled in, did some laundry (NOT by hand for once!) and took a look around the property.  It's not much land at all…basically no back yard.  I can see the cows from the front of the house and I have a neighbor to the left of me.  The lot to the right has nothing in it and is very steep.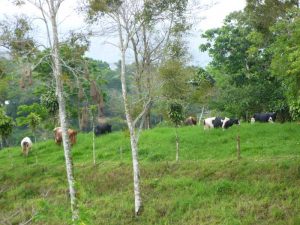 I was on the lookout for fruit trees.  There is a papaya tree in the front but no way I'll ever see fruit on it.  Then around the side was a small pineapple growing.  Yep, won't see that one to adulthood either.  But it is nice to know it's there.
I did laundry in the WASHING MACHINE!!!  I brought back some Downy Unstopables to make it smell good and man…let me tell you…there's nothing like taking warm clothes out of the dryer, shoving your face into it and not smelling mold!
So darkness falls now and it's time to make dinner.  Oh, the grocery store doesn't have anything new and spectacular unfortunately.  It's also just as expensive as the last place but oh well.  I think it's a pasta night!  Here are a few pics of the kitchen/living room.