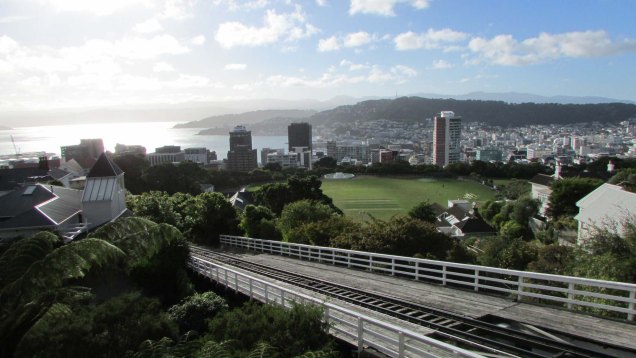 In keeping with tradition of taking a vacation after a vacation, we took a trip to Wellington after I got back from California. By the way, my feet still ache a week later while writing this. Walking 15 miles in one day wasn't what most people would typically consider a vacation. The most depressing part is that it only burned about 1000 calories. But I digress…
I really liked Wellington last time we were there and didn't get around to seeing a few things like Zealandia and the botanical gardens. We took the (far too long) trip by ferry boat across the Strait with me turning slightly green again. We had a nice hotel room across town from where we were last time and it was in a great location for shopping and restaurants.
Zealandia was at the top of the list of places to see, so we took the cable car up the hill (which I'd never done before) and thought we'd take the shuttle to Zealandia. This is where the REAL walking all started. It would be a 30 minute wait but we could walk there in 25, so we opted to do that. In hindsight that was great because there was a German bakery along the way I visited TWICE.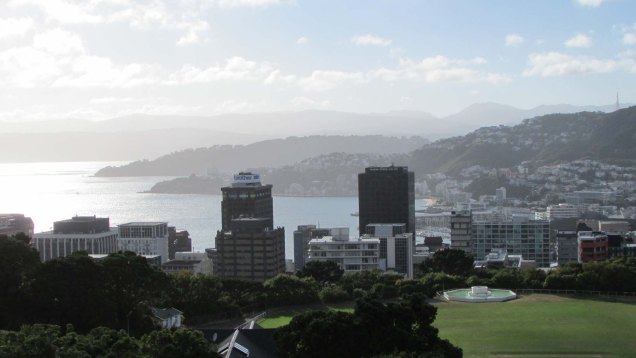 The cable car was $7.50 for a return ticket and had four stops. I never realized Wellington was so hilly until this trip. All I'm saying is that it's worth the money. Plus you go through this psychedelic Willy Wonka tunnel which is almost worth the price of admission alone.
9:30 was a good time to get to Zealandia before the buses and people arrived. This is a large sanctuary where they protect native wildlife from predators. If you recall the place I went in the Sounds called Kaipupu, they had built a fence to protect the birds. Zealandia built a fence too and here you can see kiwi, tuatara, takahe, cuckoo cormorants, geckoes as well as a weird owl called a Morepork! I saw more birds here than I have anywhere in New Zealand.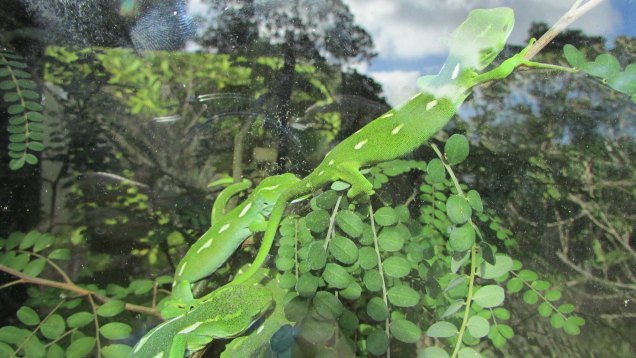 We hit the trail first and came across this feeding station which had Kaka birds…I'd never seen them in person before. They're a cousin to the Kea parrots and were extinct in Wellington since the early 20th century until they were brought to Zealandia in 2002.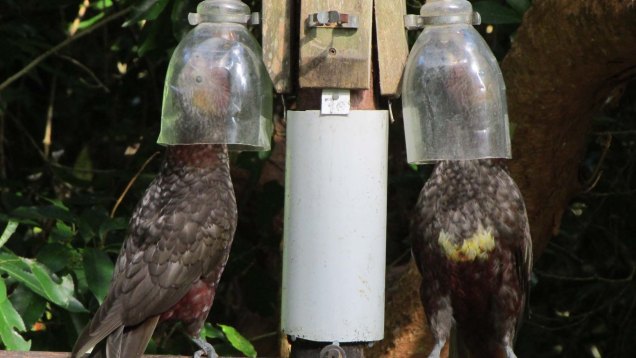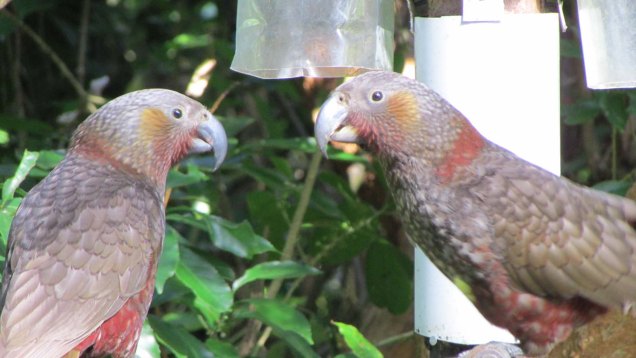 As we walked the main trail, I couldn't help but scamper toward the suspension bridge. There seem to be a lot of them in New Zealand and I've gotten over my fear of walking across them. Even when some wise guy decides to swing it from side to side.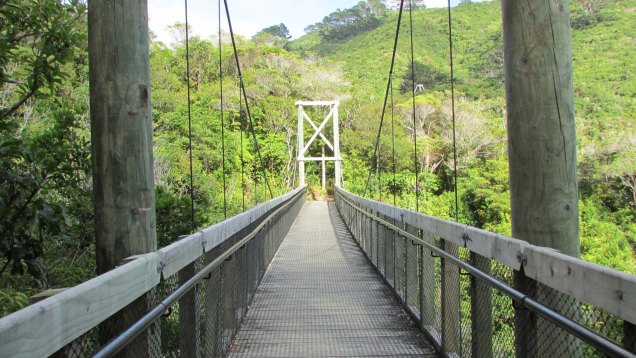 As we walked back to the entrance, we noticed a group with a guide peering over the fence into the bush. Finally catching on that the big cartoon pictures of tuararas stuck to the side meant there were probably some sitting on the ground, I was like a 3 year old again. It was the first time I'd seen tuatara in the "wild" even though this technically was fenced in.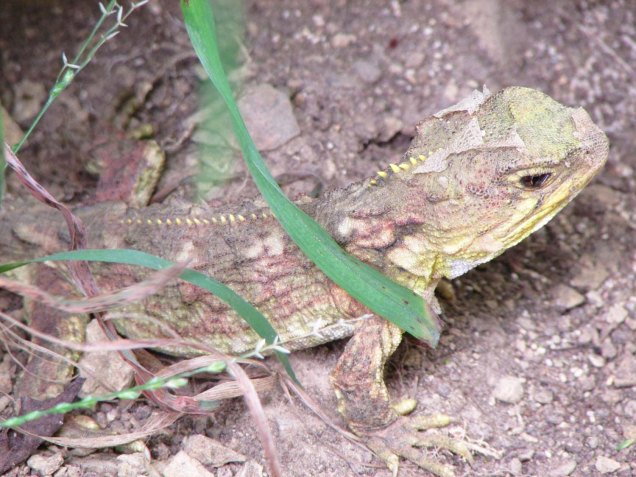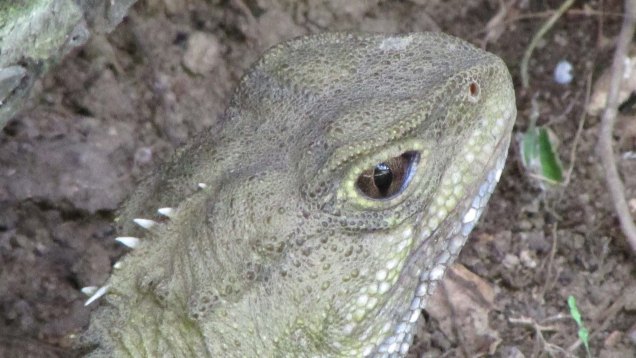 Such beautiful little faces! But then you look at one head on and you're reminded of a Welsh Korgi with its too fat legs and feet. Something just doesn't look quite right. Reminds me of some bad sand sculptures I've done of iguanas.
But hey, I still love them and saw at least 8 of them. This little hippy chick caught my eye (they were all tagged):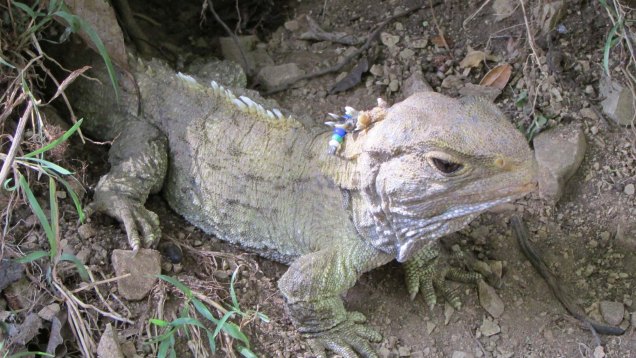 Can you find the little tuatara in this next photo? Click on it to enlarge.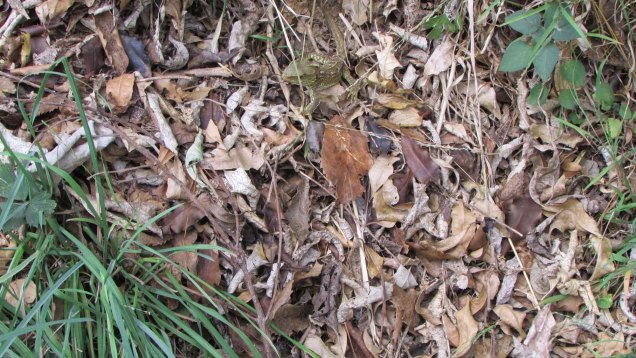 If you guessed top middle you were right! I'm surprised I saw it at all! Wonder how many we missed that day.
Since the botanical garden was right next to the cable car, we decided to visit it instead of coming back the next day. Huge mistake. We had a lapse of judgement and decided to walk back to the cable car instead of waiting for the shuttle once again. This was when the second stop at the German bakery occurred; this time getting lunch to take to the garden. We were practically crawling by the time we got there and found a bench to sit on to eat. We both kicked our shoes off and complained like children in the back of a station wagon as we stuffed our faces.
You want to talk hilly? The gardens were nothing BUT very steep, knee scraping kind of hills. It took about two nanoseconds to decide today was not the day and tomorrow was not looking good either. Therefore, I have nothing to report about the gardens unfortunately.
After nursing our feet back from the dead, we went on a relaxing sailboat cruise around the harbour the next morning which was great. The weather had been perfect during our stay. The sun was shining and the wind was just right to put up the sails.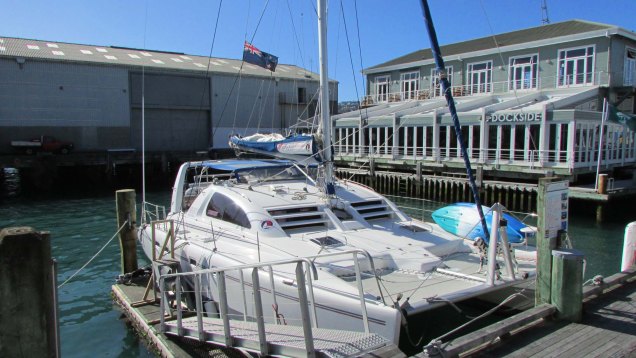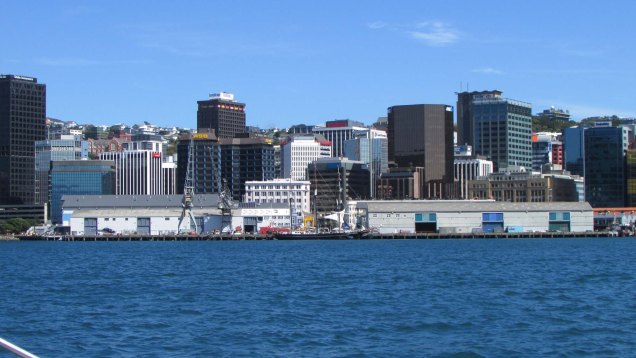 We didn't see any sea critters, but it was nice to get some sun and NOT be walking. Afterward, we were attracted by the colorful flags and crowds of people along the waterfront. There was some competition between schools and they were asking for the crowd to vote on the best team.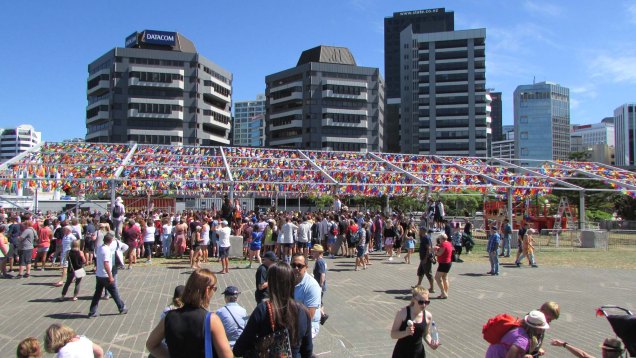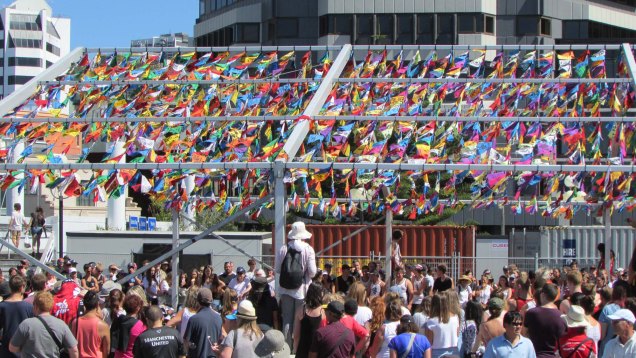 Speaking of colorful, have you ever used a Gaytm before?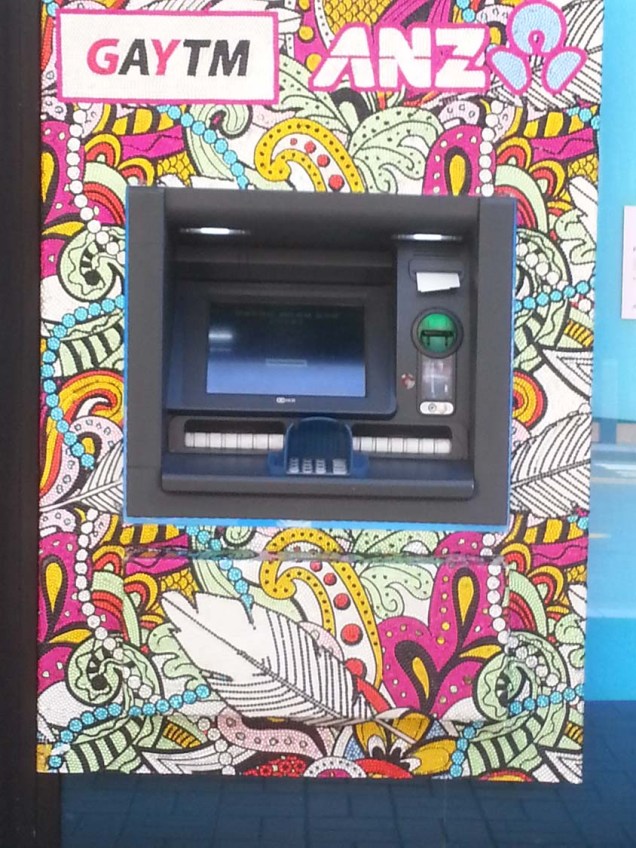 And so another vacation comes to a close. It was great fun and we got plenty of exercise. I promise to do the botanical gardens next time!