So today I started my new job…and my first task was to go pick hibiscus flowers for the sloths. Gee…how terrible!!!  The only possible downfall to this job was me stepping on the leaf cutter ant colony.  Which I did…but came away unscathed.  There were tons of hibiscus plants, but no flowers, so I went down the road a bit and found a bunch.  Not sure they actually belonged to the center, so I picked them quickly and split.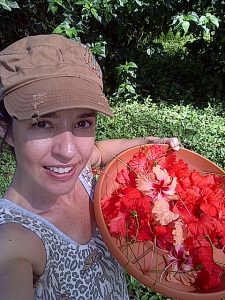 My next task, not so glorious, wash and dry the dishes that the animals had their food in from the night before.  Eeeh gotta take the good with the bad…I realize most of this job will be cleaning.  But THEN….oh my gawd….I got to babysit a baby sloth for a couple of hours.  That was awesome.  But this sloth wanted to walk around all the time!  Weird.  He yelled at me the first time I went to pick him in the blanket (I wasn't allowed to touch him but I sure did want to!).  It was sort of like a kitten meow.  Super cute.  The tourists came in for their tours and people took pictures of the baby and me, I assume.  It was neat.  That little kid wore me out.  I was a babysitter for the first time in like, what…30 years!?!?  It was awesome.  The pictures don't really show how little this guy is…he's about 7 months old. Small.  He has a skin condition so he can't be around the other sloths.  His little nose would crunch up when he'd eat and he'd gaze at me with that sweet face that'd make anyone melt.  It was totally pullin' on my heart strings.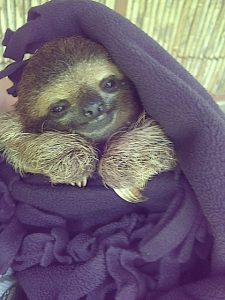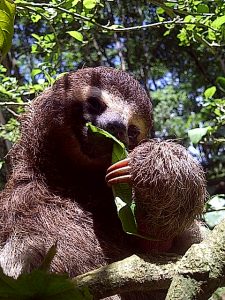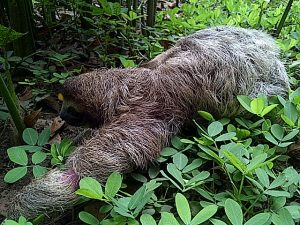 After that we had to clean the monkey cages, which wasn't bad, but we're losing volunteers today and tomorrow so it'll be tougher..but still no biggie.  Then we had lunch…finally.  After that, I got to talk to the porcupines for a while.  One was really shy and wouldn't come out of her box…poor baby and the other was more sociable and I was able to pet her…which I can honestly say I've never done before.
Then the monkeys came back from the forest and the sweet baby boy whose mom was killed for bushmeat and he got hit by a rock in his eye, which he subsequently lost…is seen here in the picture below.
Then the little blue bird came back to me and pulled on my hair for a while, then landed on my head.  Very sweet…very pretty.
So that rounded out my day…what a great one!  I'm back for more tomorrow!