Jeez, I almost keeled over when I saw the price on the register today.  Luckily the grocery store (not a supermarket) is very close to me.  The downside is that the prices are high.  Puerto Viejo town is far…would have to use a bike to get there.   Back in Texas, I'd spend about $45 a WEEK on groceries.  Here is what I got today for $50.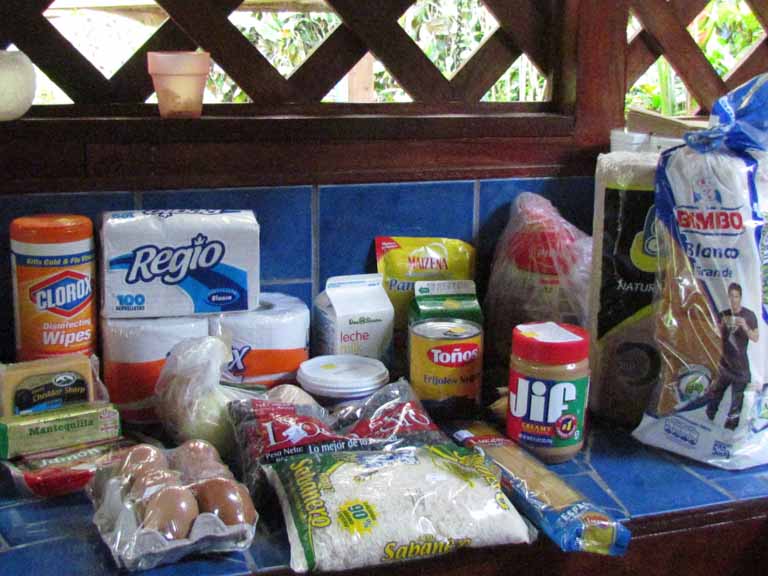 Approximations as I don't feel like getting up and looking at the prices:
Clorox wipes $4.50
Jif Peanut butter $6.50
Bag of black beans $3
Small block of sharp cheddar $8 GASP
2 rolls toilet paper (which you cannot flush here) $2.50
Frozen bag of god knows what chicken parts $6
Blackberry jam $?
Roll paper towels $1
Can black beans $1.60
Sliced ham $4
Small bag of pasta $2.50
Unknown prices- two bananas, two potatoes, a jalepeno pepper, stick of butter, carton of milk (glad it wasn't shelf stable or powdered at least), bag of rice, 6 eggs, white bread loaf and other things I can't think of.
I didn't even dare look at wine prices.  Not needed.  Looks like I'll be losing weight here.  Ha ha!!
So yeah…yikes.  And I'm not here long enough to grow my own stuff unless I rent it out for another 3 months.  Although I will plant those seeds from the jalapeño for sure and whatever other seeds I can get my hands on.  I'm going to steal some bananas from the trees on the beach if I can reach them.  I need a machete to cut the coconuts open…but all of a sudden I'm seeing blood in my future.  I think I need a lesson first.  Evi said there was a tree with some kind of fruit that has like 30x the vitamin C of oranges and what appears to be a lime tree.  I haven't even looked at my yard yet.  Anyway, this should be interesting.  Evi said there are guys that come around selling stuff and there's a farmer's market in PV each weekend.  I'm down with that.